With beautiful views of the Algarve coast, Casa Vittore is situated on a slope near the fishing village of Carvoeiro. This traditional villa has been completely renovated and transformed into a spacious holiday home. Typical Portuguese elements such as the fireplace or the brick-built benches have been preserved and combined with modern architectural features. And as a result of its hillside position you have access to the garden from both floors. On the lower level there are three bedrooms with large windows opening out onto the terrace and swimming pool. On the upper level (the ground floor), next to a fourth bedroom, you will find an open living, dining and cooking area. The foldable window front in the living area opens out completely to the covered terrace. In addition to the pool, the hot tub and fully equipped outdoor kitchen offer superb conditions for relaxing outdoors.
What to do
Carvoeiro is a popular seaside resort and has several beaches. Near the house there are 3 diving schools. There is also a beautiful golf course 5 minutes away. Excursions to the cities of Silves, Lagos, Ferragudo and Portimão are possible, as are trips into the region's mountainous hinterland (Serra de Monchique) with its oak and chestnut forests.
Why we like this house
Everyone will find their favorite place here: whether by the pool, in the Jacuzzi, on the shaded terrace or inside the house - the Atlantic is always in view.
Host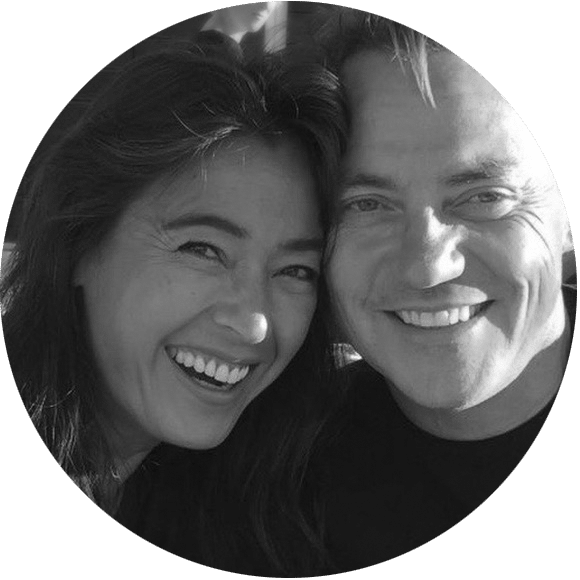 Bert Hulscher and his wife Rennie live in Amsterdam with their two teen daughters. Bert was originally a building construction engineer but found that being a entrepreneur is more fun than designing constructions. Rennie was director of a model and hostess agency. Later she became the stylist for many famous Dutch TV personalities.
On one of their many visits to the Algarve, Bert and Rennie discovered this house in December 2015. It was an old and very neglected house. The gardens were overgrown with bushes and weeds. It was in terrible condition, but in a perfect spot! After a thorough inspection with the architect they came to the conclusion that it was possible to make something out of this wreck. So they decided to buy it. The house was stripped completely. After 12 months they have created a true paradise!
Details of the property
Region/Town: PT – Portugal, Algarve, Carvoeiro
Name: Casa Vittore
Scenery: Small place right on the coast of the Algarve
Accommodation: House
Number of guests: up to 8 people
Architecture: Old & new
Completed: 2016
Design: Arnold Aarssen, João Carrico, studioarte.info, Portimão
Homepage www.casa-vittore.com