By Anke Steinweg
Unique buildings appeal to unique people. The life stories and professions of the people who own those buildings are just as varied as the Holiday Architecture buildings themselves. Many owners are not hotel-sector professionals, but have quite a different vocational background. Astrid Fidder is one such. She is a bank employee who also runs B&B De Rheezer Kamer. When we talked with her, she told us about herself, her B&B in the Dutch region of Overijssel and her plans for the future.
How did you come to open up B&B De Rheezer Kamer?
I work as an account manager for a bank where I am responsible for looking after 50 bank branches. In my job, I have to motivate, inspire and discover what people need. These are all aptitudes that I am able to put to good use in running Rheezer Kamer.
As a teenager I worked in restaurants, hotels, teahouses and a flower shop. I also always had this desire to make something of my own. My parents owned their own business and my mother – a florist – had a flair for creating atmosphere and for interior design.
My husband and I originally came from Zwolle, one of the beautiful Hanseatic towns. Eight years ago we moved to the idyllic village of Rheeze, 35 km away. Here I fulfilled my dream to open up my own bed & breakfast. But Rheezer Kamer is much more than that: a teahouse, a venue for events and creative seminars, and a wedding location.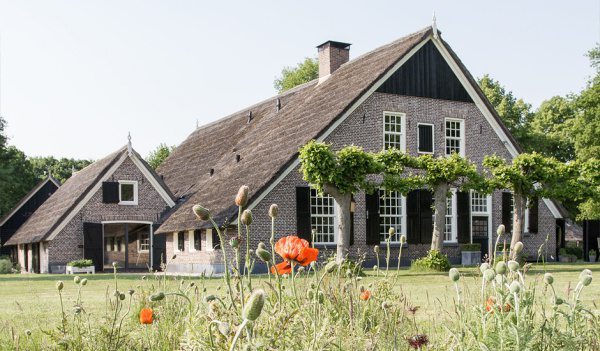 Rheezer Kamer is part of an old farm house. What is so special about this place?
Our listed farmhouse was built in 1879. Cows used to be kept here and some arable farming went on. The farm is on a genuine "brink". A brink is a slightly raised place in which cattle are gathered. The animals which would have grazed out in the pasture during the day were gathered in here at night time. The barns are on the brink side, but our front building faces the river, the Overijsselse Vecht. This was once important for transporting supplies to Zwolle and Amsterdam. For example, Bentheim sandstone from Germany was shipped in large quantities on the river Vecht to Amsterdam and then on to America.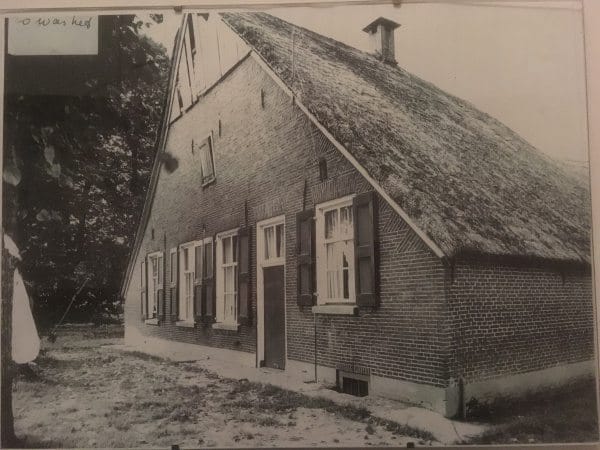 Our house was a former stable where the B&B is located, and a main house. The main building is divided into a private area where we live, a barn and a loft. We are making plans to convert this vast old hayloft into a second loft-style B&B. The drawings are already complete and we are just awaiting approval. The ground floor too will be renovated. We want to make a larger teahouse and cafe there, with a shop selling regional and lifestyle products.
Many of the products from our B&B are on sale. Our guests are particularly drawn to the pictures, the special nature maps by Maartje van de Noort or Gea Slotman, and our delicious jams and granola muesli. I work a great deal with other businesses and creatives whose style appeals to me I particularly like the By Mölle label. Many of the beautiful linen and wool products products are to be found at Rheezer Kamer e.g. bed linen, wool rugs, tablecloths, towels etc.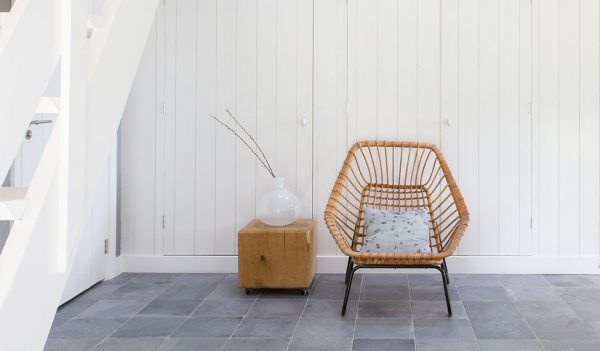 Rheezer Kamer isn't just a B&B
At the height of the season, we offer drinks and meals on our terrace. Many walkers take a rest there and enjoy an Italian coffee and home-made treats or a refreshing farmhouse ice cream. Many of our products are organic and from regional producers. We also have an Italian coffee cart (Piaggio), with which we drive around and serve coffee in various places.
You can even get married on our farm. Demand for weddings in our garden or in the meadow is growing. These are casual, unconventional outdoor weddings. On 30 April 2017 we had an open-house day for couples planning to marry.
Rheezer Kamer can also be booked as an events space for business meetings for up to 15 people. I also organise creative workshops on our farm, for example in calligraphy or painting.
What is most important to you as hostess?
I have a passion for lifestyle and I live it out in Rheezer Kamer. Everything has to be in harmony; the hosts, the surroundings, the furniture and the décor, the entire philosophy. I love inspiring and delighting people. I want the B&B to tell a story about our beautiful region, its past and its future.
Contact with the guests is particularly important to me; finding out what their expectations are, how I can help and how I can make their stay as special as possible. All some guests want is peace and quiet. For others I will put together a tailor-made programme in line with their requirements.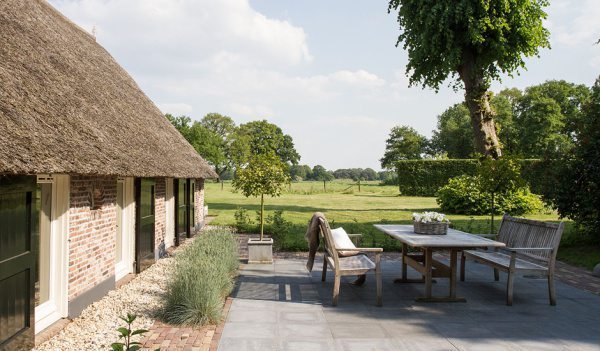 What is there to do in this region
Our area is known for outdoor recreational activities: from kayaking to cow safaris, we have many interesting and unusual activities on offer. There are various walking and cycling routes. A famous long-distance path from north to south of the Netherlands, the Pieterpad, goes through our brink. The kunstwegen – Vechtedal route route is a border-crossing cycling trail featuring over 80 art objects, which runs from Nordhorn in Germany to Zwolle. Nearby our B&B there are a few nice little towns and villages. The Hanseatic town of Zwolle is a must for culture enthusiasts. We also have a few restaurants in the immediate vicinity. Asparagus is currently on the menus. In fact, there happens to be a well-known asparagus farmer just round the corner from us.
---
Text: Anke Steinweg, May 2017
The house