The hotel Fregehaus is located in one of the most beautiful buildings in the Old Town of Leipzig. The baroque merchant house has been built in the early 18th century as a reconstruction of a Renaissance house of 1535 (the crossvault is still preserved on the ground floor). The Fregehaus consists of four wings grouped around a rectangular courtyard. In the rear wings – overlooking the green courtyard – the hotel with 17 rooms and 3 apartments extends over four floors. During the renovation much attention has been paid to maintain original features. Thus, you are surrounded by the splendor and the charm of yesteryear. But with a modern twist! The minimalist style highlights the architectural details of the rooms and the mix of modern design, selected individual pieces, Murano chandeliers and gilt mirrors.
Breakfast is served in the historic parlour on the 2nd floor – with selected regional ingredients and matching the style of the house on historic Meissener and contemporary Thuringian porcelain. In the blue salon, guests can read or sit together with a glass of wine, and sometimes small events are held here.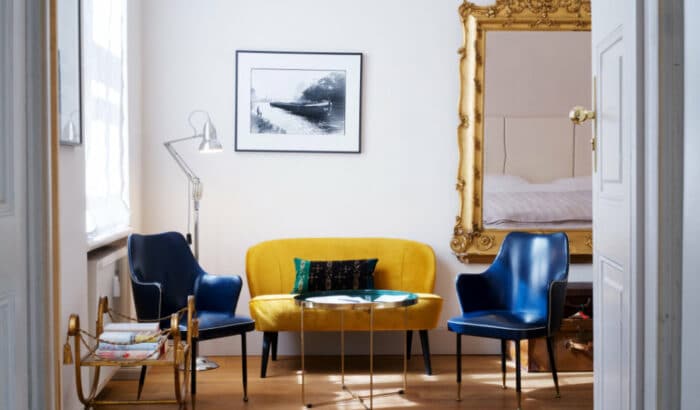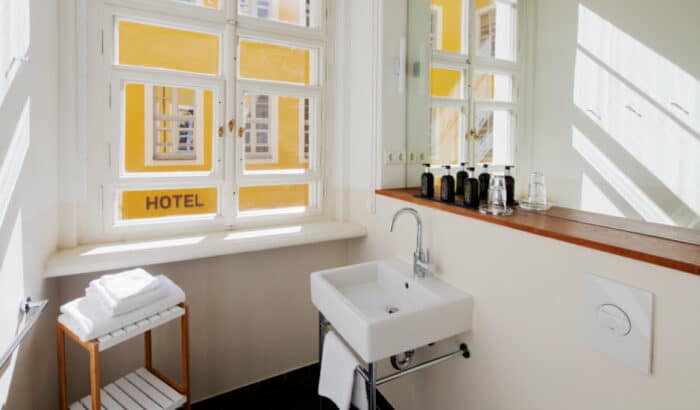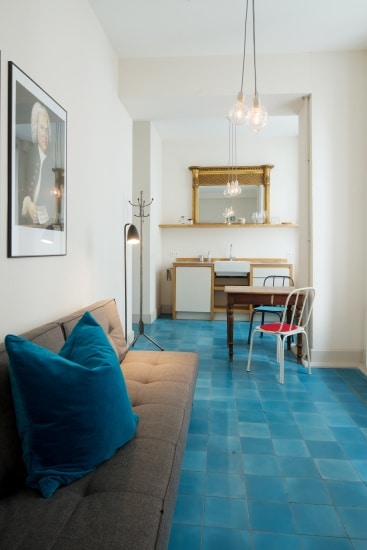 What to do
The hotel is located directly opposite the Museum of Fine Arts. Due to its central location in the old town of Leipzig most tourist attractions and cultural sites are within a few minutes.
Why we like this house
Historical grandeur with a modern twist.
Details
| | |
| --- | --- |
| Region/Town | DE – Germany, Saxony, Leipzig |
| Name | Hotel Fregehaus |
| Scenery | urban environment in the historic center of Leipzig |
| Number of guests | rooms up to 2 people, apartments up to 4 people |
| Completed | 2014 |
| Design | Sabine Fuchshuber, Nokera, Leipzig |
| Published | SZ Magazin 39/2016 |
| Special Features | The hotel also offers an apartment and a flat for longer stays |
| Architecture | Historical, Listed building - old, Old & new |
| Accomodation | Apartment, Hotel |
| Criteria | 1-2 (house/apartment), 1-4 (house/apartment), Rooms for 1-2 (hotel), Rooms for 1-4 (hotel), Metropolis, Restaurant, Urban, no car needed |
Request/Booking