Casa Afife is situated in a rural settlement near the Atlantic Ocean in the northwest of Portugal – between Viano do Castelo and Caminha, a small town on the border to Spain. The neighbouring church had a significant influence on the design of the house: the house does not disturb the harmony of this religious place, but nevertheless boasts an independent character. By hiding the windows and doors within the façade through shutters, the house looks like a sculpure with these shutters closed. Only the gargoyles on the roof indicate that it is a building. When open, the shutters on the façade facing the church are gold-coloured – like gilded carvings.
The house was built as a split-level building, to adapt it to the topography of the landscape. The living room as well as the kitchen and dining area just half a level above are directly connected to the garden. On the other two levels there are a total of three bedrooms. On the top level there is a roof terrace with wide views of the surrounding countryside.
The interiors are inspired by the traditional buildings of the region: window frames and skirting boards are kept in the typical colours, the flooring consists of terrazzo or wooden planks. The furnishings are casual and minimalist. The tube stair railings on the upper floors are somewhat less conventional. And in the garden there is an extraordinary pool, which has the same dimensions as the floor space of the house.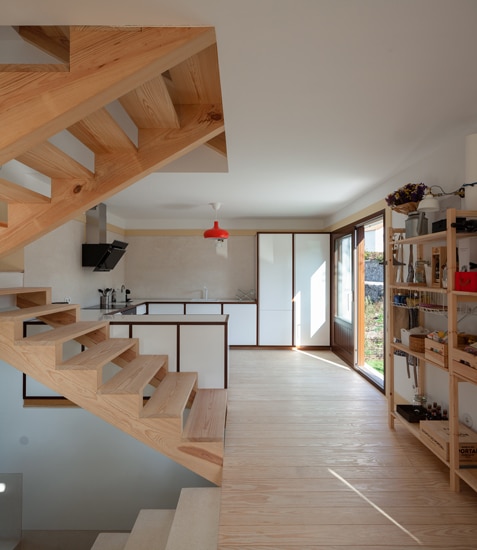 What to do
Beach, surfing, visiting the towns and villages of the Minho region (e.g. Viana do Castelo, Ponte de Lima, border towns on the Minho River: Caminha, Valença, Monção and Melgaço, Paredes de Coura, Arcos de Valdevez and Ponte da Barca), traditional folk festivals.
Why we like this house
A house with exciting architecture and a beautiful pool.
This house is great for
Holidays with families and friends. 
Details
Availability calendar
The calendar shows the current availability of the accommodation. On days with white background the accommodation is still available. On days with dark gray background the accommodation is not available.
Request/Booking