How does HOLIDAYARCHITECTURE work?
How your find your holiday home with HOLIDAYARCHITECTURE.
Appartementvillen Aradira
Austria, Tyrol
Relax in modern architecture. Hiking, climbing and mountain biking in the Silvretta mountains.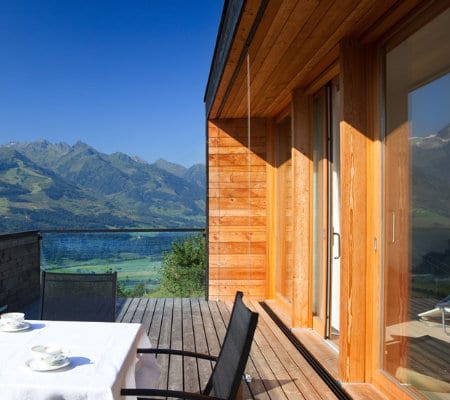 Aufberg 1110 und 1113
Zell am See – Salzburger Land
In the heart of the Hohe Tauern mountains: tranquillity  inspiration – natural & reduced design.

North Sea Islands
Broad sandy beaches, wide mudflats, sea surf, dunes, a fresh breeze and an almost endless sky are typical for all North Sea islands. But each one has its own character: If you are looking for peace and relaxation, you will find it on Schiermonnikoog in the Netherlands or on Amrum, if you also want nightlife, you are better off on Sylt or Norderney, Föhr is especially popular with families. Our overview shows beautiful holiday homes on the islands – from thatched captain's houses to modern wooden houses.
Comments Overview
Our readers often like to tell us how they enjoyed their stays in our partners' houses. Why not take a look at the comments they have left so far? These can give you an even better impression of the properties in our selection – and maybe they'll even help you find the perfect destination for your next holiday!
Miss one of our monthly newsletters?
No problem!
You can find all our past issues in our online newsletter archive
Do you own a unique holiday home?
Is there something about your holiday home that sets it apart? We would love to hear about it!