Ortigia – the small island off the east coast of Sicily – is connected by several bridges to the mainland. It forms the historic center of the city of Syracuse with narrow streets, small squares and baroque buildings.
The penthouse Cordari Ortigia is situated in one of the oldest streets in the city – behind the marina and just a minute away from the sea. The brothers Moncado (architect Francesco and photographer Alberto) have transformed the 18th century building into a light-filled, stylish duplex apartment. You enter the house via a private entrance and a staircase leads directly to the first floor with a living room and kitchen. On the second floor there is a bedroom and bathroom as well as the highlight of the apartment: a large sunny terrace!
The Casa del Forte apartment A forms part of a large old fisherman's house, just a five-minute walk from the Penthouse Cordari. Situated on the first floor and facing the courtyard, the apartment features a living room with a sofa bed, a kitchenette and dining area, as well as a bedroom which is separated from the bathroom by a broad marble panel. Colourful accents in the otherwise all-white apartment create a sunny atmosphere, and the blue window frames add to its Mediterranean flair. On the spacious roof terrace—which is shared with the studio B also housed within the building — you'll find a private seating area just for you. Blue and white wall tiles, a red circle that marks out the outdoor shower, yellow armchairs, a beautiful view of the sea, and the gentle sound of the waves … what more could you possibly want!
What to do
The penthouse Cordari is located less than 100 meters from the marina, and the Casa del Forte is only a 2 minute walk from the beach town of Ortigia. In the narrow, winding lanes around the (daily) market place, you can find wonderful local produce and fresh fish. In 15 to 45 minutes by car you can reach various beautiful beaches in the surrounding area. of Syracuse is a UNSECO World Heritage site).
Why we like this house
Two modern apartments in the historic part of town. Unique, with plenty of charm, and large open-air terraces.
Host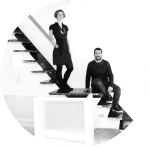 Franceso Moncando is an architect and globetrotter. He lived and worked in Spain, Great Britain, Portugal, the Netherlands, Norway, France and Dubai. Together with his wife, the Portuguese Malfada Rangel, he runs the architecture, design and creative agency Moncanda Rangel. His brother Alberto (not pictured) is a photographer and instructor. He studied in Milan and now lives in the historic center of Syracuse. He knows the city very well and shows his guests on request the hidden places above and below the water.
Details of the property
Region/Town: IT – Italy, Sicily, Syracuse, Ortygia
Name: Penthouse Cordari Ortigia
Scenery: historic city center on the island of Ortygia
Accommodation: House
Number of guests: each apartment max. 4 people
Architecture: Old & new, Modern
Completed: 2007 (Penthouse Cordari O
Design: Francesco Moncada, Syracusa
Homepage www.iamsicily.com