Die 1884 erbaute Saftstationen im Westen der Insel Møn gehört zu den letzten Industriedenkmälern ihrer Art. Wo einst Zuckerrüben zu süßem Saft verarbeitet wurden, kann man heute seine Ferien verbringen, Feste feiern und Kultur erleben.
Am Rande des Dorfes Damme, nicht weit von der Küste und den Stränden entfernt, liegt inmitten eines parkähnlichen Gartens die imposante Anlage aus hellem Klinker, die sich aus zwei Verwaltungsgebäuden, Fragmenten der einstigen Rübenkammern sowie der Abladerampe zusammensetzt. Als die Zuckerproduktion auf Møn florierte, wurden drei Zuckerrübenwerke auf der Insel erbaut, um den Lieferweg für die Bauern zu verkürzen. Das Gebäude in Damme ist heute das einzig erhaltene. 2019 wurde die Saftstationen ganzheitlich von ihren Besitzern restauriert – mit dem Vorsatz, seine typischen Details zu bewahren.
Jede der zwei Ferienwohnungen eignet sich für zwei Personen und besteht aus einem großen Raum mit einem freistehenden Einbau für Bad und Küche. Zum Hof hin befindet sich die Küche, während auf der anderen Seite das Schlafzimmer zum Garten blickt. Die hochwertige wie schlichte Inneneinrichtung mischt helle natürliche Töne mit wenigen farbigen Akzenten und findet ihre eigene Interpretation des skandinavischen Stils. Viele Elemente wie die Küche, der Esstisch oder die Außenbeleuchtung wurden extra für die Saftstationen entworfen, was die persönliche Atmosphäre der Wohnungen wie des gesamten Anwesens zusätzlich unterstreicht. Vor den hohen Glastüren liegt der gekieste Hof, dahinter gehen die Felder in die abwechslungsreiche Küstenlandschaft über, um im Meer zu münden.
Zur Saftstation gehört auch ein Festsaal, der regelmäßig mit Konzerten und Literaturveranstaltungen bespielt wird, sich aber auch für Familienfeiern anbietet.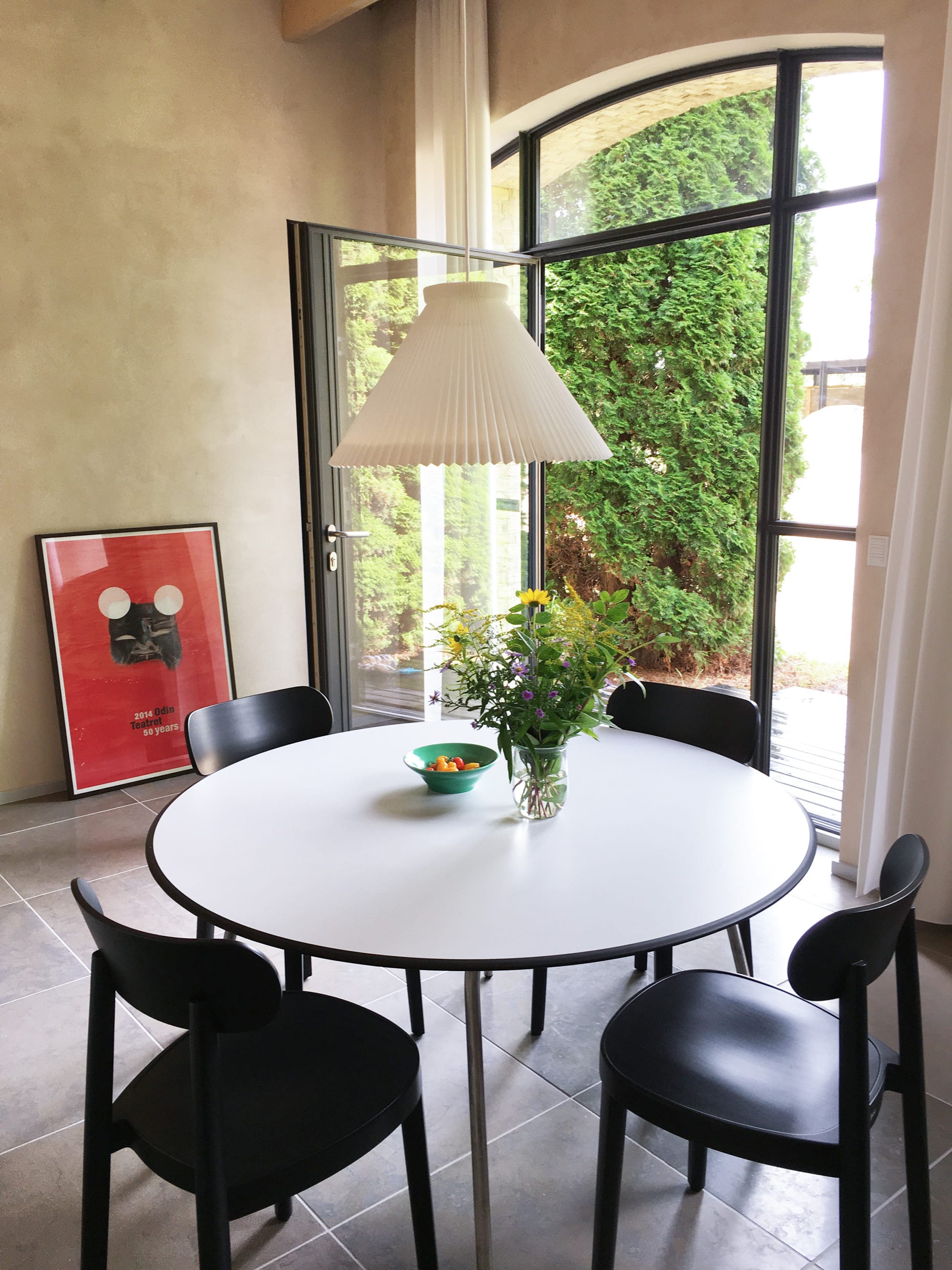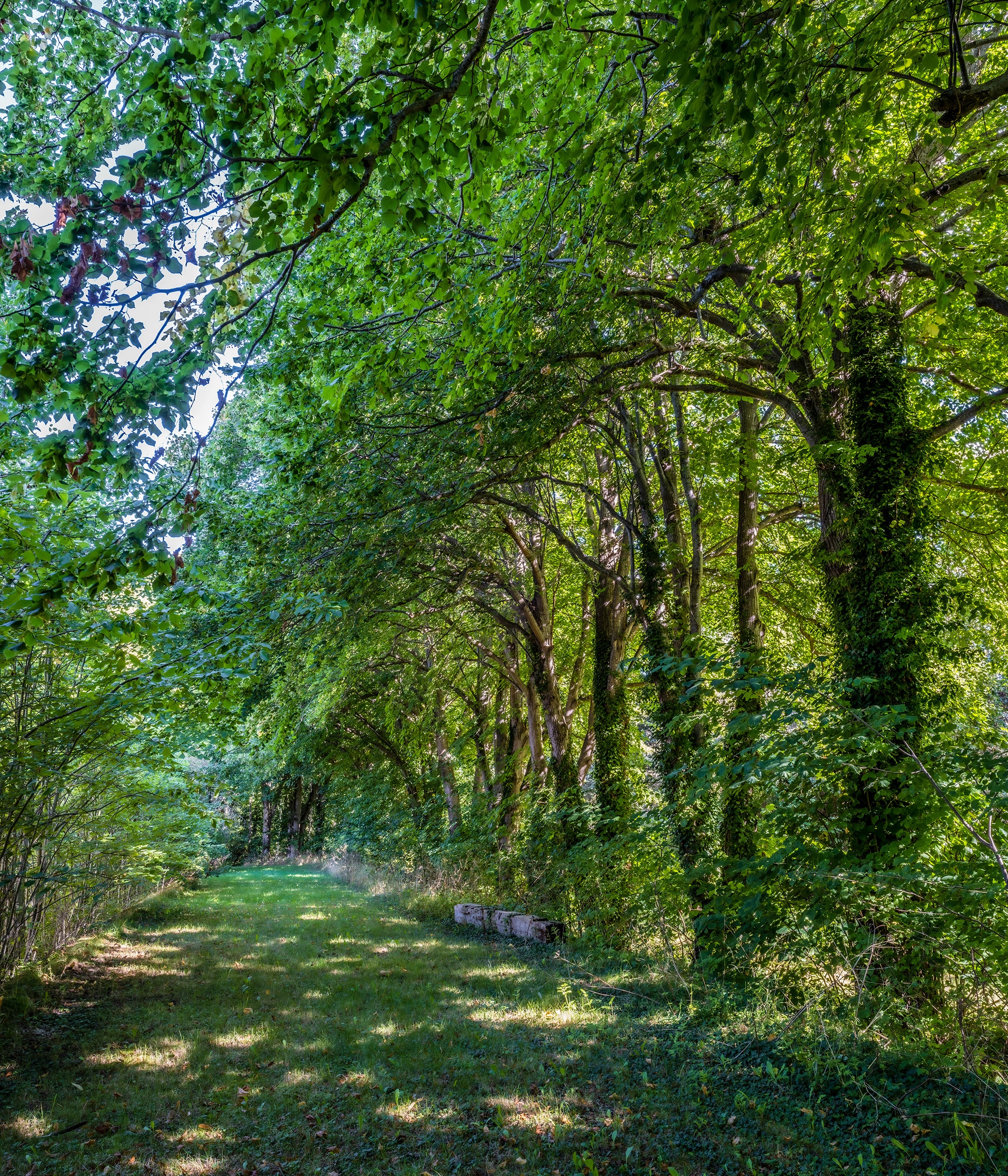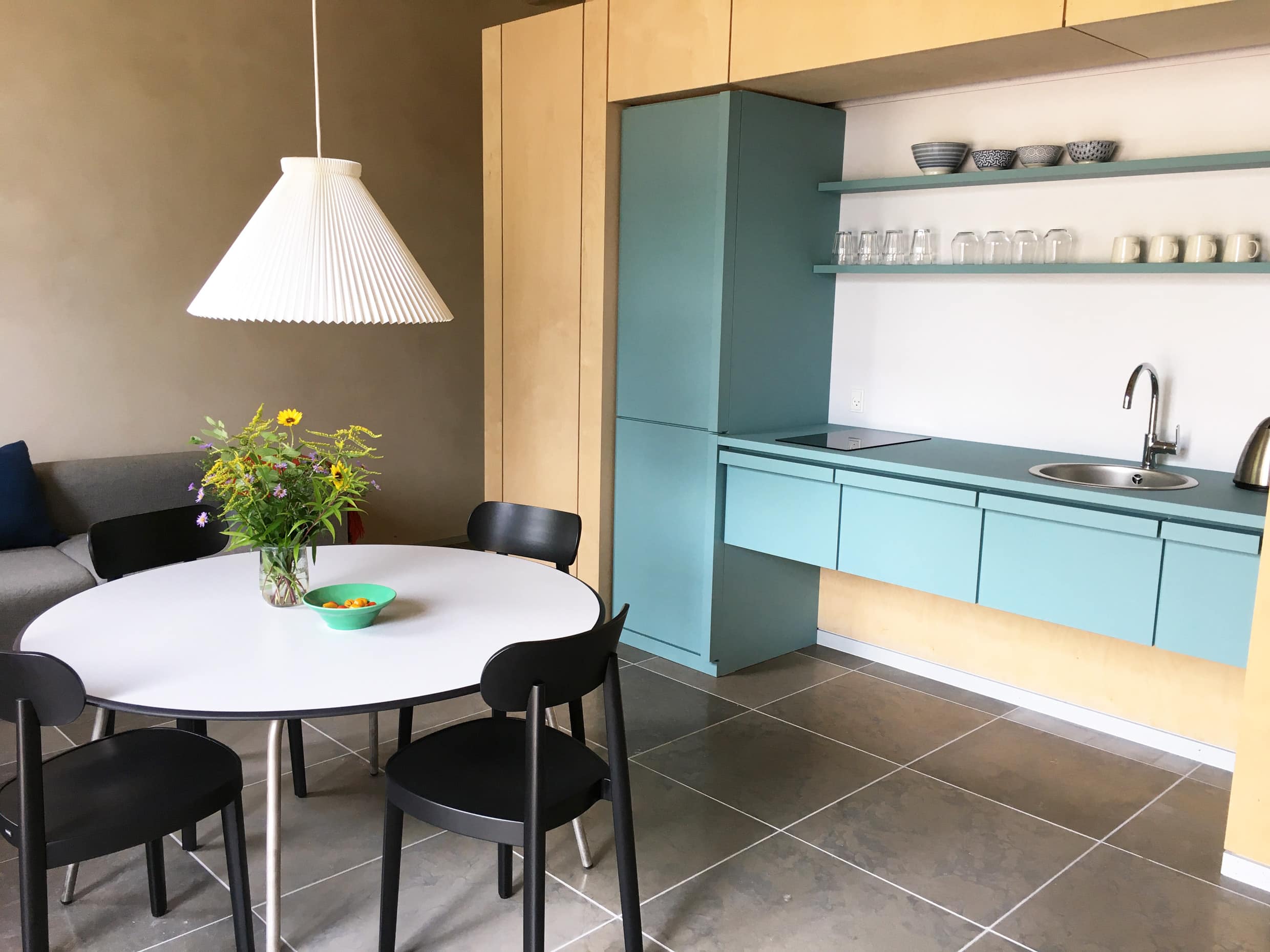 What to do
Hiking and cycling tours, a short walk away is the medieval church of Fanefjord, decorated with paintings by the famous Elmelunde Master, a visit to Grønsalen, the longest burial mound in Denmark, excursions to the spectacular Møns Klint, the largest chalk cliff in Europe, to the small harbour in Hårbølle or to the Fanefjord Forest, where you can find amber and fossils on the nearby beach. Copenhagen is a 1,5 hour drive by car.
Why we like this house
Modern romance: representative industrial architecture with new spatial solutions and an exciting cultural programme.
This house is great for
Nature lovers, couples, friends
Sustainability
Public transport: Less than 500 metres from the Saftstationen is a bus stop with connections to Vordingborg or the capital Stege.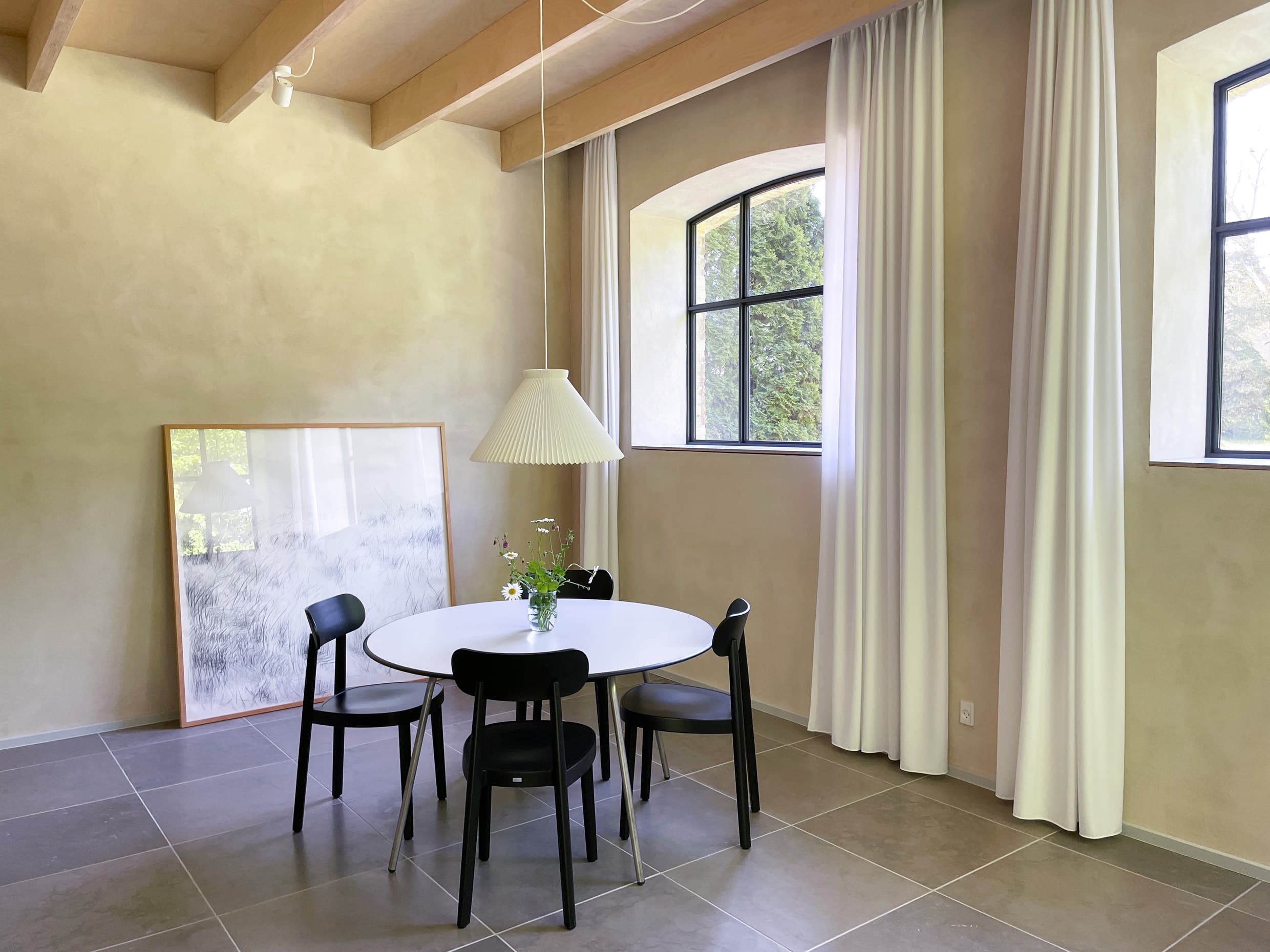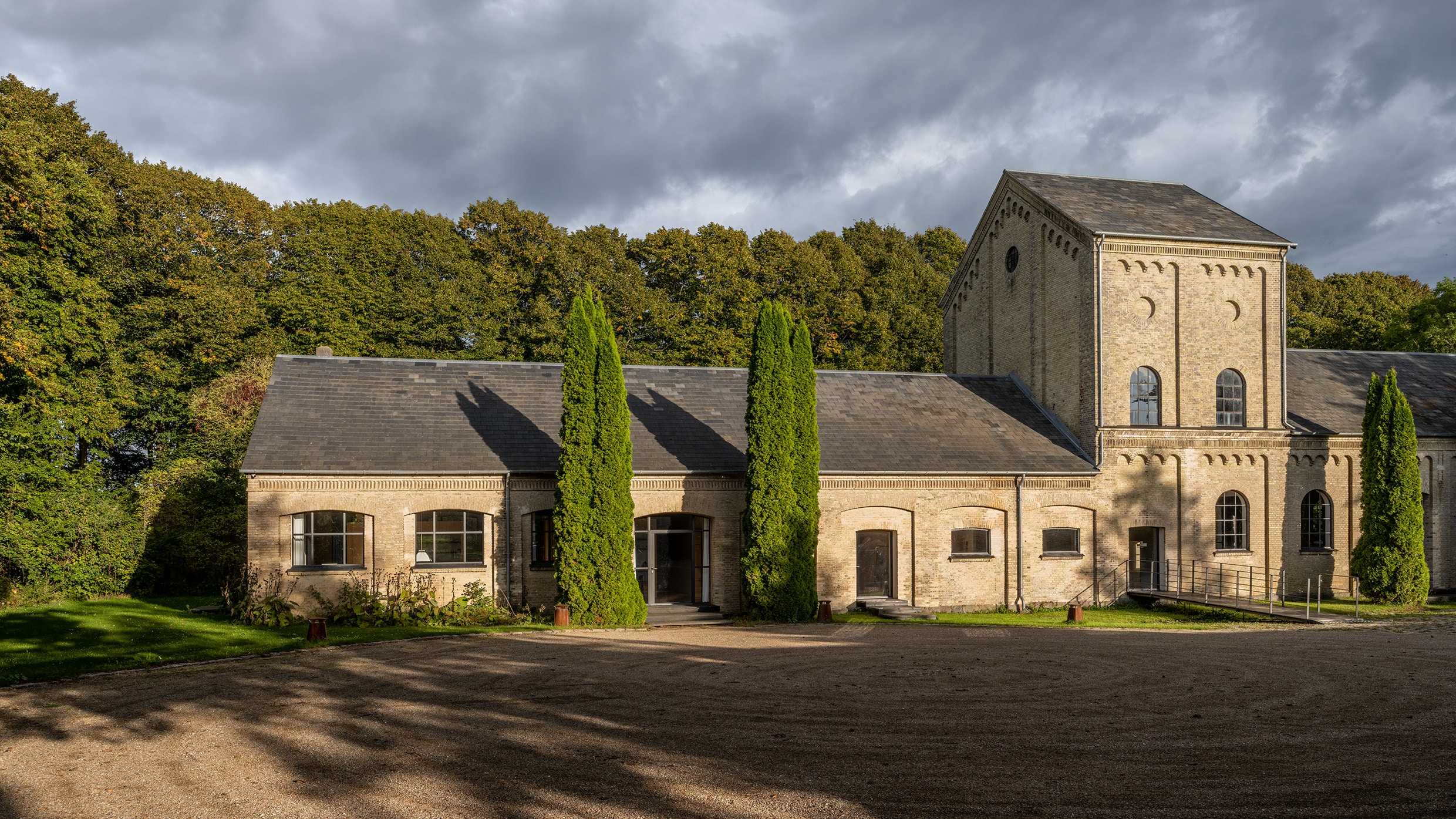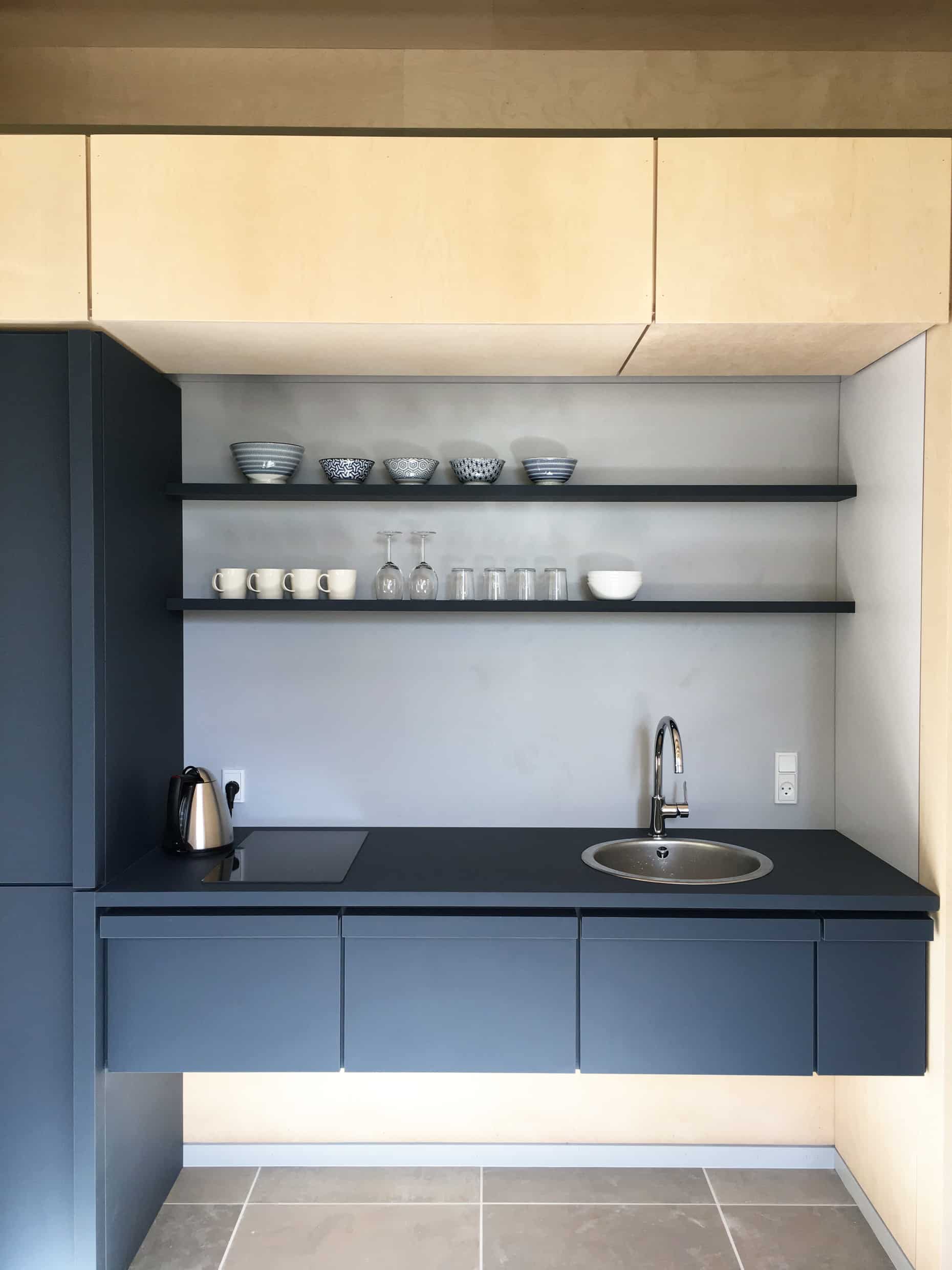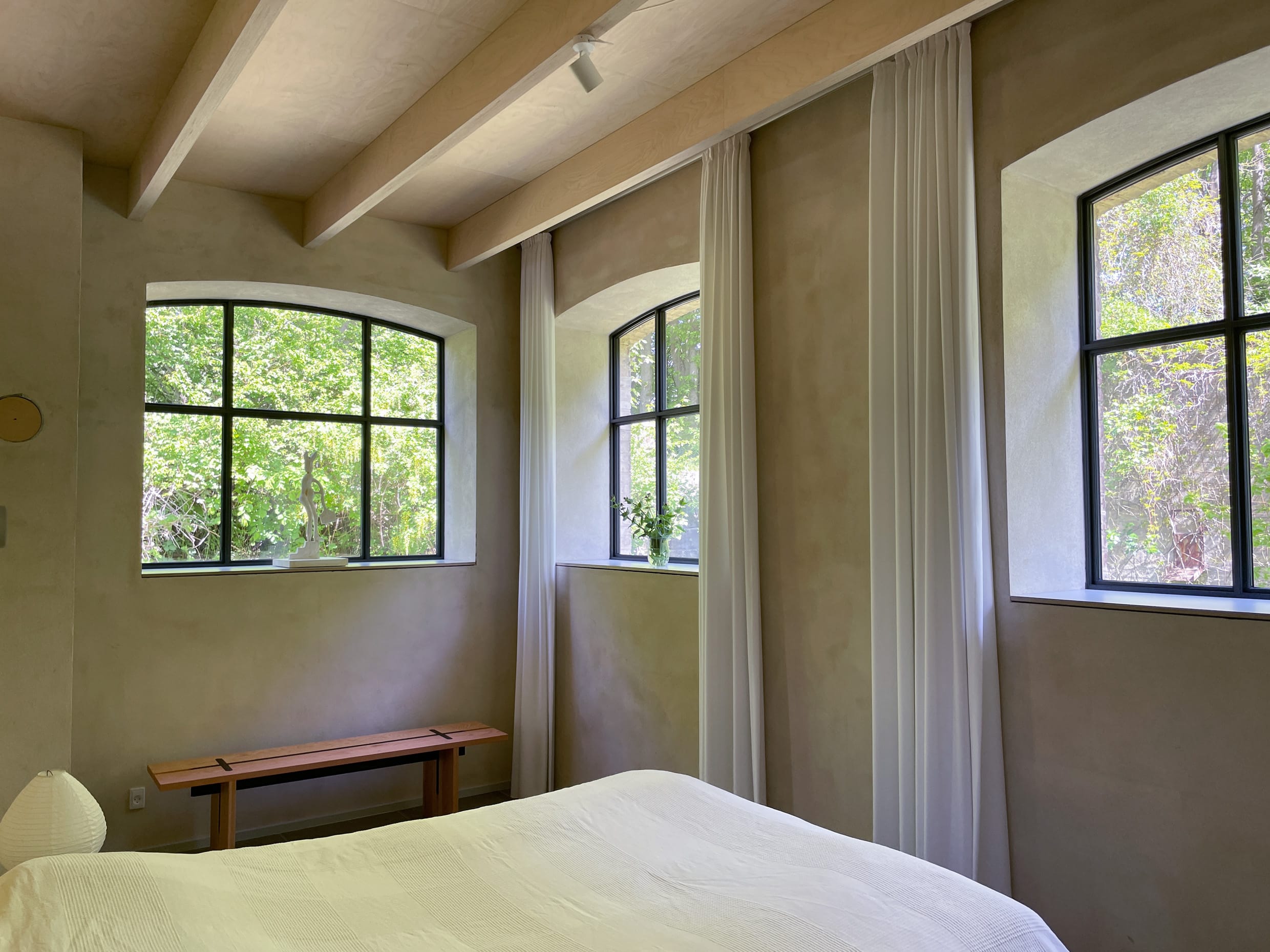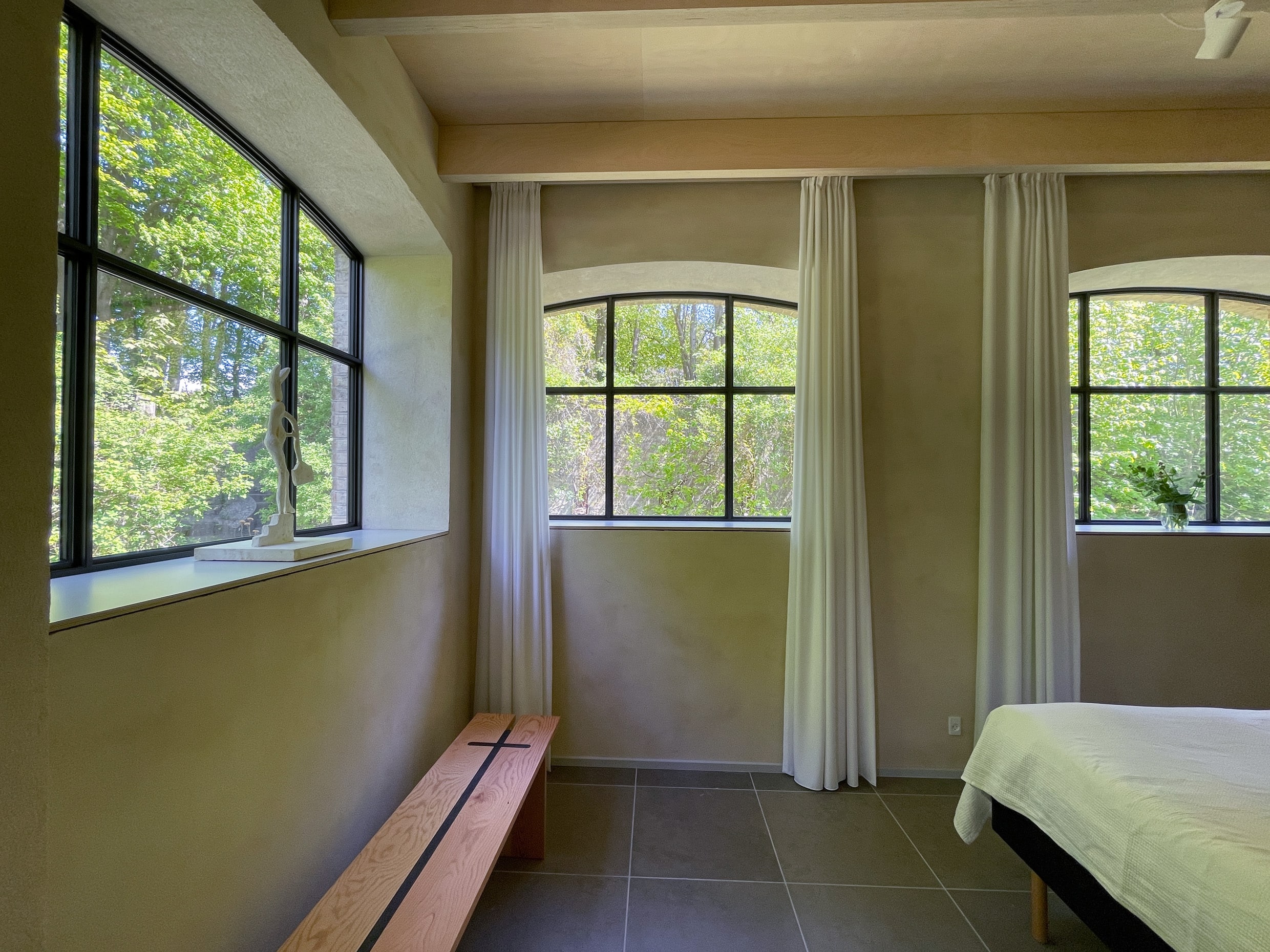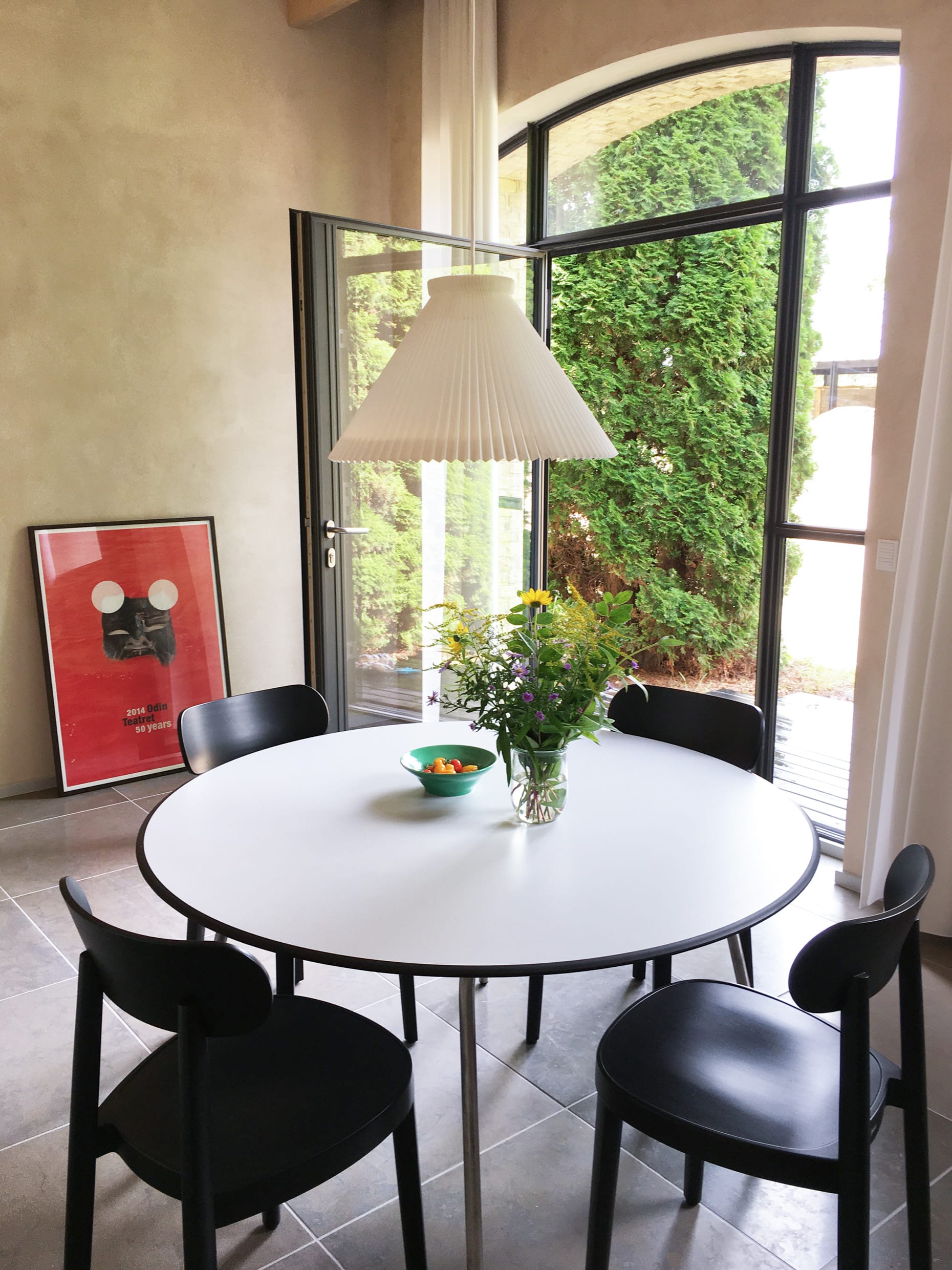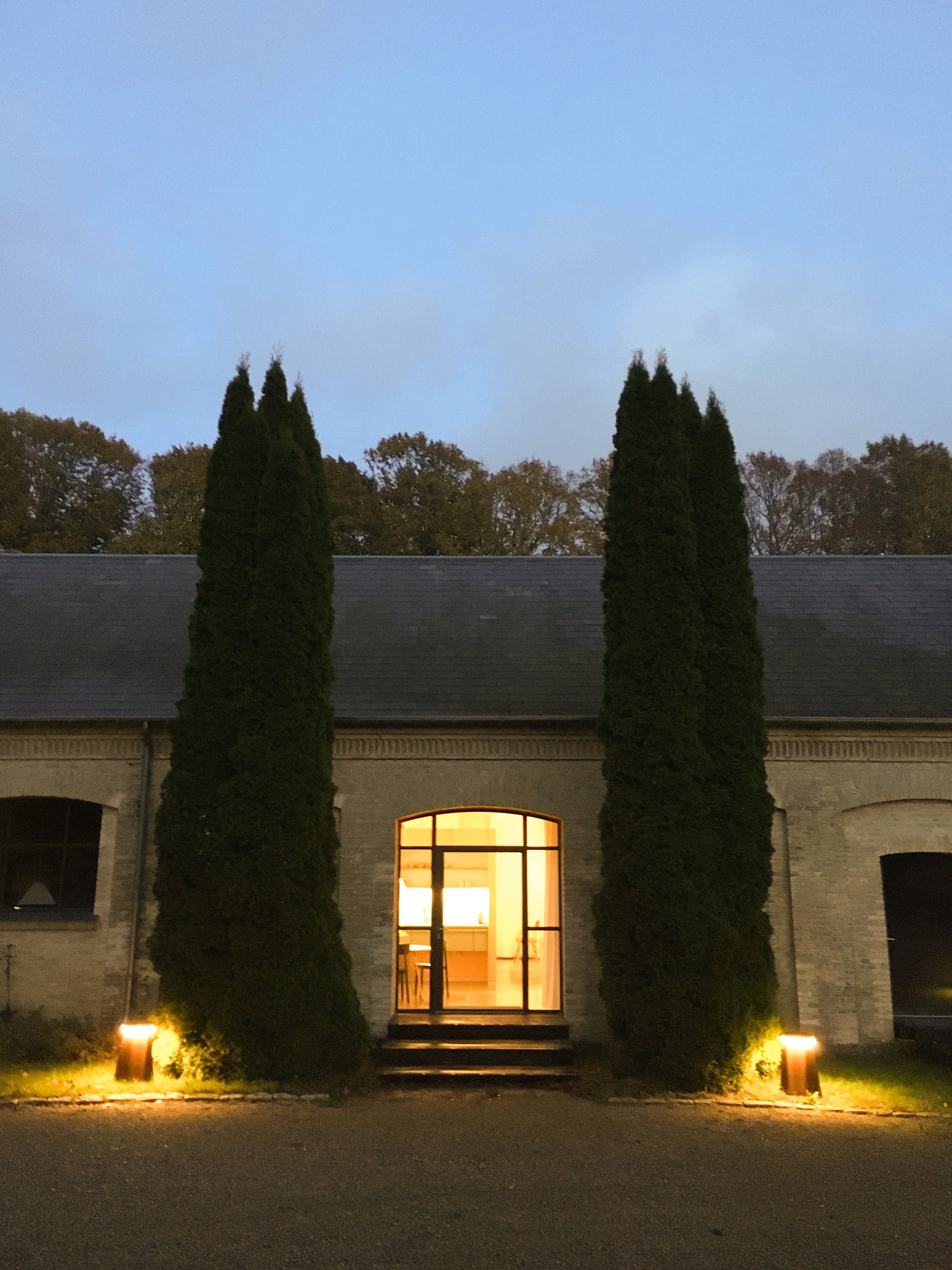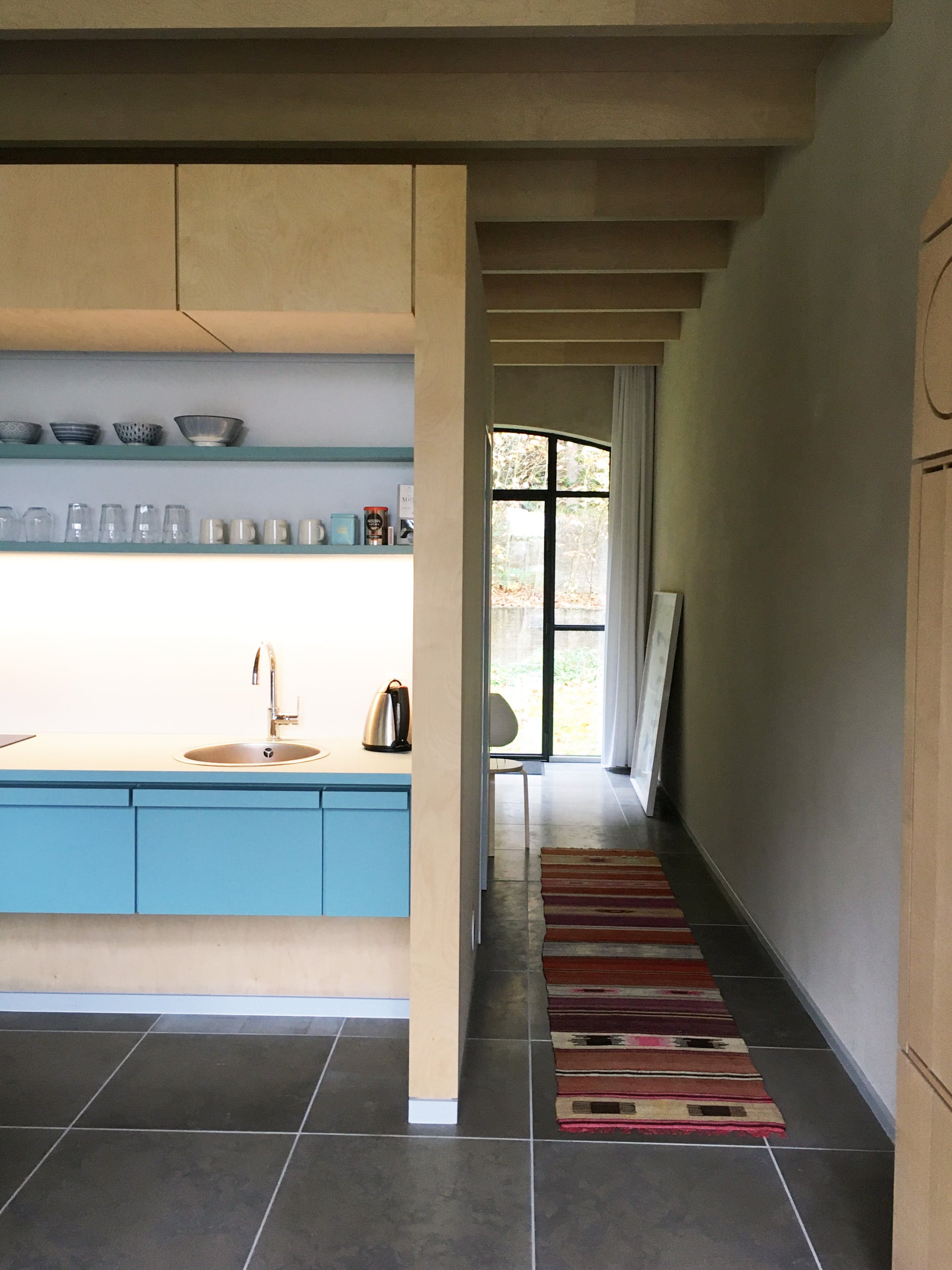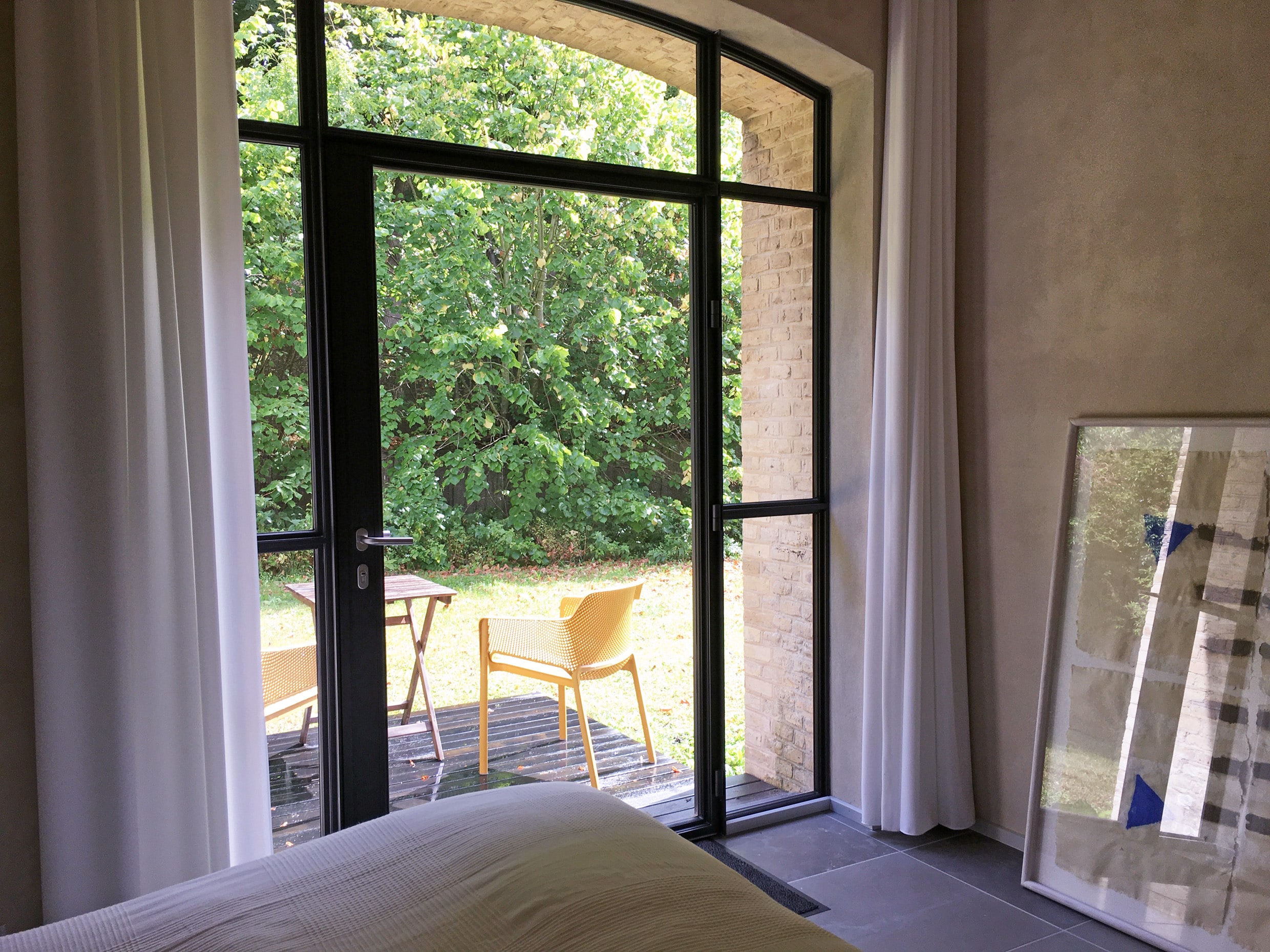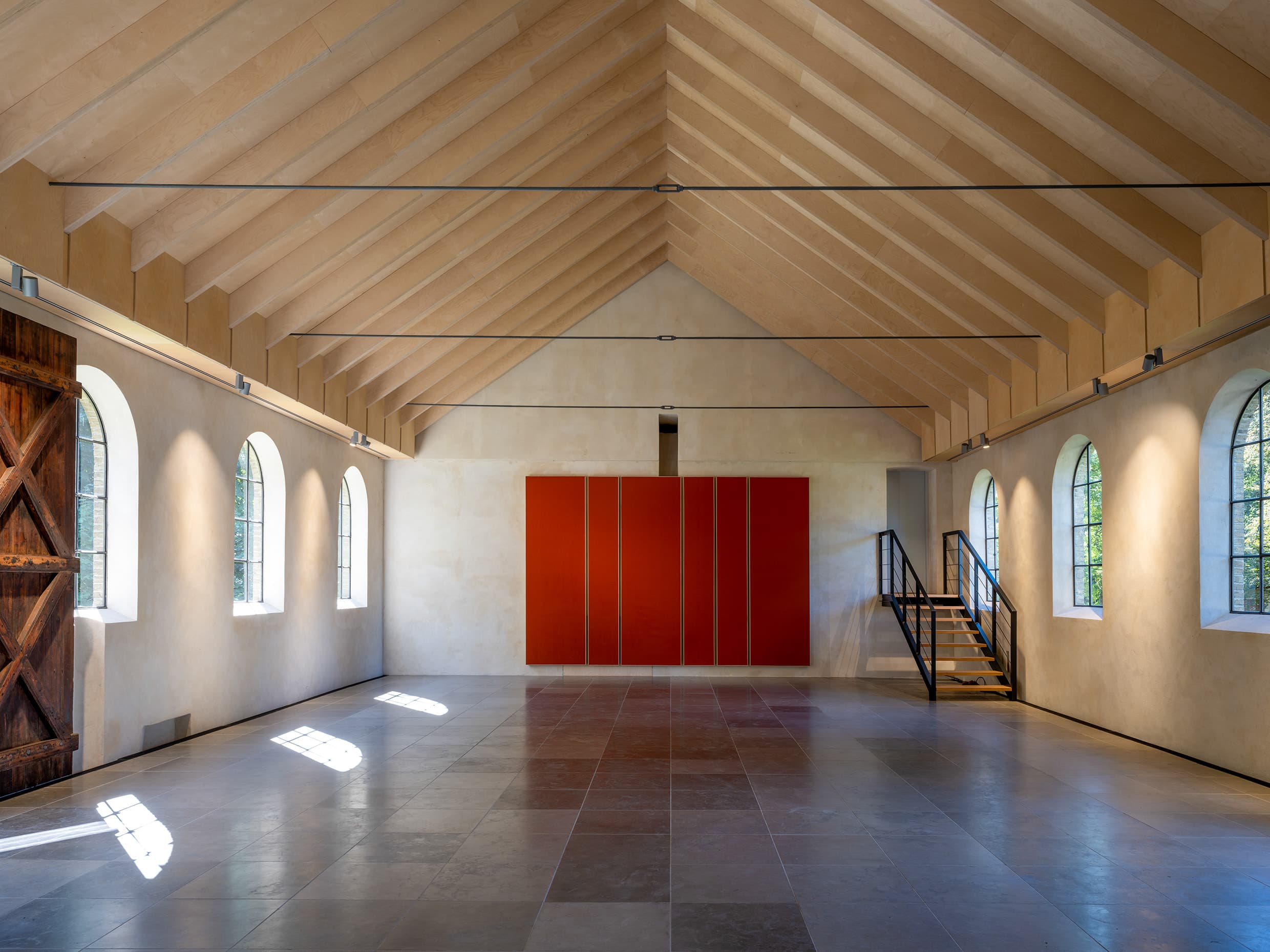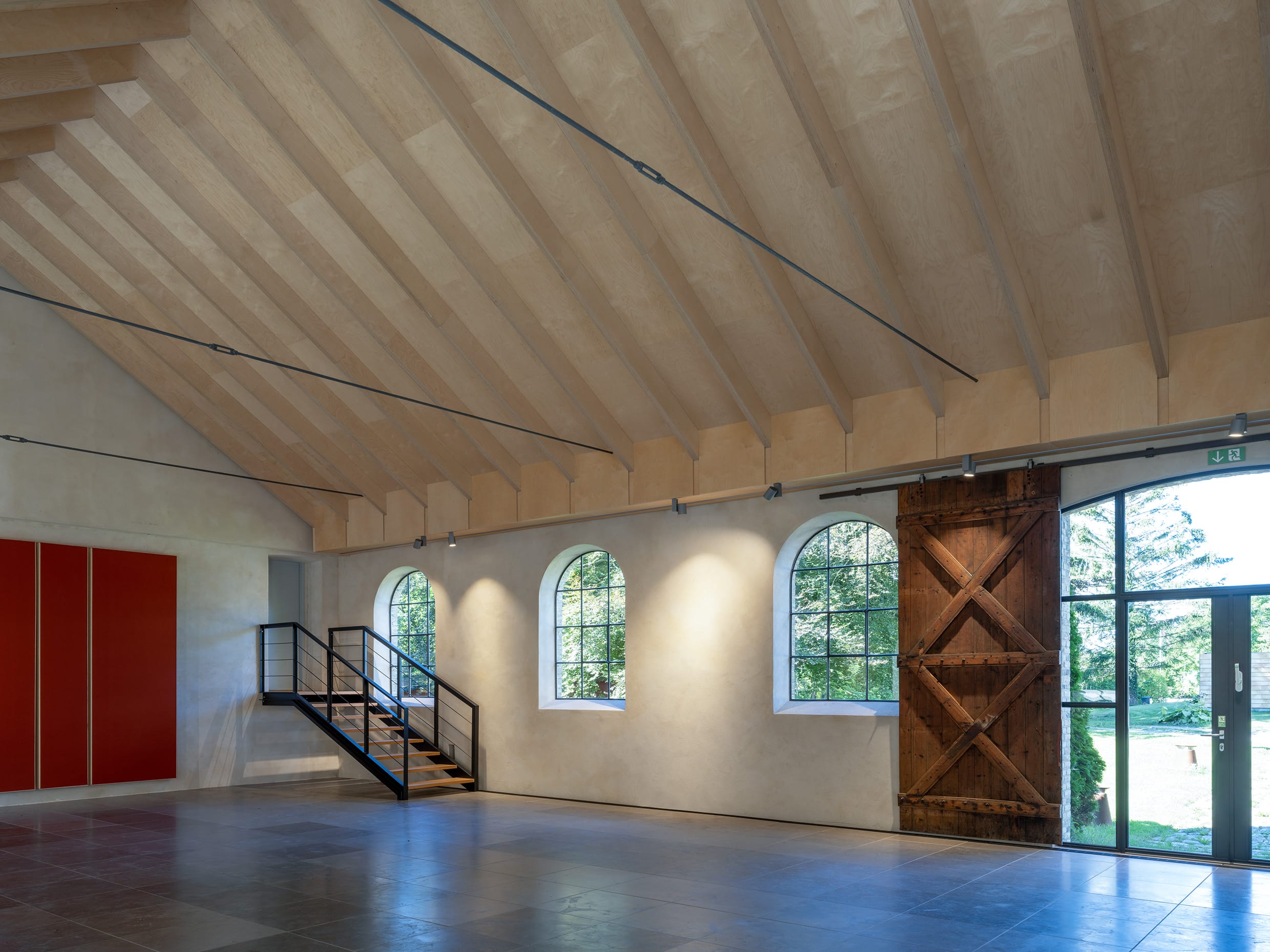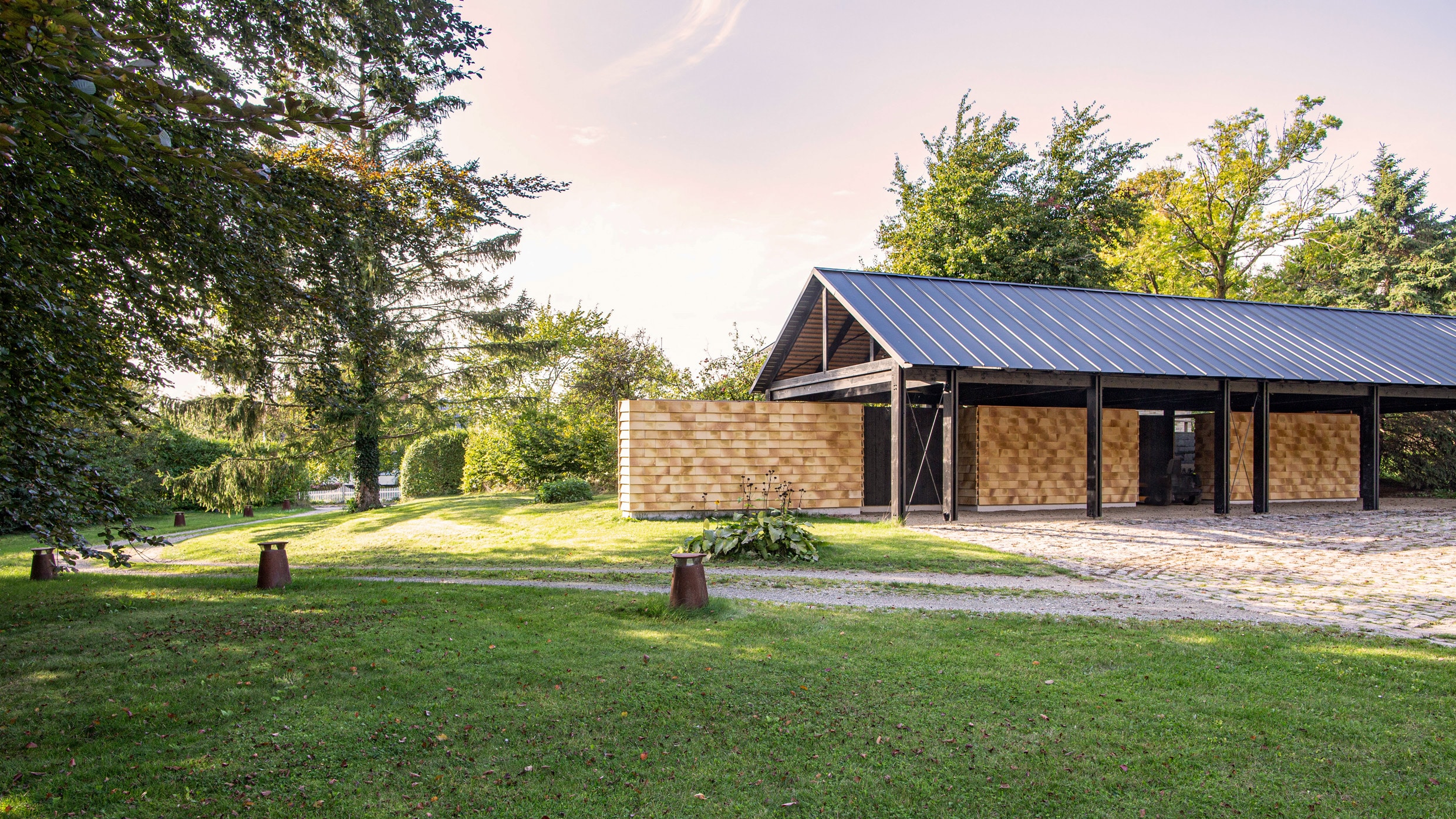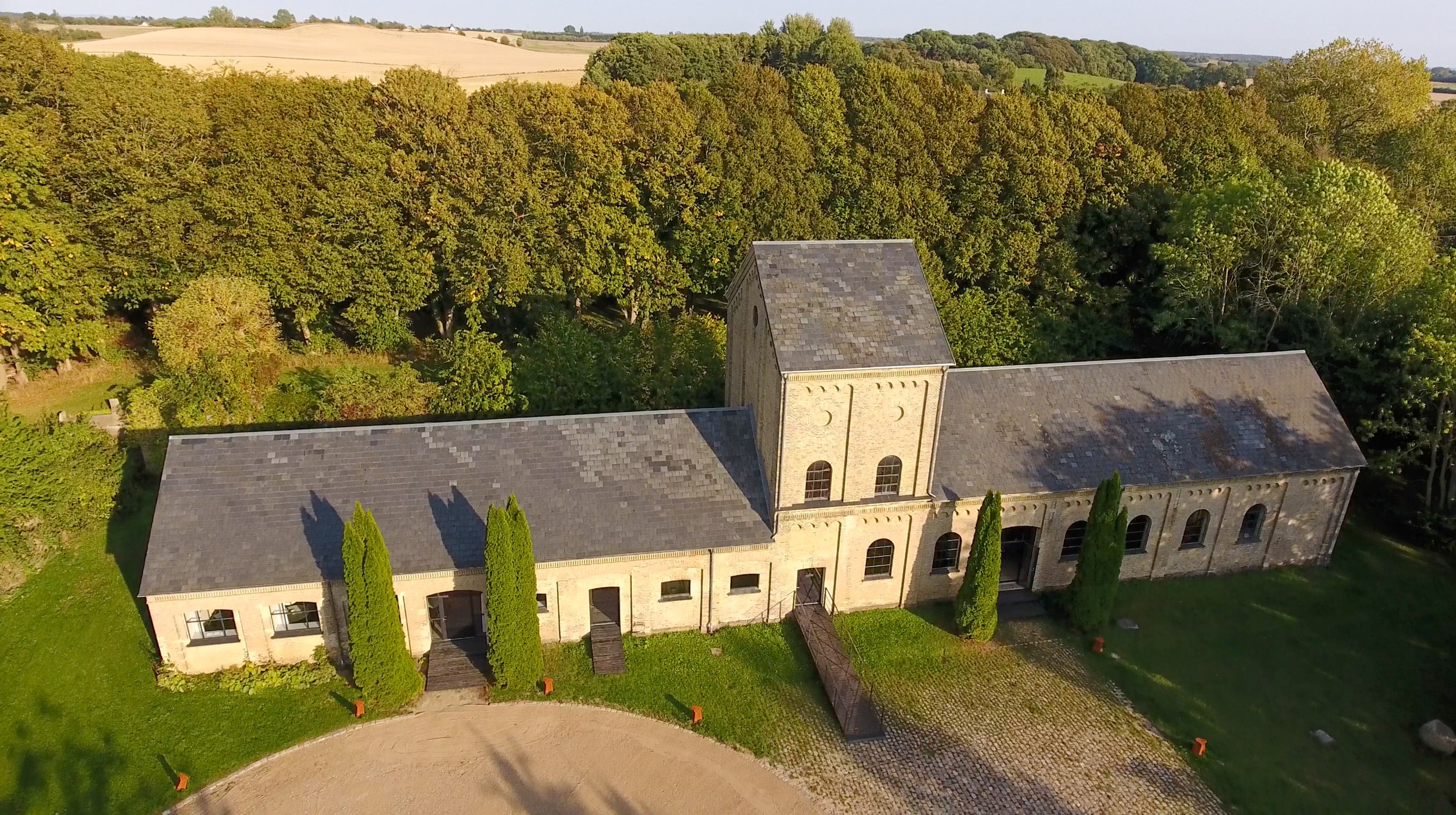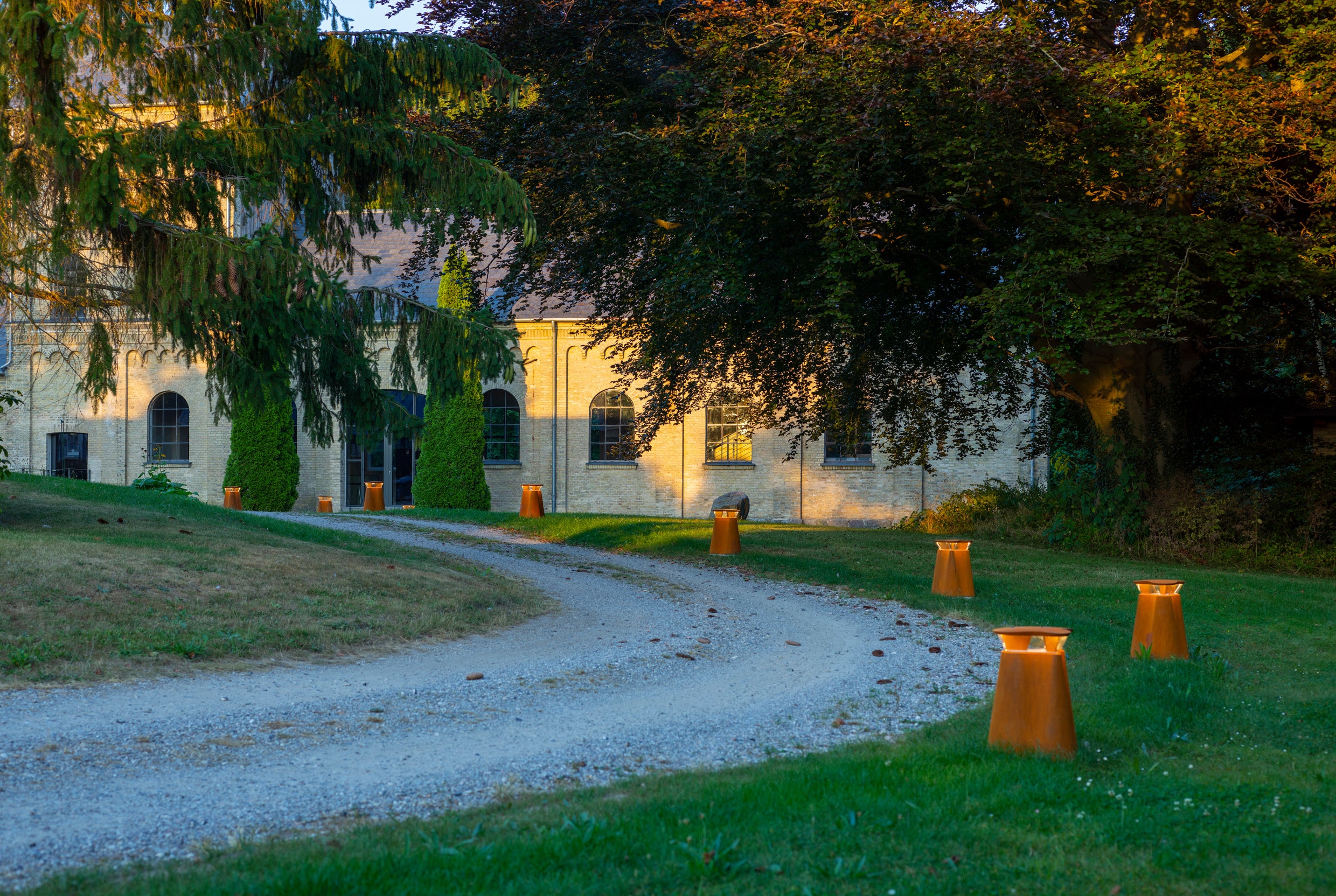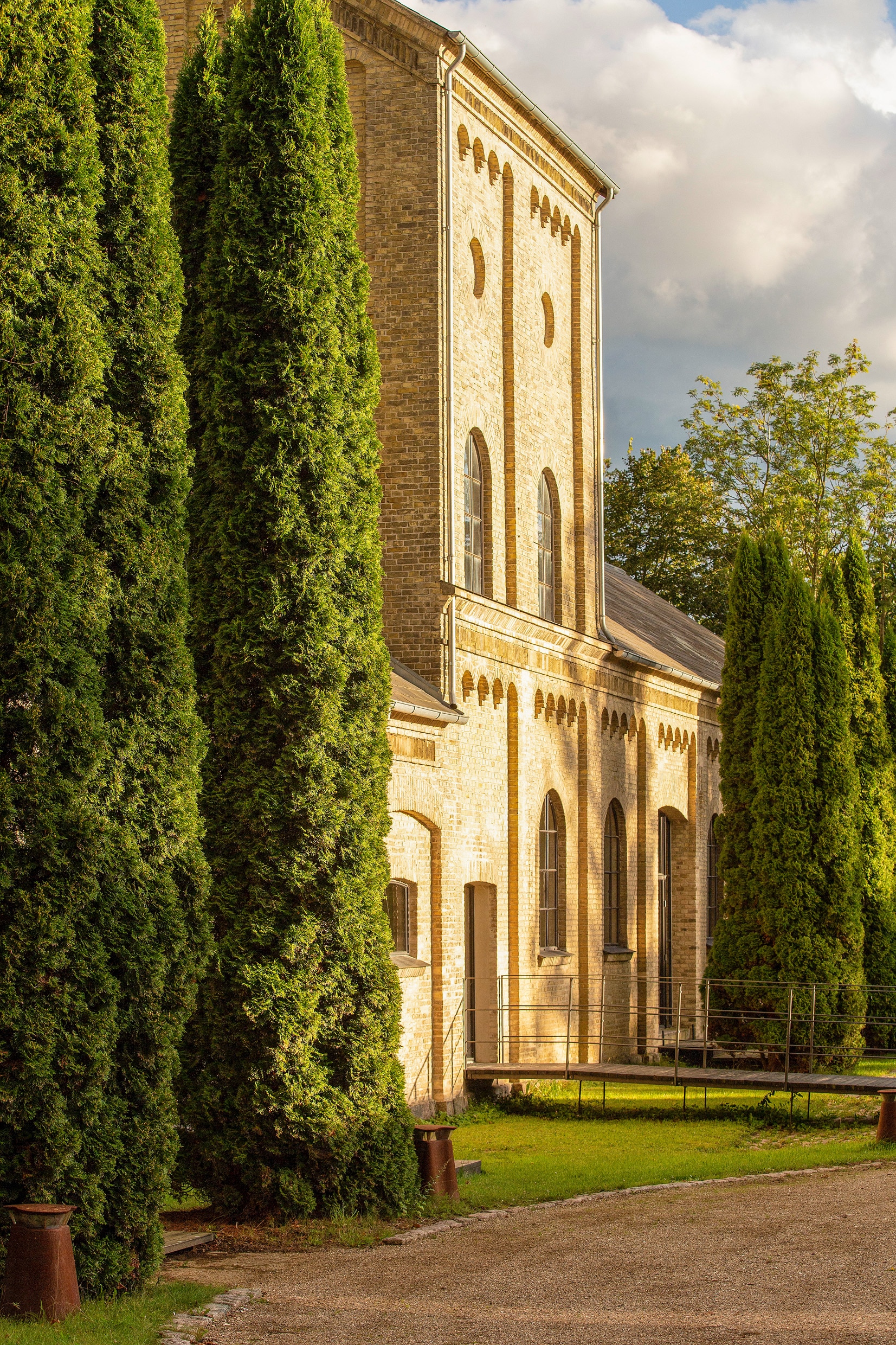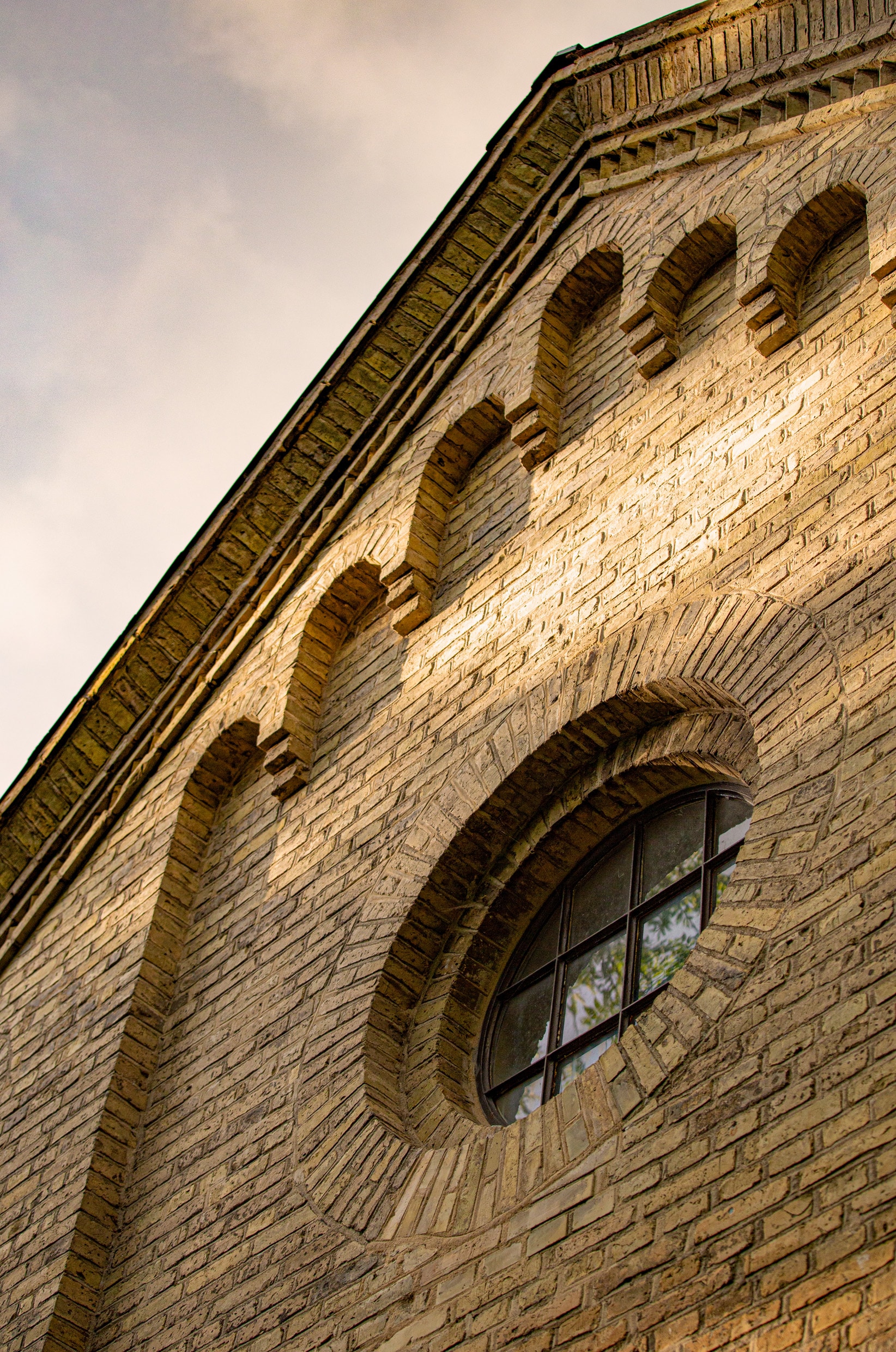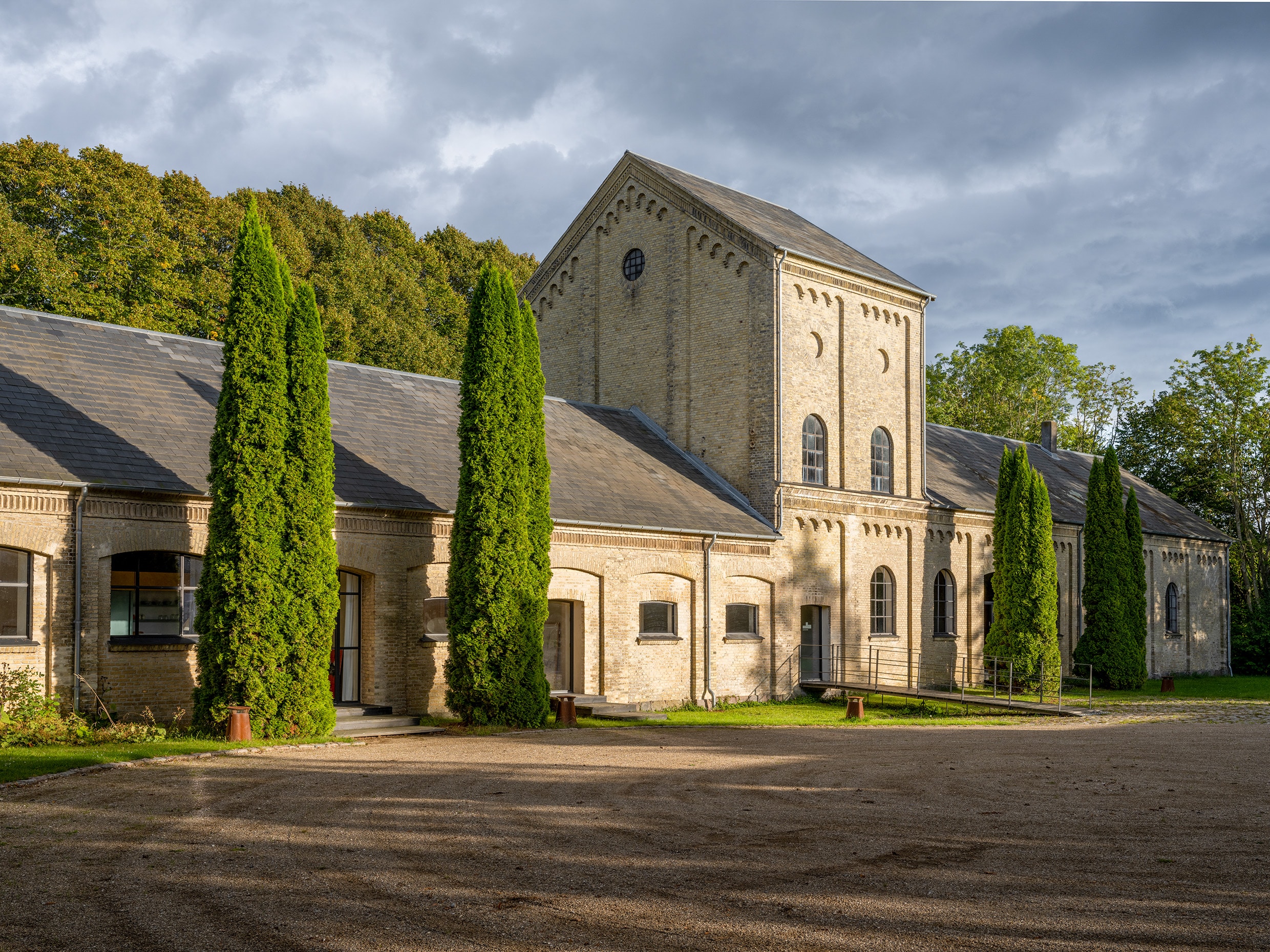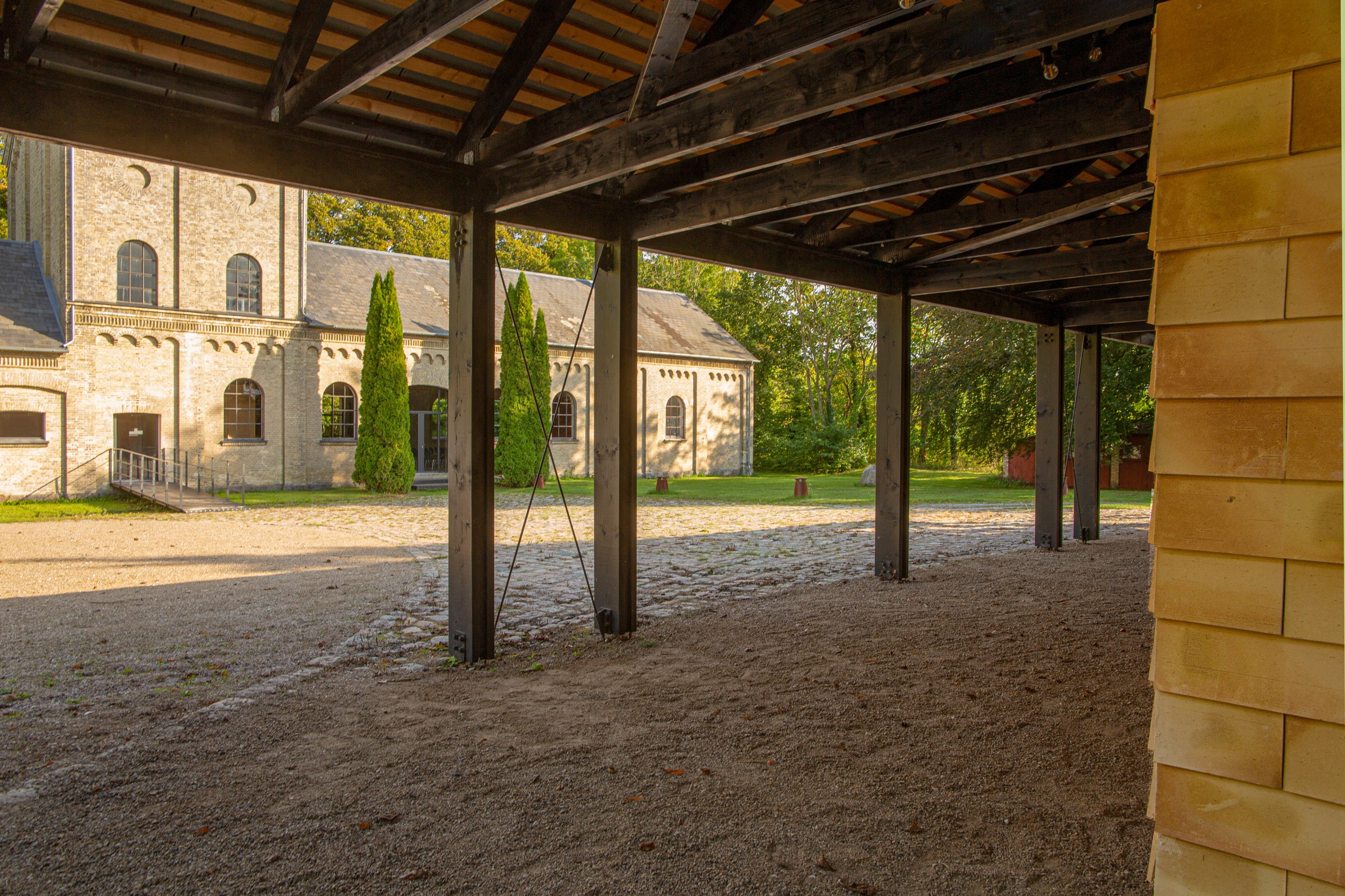 Details
| | |
| --- | --- |
| Region | DK – Denmark, Møn island, Damme |
| Name | Saftstationen |
| Scenery | On the edge of the village, close to the coast and beaches |
| Number of guests | Max. 4 in 2 apartments for 2 guests each |
| Completed | 1884, renovation 2021 |
| Design | L.P. Fenger (historic building), Peter Bysted and Charlotte Hauch (renovation) |
| Awards | "Best renovation in 2021" awarded by Vordingborg Municipality. Diploma for outstanding restoration 2020, awarded by The Association for Bygnings- og Landskabskultur Møn |
| Architecture | Historical, Listed building - old, Old & new |
| Accomodation | Apartment |
| Criteria | 1-4 (house/apartment), Beach, Garden, Hiking, Island, Music, Sea, No car needed |
Availability calendar
The calendar shows the current availability of the accommodation. On days with a white background, the accommodation is still fully available. If an accommodation has more than one rentable unit, days with free capacities are shown with a light grey background. On days with a dark grey background, the accommodation is not available.
Request/Booking