In the village square of Unsere liebe Frau im Walde, a pilgrimage site in South Tyrol, you will find the Hotel Zum Hirschen. For centuries, pilgrims and travellers of all persuasions have been welcomed here by the local inn, situated directly by the village square next to the pilrimage church. When this former pilgrims' hostel was transformed into a hotel, a special emphasis was placed preserving the authenticity of the building and making its history come alive. The historic inn with its simple facade was fitted with a shingle roof and supplemented by a modern extension. Cubic balconies and the top storey's larch wood facade characterise the new building's clean lines, and a glass stairwell connects the hotel's two wings.
The refined simplicity of the exterior extends to the interior spaces, which are in turn characterised by a reduction to the essentials and the use of natural materials, such as larch and natural stone floors, straight-lined wooden furniture and fabrics in selected colours. The three new room categories refer to the history of the house and to its surroundings: The Hospitium rooms have a simple design and a contemplative atmosphere. In the Gasthof rooms, nostalgic lamps and chairs from the old farmhouse parlor create a homely and welcoming ambience. The Luc rooms are named after the highest mountain in the Nonsberg Group. They feature broad windows overlooking nature and are fitted with modern minimalist furniture.
The hotel has a sauna that boasts panoramic views. The food in the hotel restaurant and bistro is prepared according to the slow food philosophy. And the hotel bar is located in the medieval vaulted cellar.
Also read our HomeStory.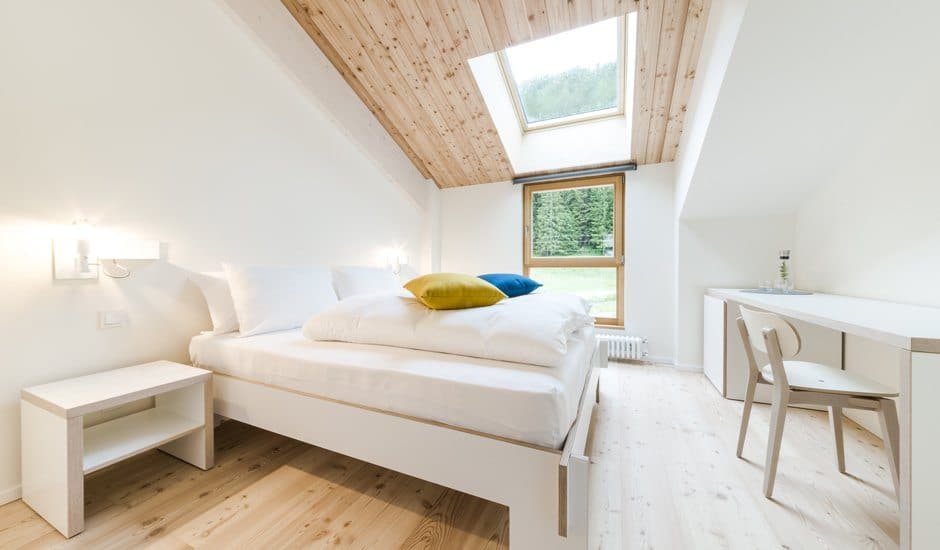 What to do
Active holidays in nature: Mountaineering, hiking, mountain biking in summer, snowshoeing, ski tours, downhill skiing and tobogganing in winter, trips to Merano, Bolzano and Trento.
Why we like this house
Hotel Zum Hirschen is set apart by its understated ambience and refined details. It is an inspiring refuge for holidaymakers seeking rest, active relaxation, and culinary delights admidst the mountain landscape.
This house is great for
Active vacationers and those in search for relaxation, families, foodies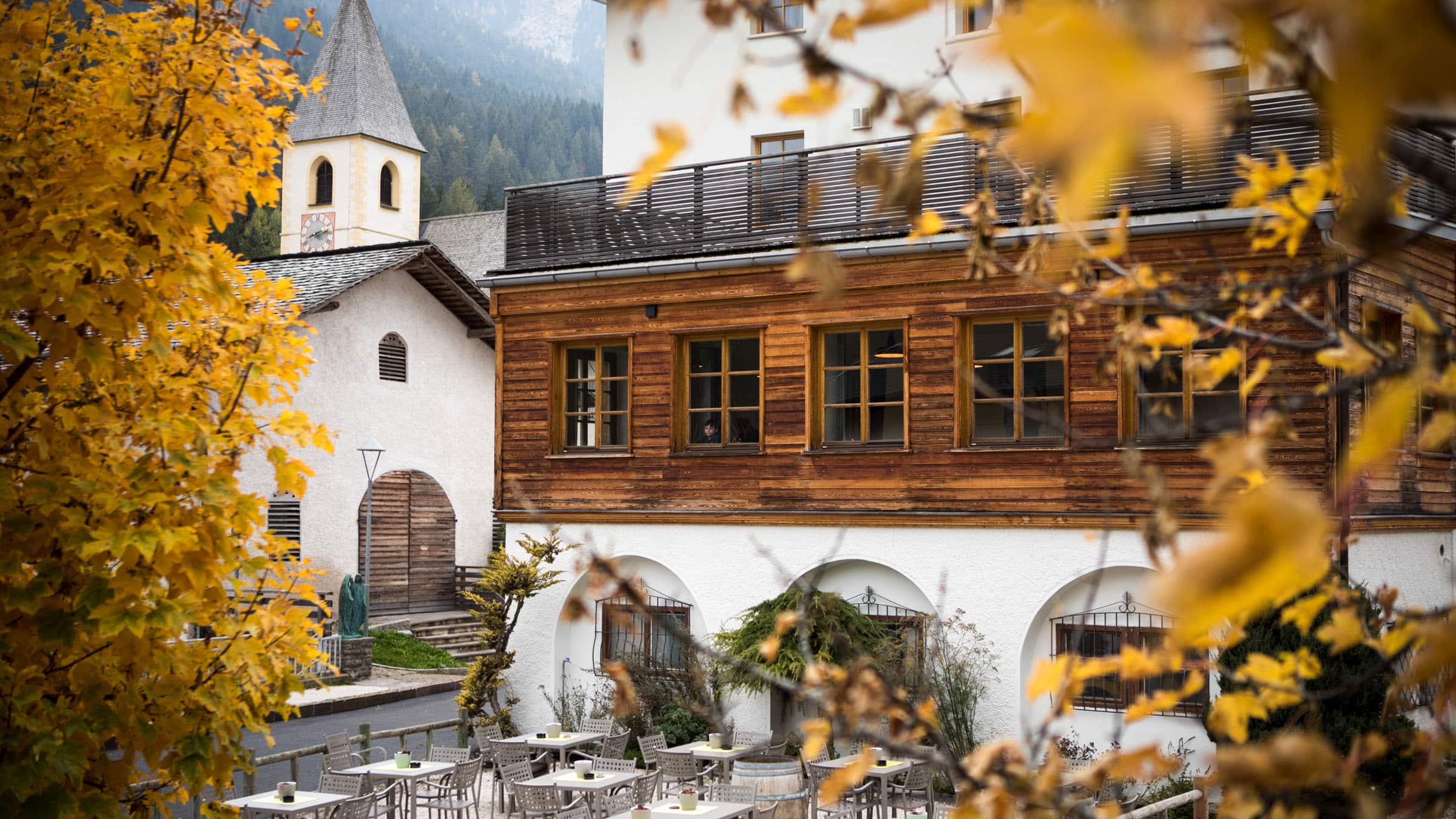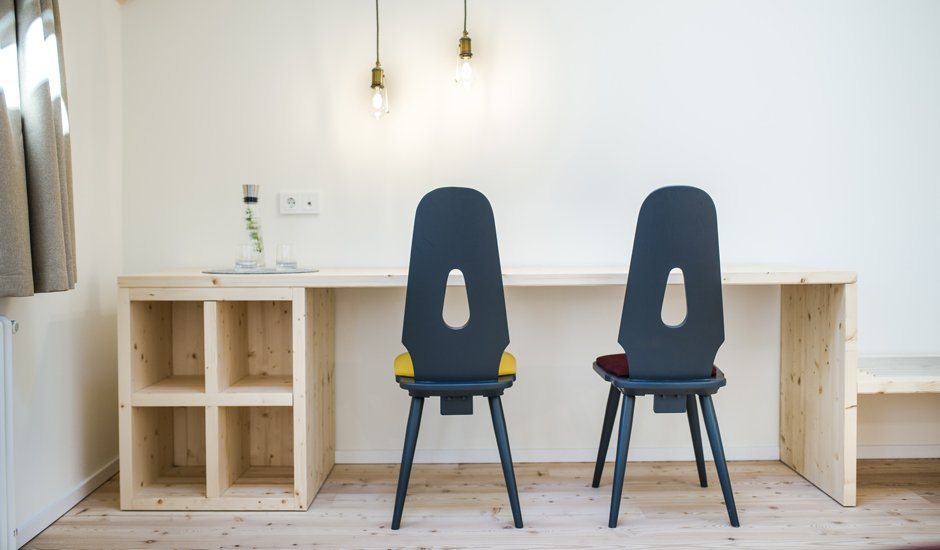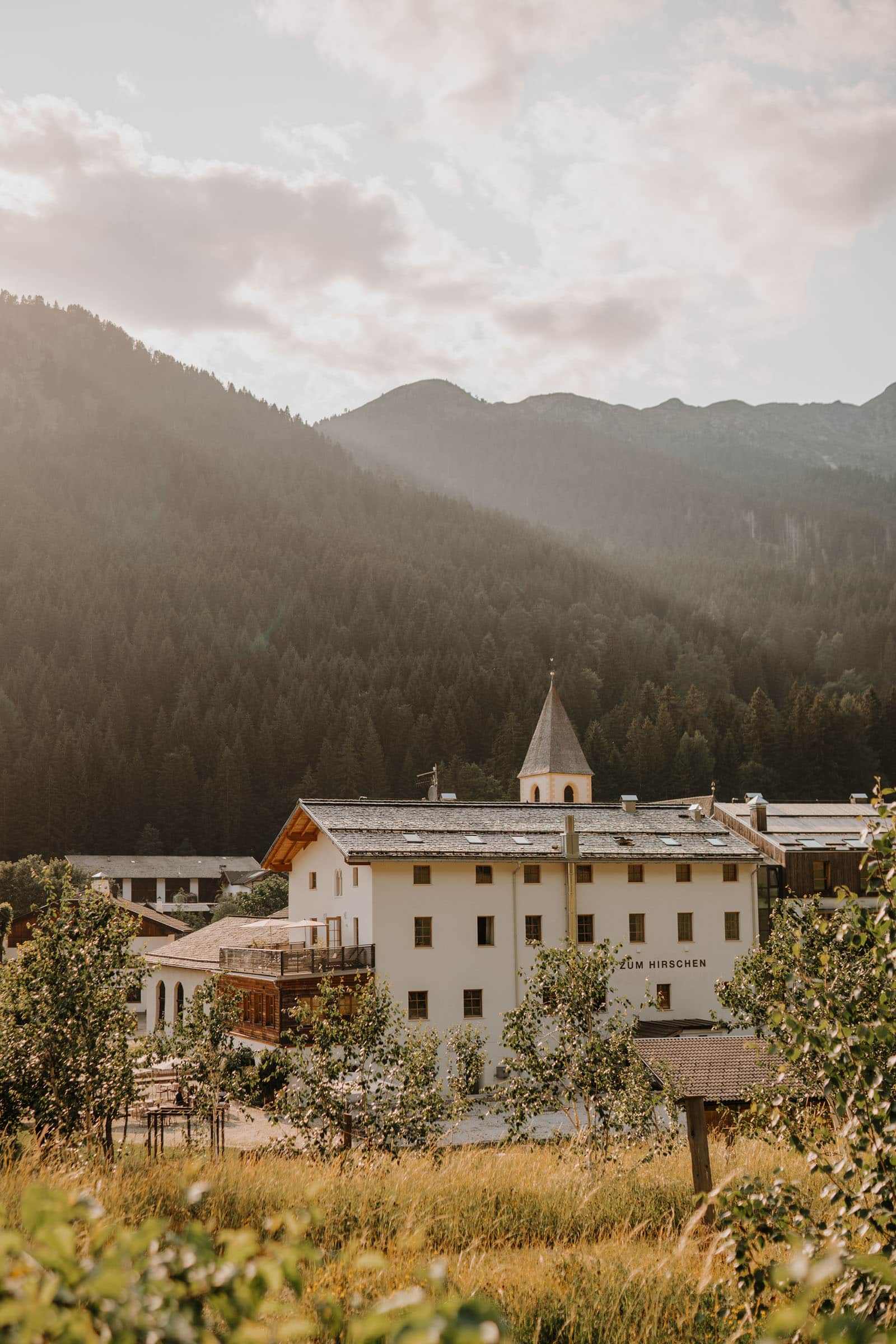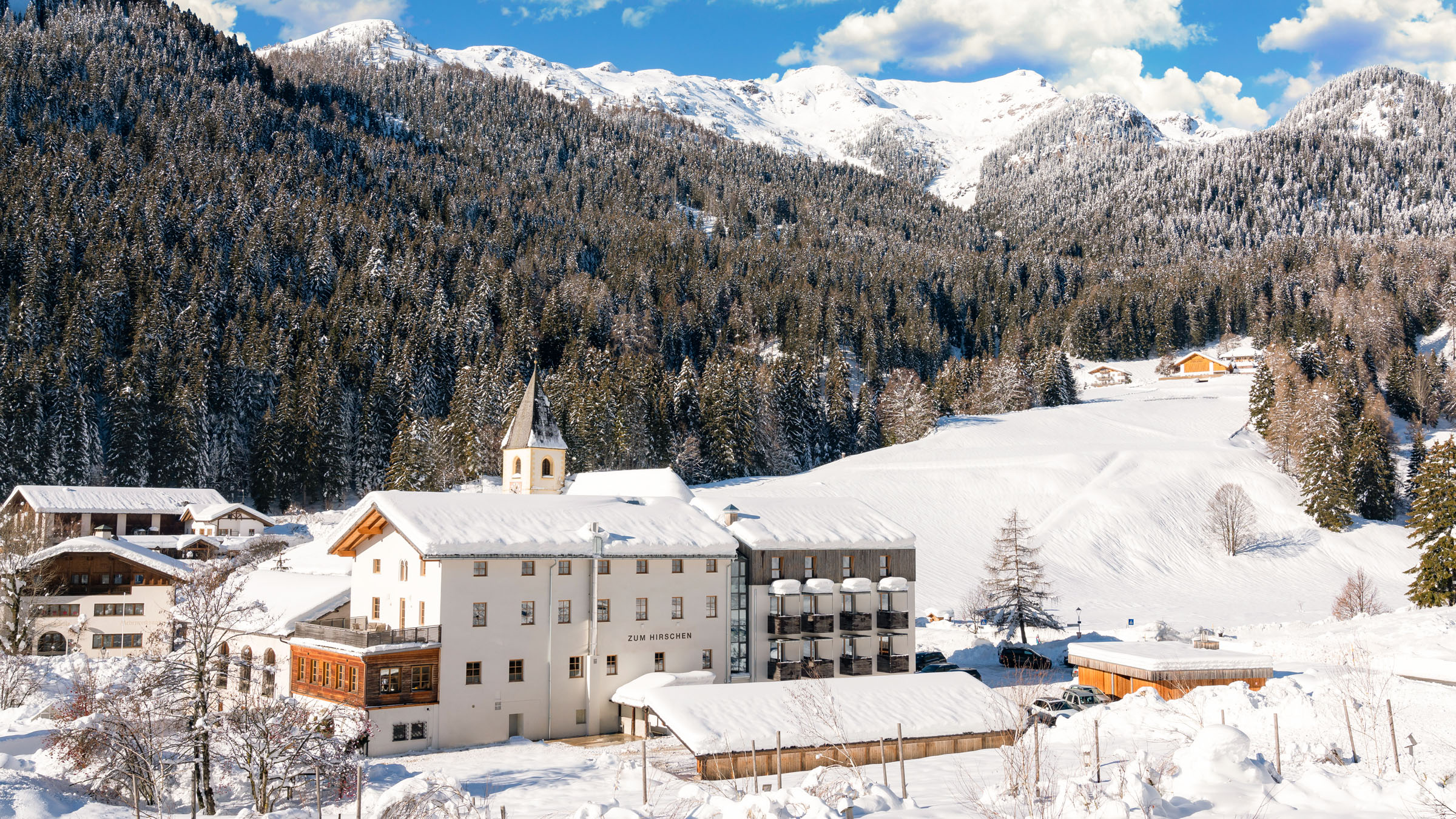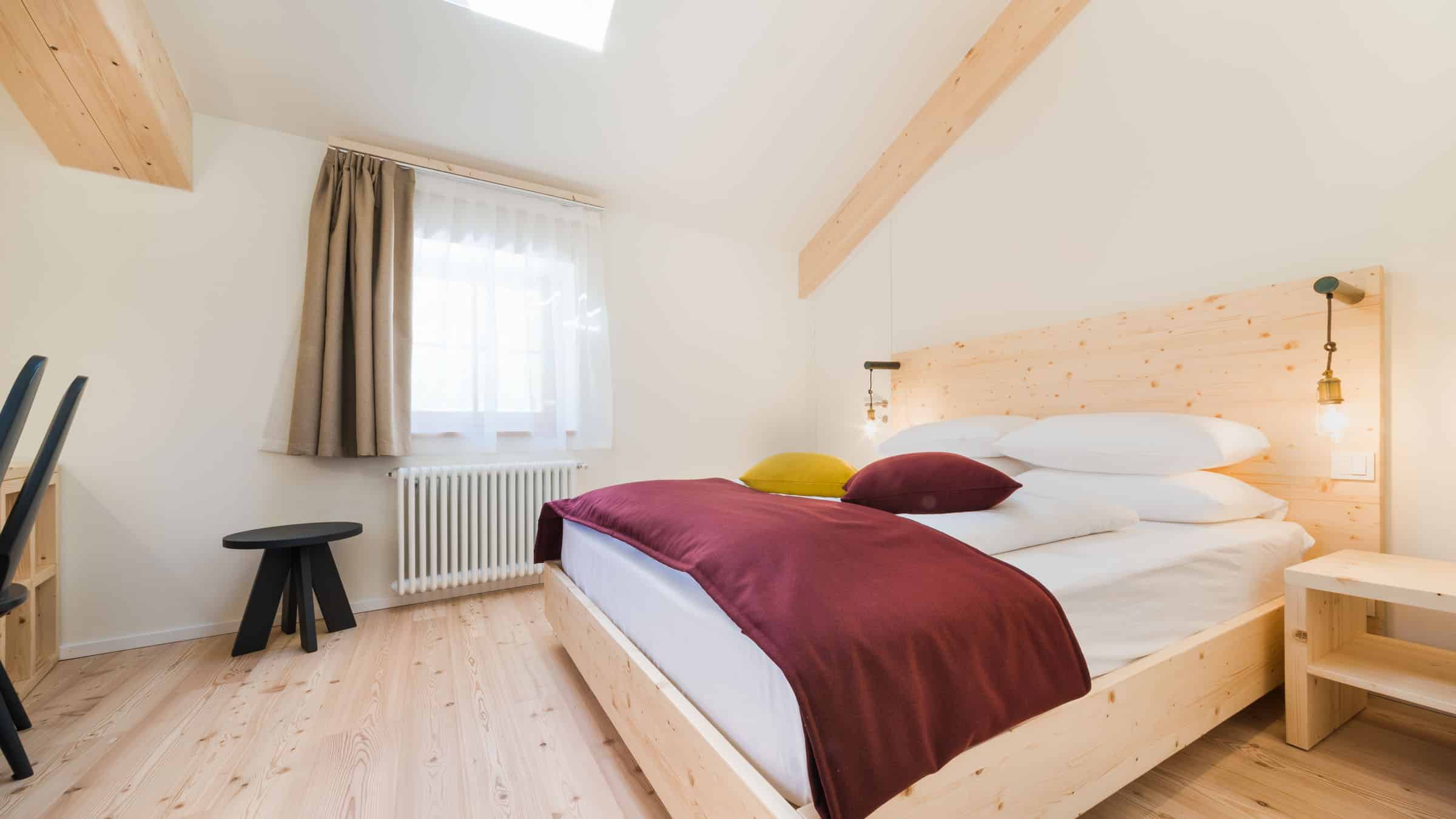 Details
| | |
| --- | --- |
| Region | IT – Italy, South Tyrol, Unsere liebe Frau im Walde |
| Name | Zum Hirschen |
| Scenery | in the village square amidst meadows and mountains |
| Number of guests | 30 rooms |
| Completed | 2017 |
| Design | Lorenzo Aureli, Modena |
| Published | Süddeutsche Zeitung 12/2022, Living at home 7/2019, DIE ZEIT 3/2019, Rivista dell'architettura italiana – 14/2017, Platform Magazine 2018 |
| Awards | GEO SAISON: Top 100 Hotels in Europe, Best Italian Interior Design Selection (Platform) 2018, Historischer Gastbetrieb 2018, Eco label Blaue Schwalbe, Der Historische Gastbetrieb des Jahres in Südtirol 2019 |
| Architecture | Historical, Old & new |
| Accomodation | Hotel |
| Criteria | Rooms for 1-2 (hotel), Hiking, Mountains, Restaurant, Sauna, Skiing, Wine |
Availability calendar
The calendar shows the current availability of the accommodation. On days with a white background, the accommodation is still fully available. If an accommodation has more than one rentable unit, days with free capacities are shown with a light grey background. On days with a dark grey background, the accommodation is not available.
Request/Booking