As soon as you arrive at Anja Engelke's and Michael Schott's lodge in the western part of the Allgäu, three things are immediately clear. Firstly, the way I see it, with these hosts you can only be happy. The welcome is warm, the conversation, which touches on and sometimes explores small and large topics, is as reflective as it is informal. Secondly, the rooms immediately embrace me. The popular advertising slogan of "at home with friends" also finds its spatial equivalent for me. Thirdly: What smells so incredibly good here? Ah, bread. And what wonderful bread it is!

If I wrote a letter of thanks to the head chef of the Alpenloge – I should still do that! – it would begin with the words "Give us this day our daily bread, dear Mark". And also end with them.
Bread, I learn again here, is supposedly merely an everyday, in other words: a simple food. Mark's bread, on the other hand, is pure joy, a pleasure far removed from any everyday commodity. I could happily live here for days, feasting on bread and butter alone (and the views of meadows, forest, mountains and cows) and feel like I'm in paradise. Which – on the other hand – would, of course, verge on sacrilege given the other amenities and delicacies.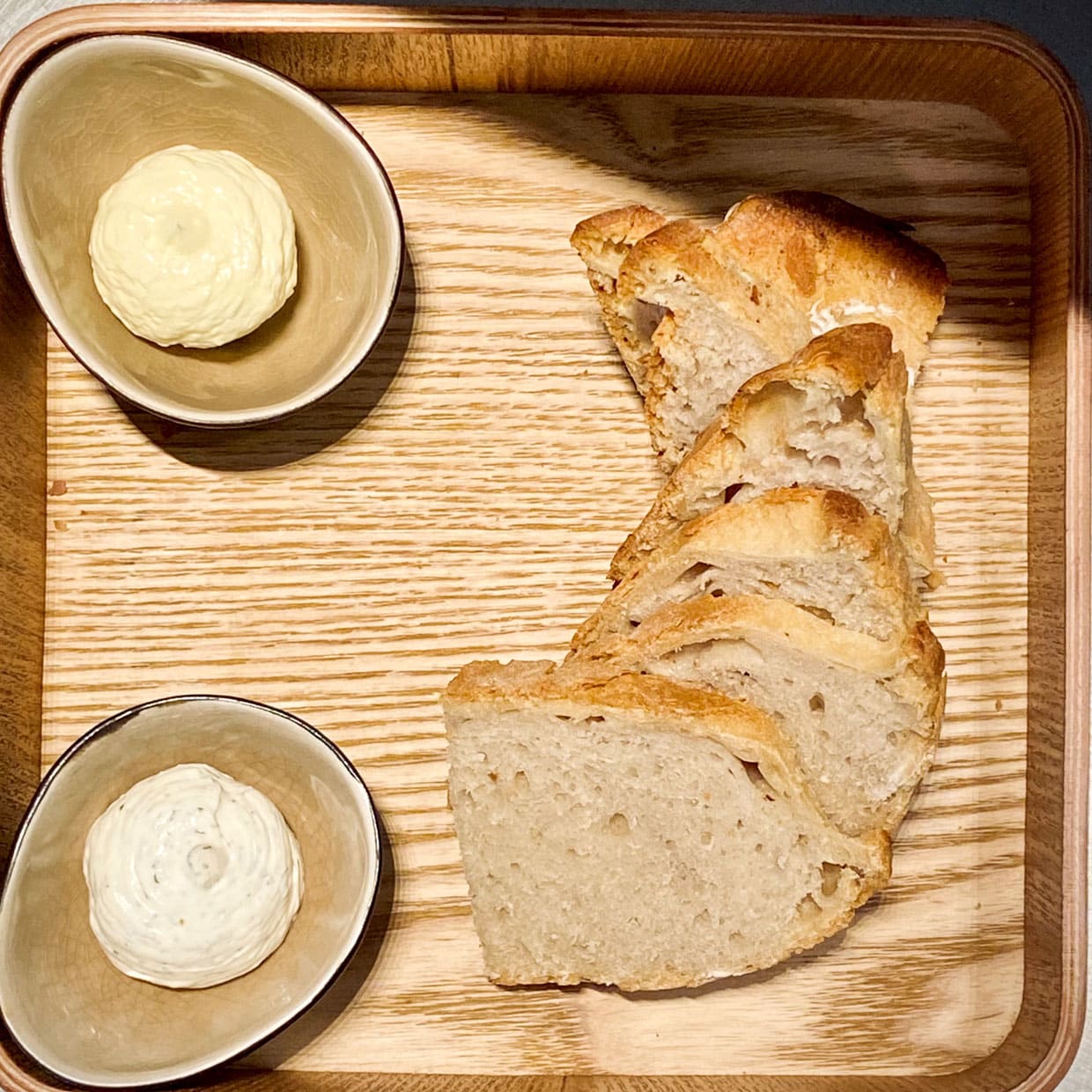 Since September 2021, Mark Beastall has been serving veritable miracles in the form of 3- and 4-course menus five nights a week exclusively for house guests. Mark, born in 1981, has previously cooked in several Michelin Star restaurants, including Hambleton Hall in Oakham in the East Midlands (UK), which has had a name among gourmets for decades.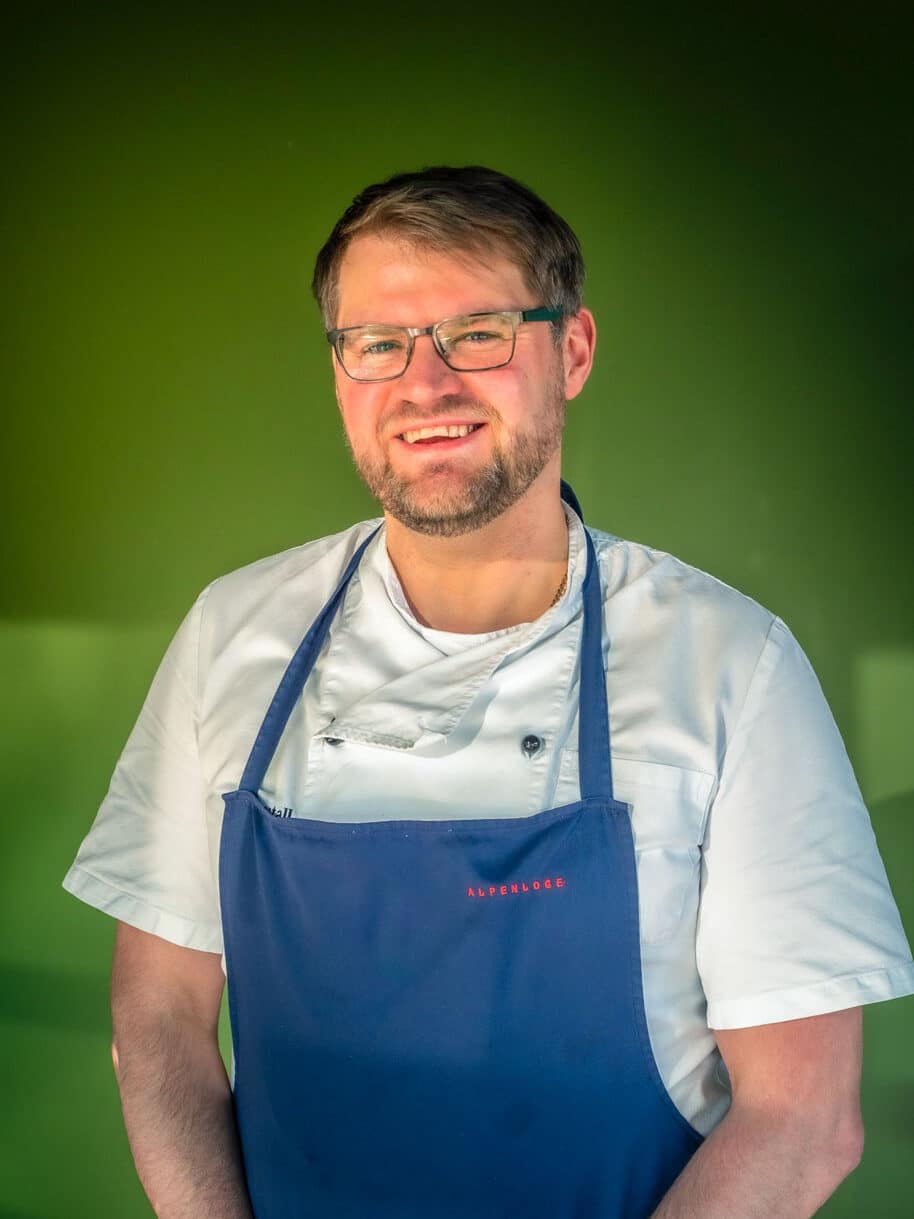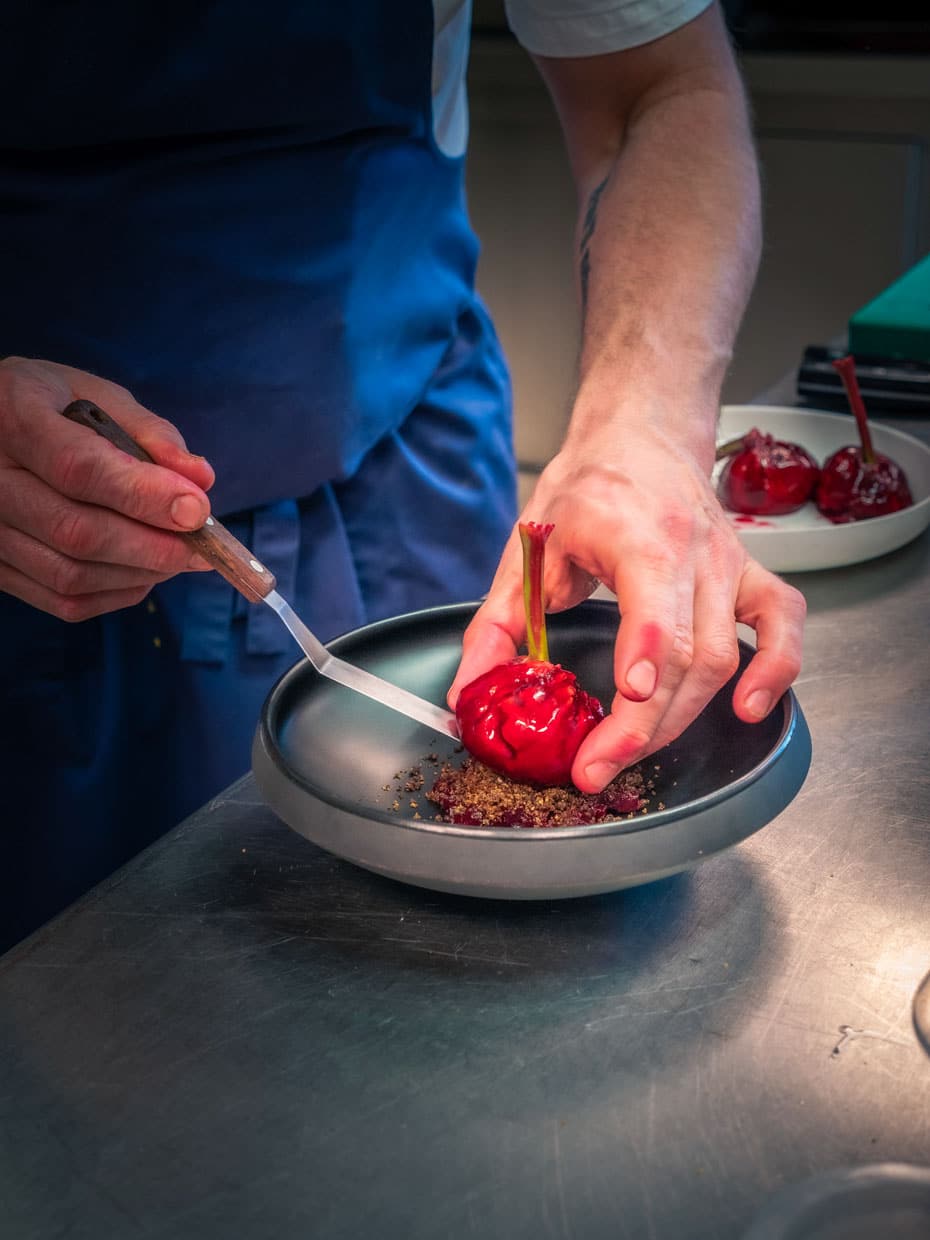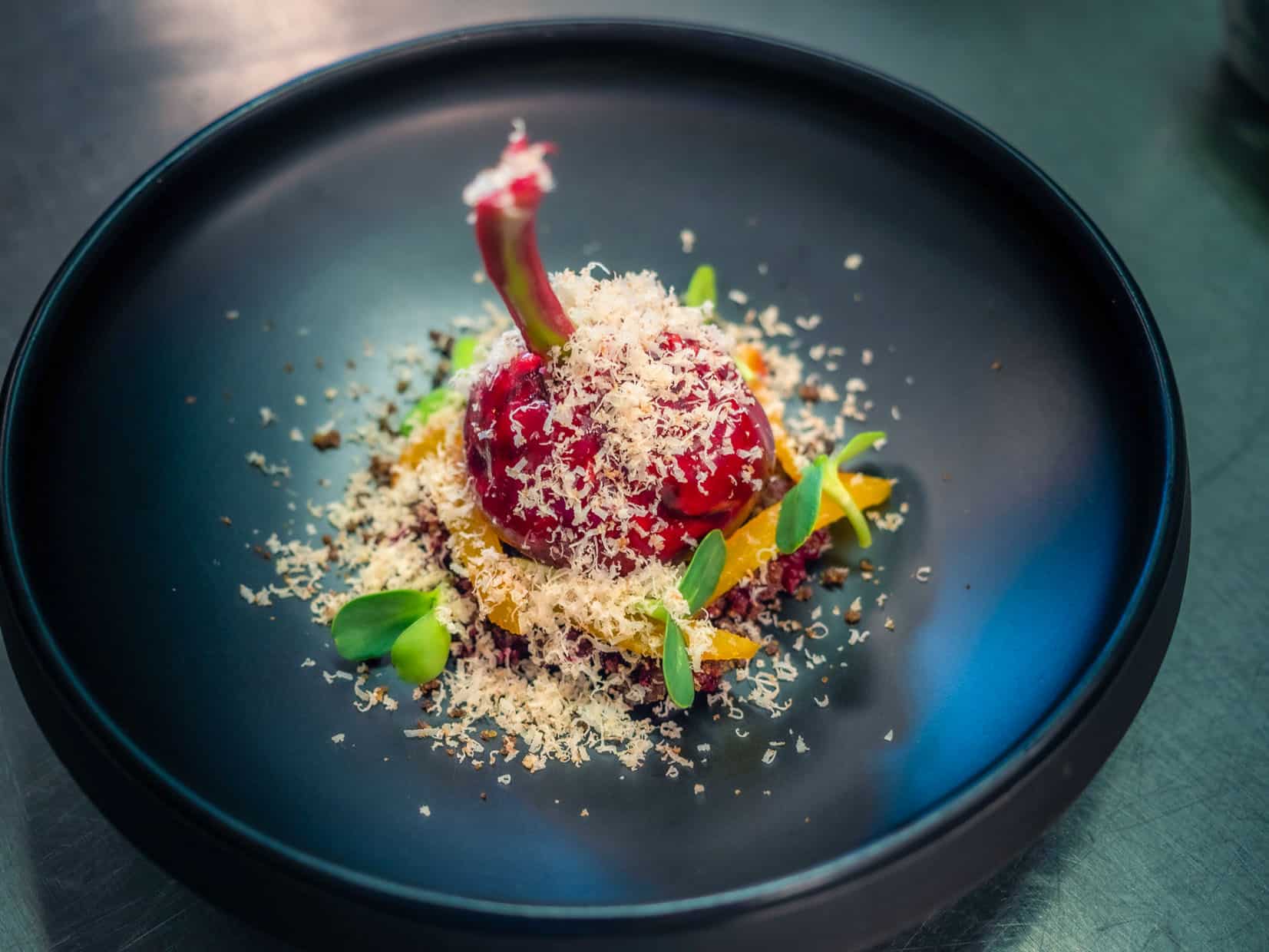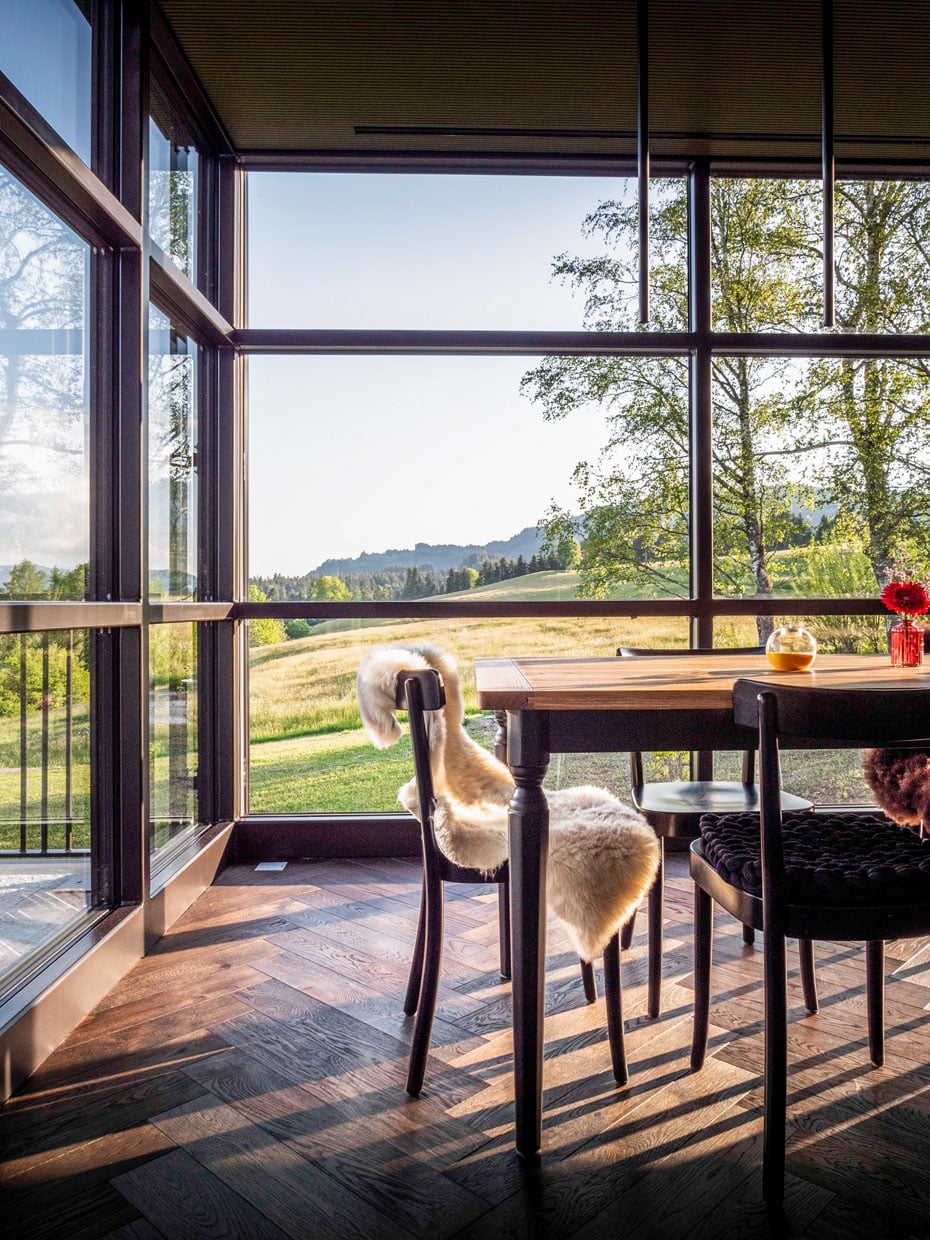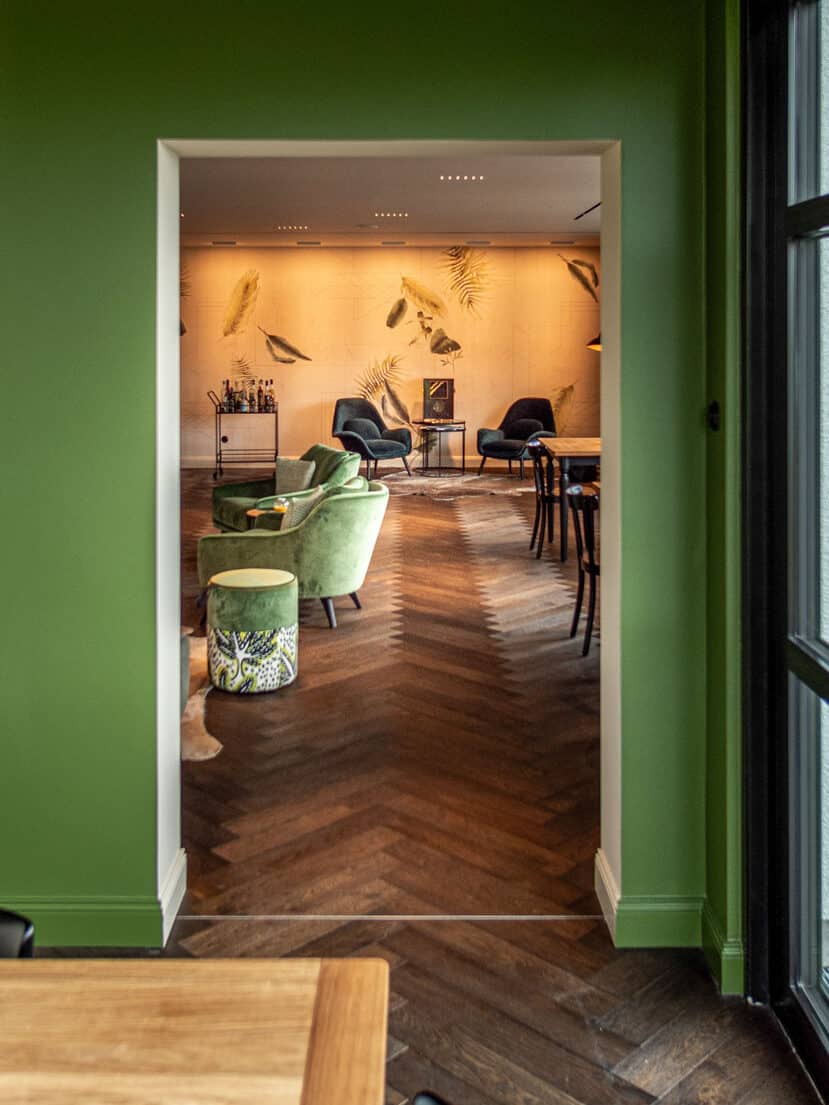 These days, Mark is virtually his own boss in Anja and Michael's realm. He experiments and creates so much that it is a real pleasure. Of course, convenience foods are not used here at all. Among other things, I eat Lake Constance pikeperch, which Mark often has on the menu due to his good connections. The mere idea that he not only knows how to process the game fish in a highly professional and artistic manner but is also out on the lake with the fisherman himself from time to time, is an example of the understanding of regionality that is cultivated here.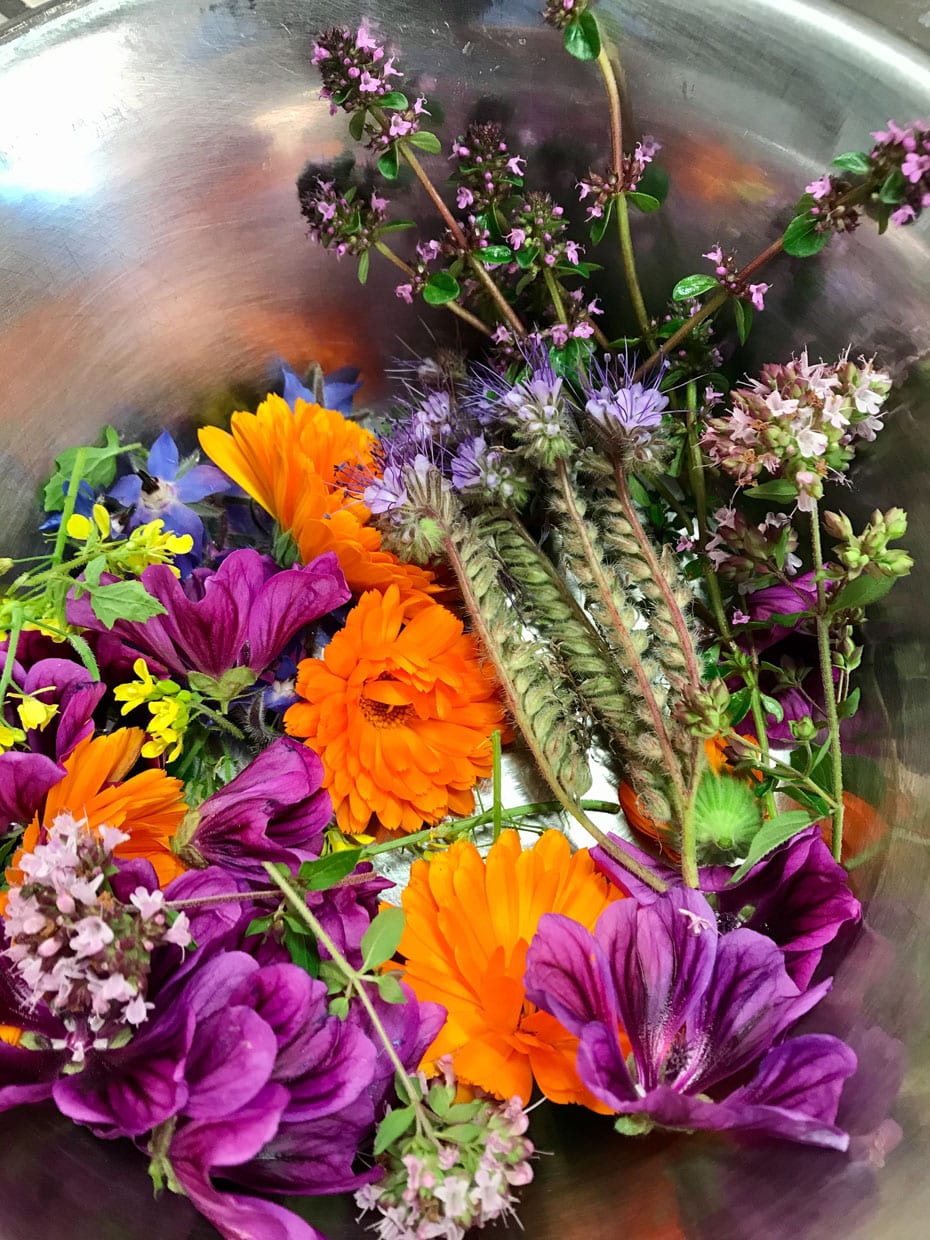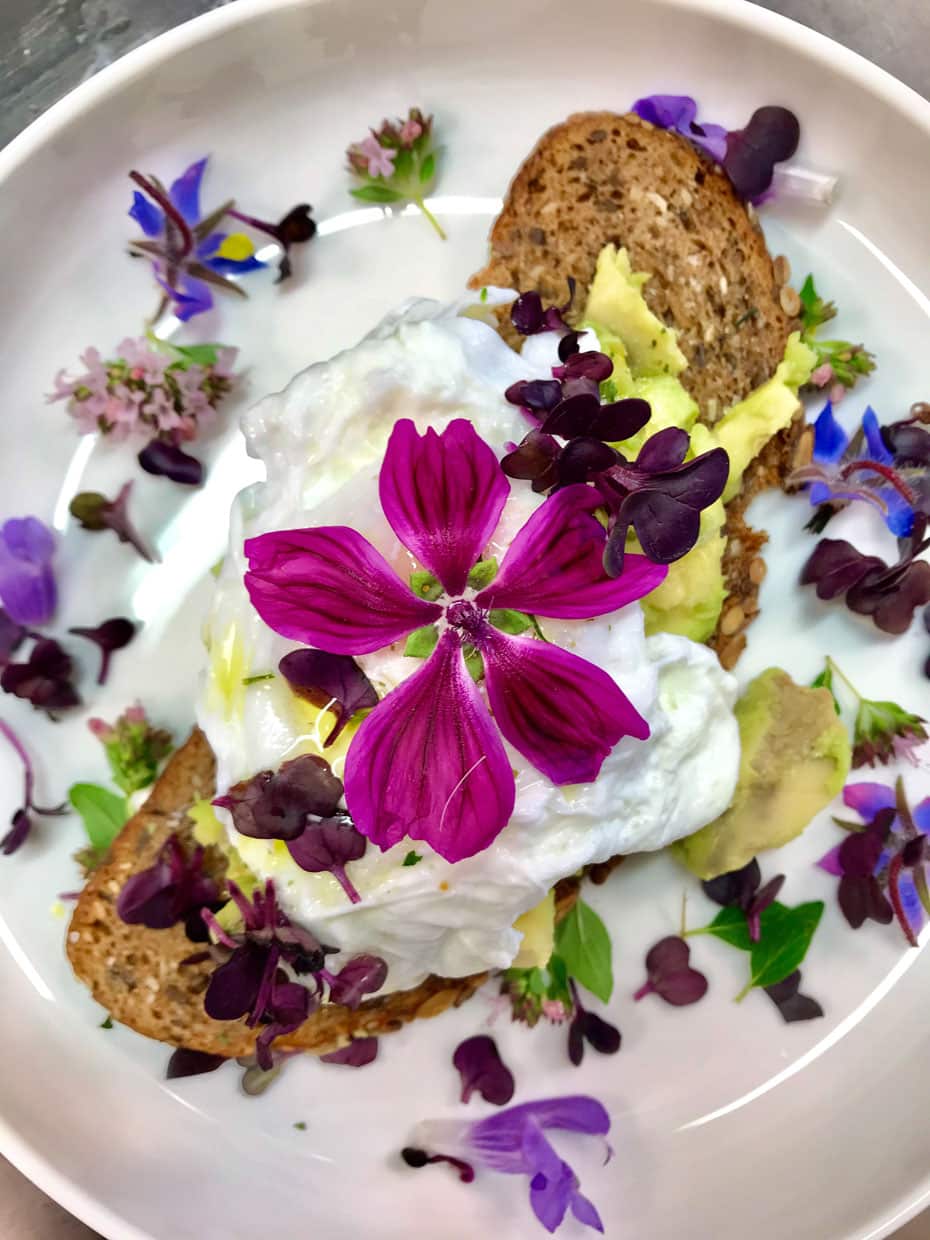 Of course, vegetarians also get their money's worth at the Alpenloge with their own 3-course menu. If you add the right wine accompaniment, you are, in my view, a whole lot closer to heaven on earth – at least for a short time.

In a highly satisfied mood, the guests then move over to the lounge area or retire to their own rooms, happily exhausted.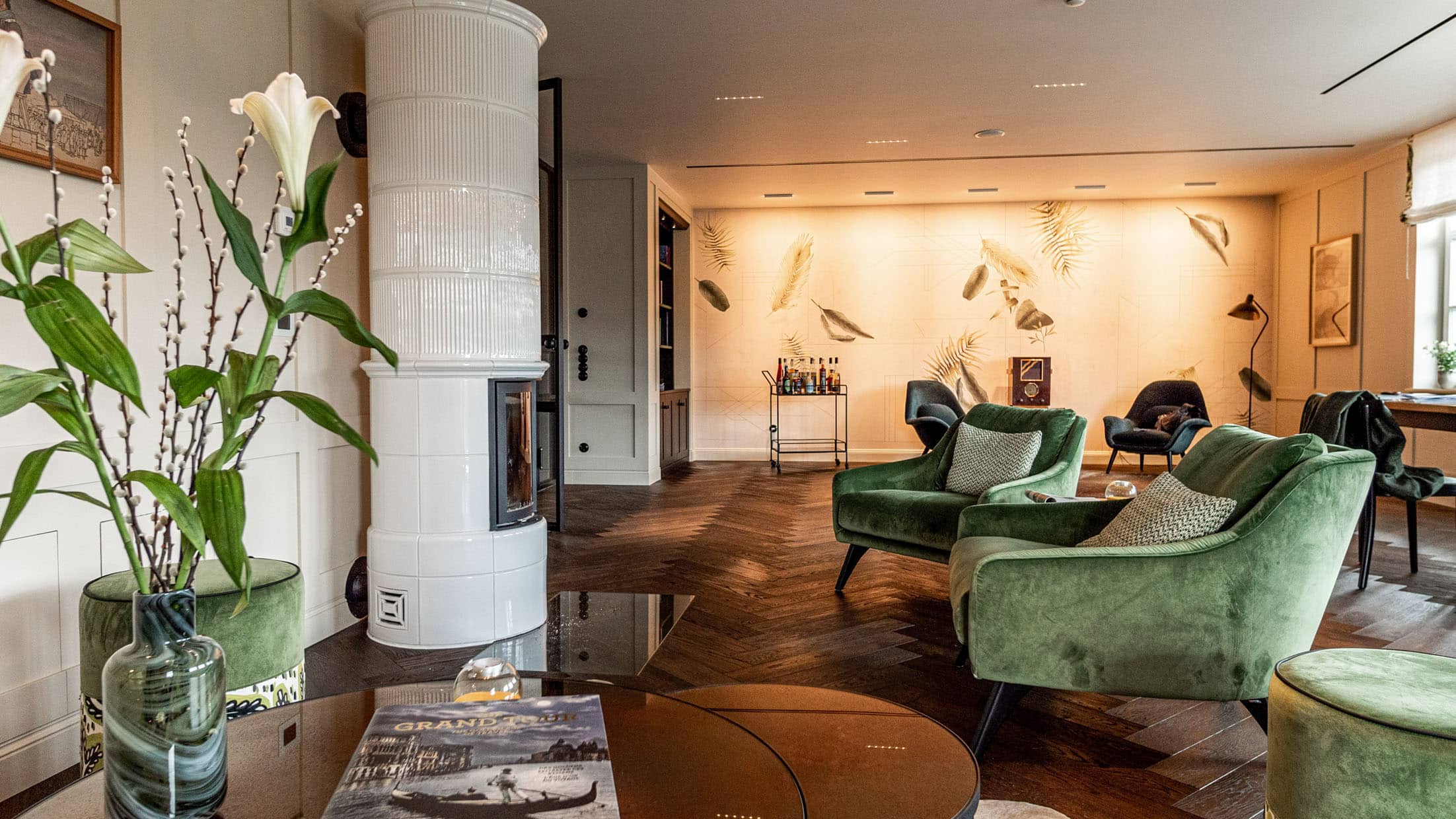 Harmony: A treasure trove of wonders of colours, shapes and materials
The fact that almost everything in life is a matter of taste also applies, in my opinion, to the broad field of travel reporting. Of course, the fact that I ended up in the Alpenloge was, on the one hand, no coincidence but in a certain way it was a matter of fate. A year before, I had already talked to Anja and Michael about a visit; then somehow a great deal of everyday life got in the way…you know what I mean. But finally, I read Merten Worthmann's subtle description in DIE ZEIT, which was like a wake-up call. What a waste of time, I thought afterwards. How could you wait so long?

To be fair, it must be said that the raving about the Alpenloge by the press is by no means the exclusive prerogative of Germany's largest weekly newspaper. Since 2019, journalists from high-ranking media in German-speaking countries have succumbed en masse to the magic of the Alpenloge.

It is difficult to grasp what exactly this fascination is based on. Many, also very fine, small details interact and interweave with each other to create a very special atmosphere. Even after staying for several days, it is impossible to define the secret about the house. What remains is an intimate feeling of being embraced. In subtly composed rooms that generate warmth. With hosts who sensitively and unobtrusively ensure the well-being of their guests.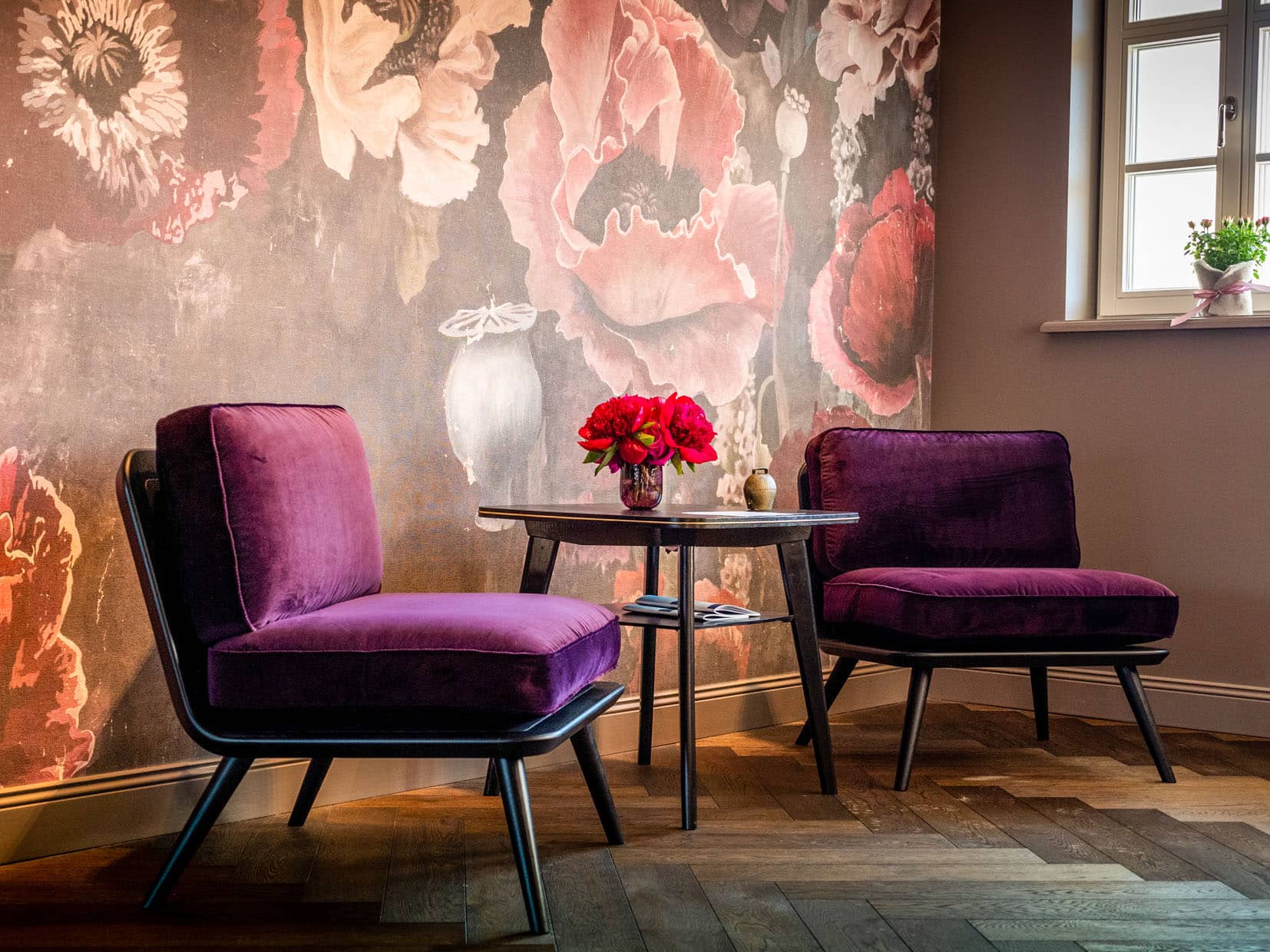 Once again, I realise that some experiences are primarily founded on gut feeling. So, I finally admit to myself that I don't have to measure, explore and press everything into formulas according to ratio – as it were scientifically. Long live the holiday and its freedoms! For example, the freedom to simply be consciously "there" and to explore things. At the same time, to simply switch off the intellect. That doesn't sit well with me, but it turns out to be very beneficial. Although the intellect continues to grumble that it should be possible to decipher the force of attraction…but what would the most beautiful magic be if you took away its spell! So better not.
The effect that the house leaves on me is largely due to the subtle, for me extremely coherent and finely crafted coordination of colours, shapes and materials. In her perfectionism, Anja went as far as asking the manufacturer to adjust the colours of the wallpaper again. So that they exactly match the other colour moods in the respective rooms. It goes without saying that hearing such things makes my mind happy. Because now I understand, at least to some extent, what the almost cocoon-like feeling of security is all about.

In many other details, one also notices that the two have found fulfillment in the house as if they were living here themselves. Consequently, the joy that radiates from them every day in the environment they have created is not surprising.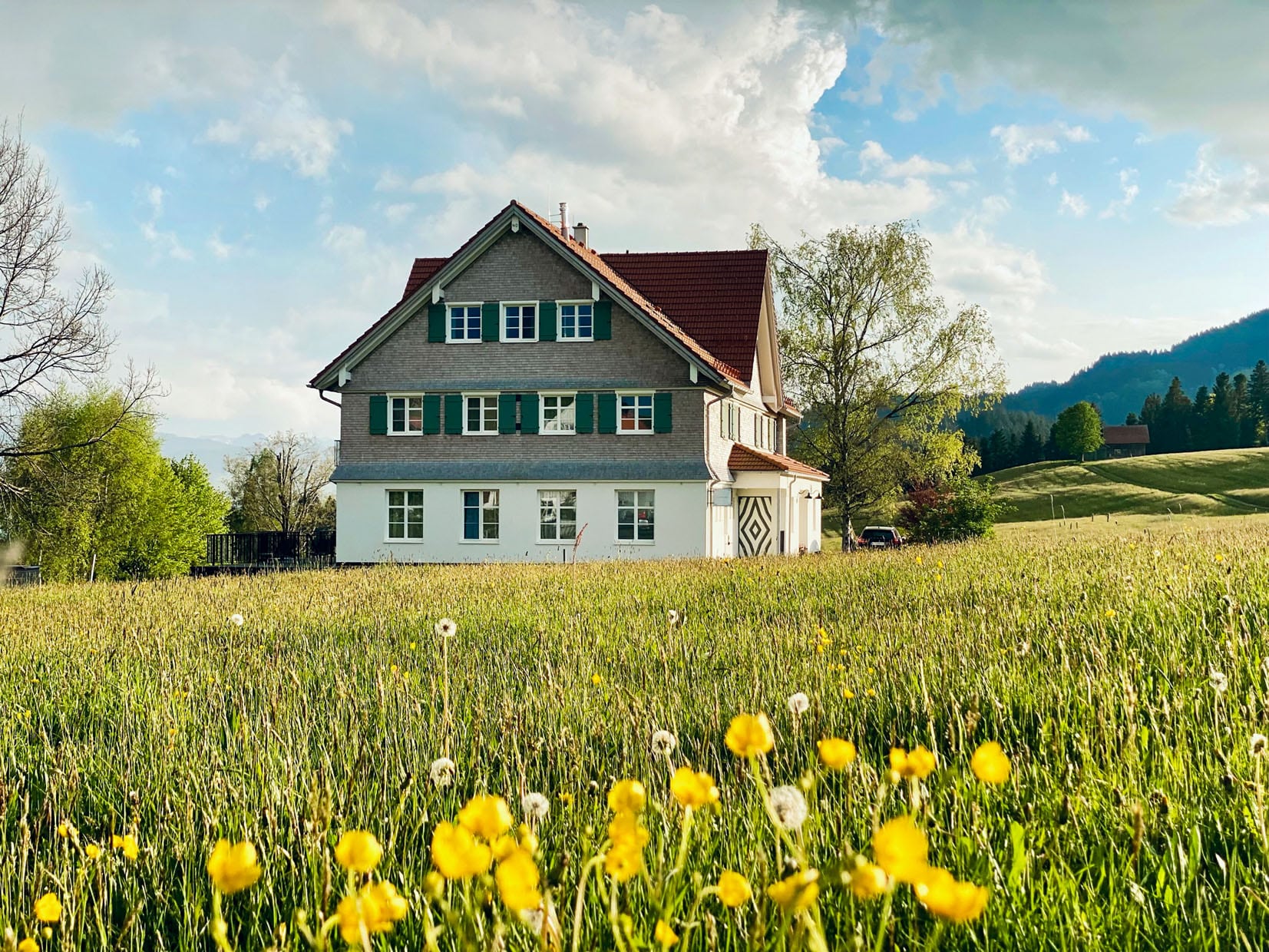 Building tradition, carefully developed further
The fact that the former school building from the 1930s has been reconstructed is only apparent at second glance. Unfortunately, the substance of the previous building could not be saved; as a result, today's Alpenloge was built according to the historical, shingle-clad model. A new building that shows its tradition – carefully developed, close to the previous building and, where necessary or possible, supplemented with modern elements.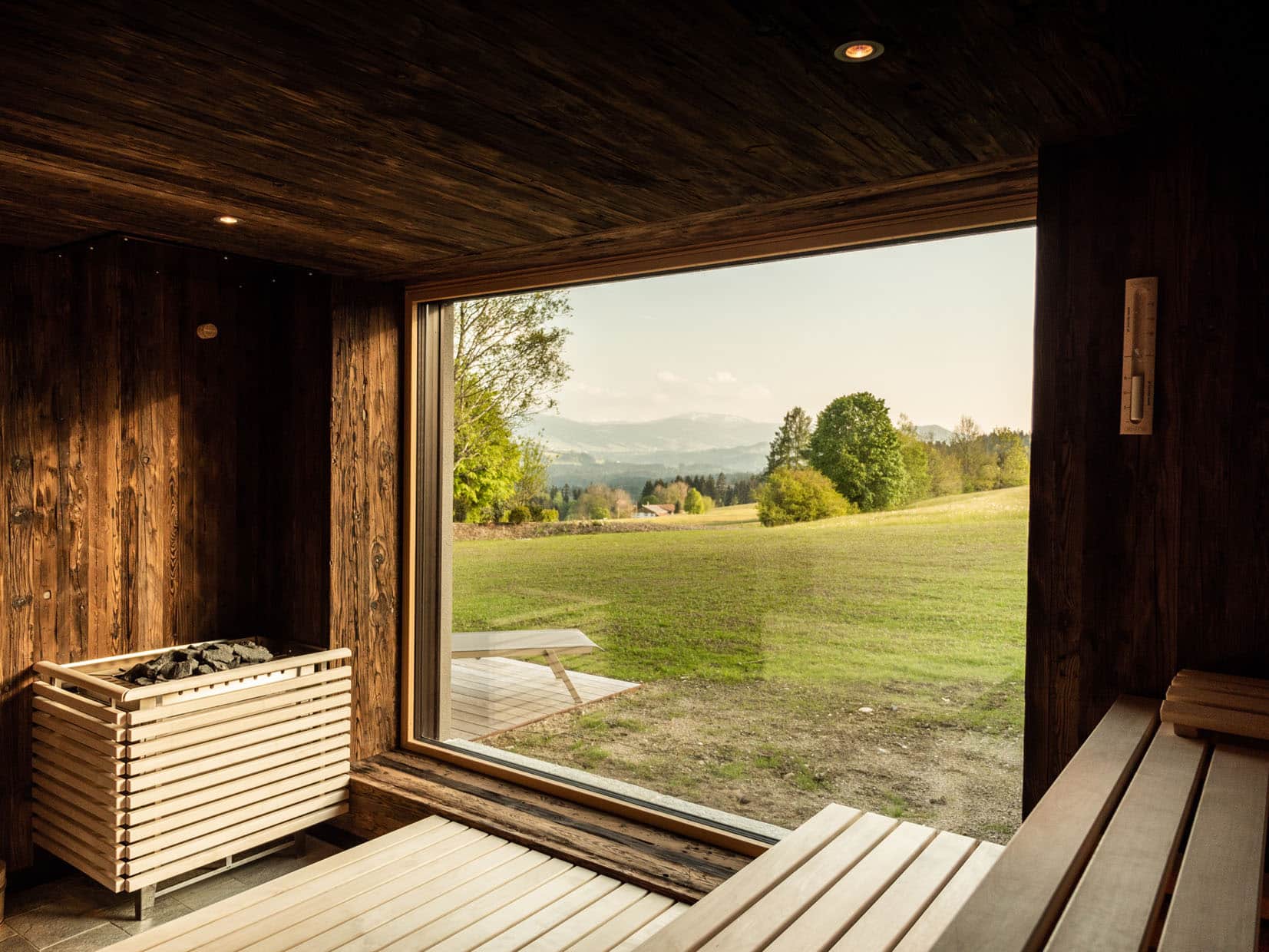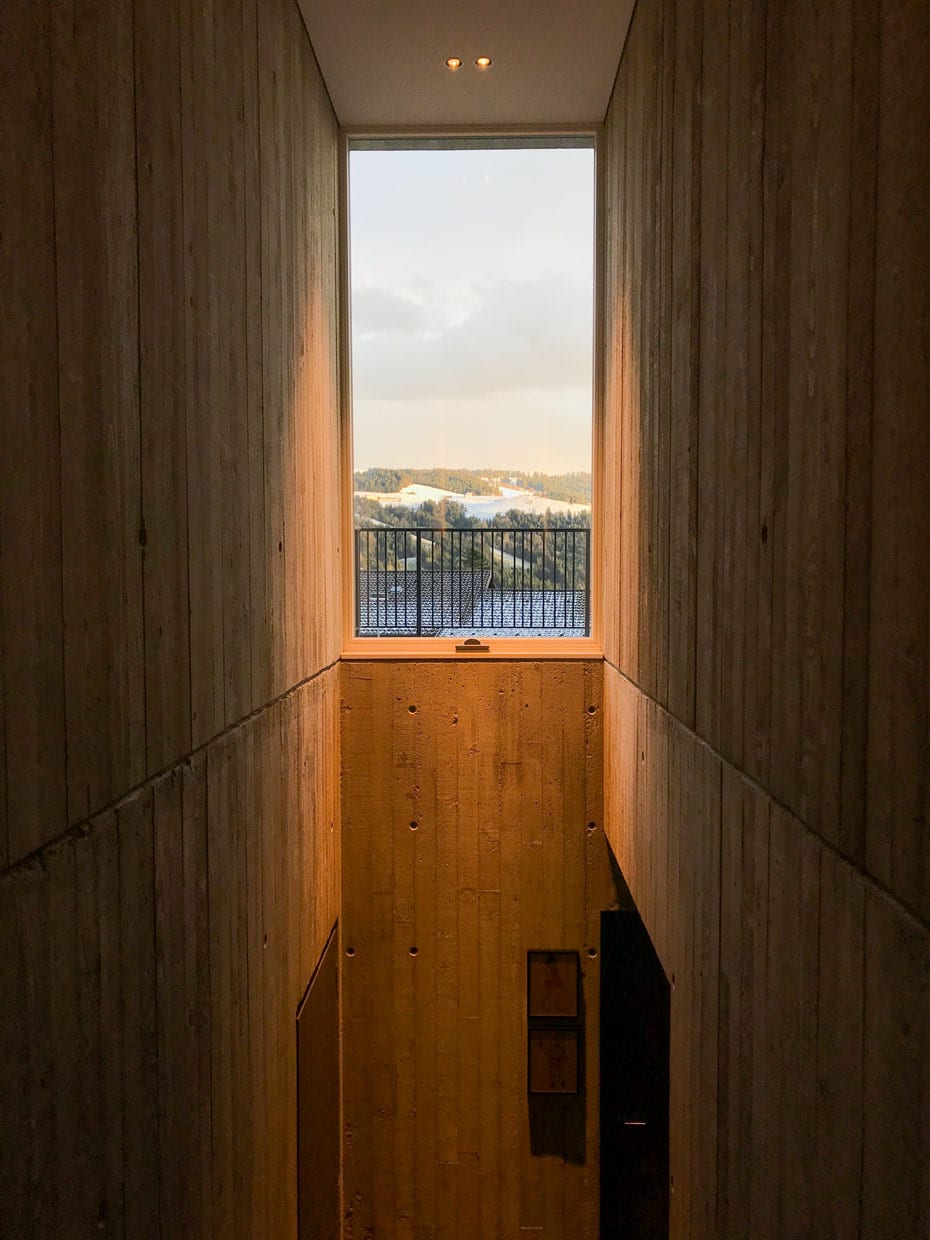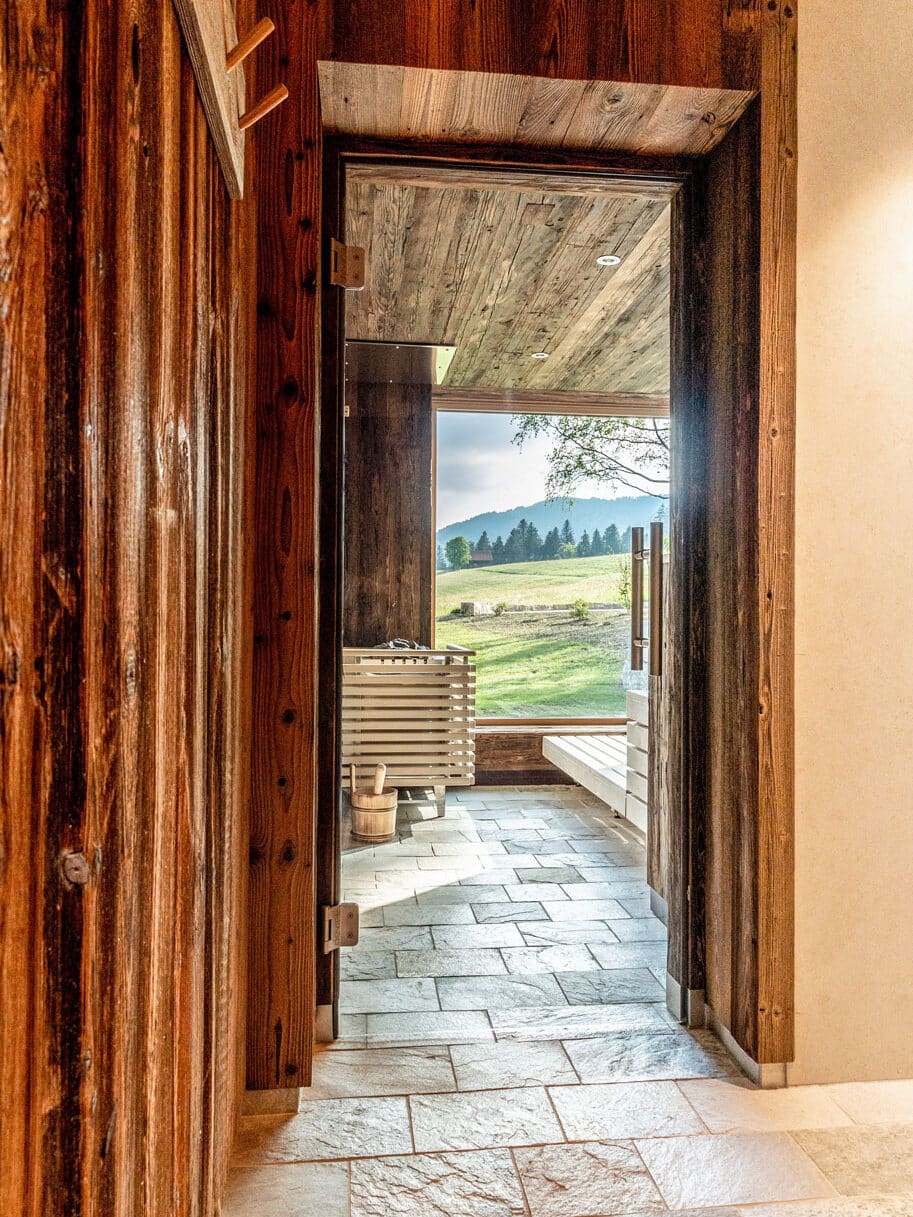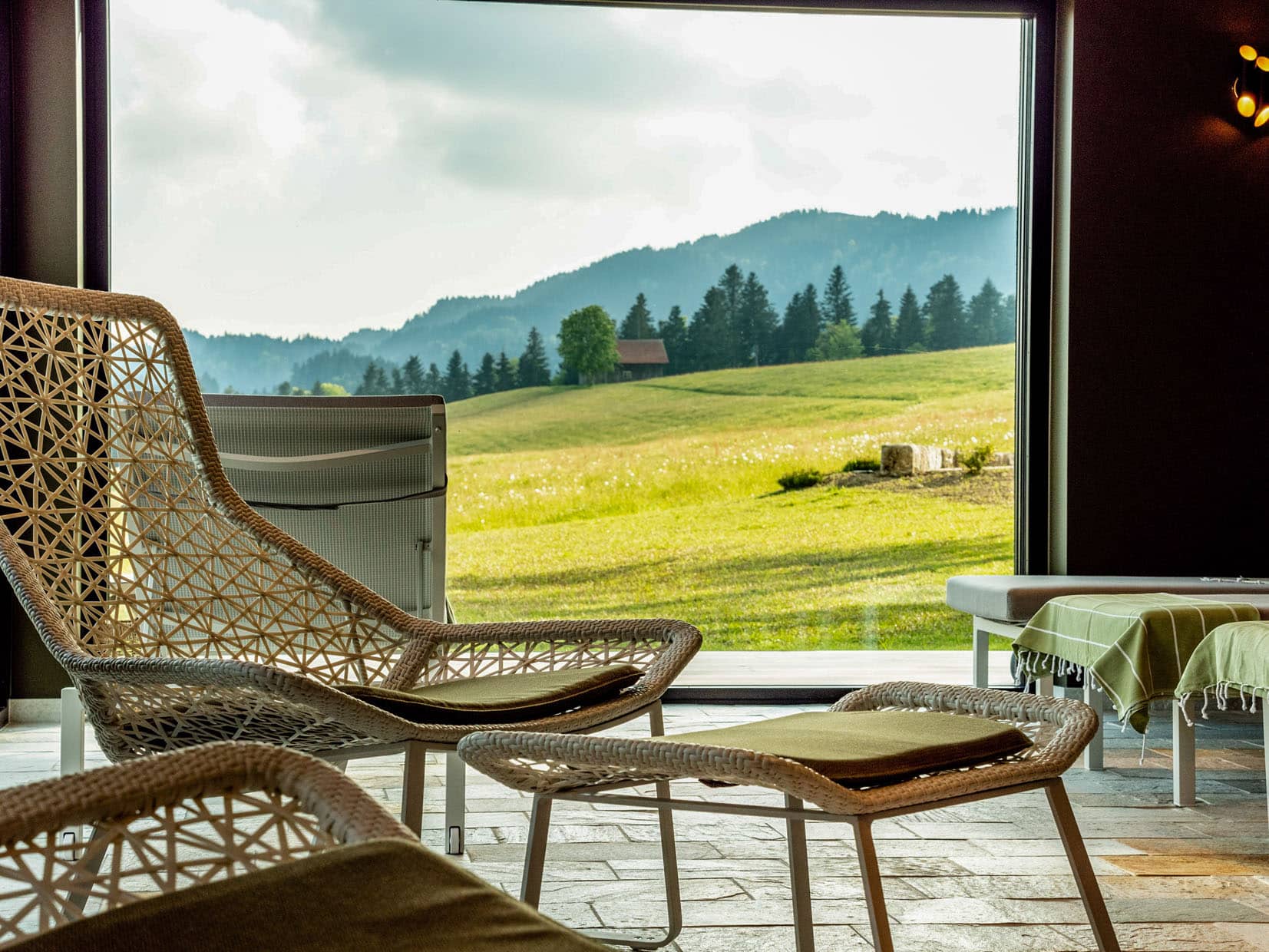 The new building, which the owners hadn't initially anticipated, understandably also brought many advantages: A former balcony could be converted into a loggia; this is now part of the restaurant area and offers wonderfully quiet panoramas. A spa area with Finnish sauna, brine steam bath and relaxation room with fireplace, including a new entrance, was integrated into the house in a modern design language and entirely according to the owners' ideas. And here, too: Enchanting views that automatically lead one to reflect, come to rest and let unexpected ideas find their way seemingly without intention. Another advantage of the new building was that the entire house could be designed consistently according to the most modern criteria of energy standards.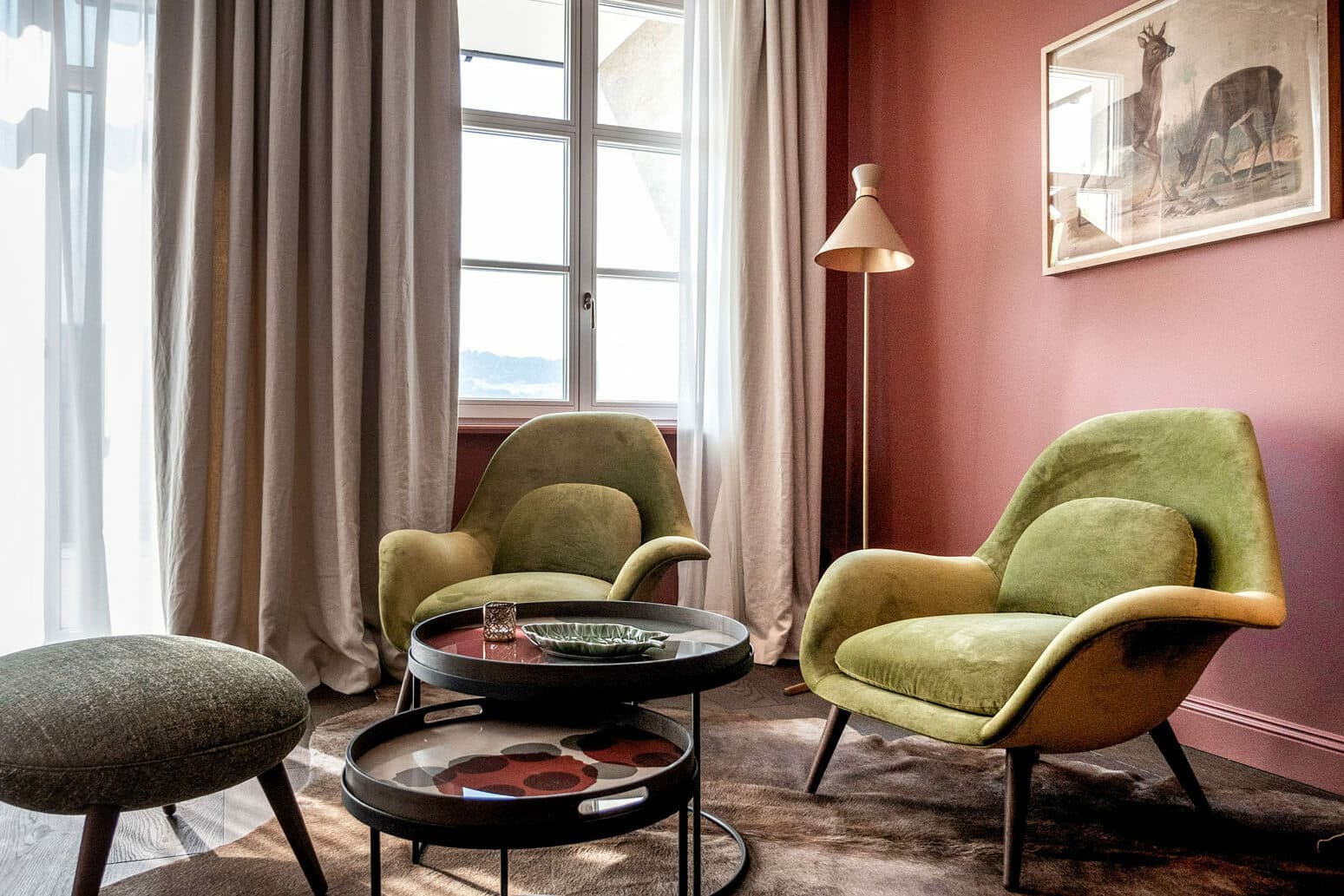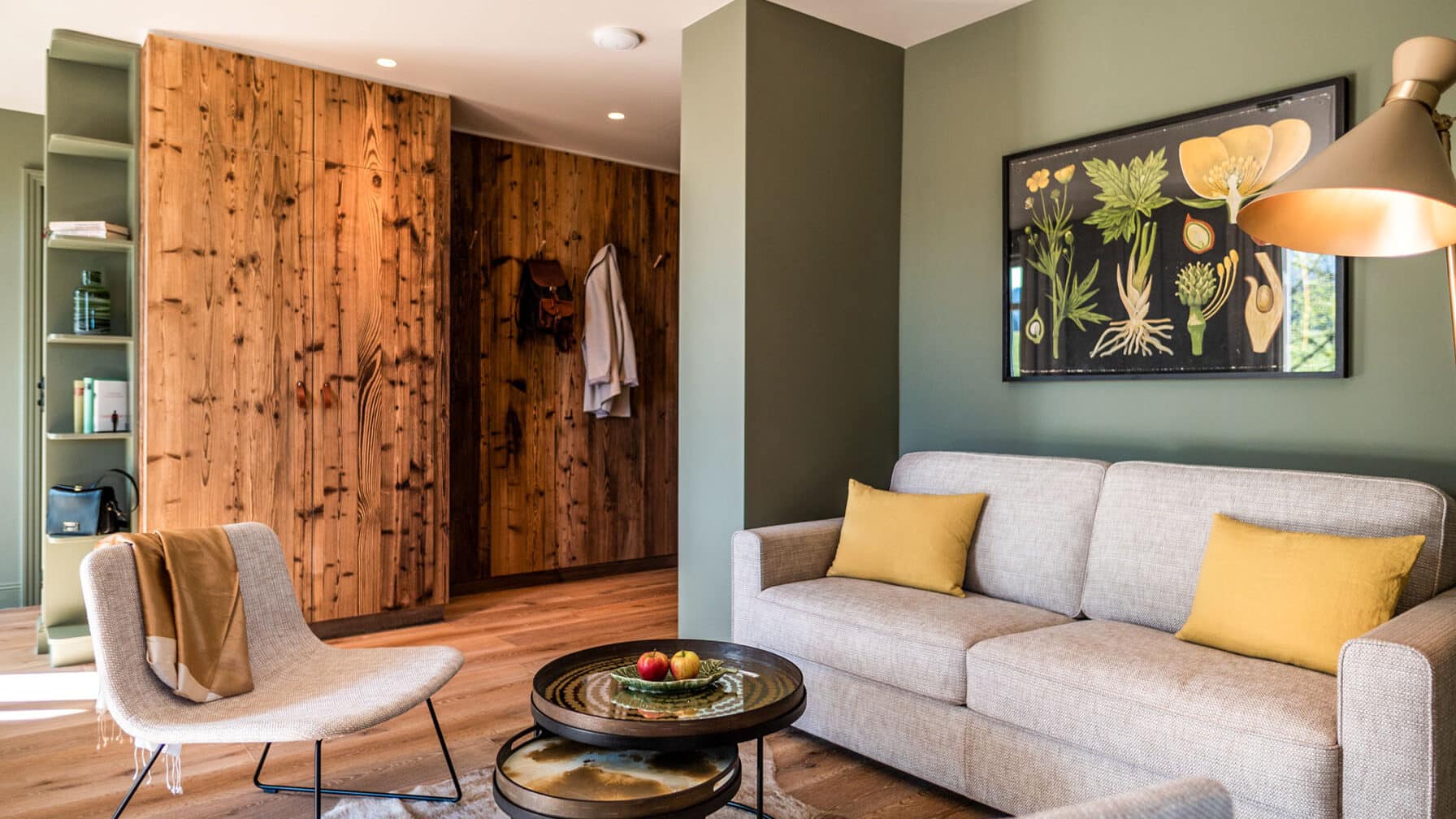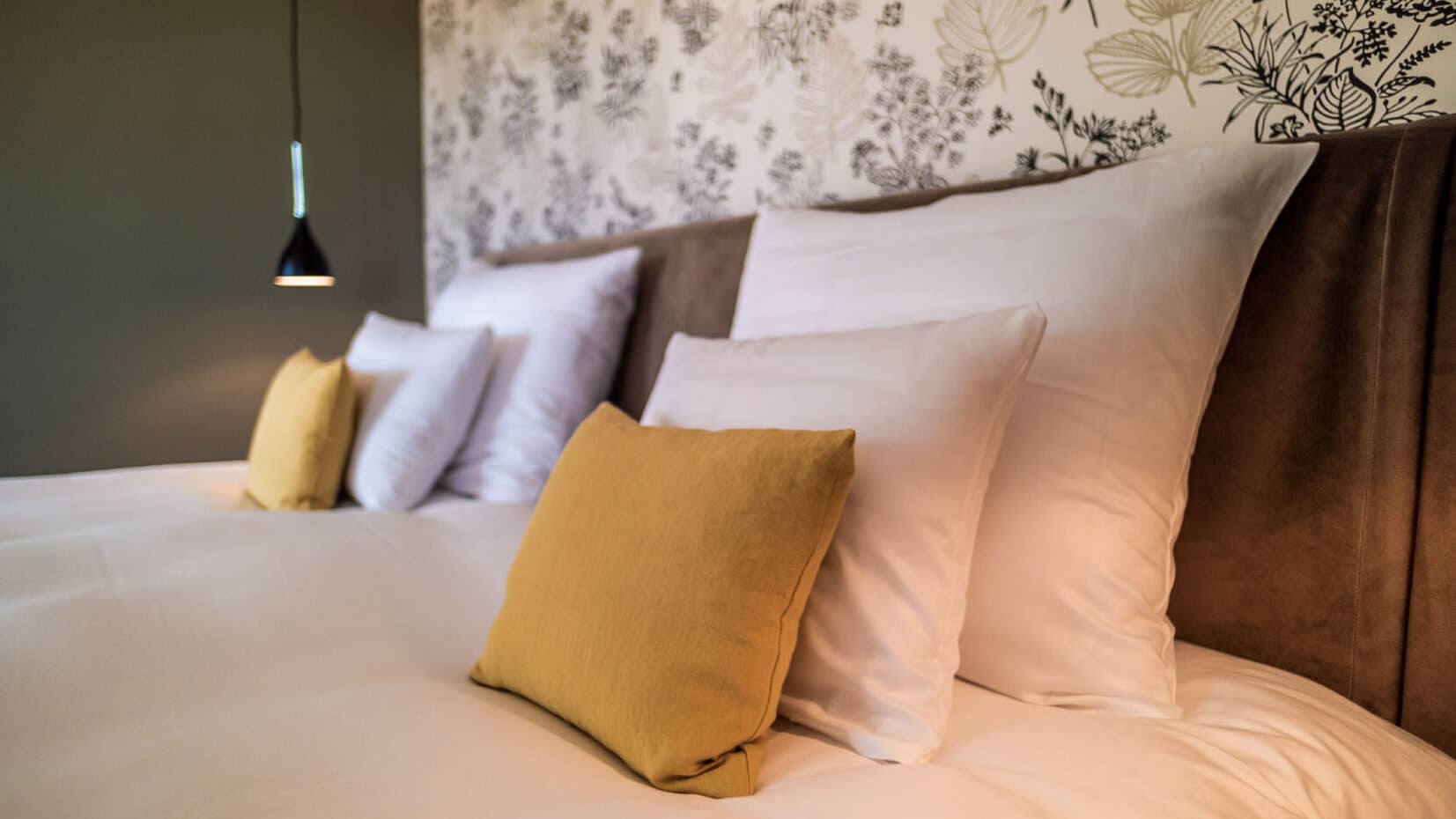 What has been preserved is the charm of the 1930s, which emanate from the house in so many areas. The nine rooms, or lodges, are all unique. They are individual in terms of size (33 – 60 sqm), layout and design.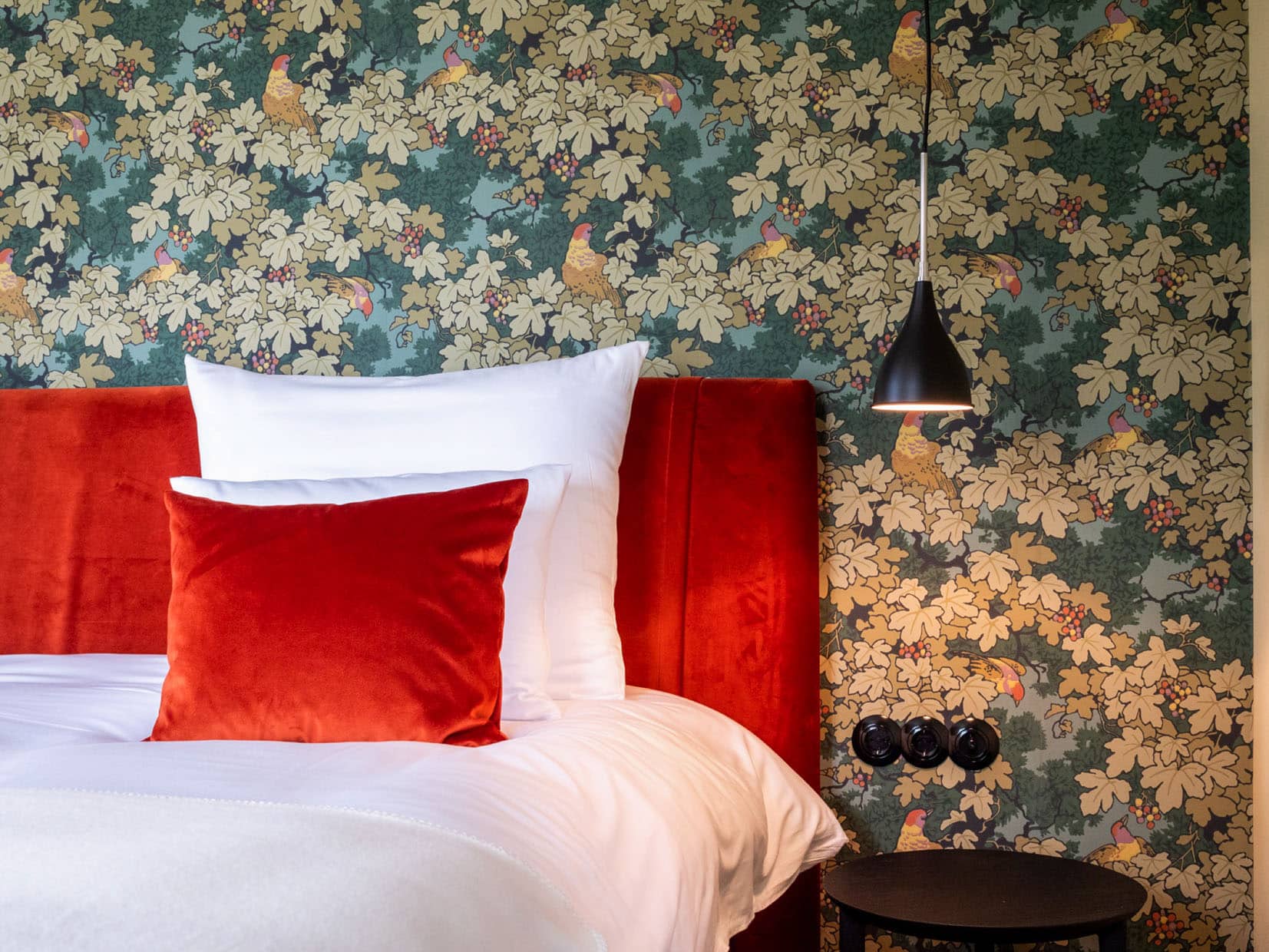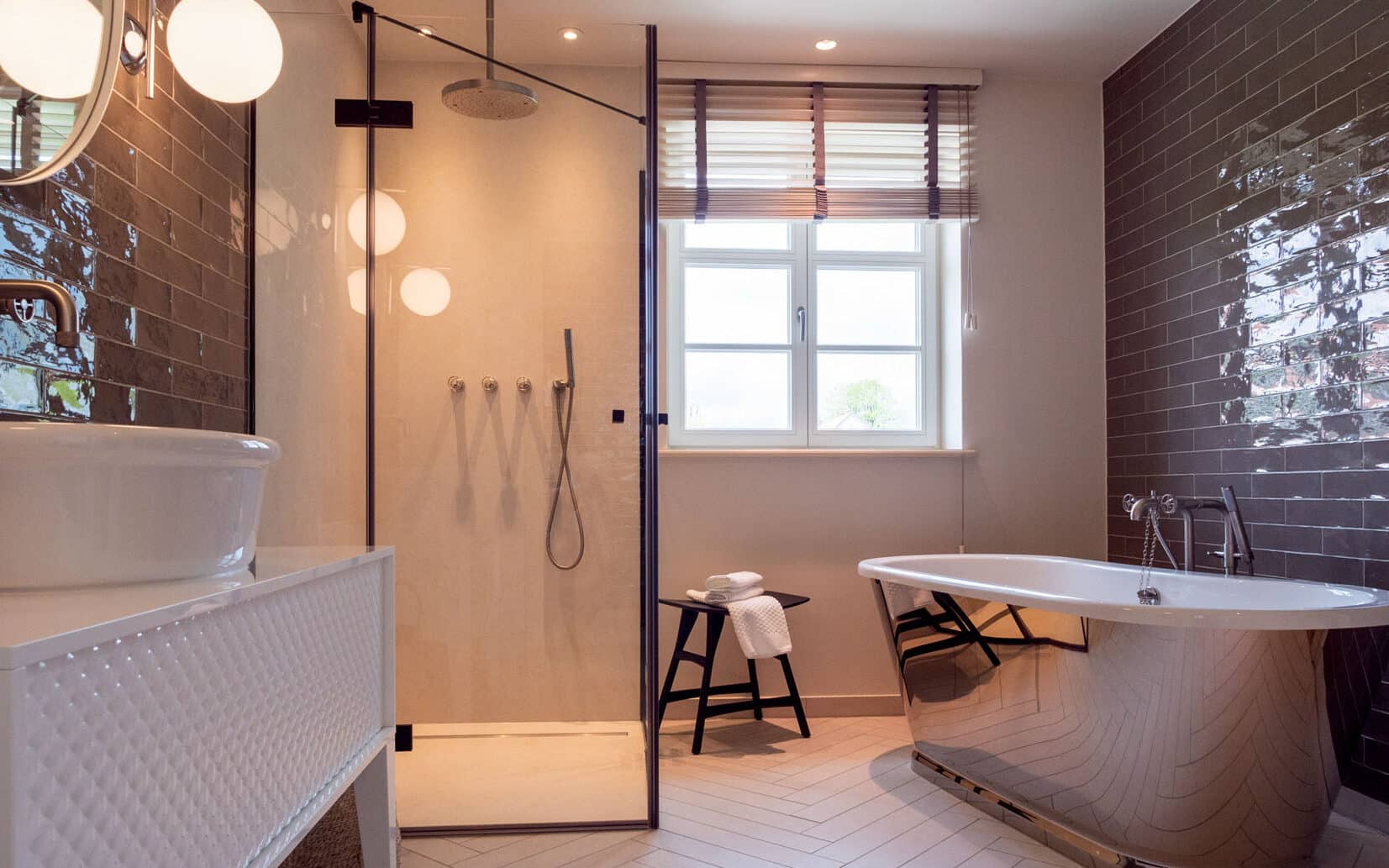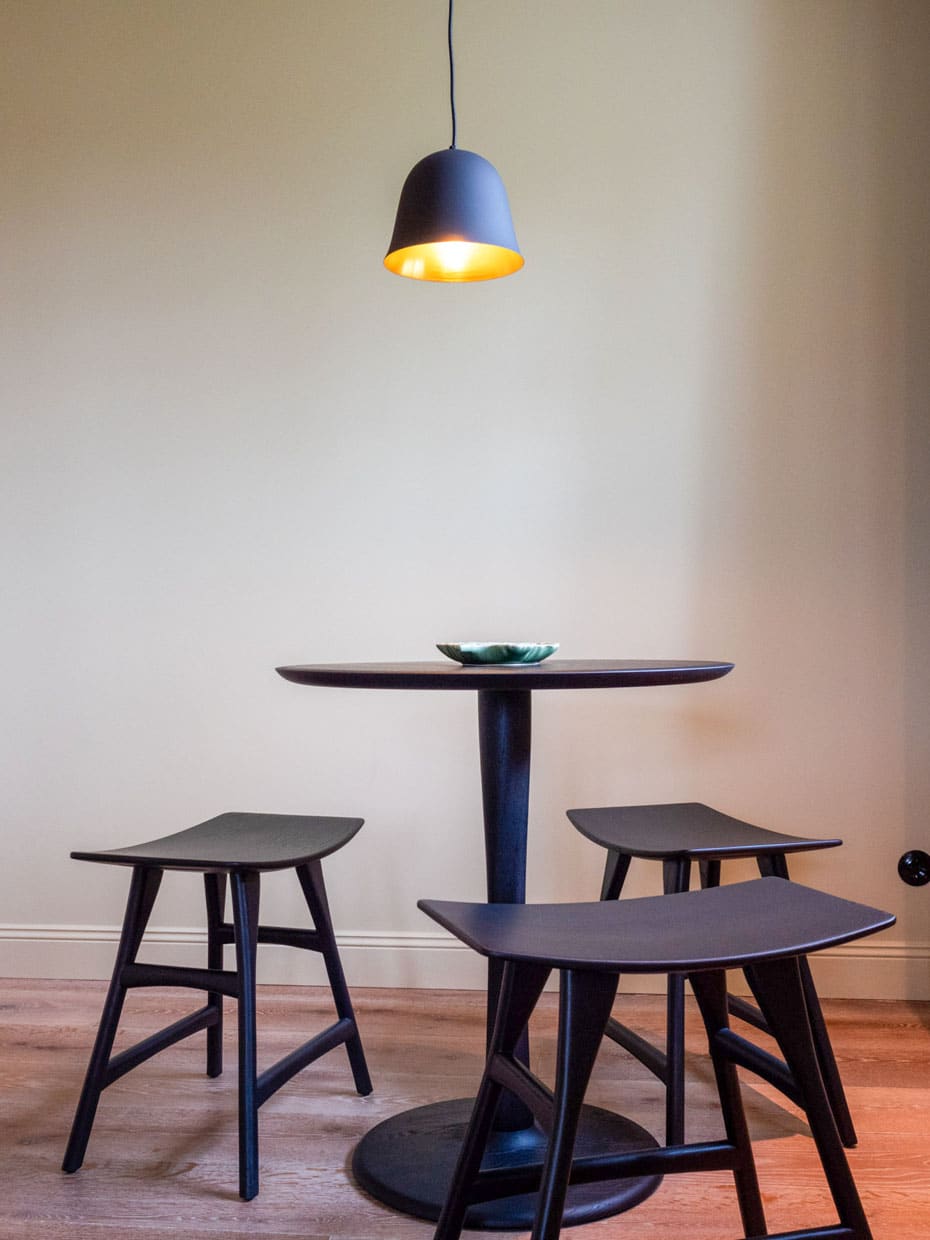 What unites them are the references to the 1930s, which – sometimes more, sometimes less – are given modern interpretations and counterpoints.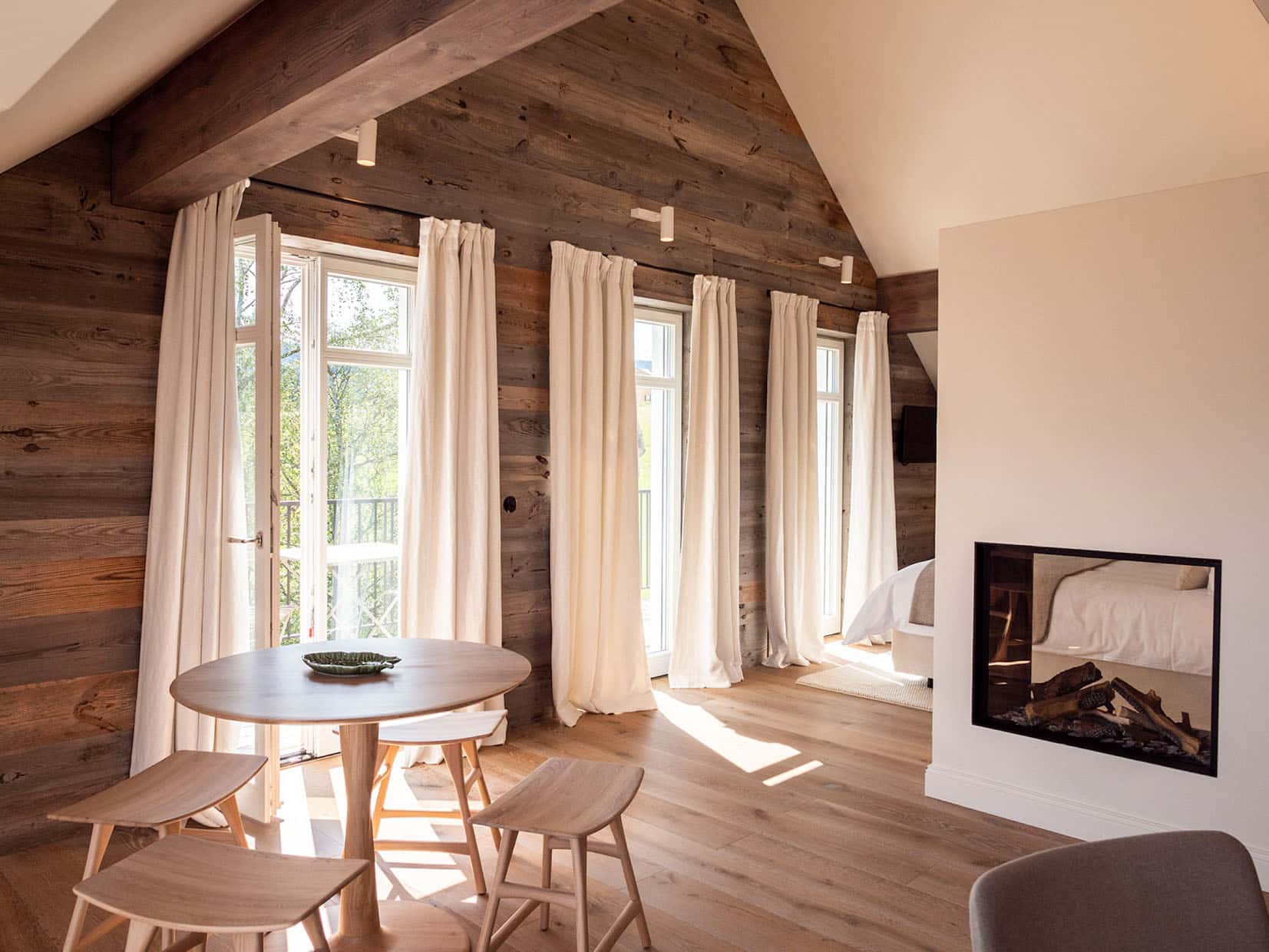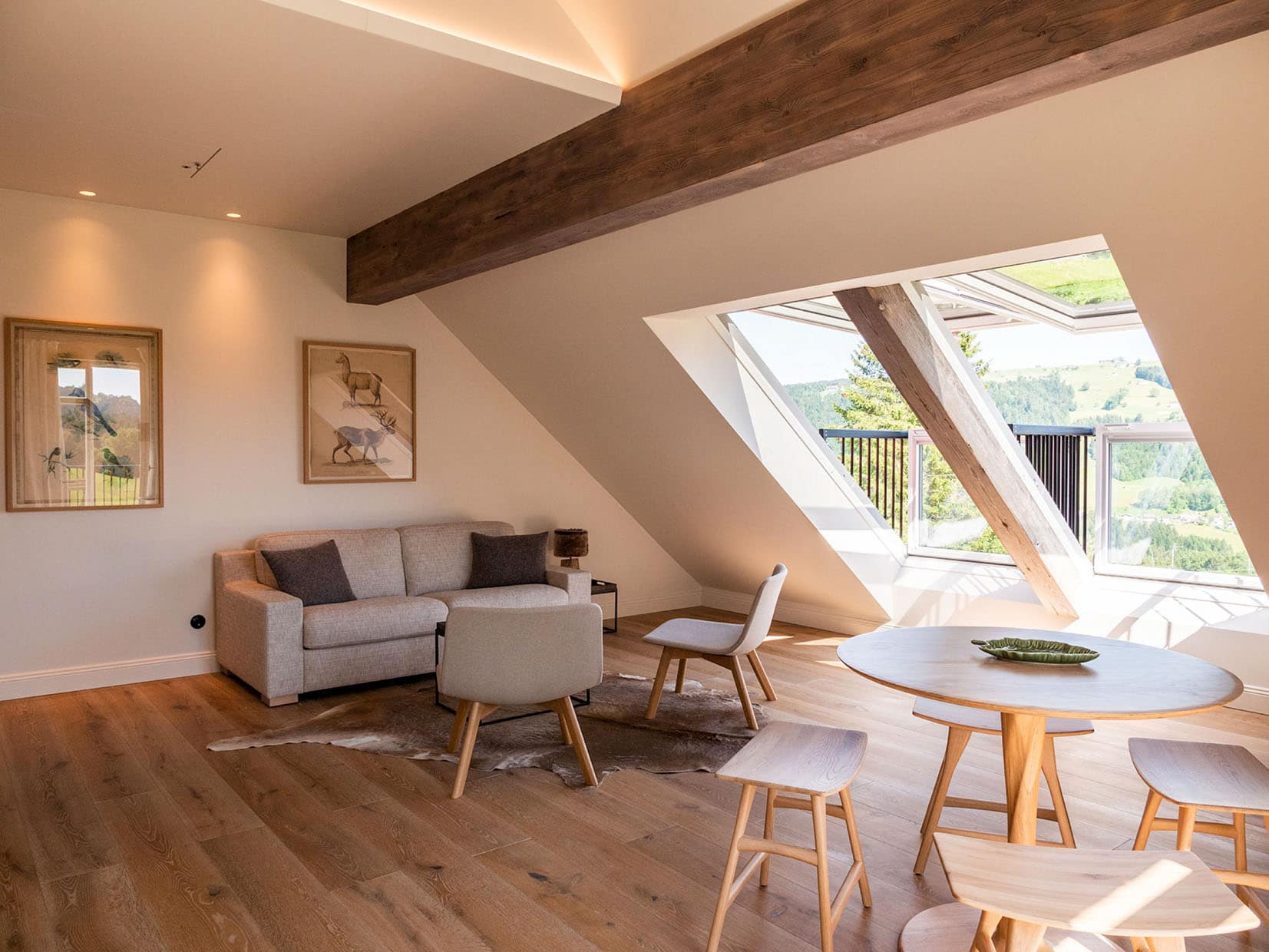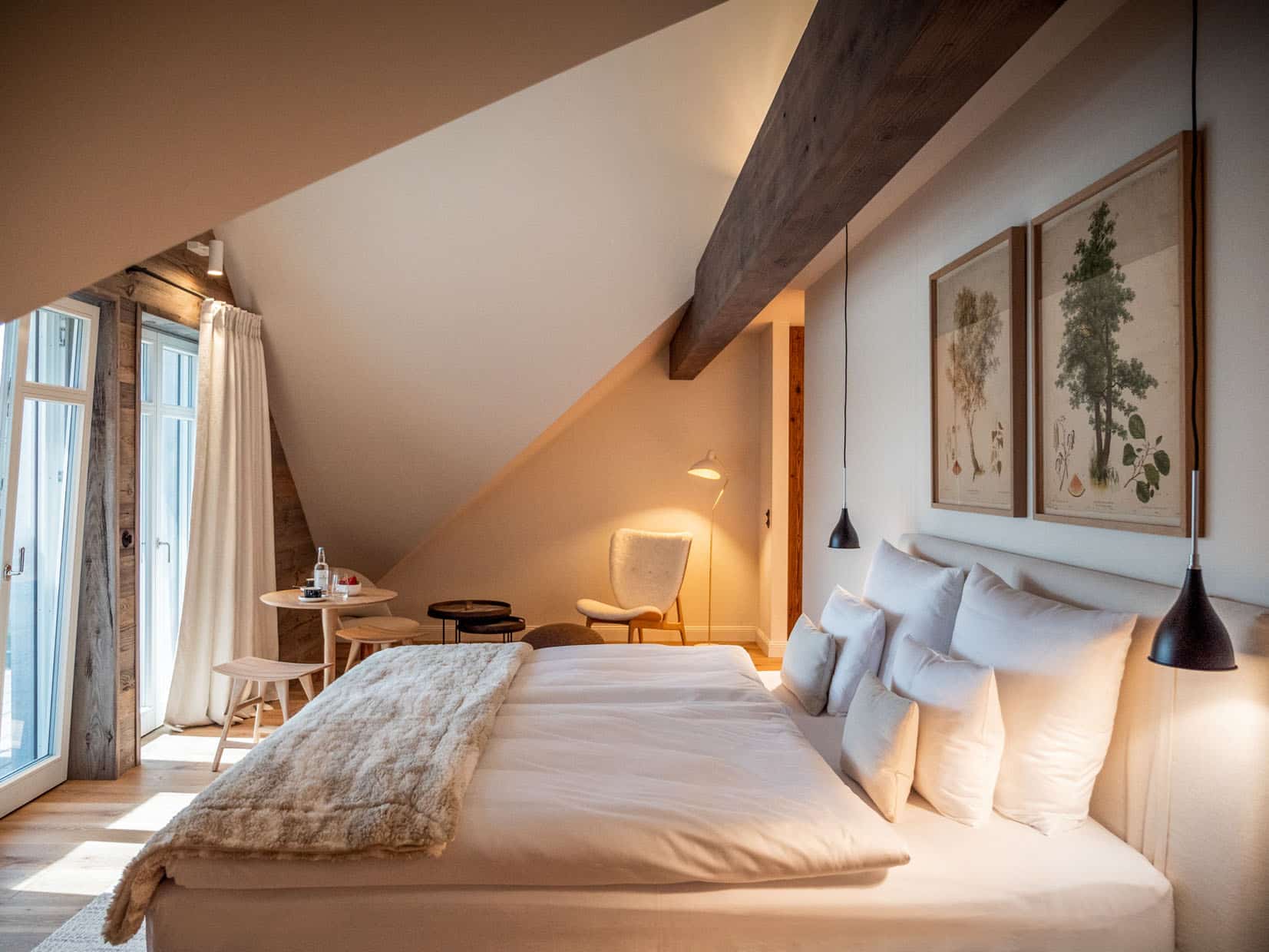 It is therefore particularly worthwhile not to book blindly. Instead, choose your very own "favourite lodge" from the two suites, six smaller suites or the double room. Most of the rooms have a balcony or terrace, others are also suitable for up to four people.
Security and space. Freedom. Opulence and reduction
Even before I arrived at Anja Engelke's and Michael Schott's home in the upper Allgäu, I explored the area a little. I passed the imposing Rohrach Gorge and let myself be guided intuitively. So, my path led me to the Wendelin Chapel near Scheidegg, which seems to rest picturesquely on a ridge in front of the panorama of Lake Constance. And I looked – this time southwards – at the main ridge of the Allgäu Alps, immediately behind which the Bregenzerwald is hidden. As I discovered later, this is part of the fascination of the Alpenloge – the mountains and the lake are never far away, and one of the two is always in view.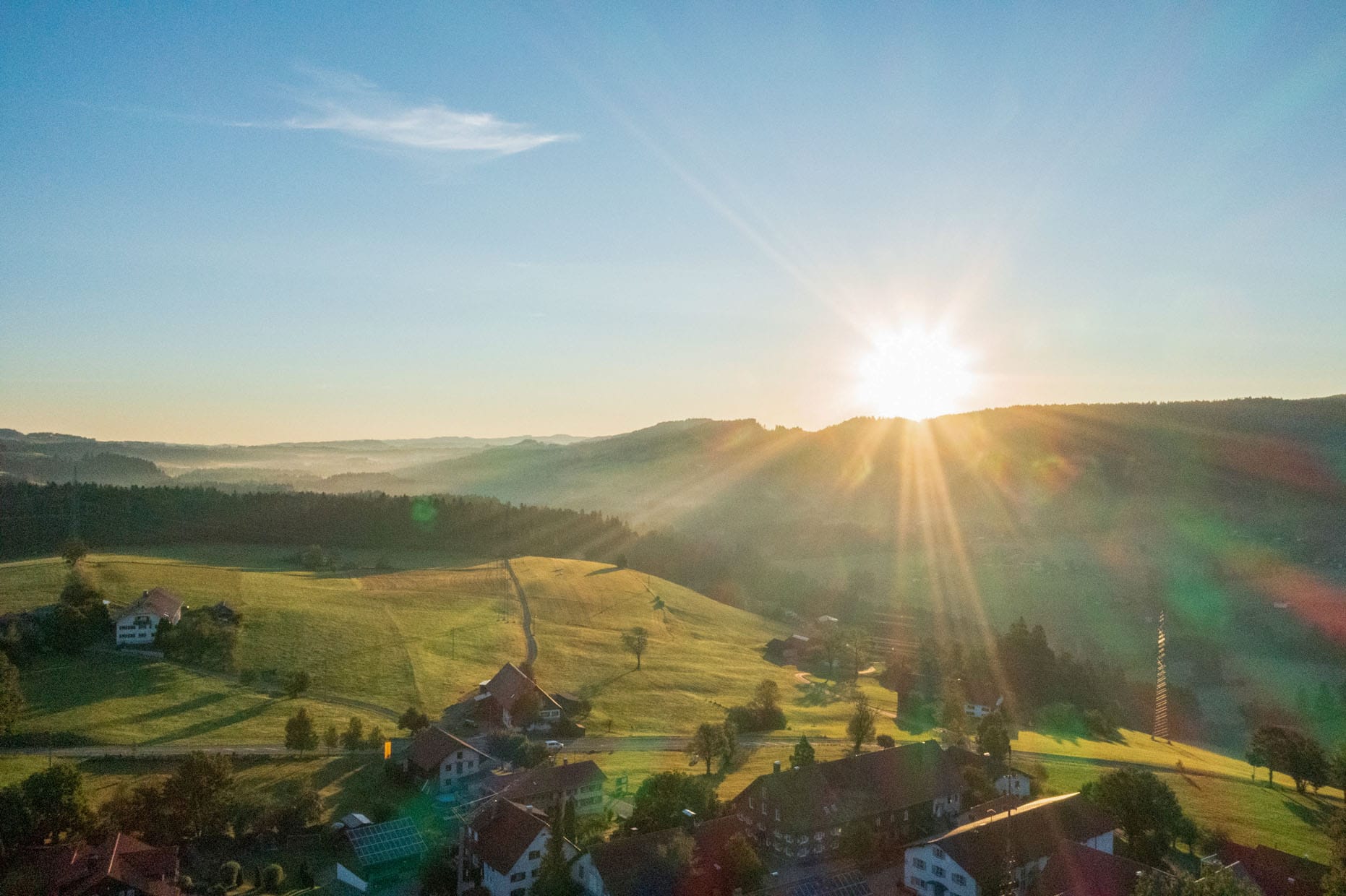 Anyhow: the location. Little Scheffau, situated between Bregenz and Oberstaufen, is a normal village and off the beaten track. And on the outskirts of the village, picturesquely set against meadows, forests and mountain panoramas that draw the eye into the distance: spot on, the Alpenloge. Remote yet in the middle of it all at the same time.

Germany's largest inland body of water, Lake Constance, can be reached comfortably by car in 20 minutes. If in doubt, drive via Bregenz and you'll be in Austria in no time. Switzerland, which borders the lake, is also close by. Here, in the "three- or four-countries corner", many attractions are within easy reach. And yet you stay in a wonderfully quiet, almost hidden, sometimes even dreamy place.
If it didn't sound so pretentious, one would probably speak of a "hideaway" in the classic sense. In any case, the philosophy of the hosts, who see no added value in the "eventisation" of today's hotels, fits in with this. They have left out everything that does not serve peace and well-being. Rightly so! In any case, the experience of space and security, of vistas and a feeling of freedom can hardly be enhanced.
Perhaps you will try it out soon. Then let us know afterwards what the magic of the place holds for you.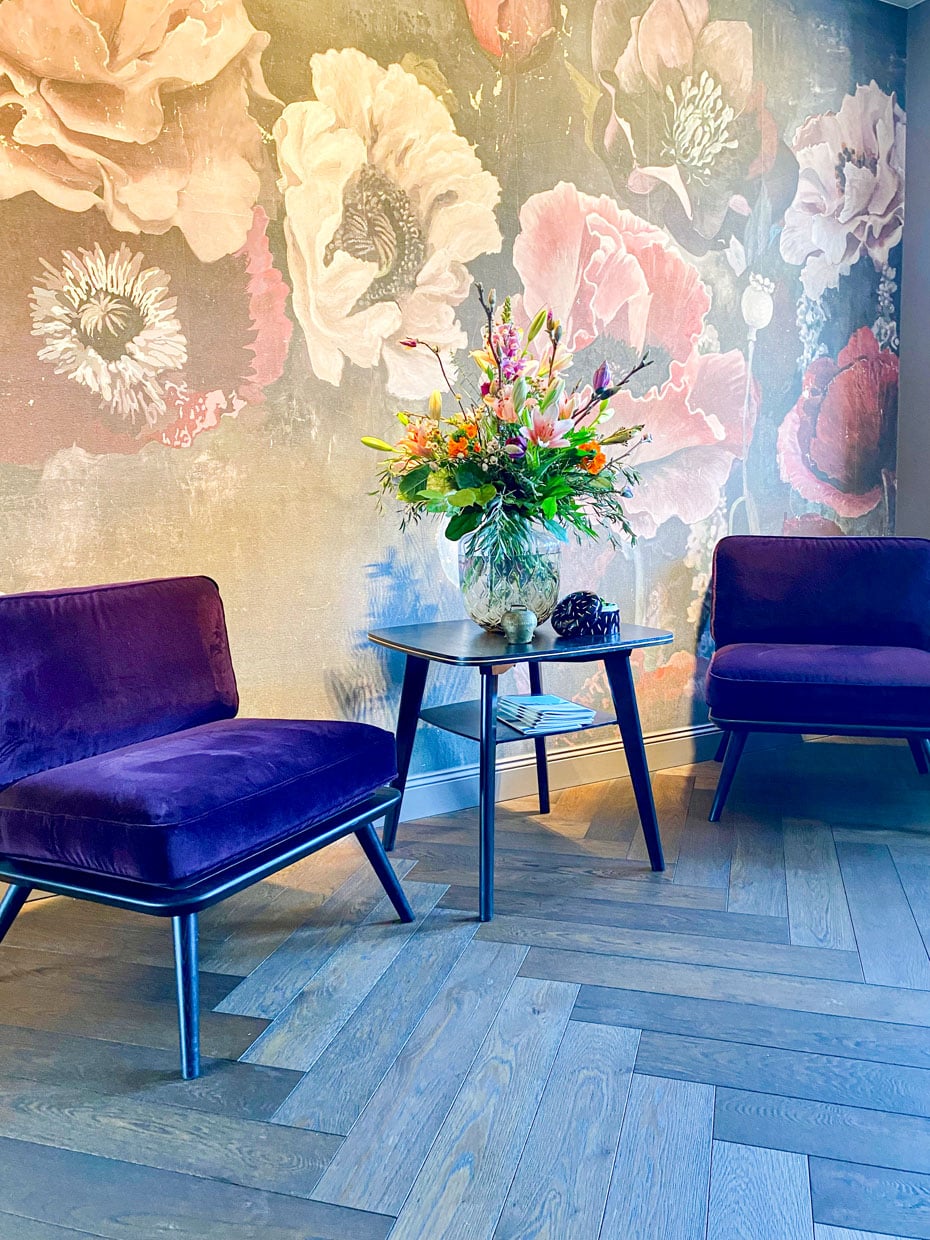 ---
Text: Ulrich Stefan Knoll, March 2023
Photos: © Michael Schott
The house