By Ulrich Stefan Knoll, August 2019
When a holiday destination stays with you long after you've visited, but you can't quite pinpoint why – well, then it's quite possible that you've been to visit the Tannerhof in Bayrischzell, Upper Bavaria. And it may be a sign that you should start trusting your instincts.
In my defence, the Tannerhof nature hotel and health resort isn't entirely innocent in this matter – something its owners freely admit themselves. Because the Tannerhof is, quite deliberately, not designed to be "easy to digest". And it certainly isn't your standard hotel.
As its description suggests, the Tannerhof offers a broad range of health and wellness treatments. But you can also enjoy all the comforts of a "normal" hotel. So many things coexist here – not just Kneipp therapy and herbal schnapps – that you'll simply have to experience it for yourself to realise that such diversity really is possible, and makes perfect sense, though perhaps only here.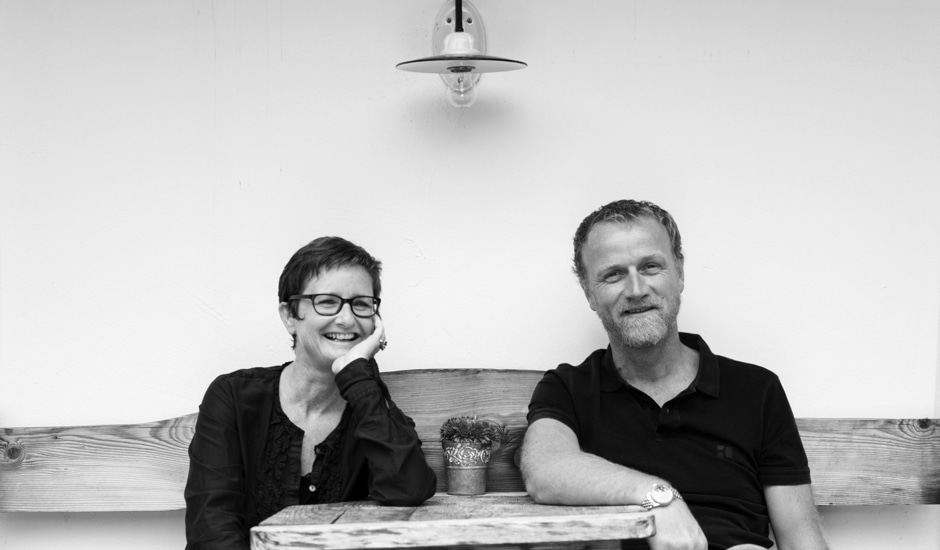 How we want to live
Your host couple Burgi von Mengershausen and Roger Brandes, both medical doctors, have realised their own personal vision for the hotel: "There are certainly people who find the Tannerhof a bit silly. That's the way we wanted it. We also think some things are silly! But all that means is that we've created a space, which is open and free, and which we've put lot into. There are hotels out there that are clear-cut and simple – and utterly boring. And then there's the Tannerhof."
Their self-assured confidence is free from any hint of a need for recognition or even arrogance – which will become clear when you get to know them. In fact, this sense of confidence is an essential element of the hotel's ethos. Healing requires inner clarity and awareness. Burgi and Roger know this only too well; it informs their own lives and the hospitality they offer their guests.
"Man, become your essence": The transformation and durability of an idea
What the Tannerhof most certainly is not: a hotel geared to please the zeitgeist and the mainstream. That was never the case – as evidenced by the property's history, and that of its owners. "Back to nature" was the maxim adhered to by the first generation of owners in 1904. As part of the 19th-century Lebensreform movement, which stood against the negative consequences of industrialisation, the physician Christian von Mengershausen and his wife Barbara acquired the farm and founded a sanatorium for natural healing methods.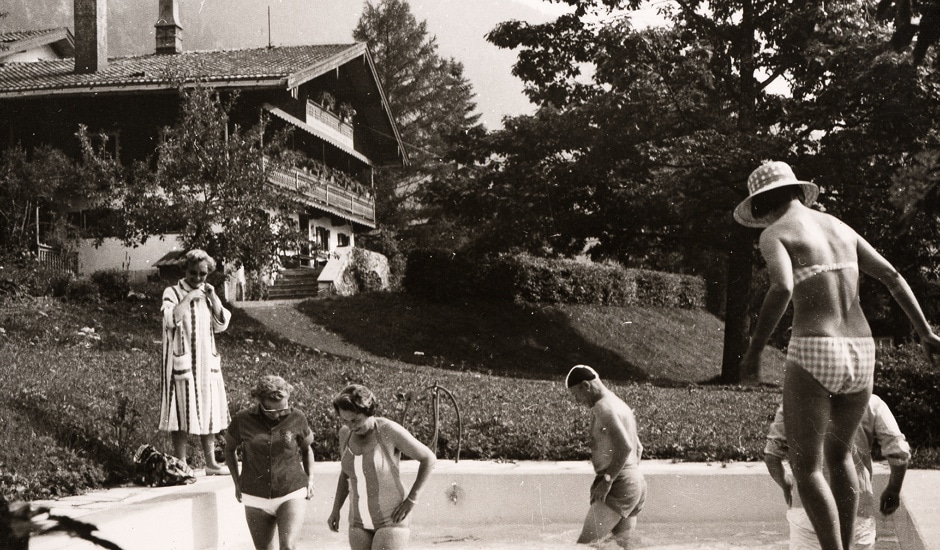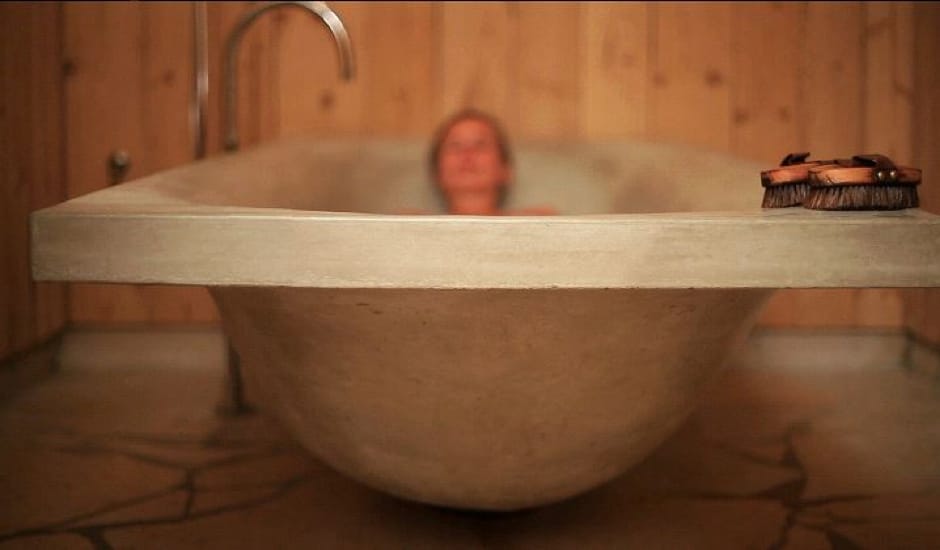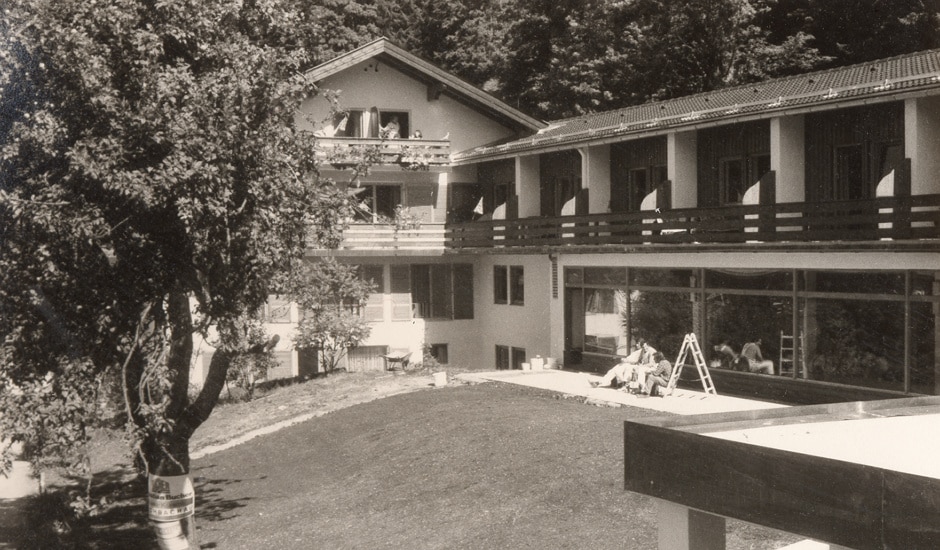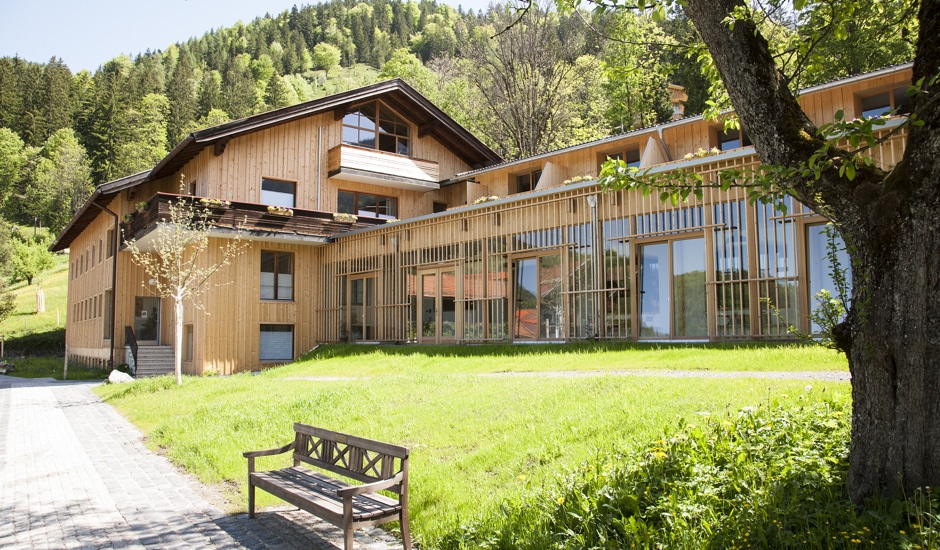 Over the years and decades, the property was adapted where necessary to suit the respective circumstances of the period. And, of course, each generation has its distinct priorities; additions and alterations have also been made here and there. Over the course of a century, an ensemble of buildings emerged, which now resembles a miniature mountain village in its own right. Its centrepiece is the original, centuries-old farmhouse, the "Alte Tann". This building was joined in 1905 by a second house, the "Neue Tann", as well as by the first generation of "Lufthütten". Over the years, a sauna, the "Badehaus" (bathhouse), a studio, a swimming pool, a rock pond, and the "Waschhaus" (washhouse), which today serves as a seminar and event room, were progressively added.
Throughout these 115 years, the Tannerhof has always remained true to itself and its philosophy, despite its further development – in accordance with the words of Silesius: "Man, become your essence."
Tannerhof reloaded
By the time Burgi and Roger took on the property in 2004, it had become eminently clear that a running the property as a conventional health resort would not work under the prevailing German health care system. As early as 1989, the Health Care Reform Act had instated far-reaching reforms affecting the spa industry, which were exacerbated by the trend towards new, fashionable wellness products. Classical and proven naturopathic treatments – as they have been practiced at the Tannerhof for many years – have unfairly earned the reputation of being old-fashioned and out-dated. Moreover, the situation was worsened by the dismantling and increased bureaucratisation of the traditional health treatment system.
The "new" Tannerhof thus began to take shape in the minds of its new owners by 2007, in collaboration with Munich architect Florian Nagler. And in 2011, after a nine-month reconstruction process, the property underwent an amazing transformation without betraying its traditional ideals in the slightest. The new arrangement found its expression in a far-reaching architectural revision of its architectural heritage combined with selected, modern additions.
New alpine architecture
The main objectives of the Tannerhof's reorientation as a modern hotel and sanatorium were to create an architectural bracket for the already existing buildings and to increase its capacity for overnight accommodation in such a way that it could continue to be economically sustainable. Hence, the time-honoured "Alte Tann" was not only freed of its unnecessary ballast, but was transformed back into an Einfirsthof (single-roof farm). Eight new and spacious "Almzimmer" (alpine rooms) were built in an extension to the building.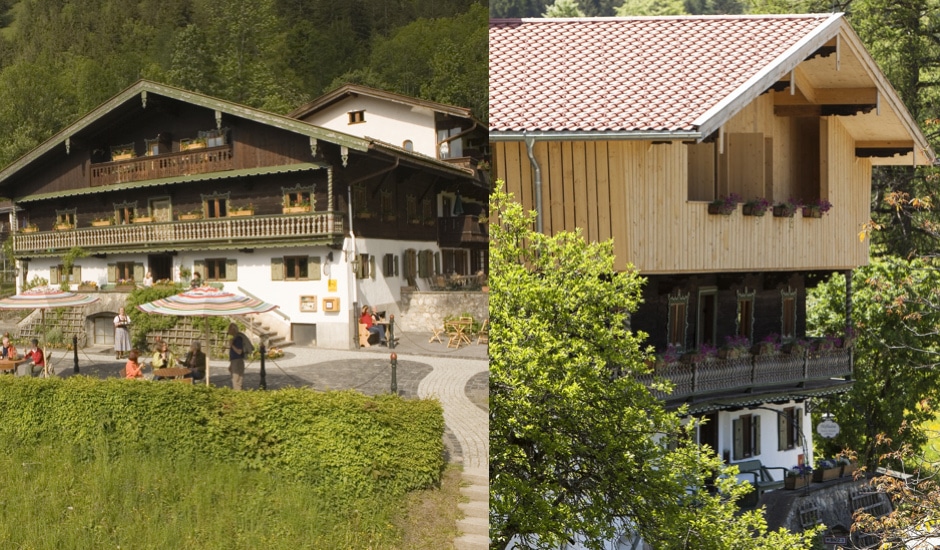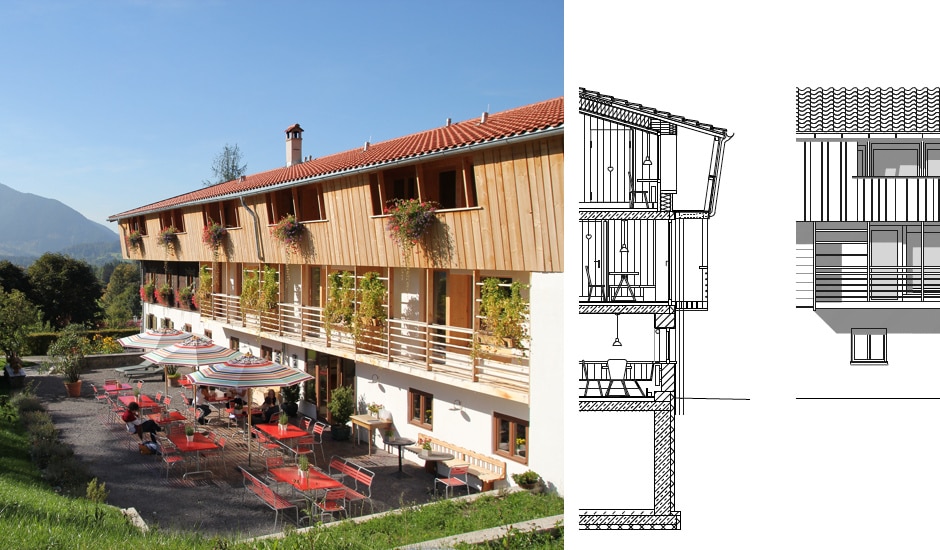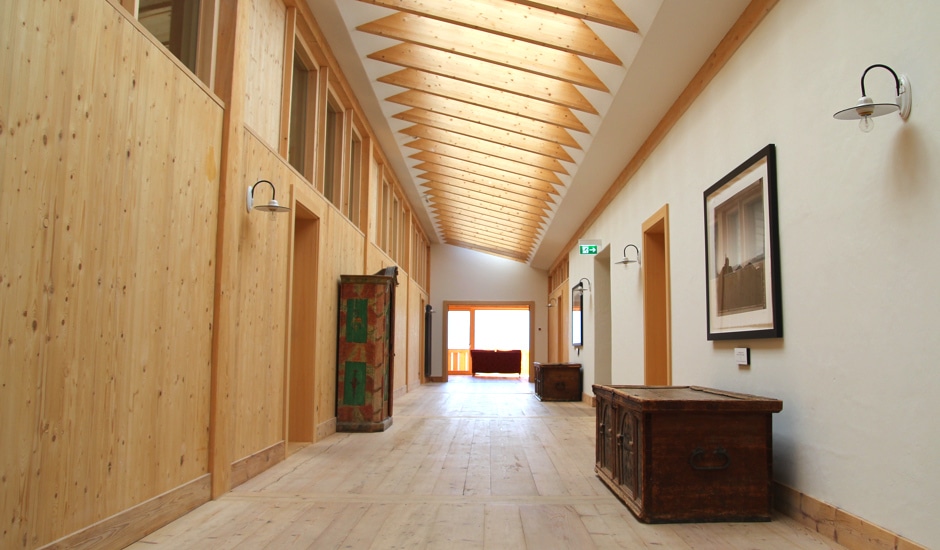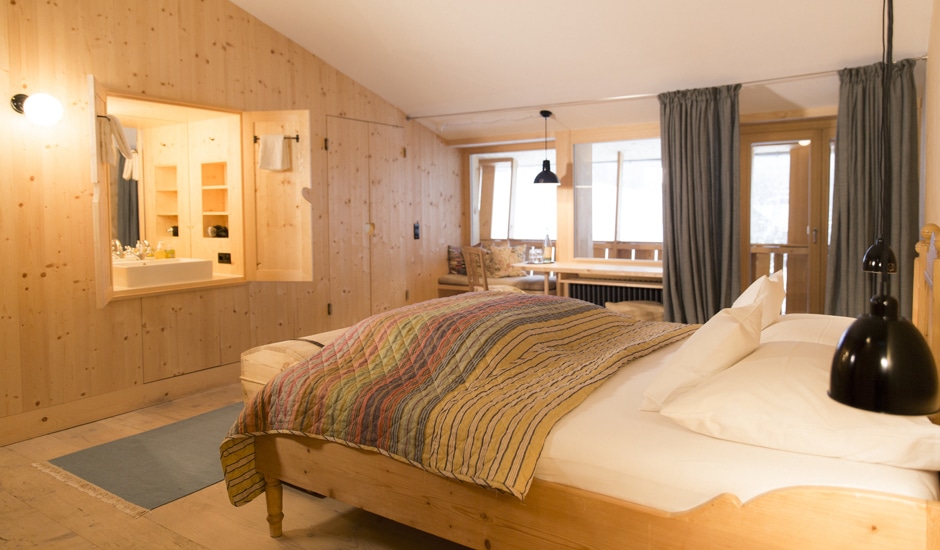 The connecting passage leading to the bathhouse was turned into a light-flooded space and dubbed "the Orangerie". Here you will now also find a lounge complete with a fireplace. And the rooms of the Baumallee, arranged on the level above, have been completely renovated.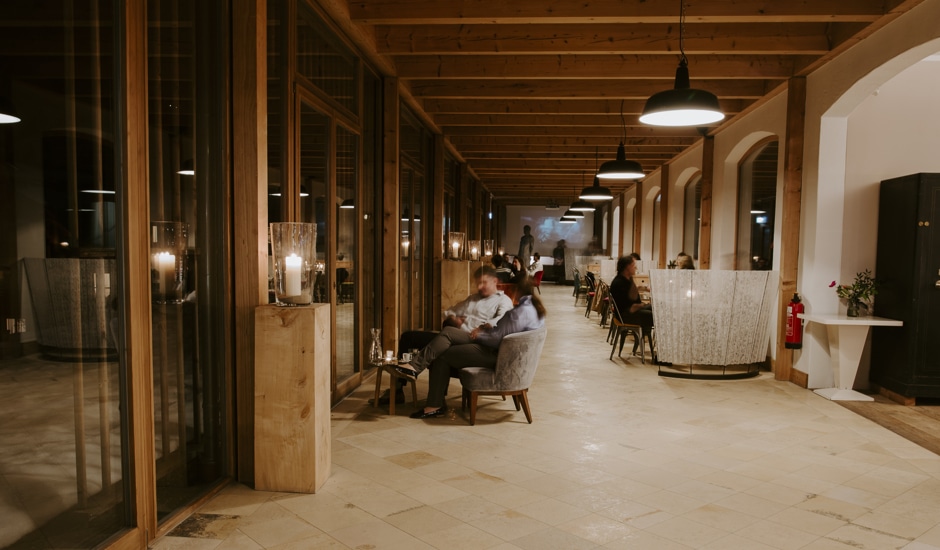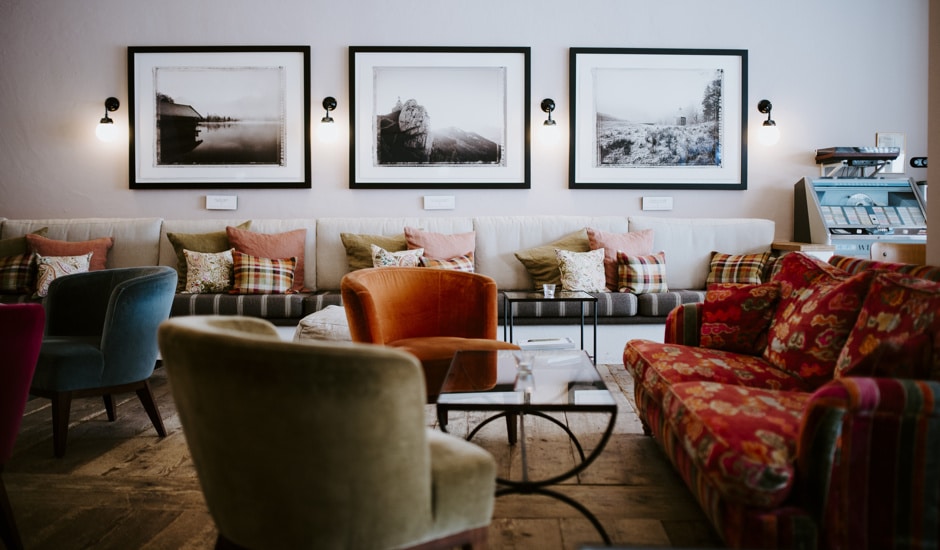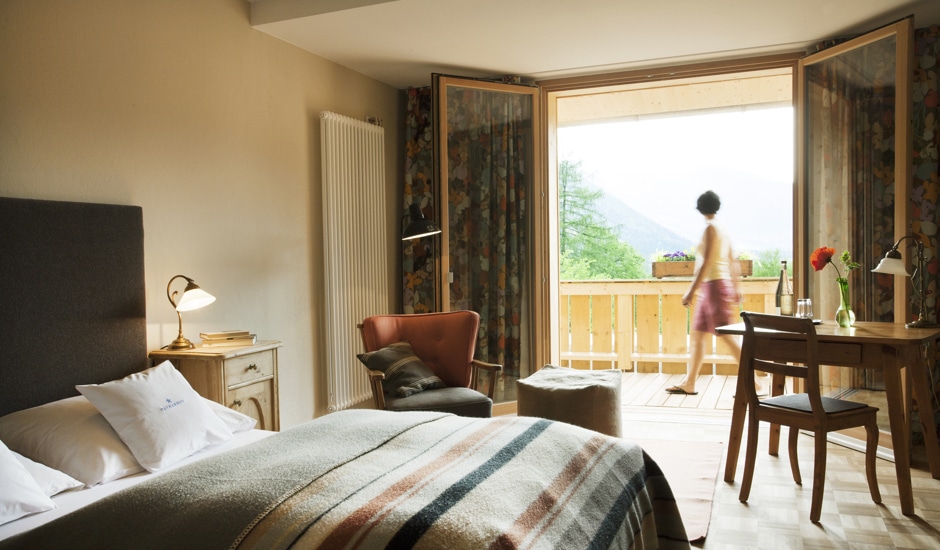 The most iconic and certainly most well-known aspect of the renovation are the four modern, shingle-clad "Hüttentürme" ("Chalet Towers"), a modern interpretation of the retreat spaces embodied by the surrounding original "Lufthütten" (detached or semi-detached cottages) built in 1905.
To keep the Tannerhof's spaces as open and light-filled as possible, the new buildings – in contrast to their historical counterparts – emerge vertically out of the landscape and offer three rooms each stacked on top of the other. Wooden surfaces, floor-to-ceiling glazing, and views of the mountain scenery offer guests who don't mind not staying in the main building a private retreat in which they can find peace and quiet.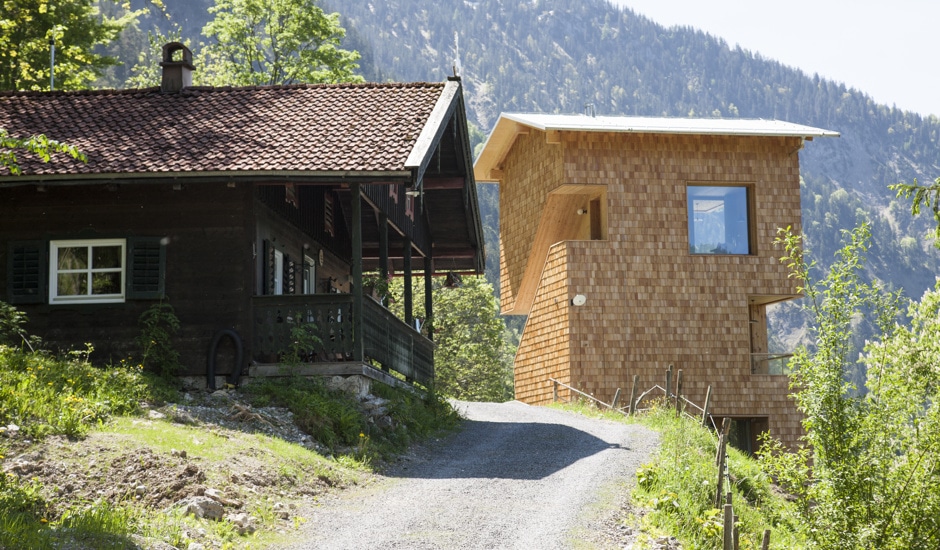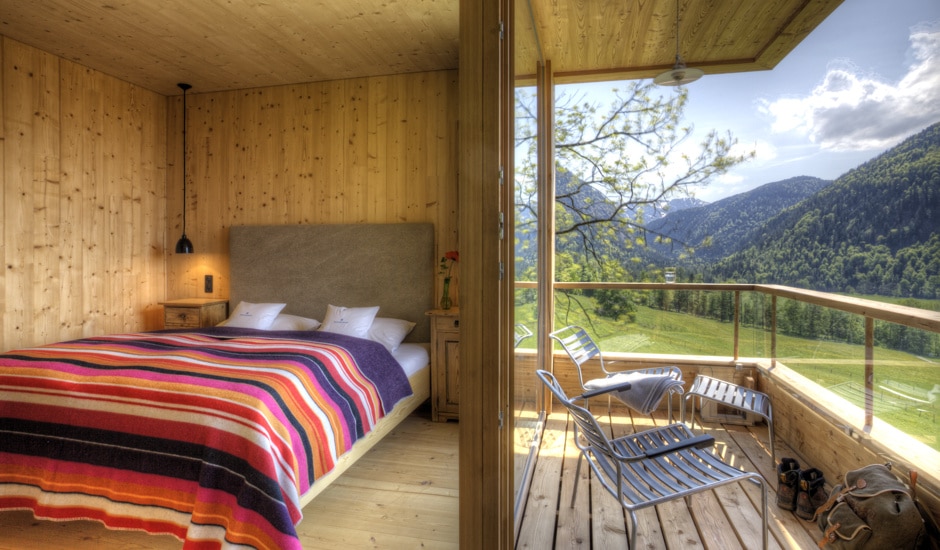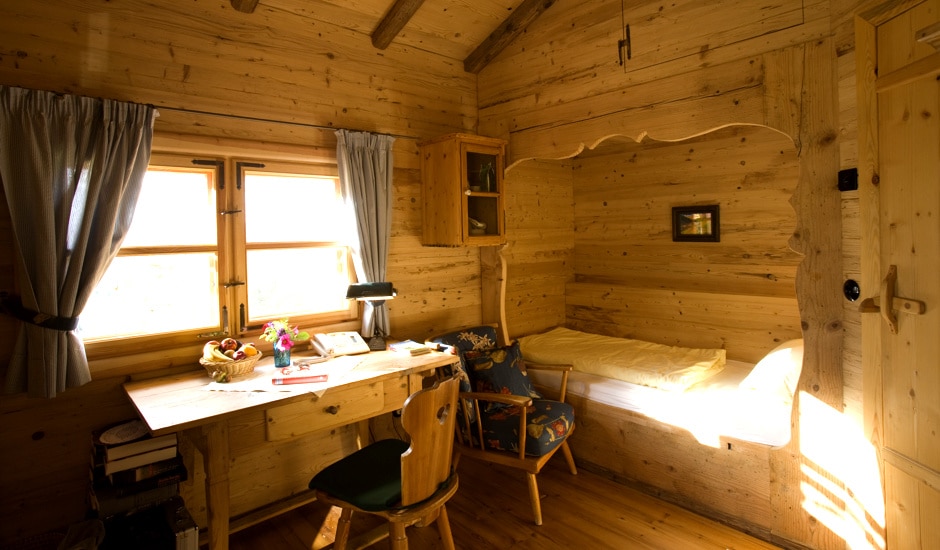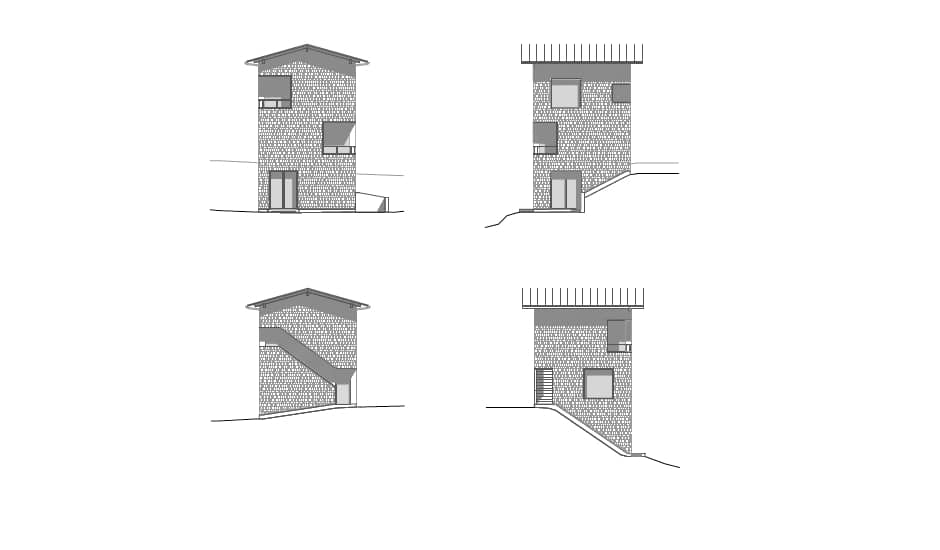 Both its new and old buildings now ensure a refined, warm and high-quality atmosphere – with premium natural materials, reduced furnishings, and no alpine kitsch in sight.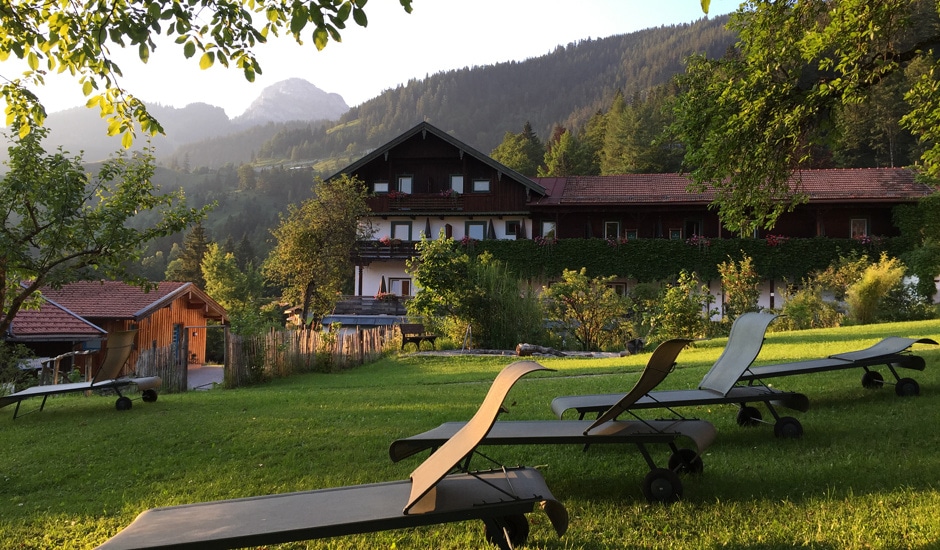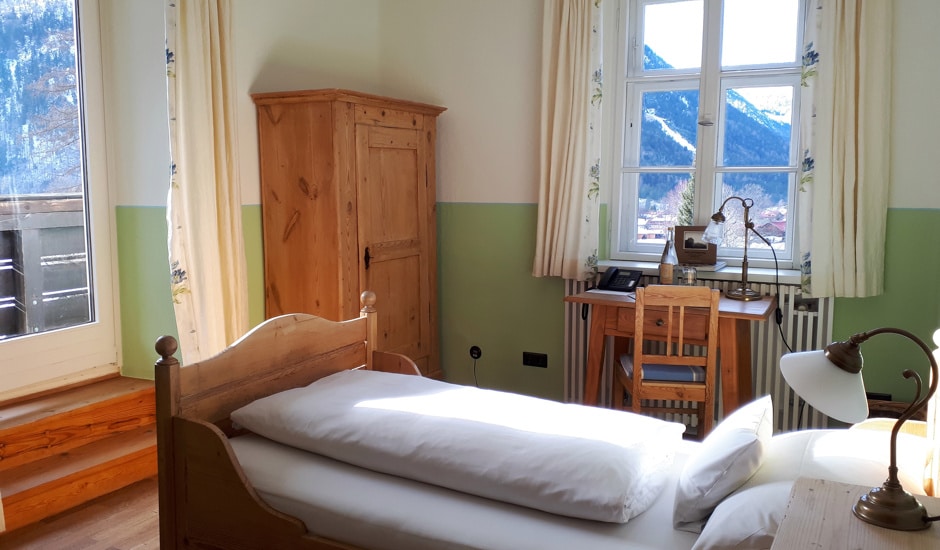 So what does it feel like now?
Before you even enter the reception when you arrive, you will spot the ceiling beam in the entrance hall of the "Alte Tann" – the Tannerhof's centrepiece. "When you enter this house / leave your titles at the door / you come here only as a human being / before God there is no greater honour." Or as I like to think of it: take yourself seriously, but not too seriously. A fitting motto for your time spent here!
Newcomers have the option of taking a guided tour of the building before dinner. Taking this opportunity will make sense of the room arrangements and introduce you to the farm's history and heritage. And yet, sooner or later the farm's unique spirit and atmosphere will reveal itself to you without the need for comment: like a gentle smile, it pervades this space with its blend of friendly and personal service, peaceful ambience, and thoughtful architecture – unobtrusive yet ever-present in all its corridors, halls, rooms and parlours. It will leave you in a blissful state of calm, quiet, introspective and cheerful serenity.
Finally, you'll have time to unwind, reflect and enjoy good conversations – at the dinner table or by the fireplace. Each space is awash with a fresh alpine breeze, imbued with a sense of freedom, and accompanied by views of the surrounding landscape of Bavaria's Wendelstein region. The crowning glory of the day for food-lovers will inevitably be the evening menu. It's not just organic and regionally sourced – how could it be anything else – but it's prepared according to the "slow food" ethos. Chef Nico Sator offers his guests a new menu every day; so you'll eat what's on the table. You won't regret not being spoilt for choice for once, I promise.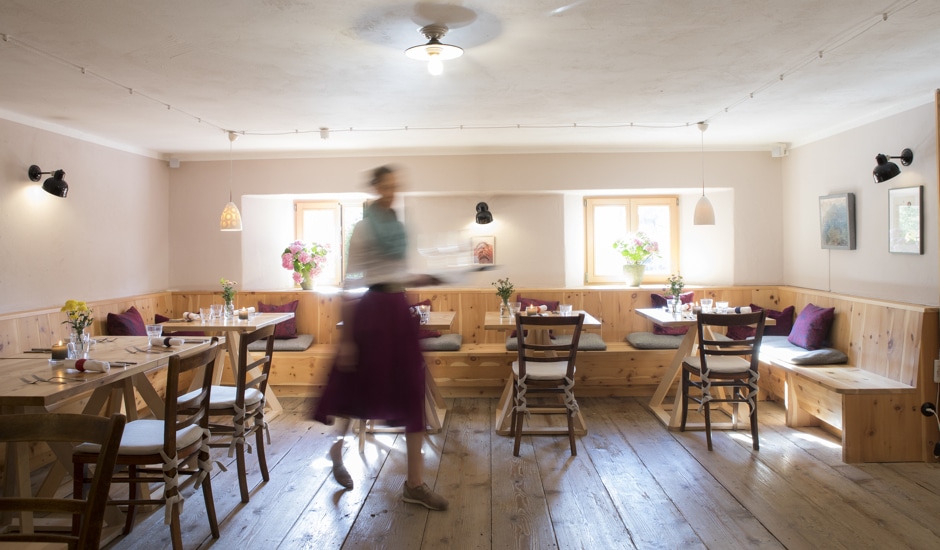 If you like, you can enjoy a quiet holiday with health treatments and devote yourself entirely to casting off your physical and mental burdens. You're sure to see the term "consultation session" in a whole new light. Because here, listening to you is their first priority.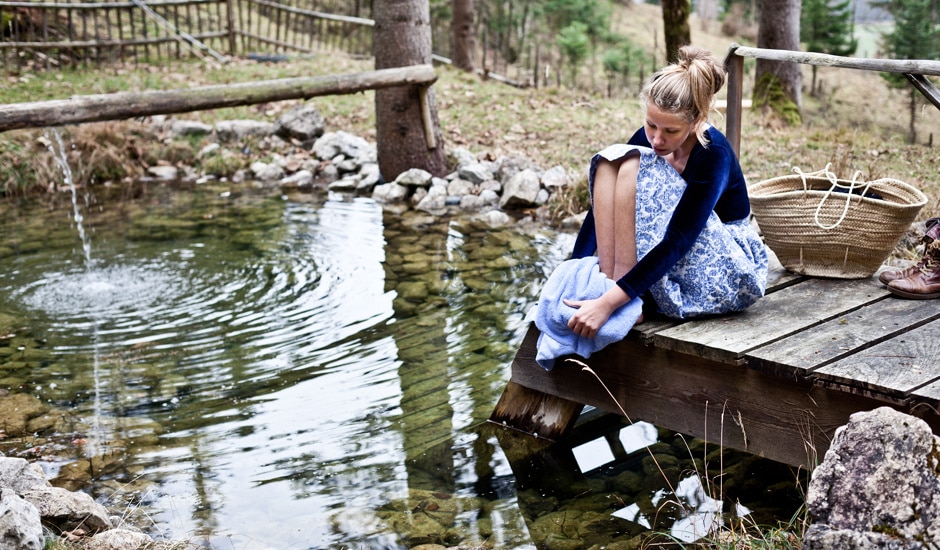 In view of its mission, the Tannerhof is a sincere and earnest place – but it is by no means overly solemn. This is ensured by its selection of artworks: sometimes integrated here and there, sometimes filling entire corridors. These are sure to make you smile and will inspire you to stop and think.
Erwin Wurm's "Self-portrait as a Pickled Cucumber", for example. Or the "Leitzachtal Photo Edition" by photographer Christopher Thomas, for which Gerhard Polt, a veteran of Bavarian cabaret, wrote the accompanying commentary in his distinctive subtly humorous style. It's weird, wonderful, and pleasantly thought provoking!
Speaking of listening: the in-house cultural programme always offers inspiring concerts and readings. These are complemented by regularly changing exhibitions, vernissages, and plenty of opportunities to get active and be creative yourself.
And if you're still not sure – as of spring 2019, the Tannerhof has been welcoming outside guests to its restaurant "Pool". Here you can taste its chefs' delicious creations, and enjoy the atmosphere of the Tannerhof free of any obligations!
Overview: Here you can find all our HomeStories at a glance! If you want to stay up to date, you can opt-in for our HomeStory-Newsletter here.