Meadows, pastures and open skies – the Browiede guesthouse is located in the midst of a serene North German landscape on the outskirts of Inschede, a village on the Weser river. Half set on the river embankment, half perched on stilts above a green meadow, the house blends in beautifully with its natural surroundings thanks to its grass roof, oak façade and broad windows.
The peace and expanse of the landscape are also reflected inside: in the use of natural materials like the pine ceiling and natural stone and wood floors, in the quiet colour palette that recalls the blues and greys of the sky, and in the open floor plan with plenty of light and space. The simple, subdued interior design draws your focus out to the surrounding fields. Through the panoramic windows or from the 70 square meter terrace you can watch deer, hares, storks, or the highland cattle roaming the neighbouring pastures.
What to do
Nature watching, walks, cycling on the Weser bike path, canoeing.
Verden with its historic cathedral and medieval lanes, and Erbhof castle in Thedinghausen can be reached by car or bike within a few minutes. Visits to the former artist's colonies of Fischerhude and Worpswede, or day trips to Bremen.
Dining in the neighboring Browiede restaurant.
Why we like this house
A peaceful country idyll and a house built for rest and relaxation: the perfect spot to unwind.
This house is great for
Couples and families. Anyone looking for peace, relaxation or beautiful natural surroundings.
Host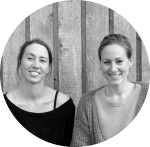 "The quiet seclusion and the views over the wide, green meadows and the Weser river are what makes this place something truly special to us. We are delighted to be able to share it with others."

Anna (mother of three and manager of the Wulmstorf highland cattle farm) and Greta (integrated design student at the University of Arts [HfK] Bremen) inherited the house from their father. Johann Clausen (1953 - 2003), who was himself an architect, bought an old harbour tavern called the Browiede in 1996 and extensively restored the dilapidated building. In 2002, he built the Borwiede guesthouse as a commercial extension to the property and this became the architect's last building project. It was opened to the public in 2018 after several years of intermittent use.
Details of the property
Region/Town: DE – Germany, Lower Saxony, Blender Intschede
Name: Gästehaus Browiede
Scenery: Amidst the marsh of the Weser river
Accommodation: House
Number of guests: 1-6
Architecture: Modern
Completed: 2002
Design: Johann Clausen
Categories
1-2 (house/apartment), 1-4 (house/apartment), 1-6 (house/apartment), DE – Germany, Family, Garden, Hiking, House, Lake/river, Lower Saxony, Lower Saxony, Modern
Homepage www.gaestehaus-browiede.de
Availability calendar
The calendar displays the current availability of the accommodation. Days with a dark grey background are not available, while days in light grey or white are free for bookings.