This 300-year-old farmhouse is situated in the Bavarian Forest in a natural landscape along the green belt of Europe. Ingrid Haidl-Madl has fulfilled her dream of living and working in the one place by rebuilding her parents' house. This 300-year-old building houses not only the family's apartment, but also a small interior shop and three individually designed apartments. Each of these represents a successful balancing act between traditional and modern elements and radiate a sense of harmony and tranquillity through its reduced design.
The apartment "Nest" is a 34 -square-meter refuge on two levels with a bedroom that is fully lined with untreated spruce. In the apartment "Hermann Lenz" the restored original bedroom furniture recalls the writer who stayed in the former farmhouse on his walking tours through the Bavarian Forest. The apartment "Alte Liebe" shows original features such as parts of the old masonry, a tiled stove and an old dipterous box-type window. Modern accents are set by unual window elements made of mirrored glas, a communicative kitchen unit or a table that is integrated into the windowsill.
Ingrid Haidl-Madl doesn't just takes care of breakfast, she also bakes tasty cakes. The "blue room" can also be shared, for eating, celebrations or as an "in-house cinema".
The house is surrounded by 6 hectares of protected natural landscape (with more than 400 distinct species of flora and fauna) with a large flowering orchard and fruit garden and many secluded seating areas.
Also read our HomeStory.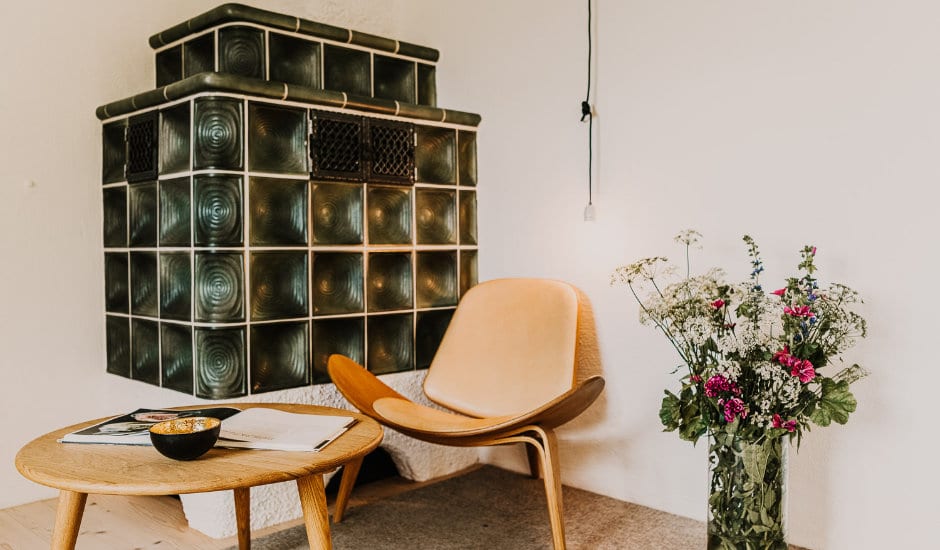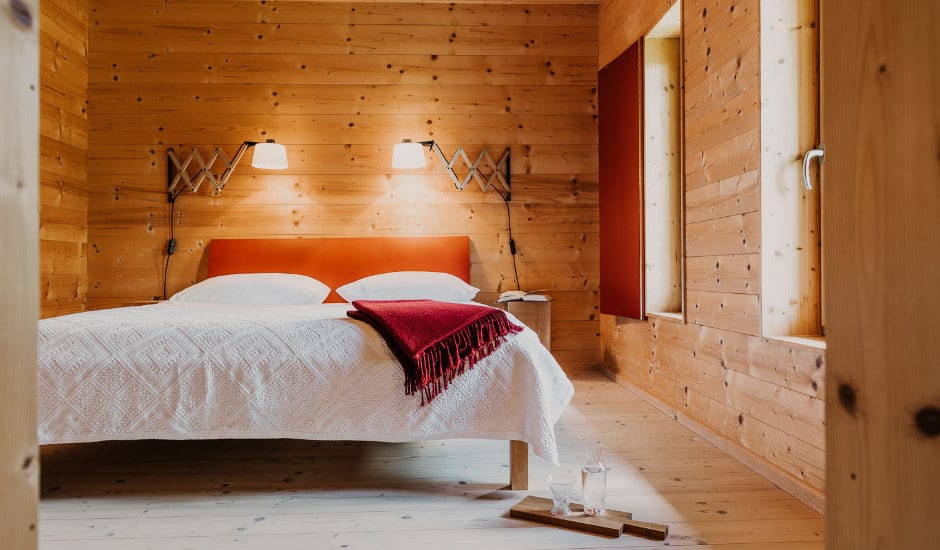 What to do
Guided tours through the Bohemian Forest, hikes from the farm on marked hiking trails, tours to the adjacent Sumava National Park, bathing lakes and natural swimming pools, bicycle tours. In winter: Cross-country skiing (the village loop leads to a 300+ km cross-country ski area), skiing in the nearby ski resorts, guided snowshoe hikes, skating on the world circuit in Finsterau. Museums and cultural excursions e.g. nostalgic journey by train through the Moldau valley to Krumlov (CZ), day trips by bus to Prague or to the City of Three-Rivers in Passau.


Why we like this house
A paradise for stressed urban people: An old farm – traditional and modern at once – complete with cordial care from the hostess and beautiful natural surroundings.
This house is great for
Nature lovers and anyone looking for peace and relaxtion.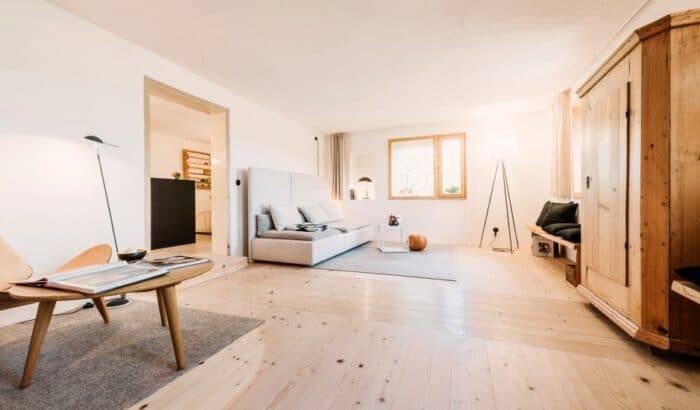 Details
| | |
| --- | --- |
| Region | DE – Germany, Haidmühle, Bischofsreut |
| Name | Haidl-Madl-Ferienwohnen |
| Scenery | among woods and meadows of the Bavarian forest |
| Number of guests | 3 apartments for 2-4 people |
| Completed | 2013 |
| Design | Bernd Vordermeier (architect), Passau |
| Published | Schöner Wohnen 02/2021, GEO Saison 05/2021, Almliebe Magazin Frühjahr 2019, DOMUS Licht Design 2018 |
| Awards | Architektouren 2014 |
| Architecture | Historical, Old & new |
| Accomodation | Apartment, B&B |
| Criteria | 1-2 (house/apartment), 1-4 (house/apartment), Apartments combinable, Family, Garden, Hiking, Mountains, Skiing, Skiing, No car needed, No car needed |
Availability calendar
The calendar shows the current availability of the accommodation. On days with a white background, the accommodation is still fully available. If an accommodation has more than one rentable unit, days with free capacities are shown with a light grey background. On days with a dark grey background, the accommodation is not available.
Request/Booking