By Britta Krämer
We don't know if German author and poet Erich Kästner has ever been to Lake Weissensee, but his statement "One is already a regular guest, or one will be" became a leitmotif for the Lienz native Angela Frey, head and soul of the label "Zimmer Frey". She has found her way to tourism rather coincidentally and found herself right in the midst of her vocation: to conceive unique holiday hideaways that weave healing nature, good architecture and local traditions into a harmonious triad. Nestled into grandiose landscape scenarios, powerful places of inspiring clarity and individual charm emerge. They touch both, soul and senses and seem to have invisible antennae – for unexpressed wishes, forgotten memories, for small and big dreams. If you encounter such places which so naturally resonate with your own desires, then it can occasionally happen that you turn into a habitué.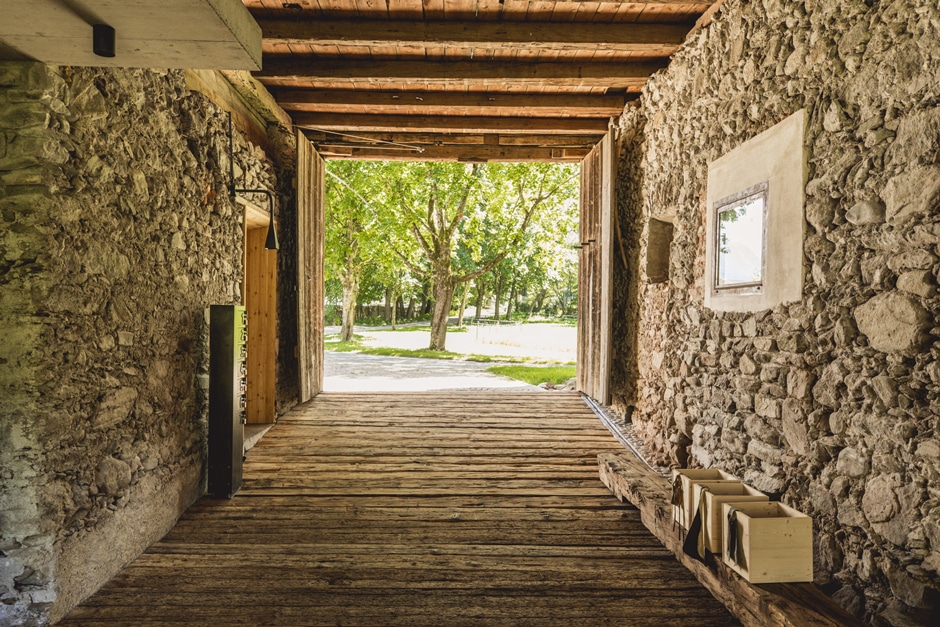 Alpine Fjord.
North of Hermagor, the highest bathing lake in Carinthia stretches along the foothills of the Gailtal Alps at 930 meters above sea level: Lake Weissensee. Long and narrow like a fjord, it nestles against the wildly romantic shoreline landscape of reed beds, low-hanging willows and marshlands. Due to its different depths of water, it shimmers in thousandfold oscillating nuances of blue, turquoise and emerald green and looks like a gigantic Impressionist painting. It owes its name to the distinctive white edge of limestone deposits that surrounds the lake like a halo, making its colors appear even more intense. Lake Weissensee is fed by underground springs and two streams and has – a real rarity – drinking water quality. Thanks to the unusually clean water, you can look up to six meters deep into the blue underwater world. Scuba diving in the Carinthian way!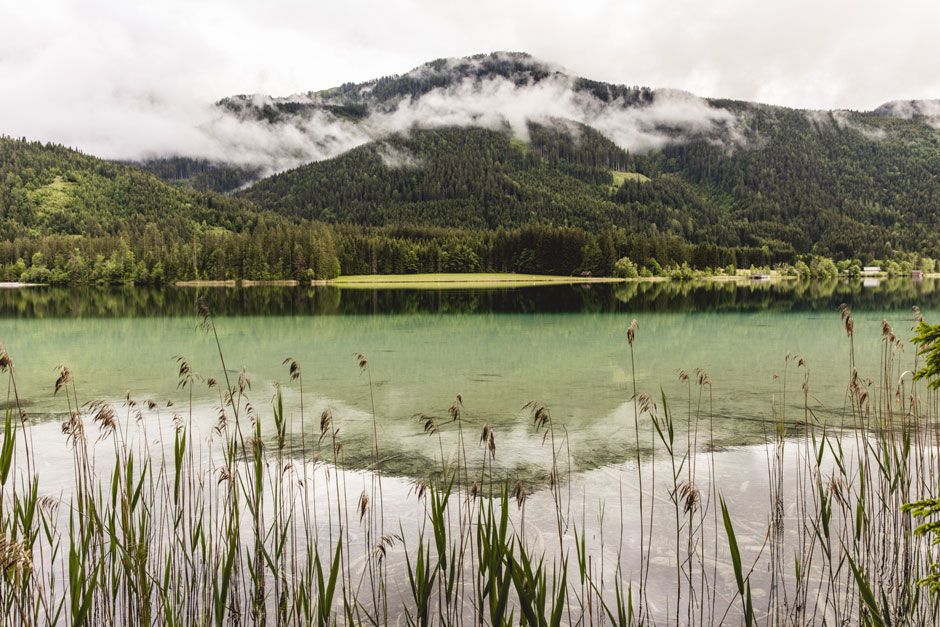 Lake Symphony.
6.5 square kilometres of usually calm, sometimes gurgling, murmuring, bubbling water. Only a third of the shore zones are populated and around the lake there is an extensive protected landscape area with a rich variety of flora and fauna. Birds and insects chirp and twitter in the reeds, lake trout, perch, carp and pike explore the deep blue. Now and then a jumping fish ripples the smooth surface of the water, performs a pirouette in the air and spins back into the wet habitat. Kayakers and stand-up paddlers enjoy the silent vastness of the water as the morning mists bathe the lake in a mystical atmosphere. In summer, bathing guests relax on the shoreline lawns and enjoy the pleasant temperatures of the lake, which can reach up to 24° C.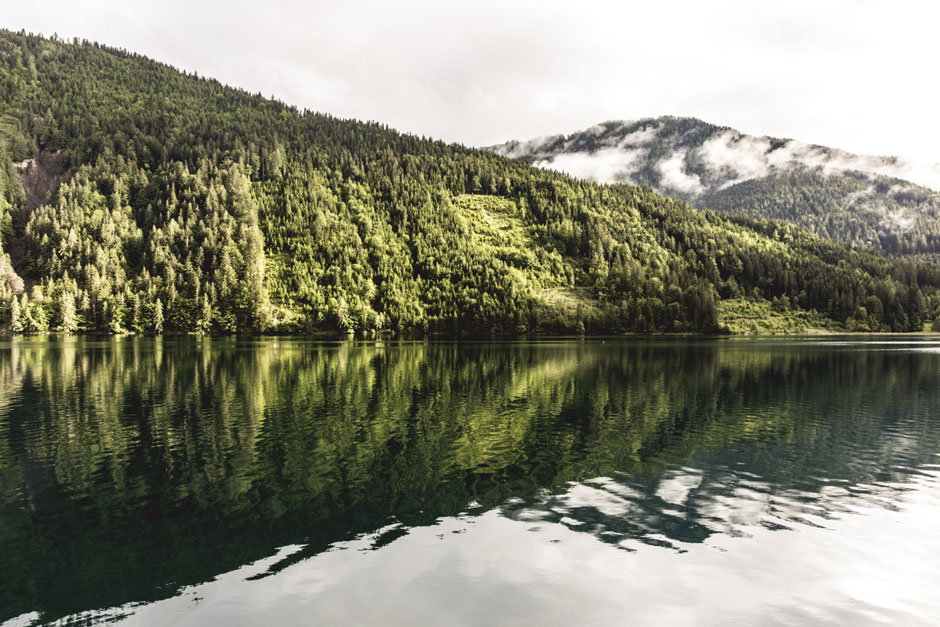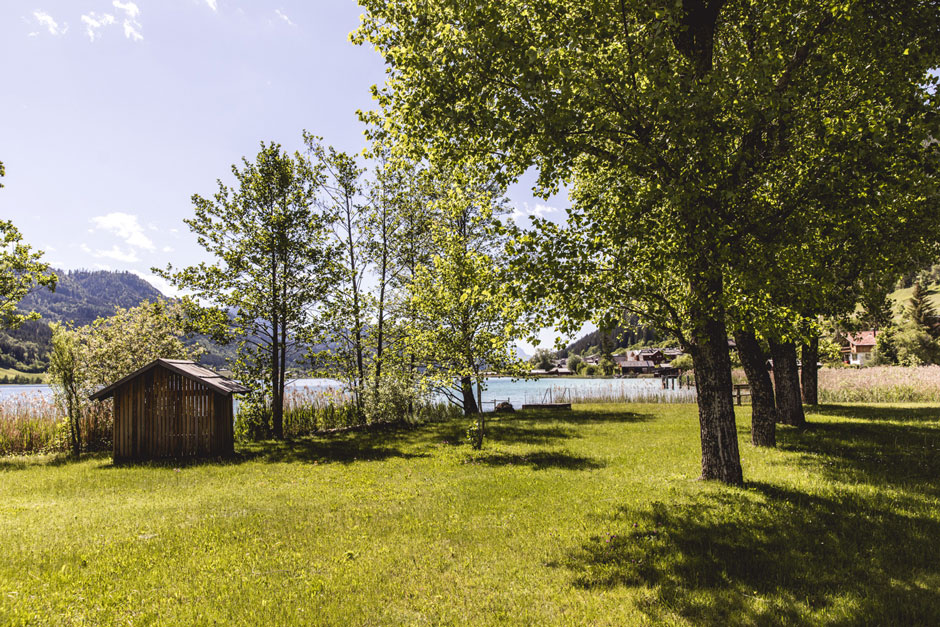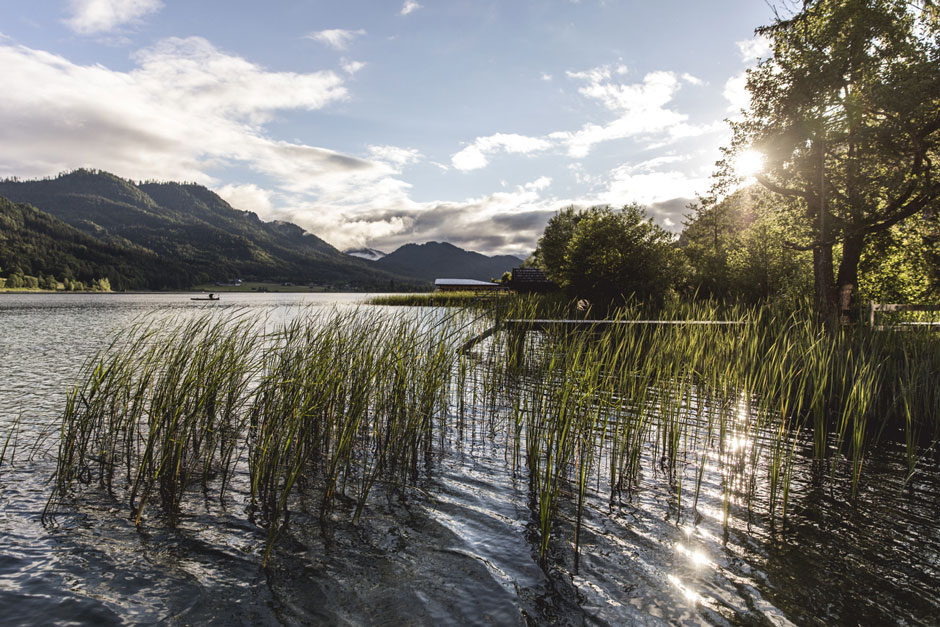 And in winter? In winter, a unique scenario takes place year after year: Lake Weissensee freezes over completely and transforms into the largest natural ice surface in Europe. The reeds, the landing stages, buoys, water bubbles and even time remain still and silent in the enchanted ice landscape. Then the ice skaters make their rounds on the excellently prepared ice tracks: the pros are quick as an arrow, beginners take careful steps, the dogs slip, slide and wag their tails.
Sharp blades glide over the glittering ice surface, family fathers become children again and their rosy-cheeked kids hardly ever run out of energy. But all of a sudden they all stop and listen carefully, that is, when the lake begins to sing. Due to variations in temperature and the resulting thermal tension, the ice "comes to life" and causes mysterious sounds under the lake surface: it cracks, clicks, murmurs and sighs its peculiar, intriguing Weissensee Symphony.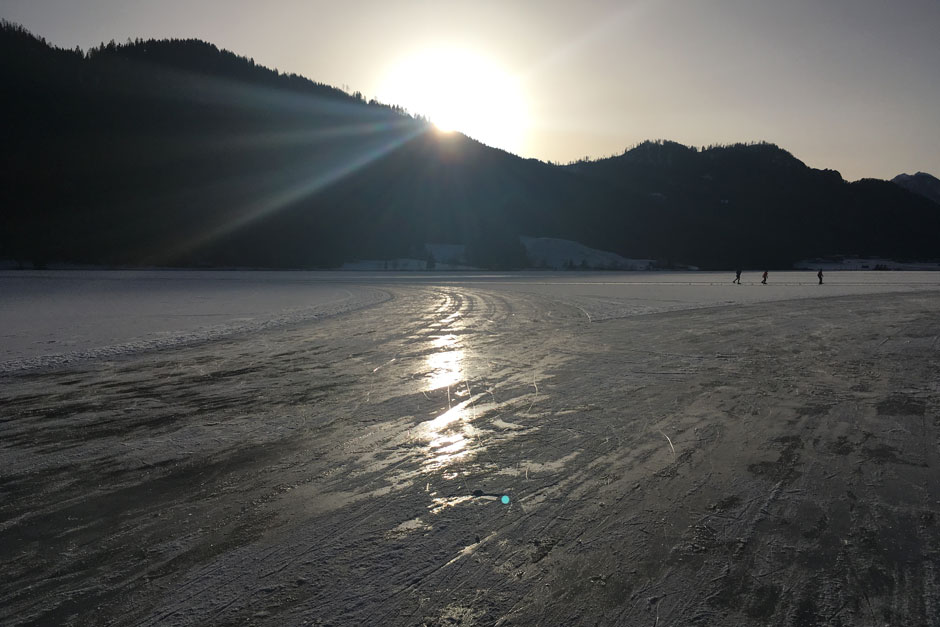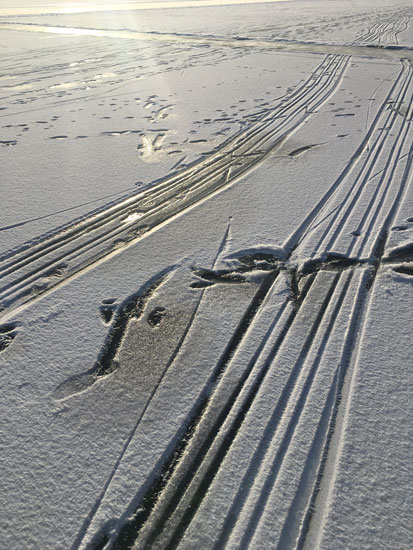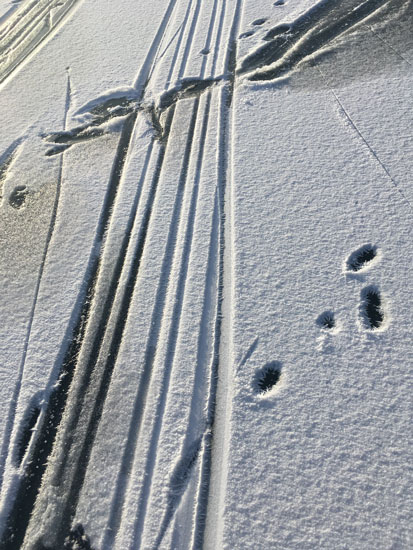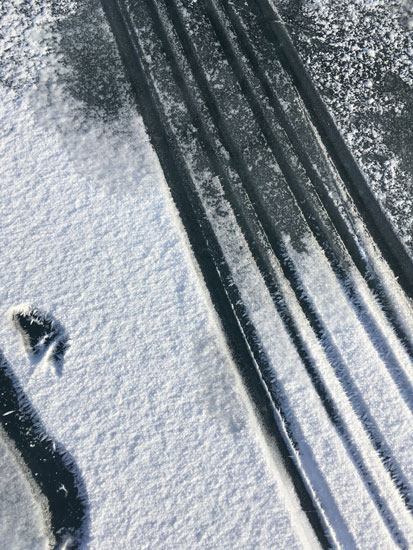 Jungmann's Ensemble.
In the village of Neusach, the Mühlbach stream flows gently rushing into the Weissensee. Once it supplied an adjacent saw mill with energy. In 2010 Angela Frey bought the property of 2800 square meters and entrusted the Lienz-based architect Peter Jungmann with the challenge of designing a unique holiday refugium here, just two minutes' walk from the lake shore and in the middle of a precious ecosystem. Jungmann renovated the old sawmill from the scratch and transformed the former industrial building with great intuition and ingenious solutions into sleek yet sophisticated holiday flats.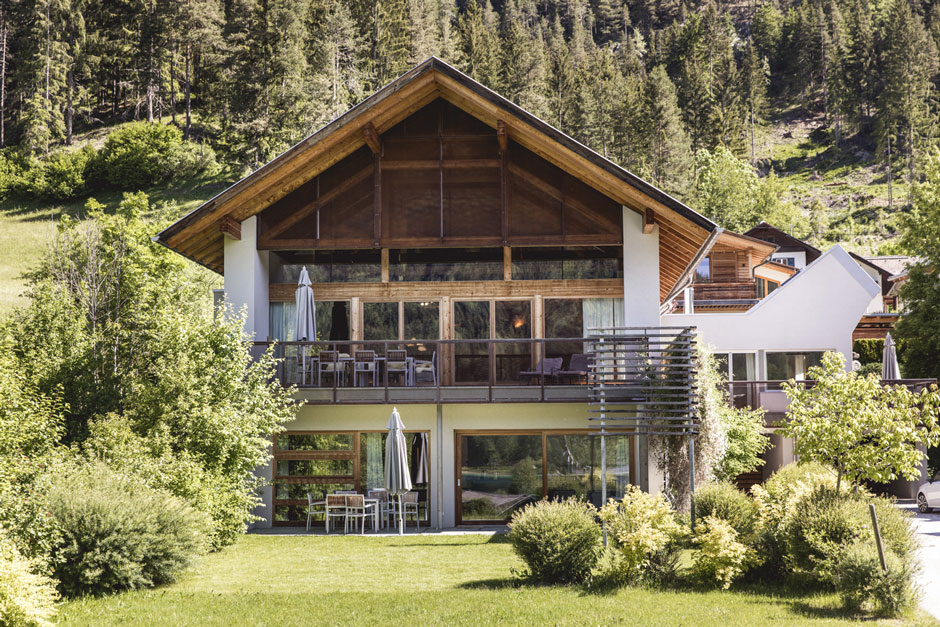 Initially, four apartments were realised in the main house – Bug (bow), Steg (jetty), Heck (stern) – and one in the annex: Flosse (fin). As you enter the apartments, you inhale the scent of oiled larch wood and your senses relax at the sight of the clear, no-frills design and the wide view into the landscape. The smooth wooden elements want to be caressed, nothing is superfluous, every centimetre is cleverly planned.
Here everything focuses on need-oriented spatial concepts that either harmoniously combine contrasting elements or grant them an equal right to exist: Inside and outside, quiet retreat and communicative interaction, open space and introverted nest. Sliding doors disappear silently into the wall, dissolving or revealing boundaries and creating spaces which can be flexibly transformed by the residents: Loft or bunk, quiet studio or lively playground, culinary round table or think tank with lake view. Light and space, unusual room heights, lots of wood and huge panorama windows create a harmonious continuum of architecture and nature.
Each apartment has its own unique floor plan, mood and character, but there is a common thread: a deeply relaxed sense of well-being. It pervades living rooms, saunas, bathrooms and bedrooms. The fire crackles in the wood-burning stoves, and cuddly warm sheepskins invite you onto the terraces even in cold weather: Enjoy being outside, inhale the mountain air, feel a little closer to the lake. In the alte Säge, architecture and facilities complement each other fabulously, because they have one and the same aspiration: the blissful lightness of being in every season of the year.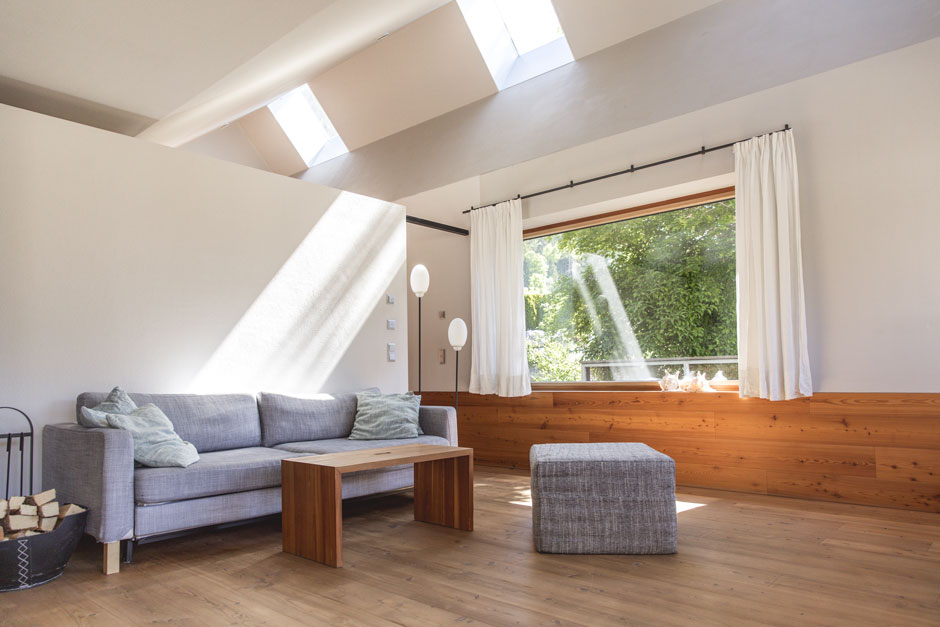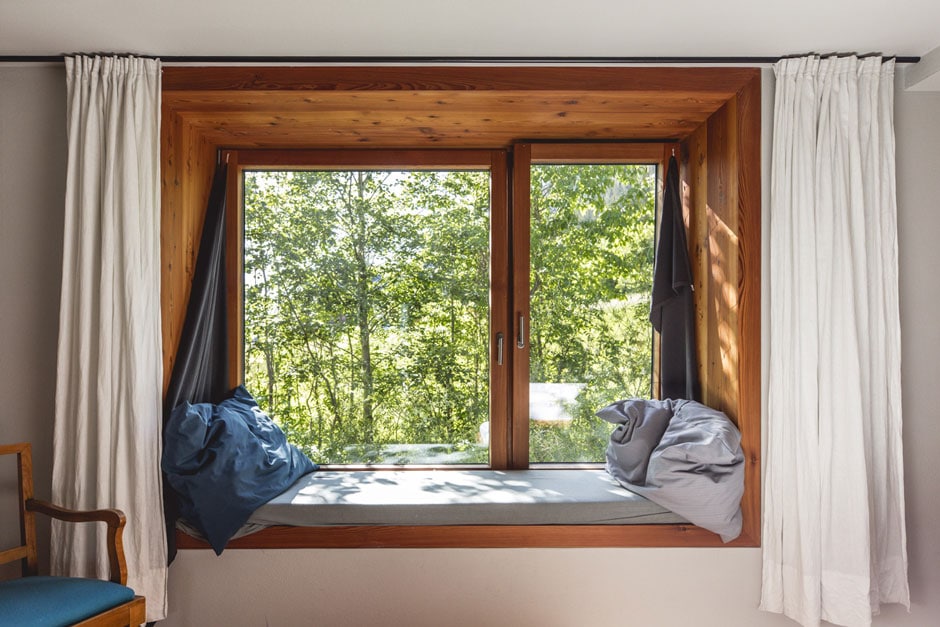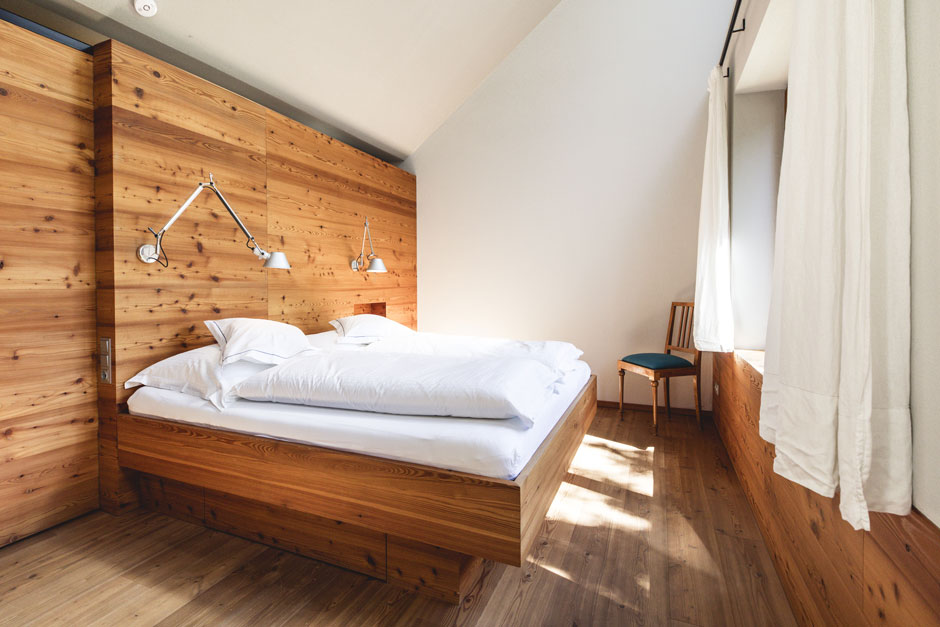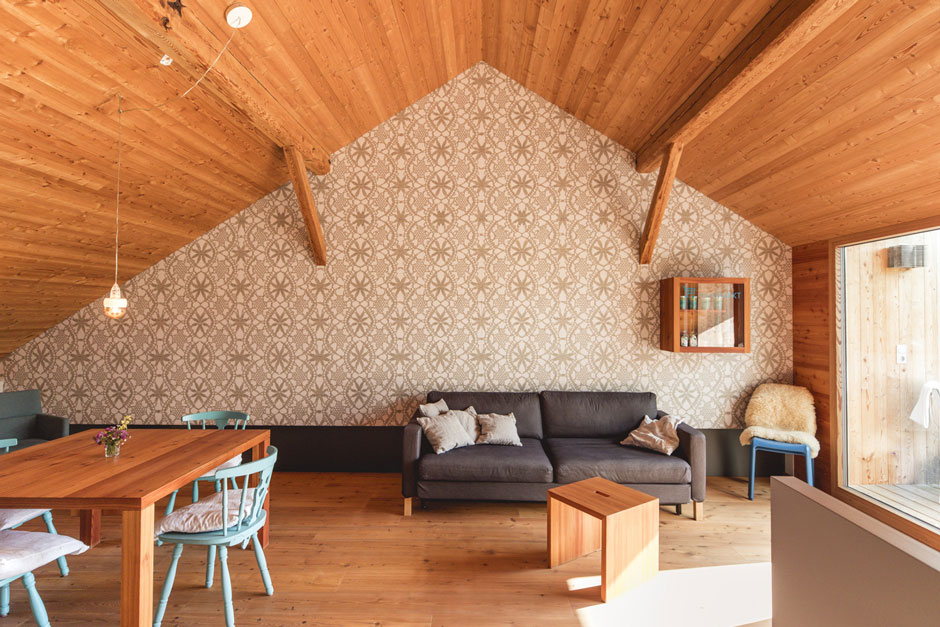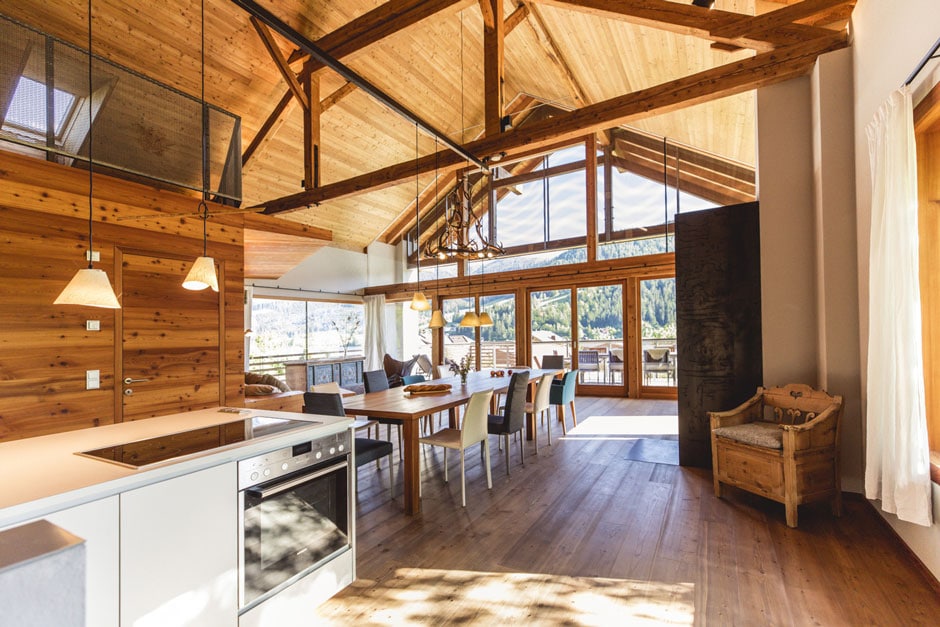 Glazed garden houses.
In 2016, the alte Säge was extended by Anker (anchor) and Boje (buoy), two new buildings in the wild-romantic garden, for which architect Peter Jungmann was awarded the Kärntner Landesbaupreis 2017 (recognition). Introverted openness is not a paradox here, but rather a masterful architectural premise. The buildings stand out strikingly against the landscape and yet, with their grassy flat roofs, fit harmoniously into the topographical context.
The entrance areas of both houses are covered with corten steel, their rust-brown silhouette evokes reminiscence of clods of earth or marine chimneys rising from the ground. From here, 4.5-meter-high windows allow light to penetrate into the lower-lying bedrooms embedded in the ground. Inside, rough exposed concrete, larch wood, natural stone and glass enter into a great symbiosis and radiate a warm, almost contemplative atmosphere. Towards the lake, wide glass fronts dissolve the boundaries between inside and outside and convey the feeling of living in the middle of a blooming or snow-covered garden. Anchor and buoy. Houses that give shelter.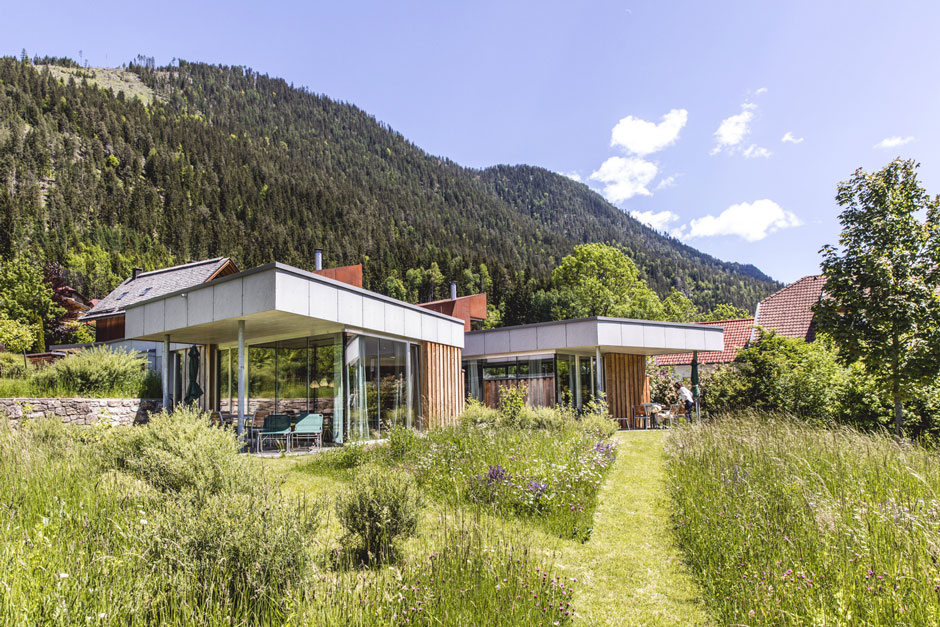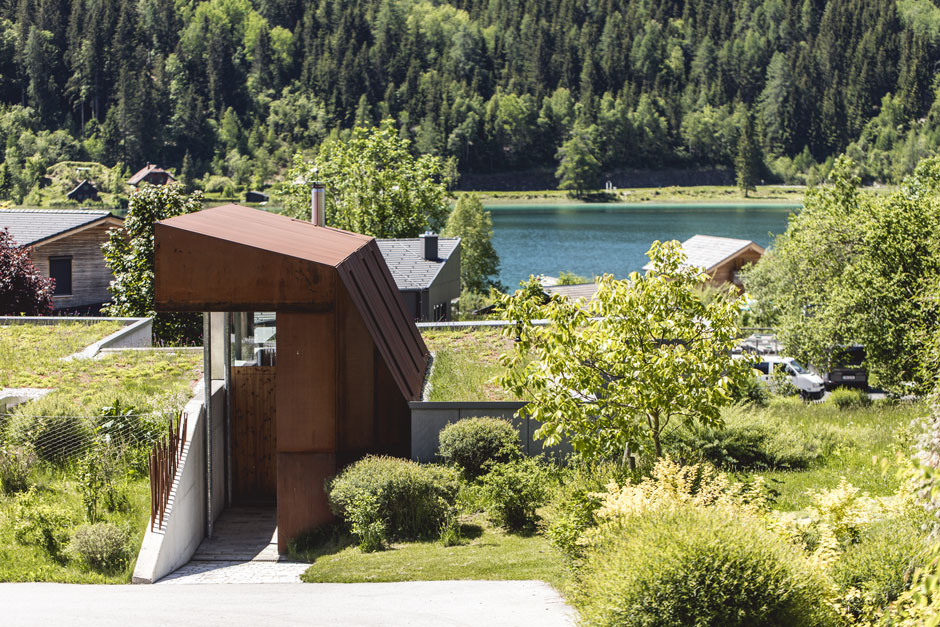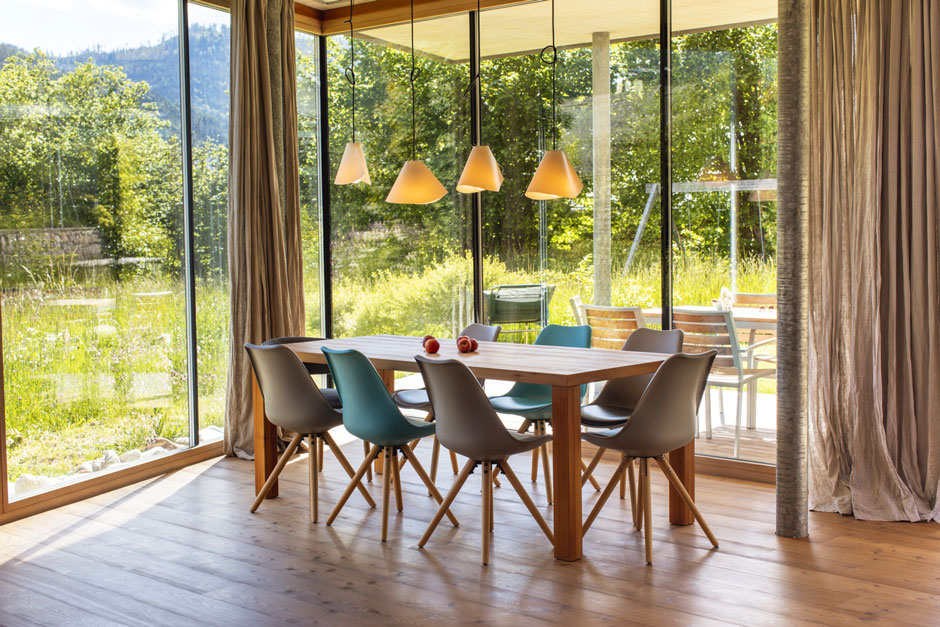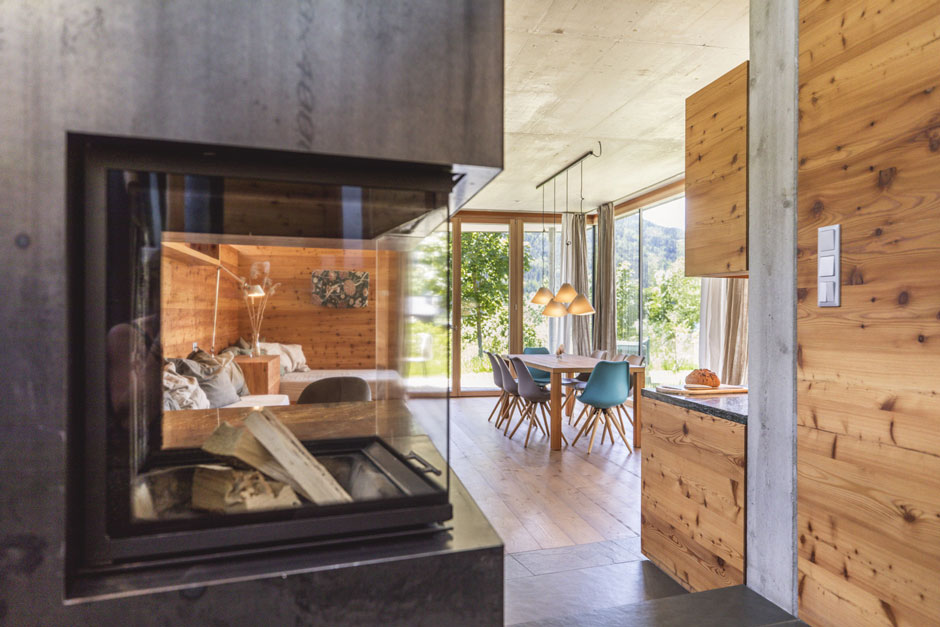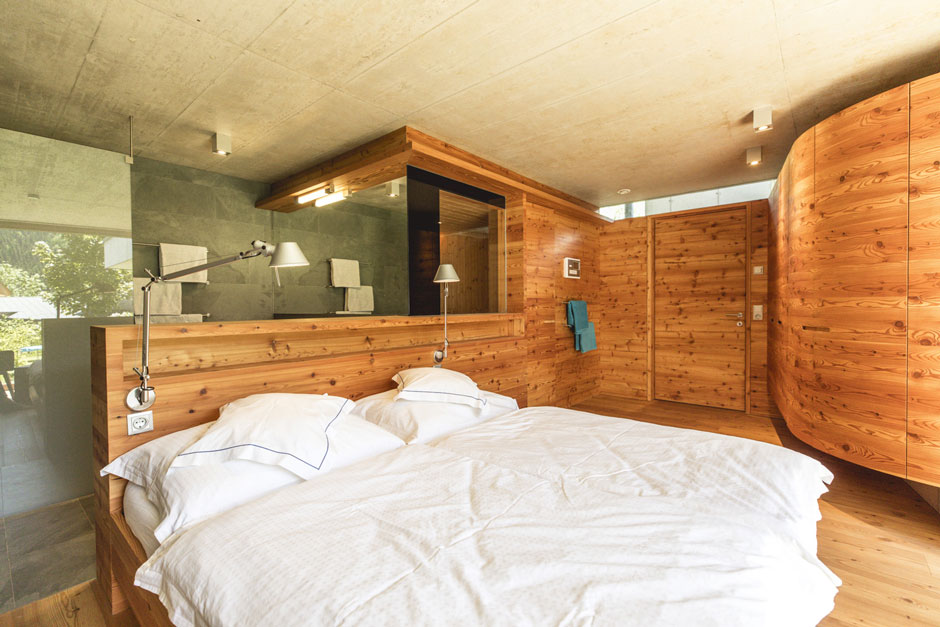 Holy sweatbox.
Giving shelter and wings – another premise. In fact, you can't avoid stumbling over places and amenities at every turn that enrich your holiday, that both ground and inspire you. The garden unfolds its healing and serene effect and reminds us how good it feels to be in nature. In the cosy, open gable areas you are above it all, the bird's-eye view grants clear insights and new perspectives.
The sauna of each apartment is an architectural unicum and becomes a silent temple for body, mind and soul: wrapped in pleasant heat, you inhale the essential aroma of hot steam infusions, the noise of thoughts gradually fades away and makes room for peaceful relaxation. Outside, the mill stream murmurs its gentle mantra. These holy sweatboxes are not the only but a damn good reason to come to Lake Weissensee even and especially when there is rain, drizzle, storm and snow. The wilder the weather outside, the more comforting the heat inside will be.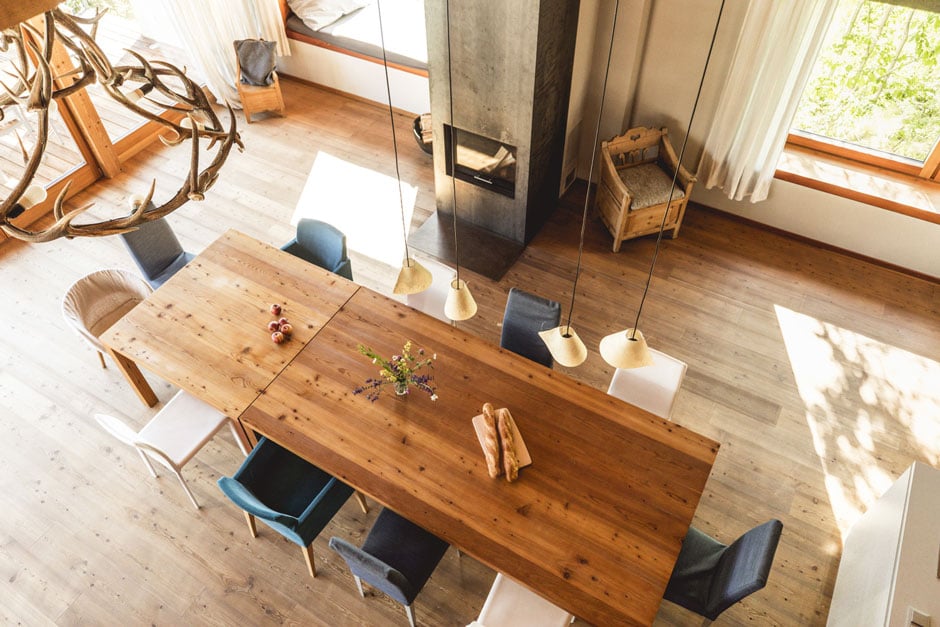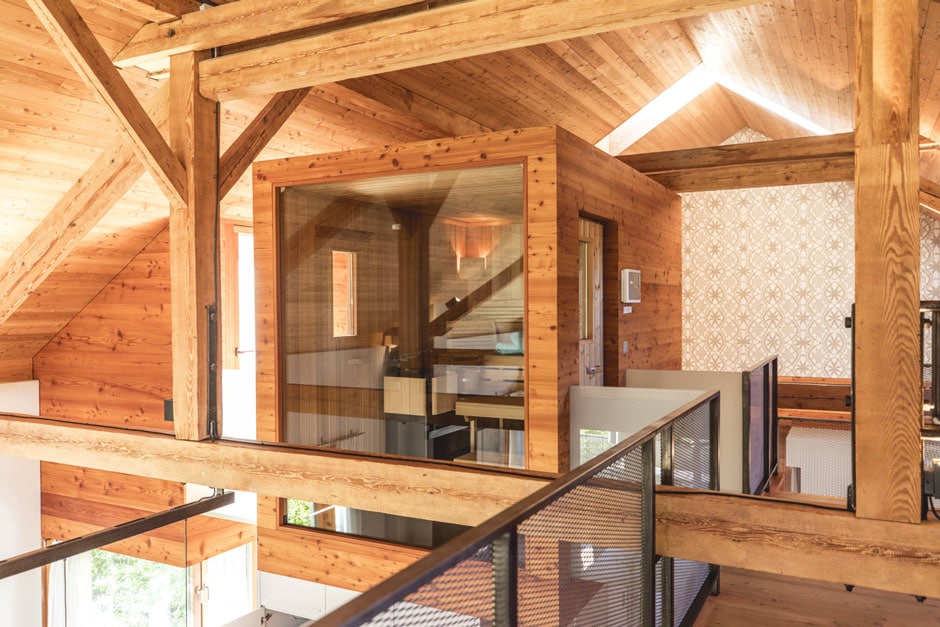 Bathing hut.
Probably the most beautiful sauna on Lake Weissensee is hidden in Peter Jungmann's multi-award-winning bathhouse on the lakeshore. The puristic building with a gable roof translates the formal language of the local bathing huts into timeless reduction to the essential. An archaic house sculpture made of rough larch wood, whose natural weathering gradually dissolves the boundaries between landscape and architecture. Towards the water, the bathhouse has a glass front and you can't get rid of the feeling that the lake is all yours.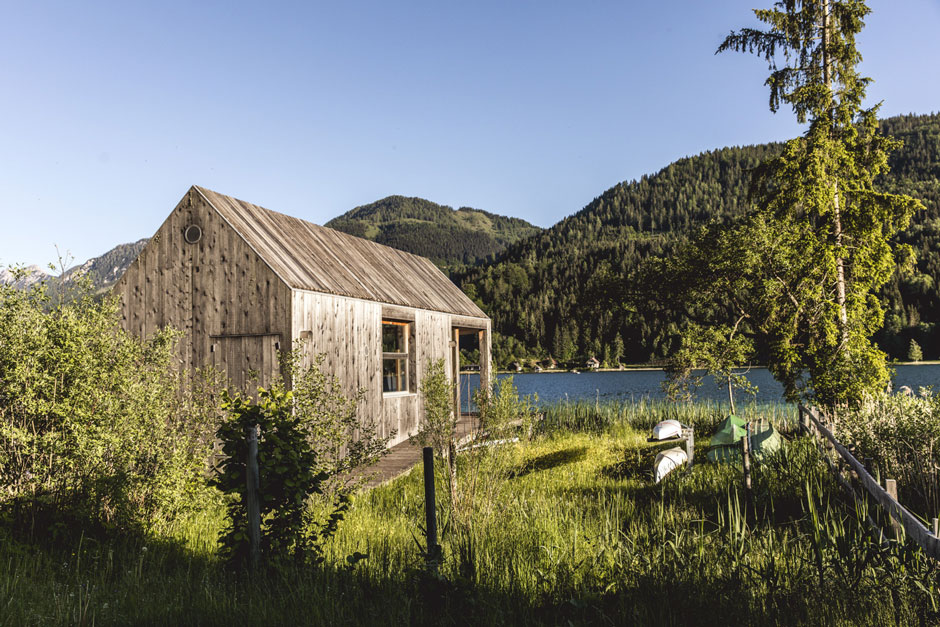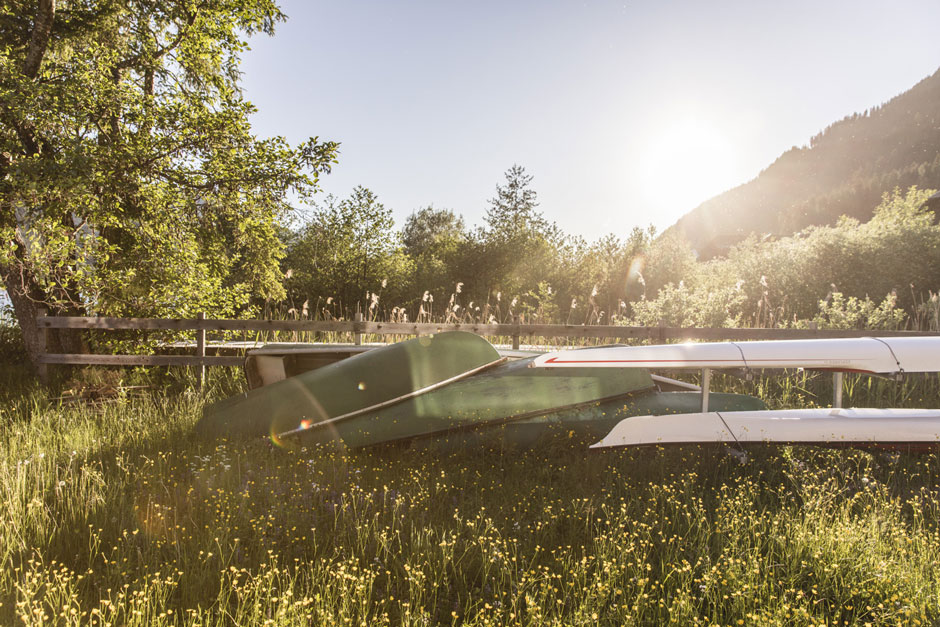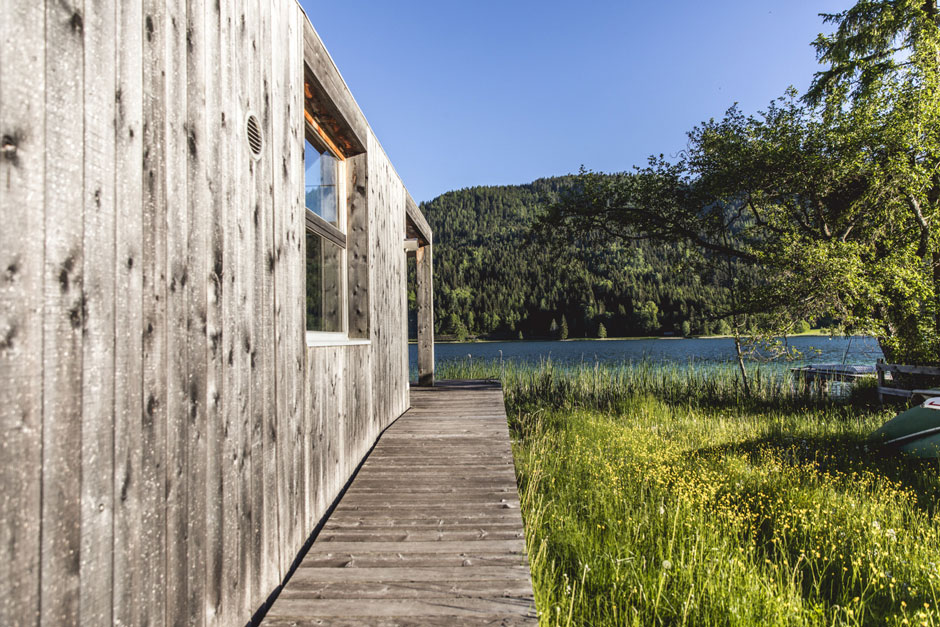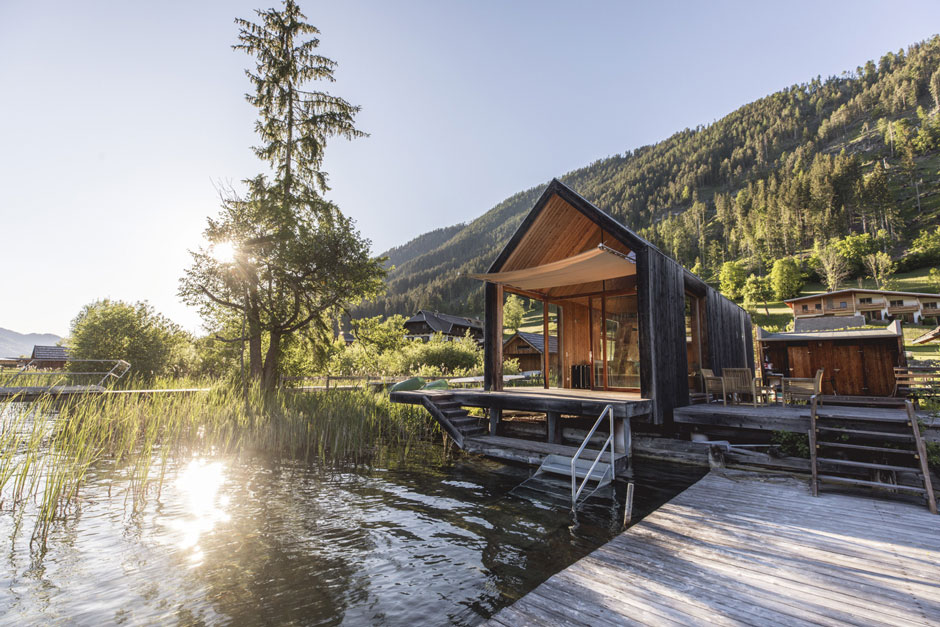 Fisherman's friends.
The alte Säge is a small cosmos in its own right and yet closely interwoven with the local community. At dawn, baker Holzer quietly tiptoes to each apartment door and fills the bread boxes of Anker, Flosse & Co with fragrant breakfast pastries. If you love fish, you can get it freshly smoked from Martin Müller – including interesting insights into sustainable sea fishing. And if you do not feel like cooking, you should experience Jakob Lilg's culinary alchemy at the loewenzahn: The young top chef was awarded two "toques" in Raffl's St. Antoner Hof and opened his own restaurant with lakeview in 2019.
Lots of fine amenities and tailor-made suggestions convey the certain feeling that Angela Frey and her team are thoroughly but silently concerned about their guests. If you need them, they are right there, otherwise they care and work invisibly and leave the guests to their self-determined holiday happiness. Everything's optional, nothing's a must.
Iselhof: Zimmer Frey, Act II.
The most important ingredients of Angela Frey's holiday concept – places that emanate peace, cosiness and a very individual charm, paired with outstanding, timeless architecture – have turned the old sawmill into an oasis of serenity that truly relaxes and inspires its guests.
The success at Lake Weissensee has become an encouraging catalyst for the realisation of Angela's latest project and long-cherished dream: to renovate the old barn of her family's estate on the edge of the sunny city of Lienz and turn it into a one of a kind holiday hideaway. No sooner dreamt than done.
Stage change: East Tyrol. Lienz. Iselhof. Zimmer Frey, Act II.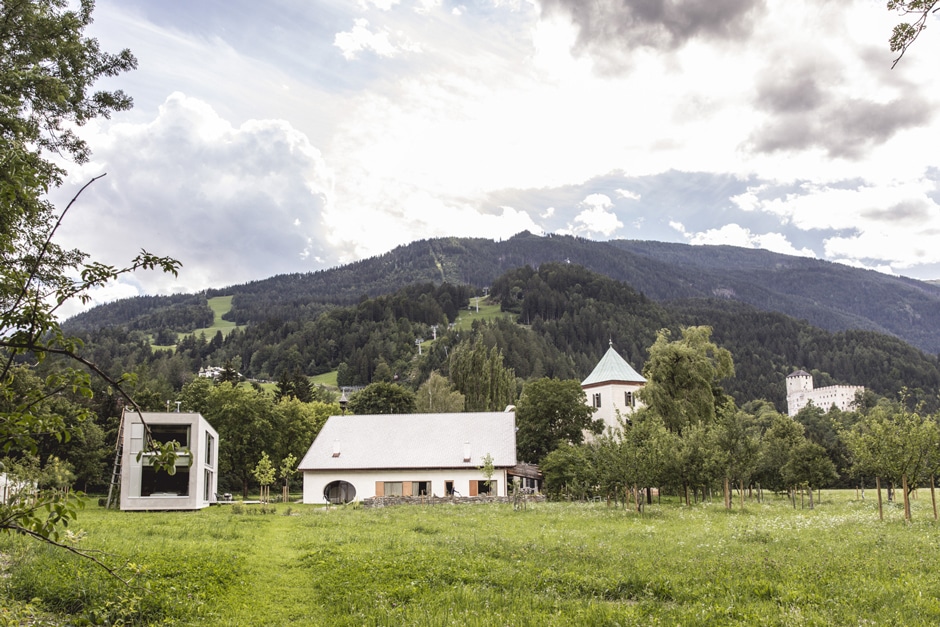 Architectural Trinity.
The timing was perfect: In 2016 daughter Valerie had just graduated in architecture and was ready for the challenge to turn conventional living habits upside down and to bring a breath of fresh air into the stables' old walls. Flanked by architect Andreas Heidl, the Freys gave their initial vision form, content and soul. The result is an architectural triptych of old building substance and new elements that masterfully juggles opposites and combines them to a harmonious blend: The Iselhof-Stadel (barn) with the two holiday apartments Kuchl and Stube, the Villa Notsch planned by Andreas Heidl, a highly modern cube made of exposed concrete with huge windows, and the old manor house from the 13th century. Three buildings whose facades and interiors could not be more different, and yet it requires every single aspect of this unequal trio to understand the Iselhof in its entirety, bring its history back to life, anchor it in the present and give space to its future.
"At the Iselhof, I go one step further and rely on the rich historical resources of the Iselhof. Together with my husband I developed the Villa Notsch and the Stadel for lovers of beautiful places. Supported by architects and artists, a place for individualists is being created here. Embedded in the meadows and the orchard, which has survived for centuries, the new lodgings tell different stories that want to be discovered. My guests also go on a journey of discovery in the garden, where oases with wonderful views and plenty of space for everyone have been created. A visit to the Iselhof is an immersion in my interpretation of holiday. Into a world of high and hollow trees, of wide meadows and fields, with an old barn and a clearly structured modern house in the middle".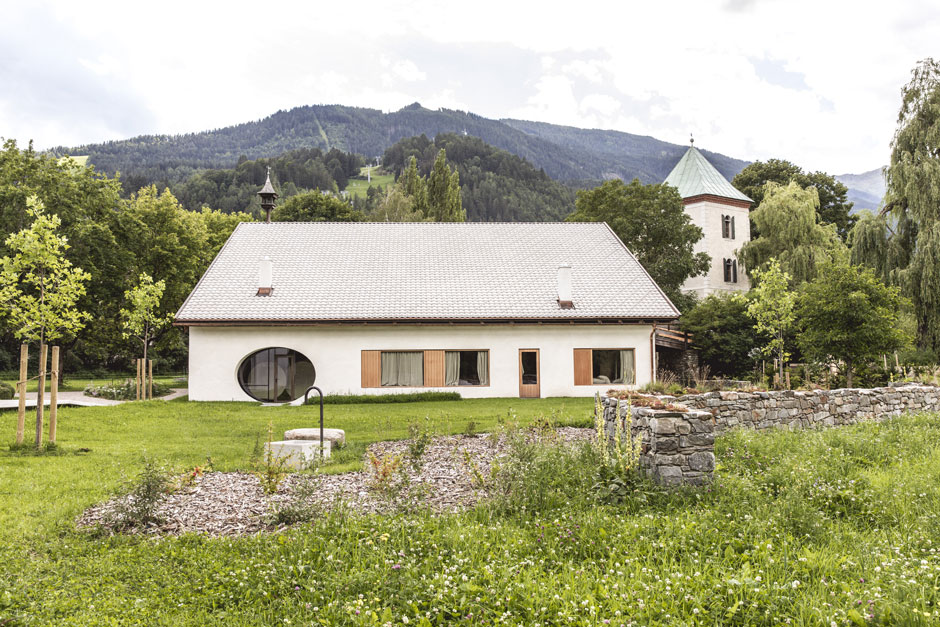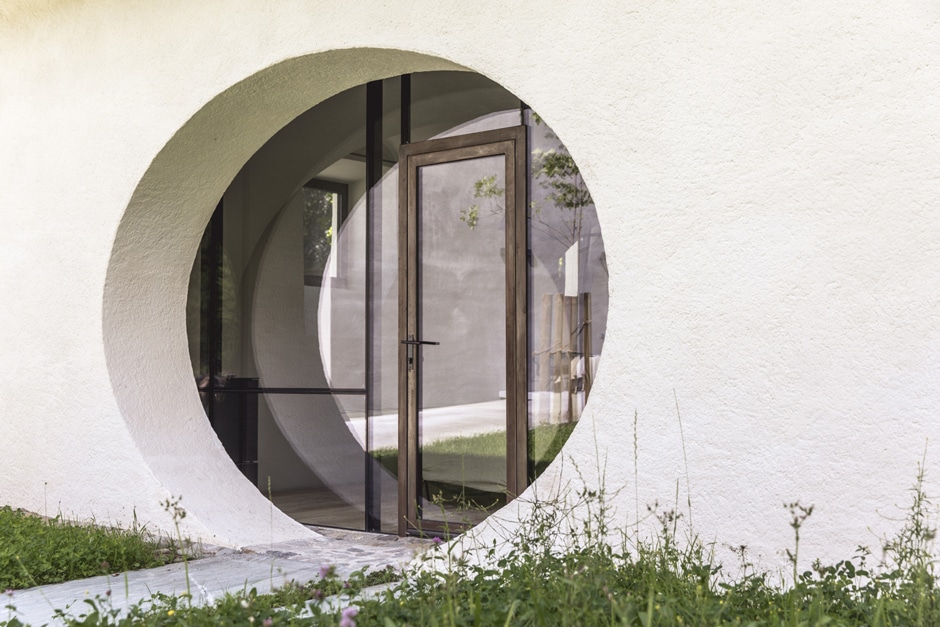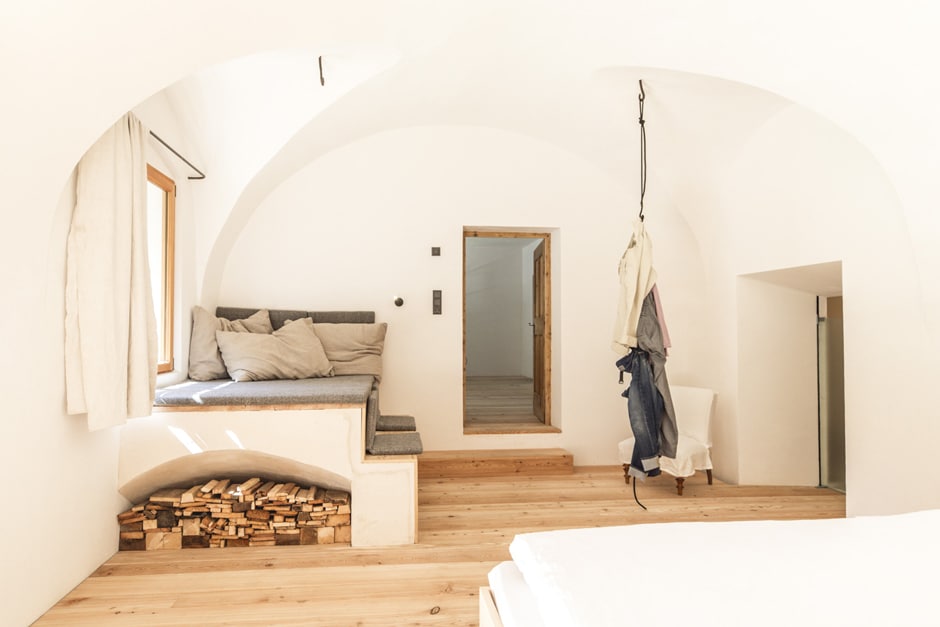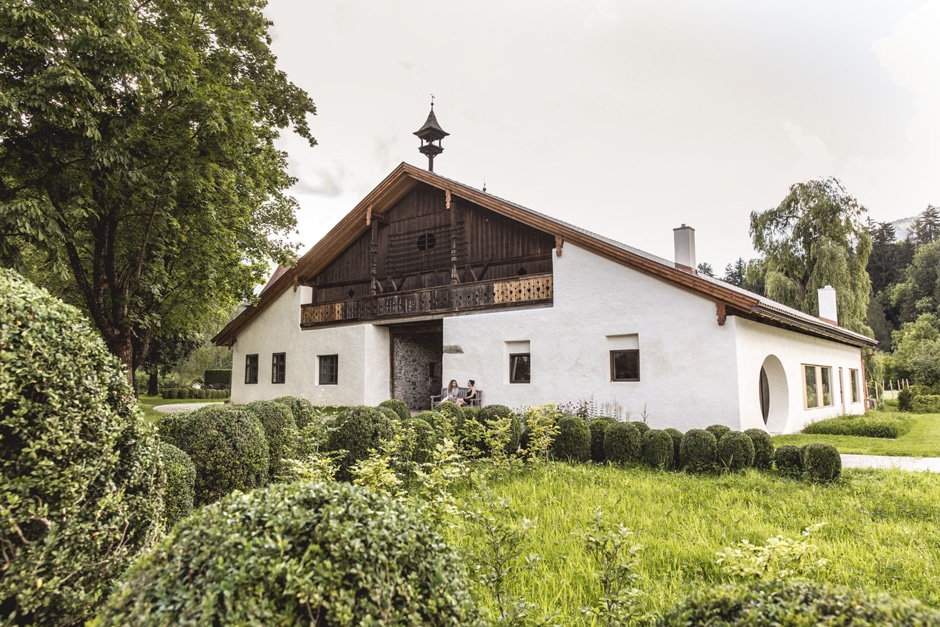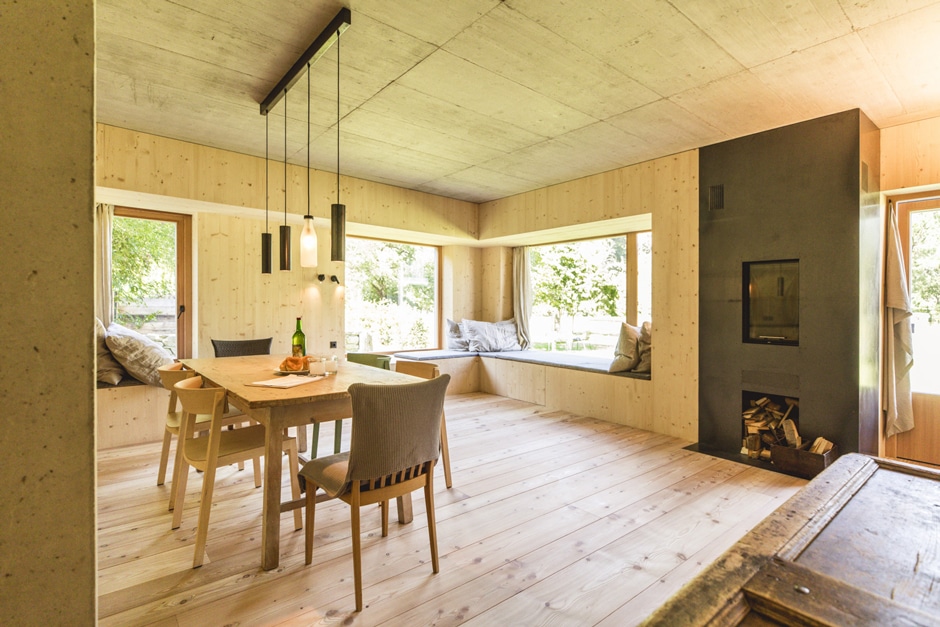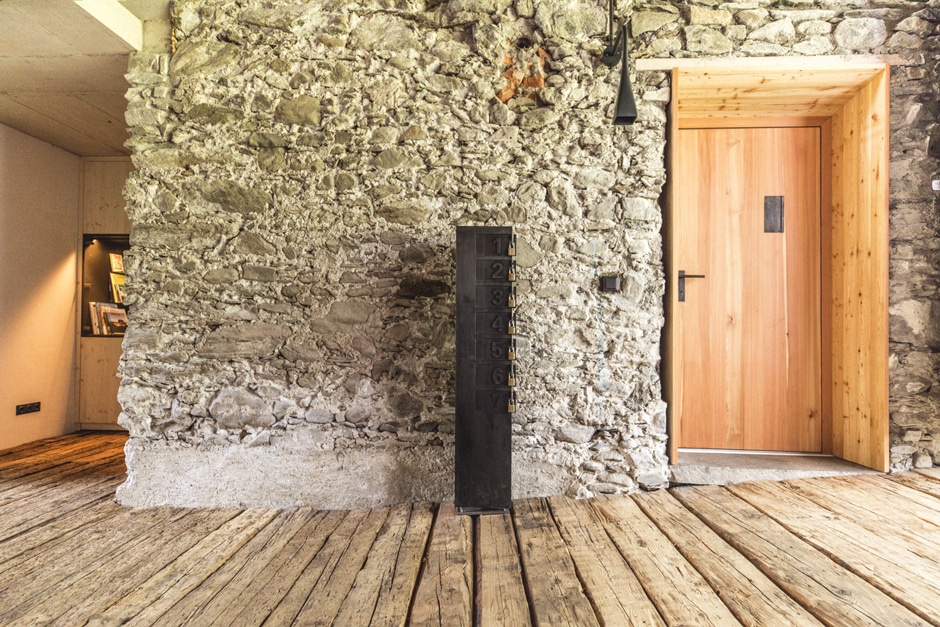 City, country, river.
The guests of Iselhof-Stadel can step straight into the spacious, idyllic landscape garden, which borders the glacier river Isel. Here you can daydream under blooming apple trees, watch the cows grazing or stroll to the neighboring castle Bruck. Lienz is within walking distance and surprises with an almost Mediterranean flair, picturesque backstreets and charming cafés.
The immediate surroundings of the Iselhof are a real treasure trove: here you can swim and bike, climb three thousand meter peaks or enjoy the view in front of traditional alpine huts. Here you can hike and hide, ski and toboggan, you can learn about local herbs, the history of the town or the secrets of making Schlipfkrapfen. City, country, river and so much more. East Tyrol is surprisingly manifold, a place worth living and experiencing. Less known than its alpine neighbours, it seems to have been hiding under a magic hood so far and that is great luck: This remote and authentic corner of Austria is exactly the right place to escape the fast and furious world for a while, in full relaxation and serenity.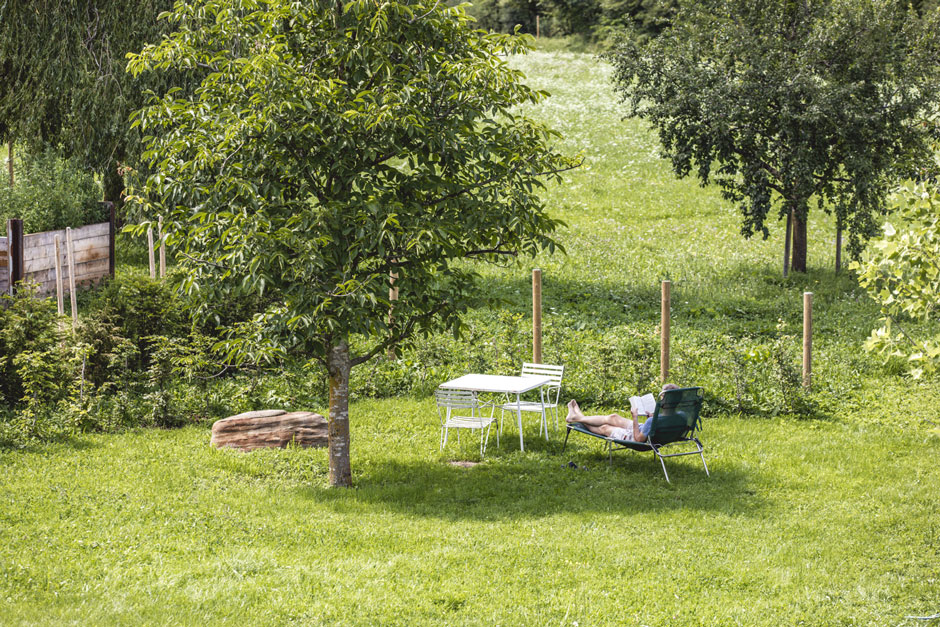 ---
Text: Britta Krämer, October 2020
---
Overview: Here you can find all our HomeStories at a glance! If you want to stay up to date, you can opt-in for our HomeStory-Newsletter here.
The featured houses