By Britta Krämer
Italy is strewn with ruins. Ancient stones on which the country's cultural heritage is built and which attract streams of tourists all year round to Paestum, Pompeii and Agrigento. Those same ruins are also responsible for giving municipal authorities a headache every time somebody comes upon an ancient pillar during the excavations for a new metro line, bringing an entire civil engineering project to a halt for months or even years on end. That is why Italians have an ambivalent attitude towards their ruins, depending on which interest group they belong to, the preservationists or the modernisers.
The Mezzogiorno, Italy's sunny south, has also long put up with a different, more modern form of ruin: unfinished concrete constructions rising in the landscape next to beaches, amidst pastures or on idyllic hillsides, like the fossilised skeletons of dried up mammoths. It is difficult to find anyone who would take a stand in favour of these grey relics of abruptly abandoned building projects and a chronic, devastating building speculation.
For Neapolitan architectural theoretician and architect Cherubino Gambardella however, the unfinished nature of these concrete skeletons hides enormous potential. It represents the blueprint for a completely new existence ready to be conjectured, imagined, and translated into physical form. The unfinished is a spazio in attesa, a space in waiting, in which anything might be possible: metamorphosis, rebirth, the continuation of a narrative.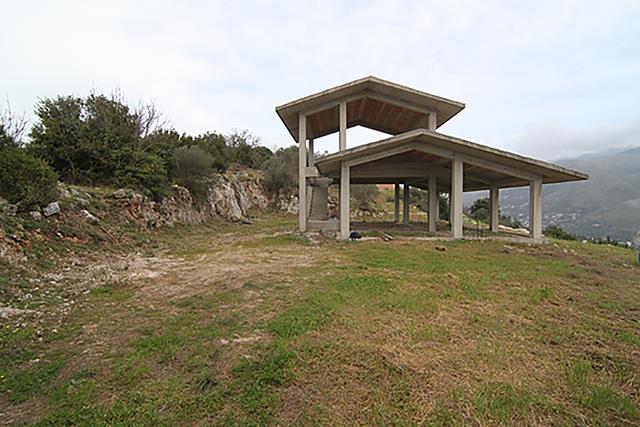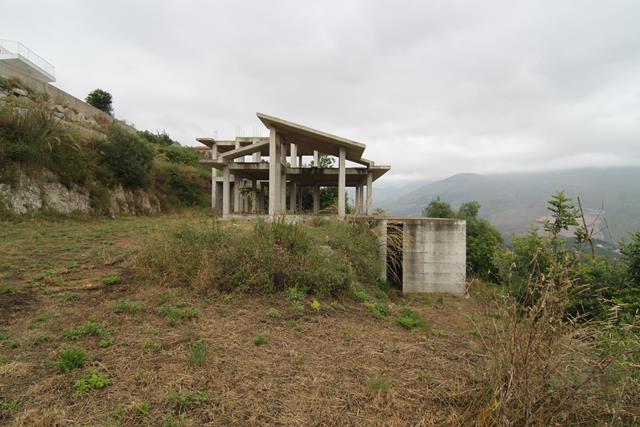 As we talked, Cherubino Gambardella sketched out his approach to architectural planning: "I have a weird way of working. I approach a new project on many different levels: research, cultural strategy, design sketches, collages. My wife Simona develops the project itself, which makes us a very special team and lends our work both authorship and professionalism, adding to it what is to me a very important element: the emotional aspect of work".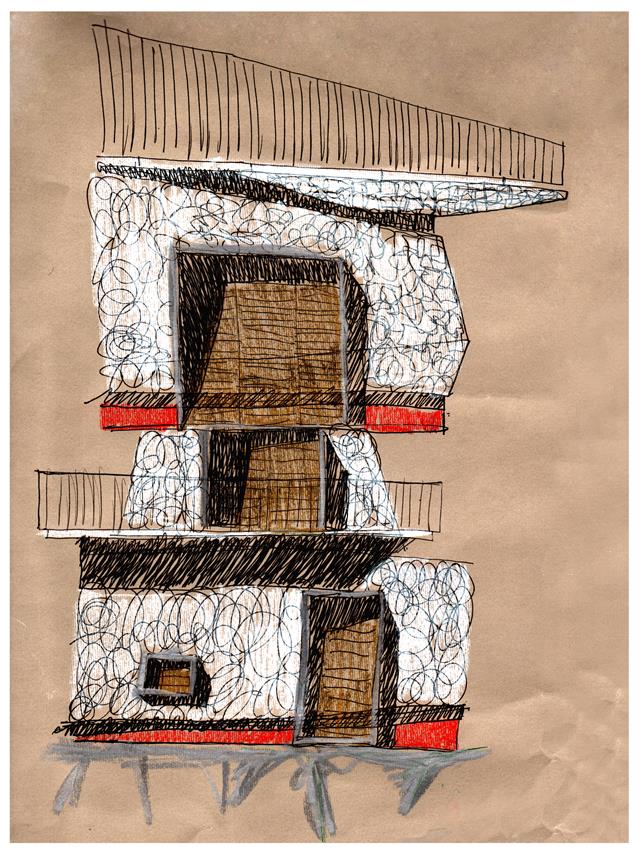 Itri. A little place in the south of Lazio. Sandwiched between the Gulf of Sperlonga and the Gulf of Gaeta, always within sight of the sea, always pervaded by the scent of the Mediterranean maquis. On a broad hillside stand two simple white structures like statues in the landscape. Their form is secretive, barely decipherable but unmistakeably Mediterranean. Villa Due Pini and Villa Capri.
Like the Phoenix rising from the ashes, these two houses have risen above their previous existence as concrete skeletons, have been re-imagined and clothed anew under the visionary thinking and sensitive hands of Cherubino Gambardella and his wife and partner in creativity Simona Ottieri. This architectural duo has already assembled an impressive portfolio of just such resuscitated concrete corpses. In a creative process resembling that of an artist, craftsman or tailor, these buildings have been brought into a new existence and now commune with their environment, sovereign and striking. A collage that Gambardella has created as part of the design process for the project in Itri bears the title Mediterranean Acropolis, and conveys the concept perfectly. This project is the mirror of the identity of a territory, a homage to the mediterraneo imperfetto, to Giò Ponti, Sottsass and Le Corbusier.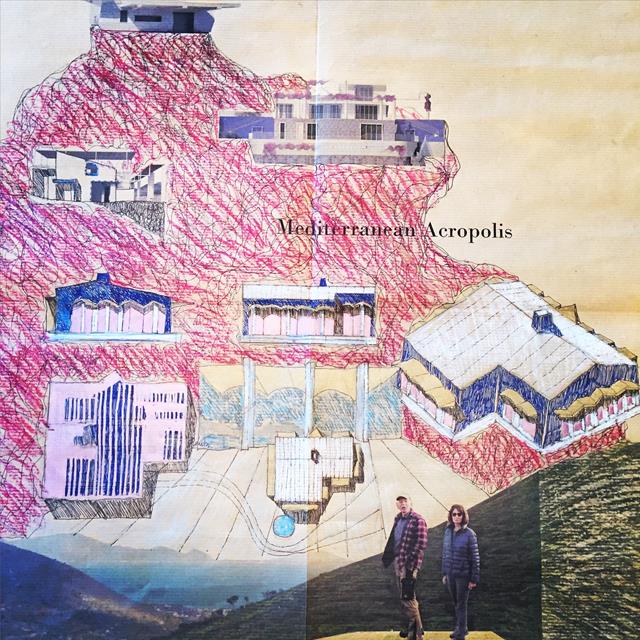 Villa Due Pini is timeless, withdrawn, purist. Its silhouette has earned the house nicknames such as White bunker pumpkin house and White Elephant. The façade, with its glossy, white craquelure-effect ceramic cladding surrounds the building like a protective shell but never taking on a defensive stance. The house radiates with a sleek, unpretentious elegance and an almost meditative peacefulness. It is reminiscent of the Puglian dry-stone huts, the trullo, or the Sardinian stone towers, the nuraghe, with a contemporary look.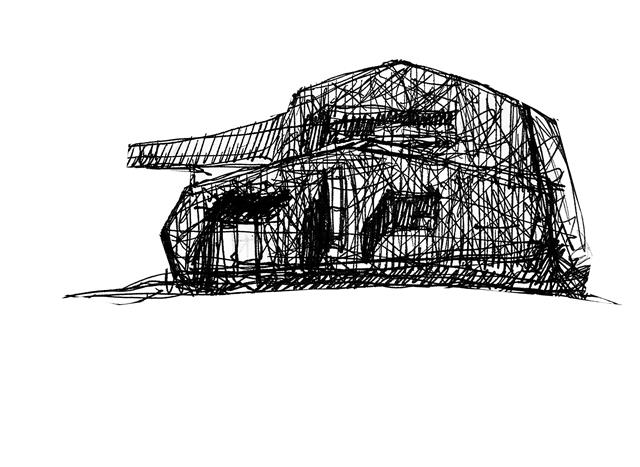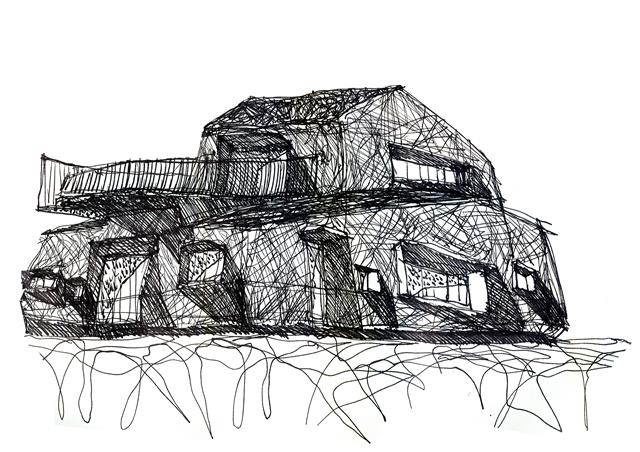 Villa Capri is imposing, with an accentuated expressiveness and acropolian in every sense. Gambardella was commissioned with this second project in 2014 in the context of the Venice Biennale. The clients envisaged, for this next project, a building with classical, almost Palladian echoes, clearly reminiscent of Capri's architecture. The name of the house too was inspired by Alberto Savinio's Capri (1926).
What the two villas have in common is the use of primary, almost commonplace elements – windows, doors, railings –, which interact with compositional sophistication to form an elegant and the same time easily accessible effect. The façade is an interplay of windows and their strongly emphasised, multi-coloured frames, preventing this simple structure from becoming monotonous and avoiding repetitions. The same applies to the interior, the simple room division which is defined by the structure of the concrete skeleton: Windows and wall niches give the interior walls character. Openings create continuity through the rooms and a clear view between inside and out.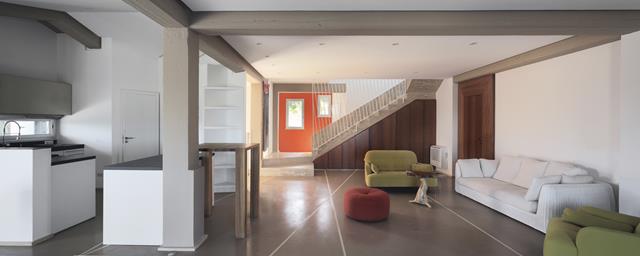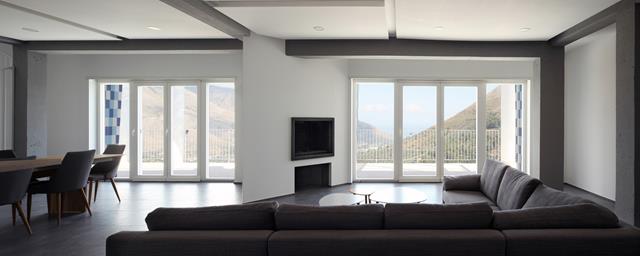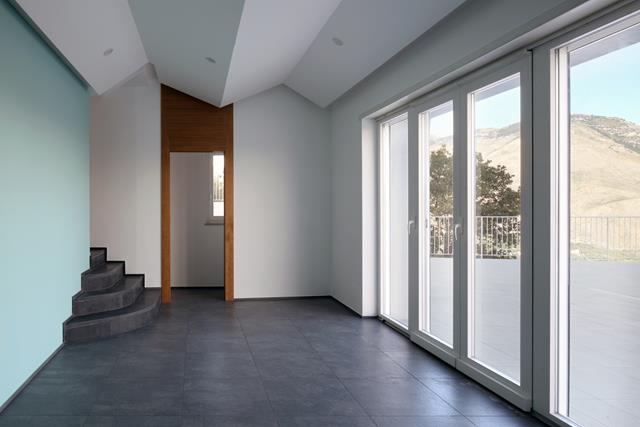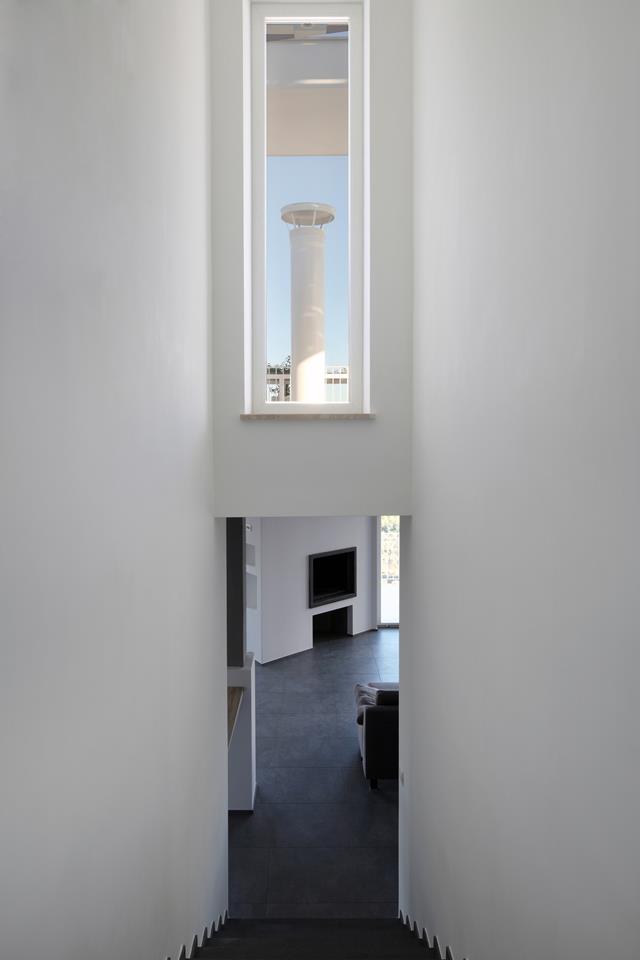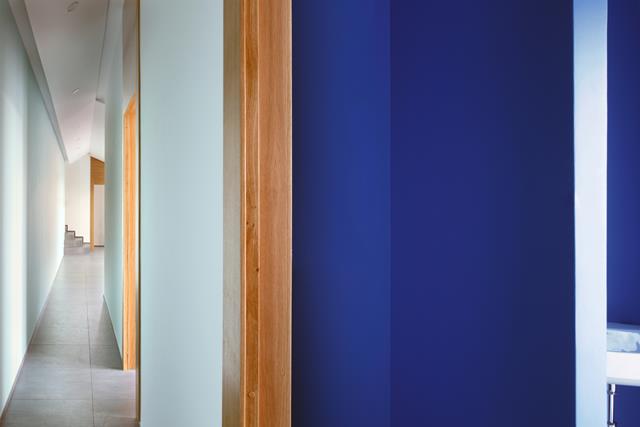 While the craquelure façade of Villa Due Pini is reminiscent of an animal's protective shell, Villa Capri's airy porticos and reed roofs extend the interior, bringing it outdoors. This breaks up the concrete skeleton room structure, which dominates the interior.
Gambardella loves features that highlight the imperfect, the imprecise. "Deliberate dissonance, controlled "bad syntax" and a liberal dose of irony as in the case of these two villas that play wryly on clichés of wealth and luxury." The architect's houses prove that contrasts can not only coexist, but can create a powerful synthesis with a unique impact: Striking and yet muted. Imposing and modest at the same time. Naked and yet clothed. Smooth yet strongly tactile. Pure essence yet ever varying.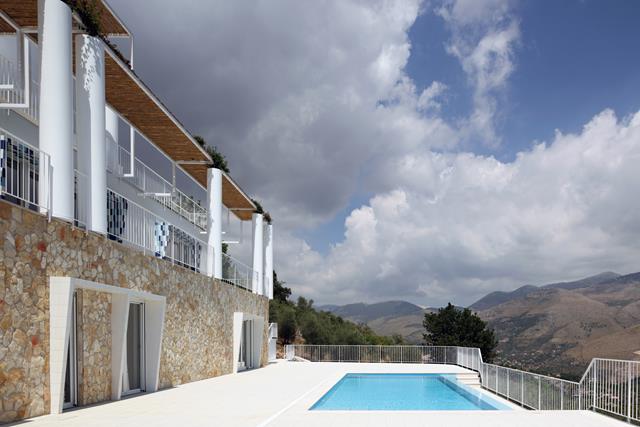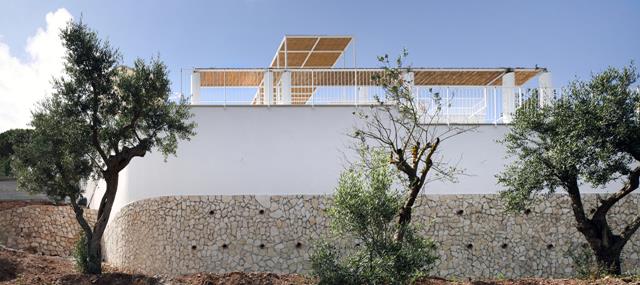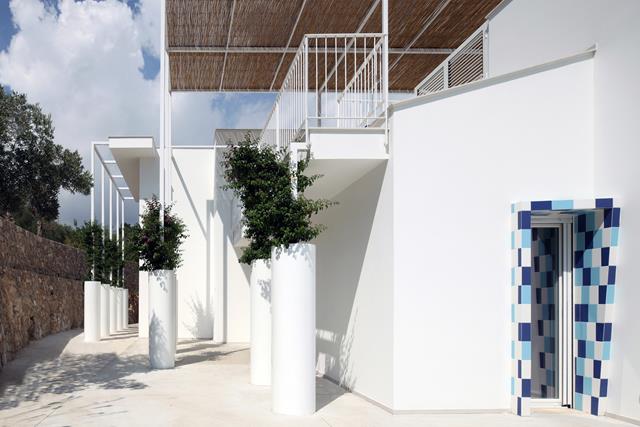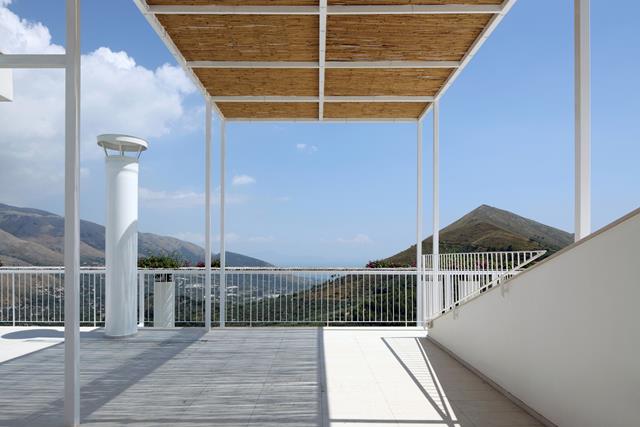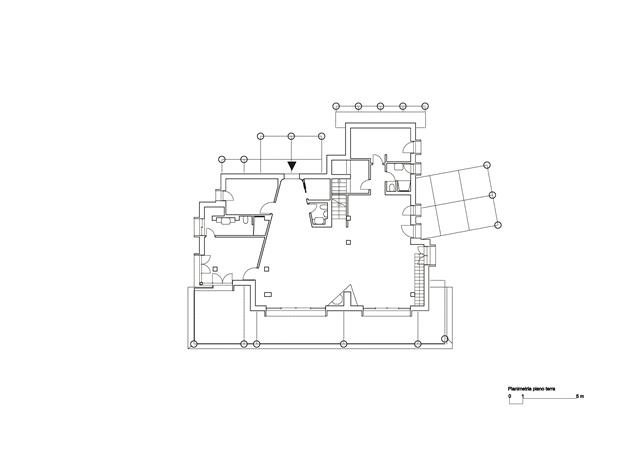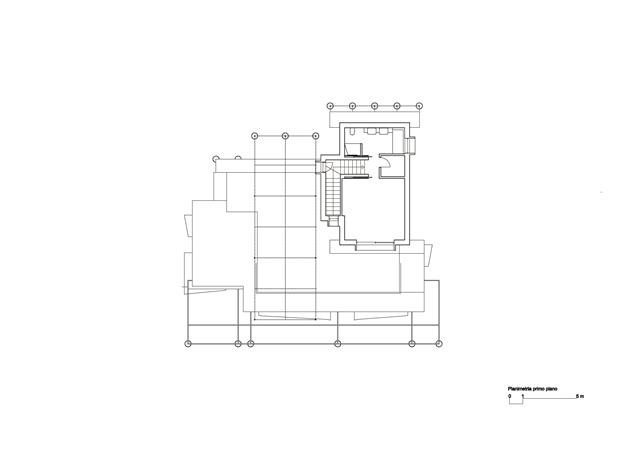 From both houses, there is a direct view of the Mediterranean. Its character flows through the buildings in all its forms. Colour, contrast, light, ever-changing horizons and the scent of the Mediterranean maquis. The Mediterranean white of the two buildings plays a crucial role, as it becomes a stage, a projector screen for a play of light and shadow on the smooth surfaces, developing a unique and surprising dynamism. The aura of both houses metamorphoses when day changes to night, mirroring the moods of nature. A symphony of features, an impressive composition using the interplay of light and shade. The harmony and charm of the Mediterranean, captured, rediscovered and translated into architecture by Gambardella and Ottieri. Genius Loci and Mediterranean myth.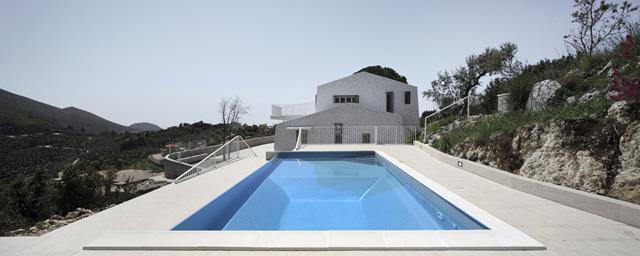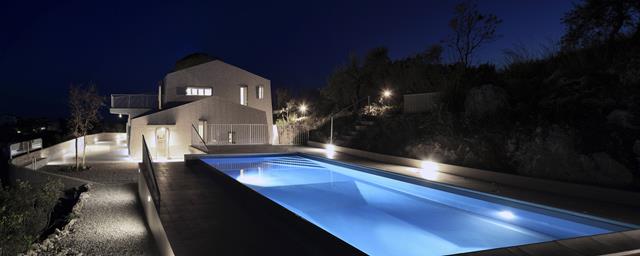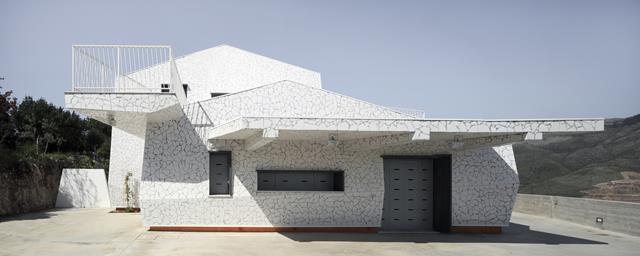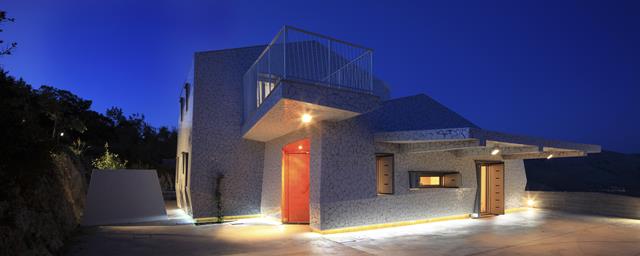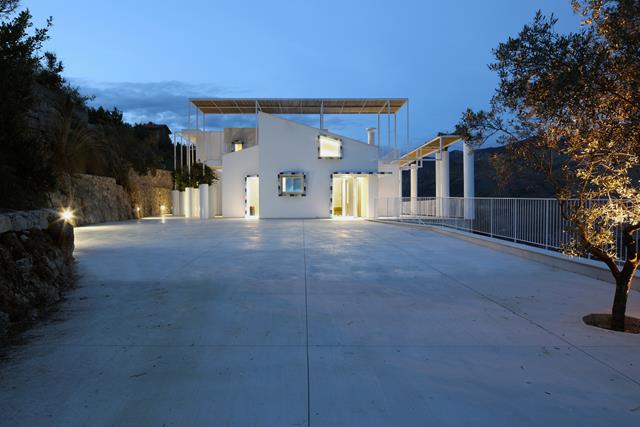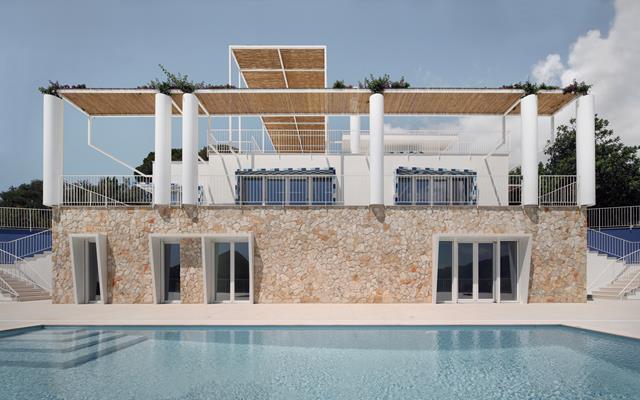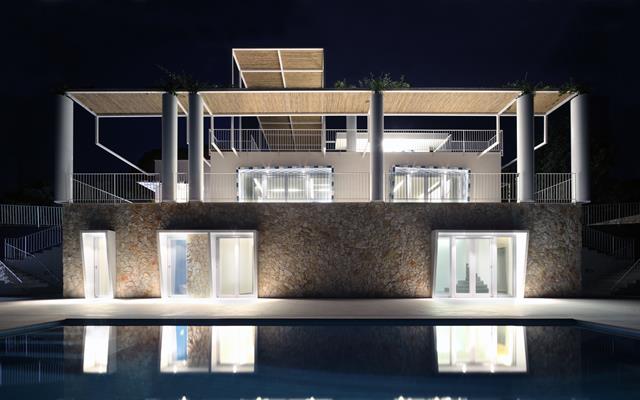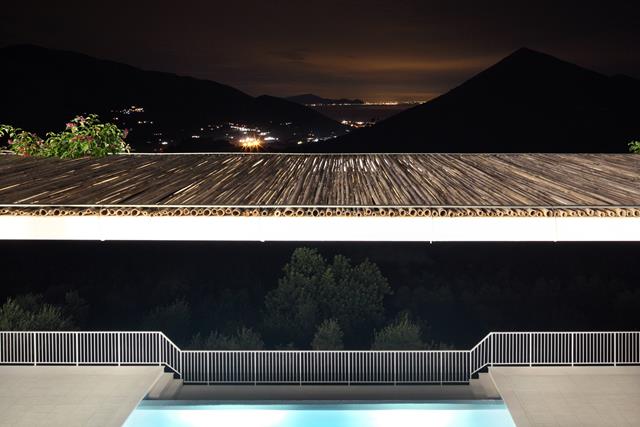 Cherubino Gambardella is an internationally reknowned architect, architectural theoretician, professor and head of faculty at Naples' 2nd architectural faculty. He is an author of many books on the subject of the Mediterranean and, with his architectural projects and artworks, has taken part in several Venice Biennales (art and architecture). Gambardella, whose concept of democratic beauty – la bellezza democratica – boldly turned social housing in Naples on its head and enriched it with a big portion of humanity, will certainly be no stranger to the cineastically interested readers. He was the inspiration and alter ego for the protagonist Jep Gambardella in Paolo Sorrentino's film La grande bellezza, awarded an Oscar in 2013.
---
Text: Britta Krämer, Juli 2016
Copyright of all sketches, drawings, collages, floor plans: Cherubino Gambardella
Picture credits: Cherubino Gambardella, Hans Jaeger, Peppe Maisto
The houses