Seehotel Ambach beams its guests back to the seventies. At the beginning of the decade, architect Othmar Barth, considered a pioneer of modernity in South Tyrol, created a complete work of art – merging architecture, design and nature – on the northern shore of Lake Caldaro. The architecture directly references the area's genius loci; gently curved yet with clear geometric forms, the hotel takes up the contours of the landscape. This nigh-futuristic building resembles a ship moored on the lake shore. The staircase is designed as an open hall and has a light, airy ambience. The public rooms, including the restaurant and lounge as well as the hotel's guest rooms all open out to the lake, the surrounding parklands and the mountains – with floor-to-ceiling windows, terraces and loggias.
The spirit of the 1970s pervades throughout the house, which is meticulously detailed. Othmar Barth designed parts of the interior exclusively for the hotel and combined them with Italian designer lamps and chairs. The original interior design has also been complemented with a selection of modern pieces that reflect the design style of the house, and go perfectly with Barth's colour palette of oxide red, mustard yellow and olive green. The bathrooms have been redesigned and adapted to modern requirements – South Tyrolean architect Walter Angonese designed them in a simple and timelessly elegant style.
Angonese also designed the bathhouse located towards the back of the park, which is connected to the hotel via a long pool. Built on stilts, the bathhouse will remind you of a garden pavilion, blending in harmoniously with the hotel ensemble while retaining its own unique character.
What to do
Hiking, mountain biking and racing, windsurfing, swimming, SUP & pedal boating, yoga, SPA (steam bath, Finnish sauna, whirlpool), yoga (during the summer months).
Why we like this house
Holidays in an architectural icon. This 70s-era hotel radiates a timeless modernity. Inside, the hotel impresses with its beautifully preserved original furnishings.
This house is great for
For single travellers and couples.
Host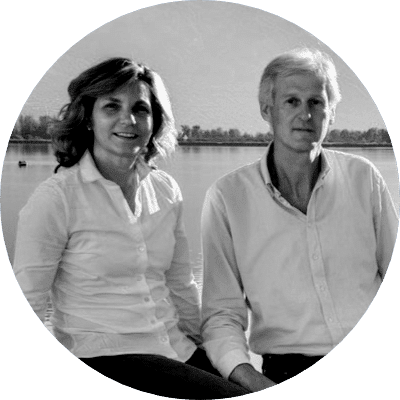 Seehotel Ambach has always been a family-run business. Klaus and Manuela Maran have been the owners since 2014. The two of them were many-time windsurfing world champions and got to know each other in the Italian national team. Together they also run the bathing and restaurant business "Gretl am See" on the western shore of Lake Kaltern and the historic wine farm "Seehofkeller" (restaurant) above the lake. From the very beginning, they wanted to do justice to the spirit of the 1970s while offering the comfort of the 21st century at the Seehotel, without any stylistic inconsistencies.
Details of the property
Region/Town: IT – Italy, South Tyrol, Caldaro
Name: Seehotel Ambach
Scenery: Unique position directly by the lake, surrounded by vineyards
Accommodation: Hotel
Number of guests: 28 rooms for 1-2 guests, 1 suite for 1-2 guests, 3 suites for up to 4 guests
Architecture: Old & new, Modern
Completed: 1973
Design: Othmar Barth, Brixen; Bathhouse: Walter Angonese, Caldaro; Landscape Design: João Nunes, Lisbon;
Published: Monocle / Süddeutsche Zeitung / AD Architectural Digest España / The Guardian / Südtirols schönste Hotels
Awards: Historischer Gastbetrieb in Südtirol, 2014 (Historic Hotel in South Tyrol)
Categories
Garden, Hiking, Hotel, IT – Italy, Lake/river, Modern, Mountains, Old & new, Restaurant, Rooms for 1-2 (hotel), Rooms for 1-4 (hotel), South Tyrol, Spa, Vine
Same architect
Homepage www.seehotel-ambach.com