By Ulrich Stefan Knoll
For 15 years, Daniela Keil ran her own travel agency in Mannheim, organising luxury tours throughout the world. During this time, she was literally always on the move, discovering the most beautiful places on every continent. Since April 2017, she and her husband Martin have managed their own hotel, Villa Zoé on the island of Crete. We wondered "What was the story behind this move?"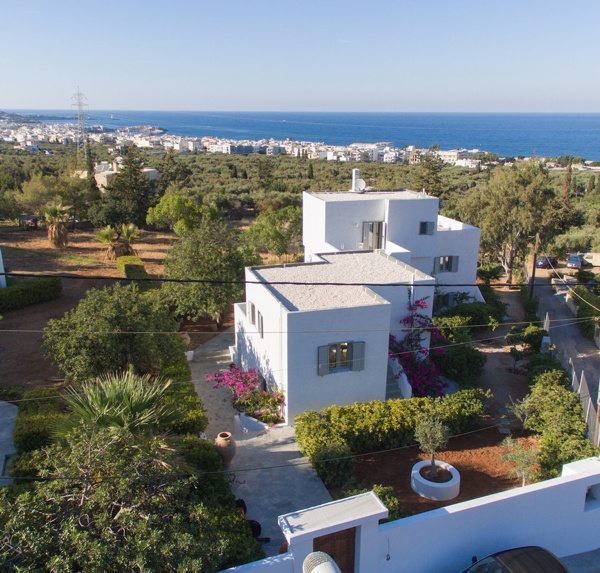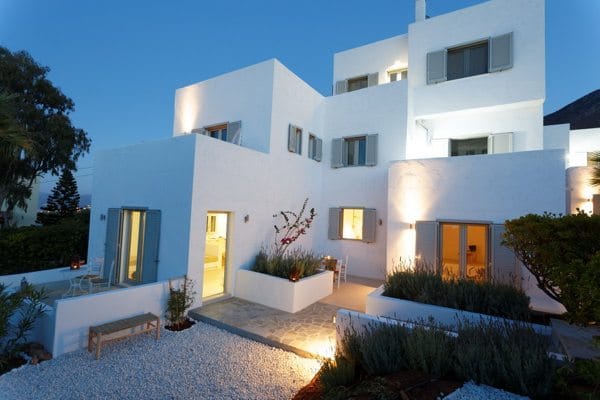 Daniela used to travel so much that, looking back, she would describe herself almost as a travel-addict. She would hardly have been back from a trip before she had purchased her next ticket, or next set of tickets.
If anyone had asked her and her husband during that time, where they would like to live one day, they might well have said Asia, South Africa or Italy. That was then. Things turned out differently, you've guessed it. One day, Daniela returned from one of her many trips overseas to a grey and rainy Mannheim and finally decided she'd had enough. At the time, her husband was working in Athens. So the couple abruptly upped sticks and moved to Greece, intending to make it their base for future business trips. Eventually, the couple's travels within their new home country brought them to Crete. The sky bluer than anywhere else, the light simply fantastic, the water was as clear as it is in Mauritius and the seafood was unbelievably fresh – both of them fell in love at first sight. In no time at all, the couple had not only rented themselves a tiny apartment on the island, but had even had their beloved Fiat 500 shipped over to Greece, renting out everything else they owned in their home. Yassas!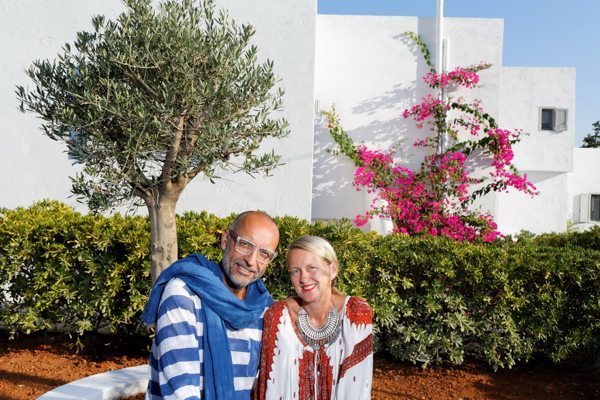 Ipomoni – Just be patient
In 2015 the couple decided to purchase an apartment of their own on Crete, no matter how small. The main thing was that it had a sea view! Daniela began to search with the help of an estate agent and, yes, you've guessed it, once again, things turned out quite differently. There was this enchanting property in a picturesque little village named Koutouloufari, 25 kilometres to the east of Heraklion. A large garden with a number of mature trees, two half-ruinous old Cyclades-style cottages and a wonderful view of the sea. In a nutshell, it was a case of "Darling, I haven't managed to find us an apartment, but we've now got ourselves a hotel".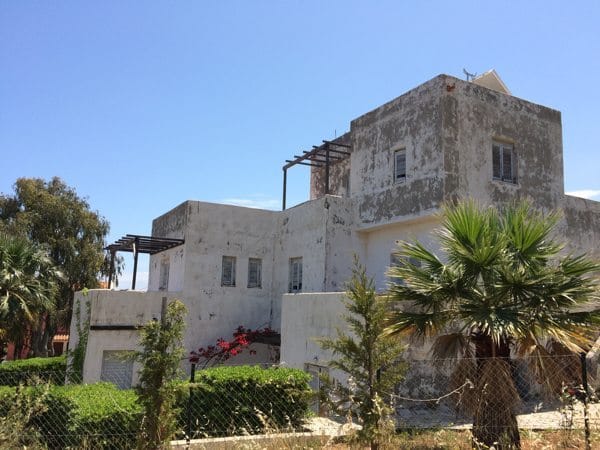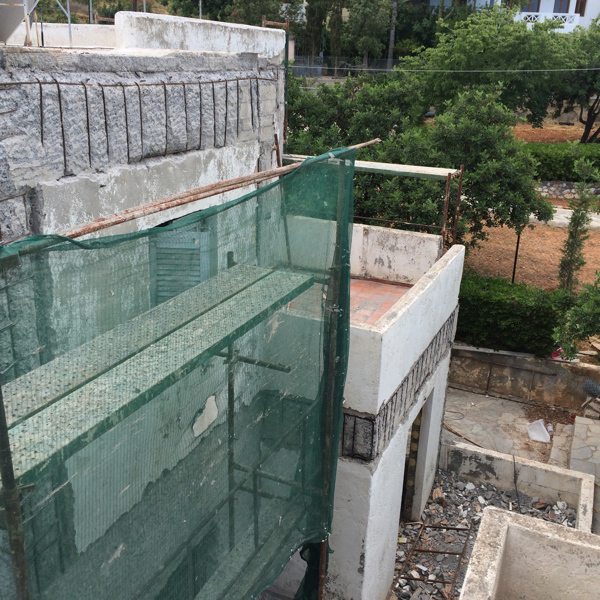 What ensued was by no means child's play. There were many months of formalities followed by 18 months of renovation work which Daniela sums up pithily in the words "a lifelong dream has to be earned by hard work". As the Greeks say "siga siga" – slowly, slowly. Everything takes time. But anyone who has learnt to love this country, the friendliness of its people and the Mediterranean way of life as much as these two have will also at some point realise that they will have to abandon many of the ways of their own country, or at least put them aside.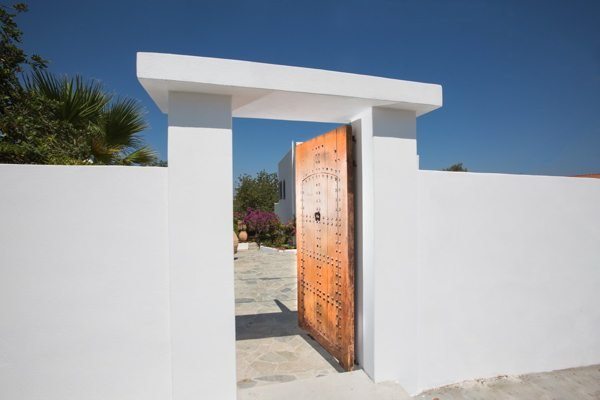 A gateway to other worlds
When you step through the entrance door, you step into another world. The striking portal leading into this property is in perfect keeping with Crete. It symbolises the coming together of two different worlds: It does not come from here, but from Morocco. And that summarises many of the impressions you gain during a stay here. At Zoé different worlds and their cultural artefacts sit comfortably side by side.
The term "ethno style" is inadequate to describe what awaits guests to this property. With meticulous care and a keen instinct for the beneficial effects of reduction, Daniela fitted out the property and its five suites. Numerous items among the fixtures and decorative pieces – lamps, mirrors, carpets, chests and exotic shells – have been expertly selected appropriate to the style of the rooms they are in. All items are also part of the travellers' tales of their owners and so are a part of their lives. Daniela and Martin found them over the past thirty years travelling around the world. Their favourite items have now found a fitting journey's end, far from home at Zoé. There's no point looking for pretentious adornments here!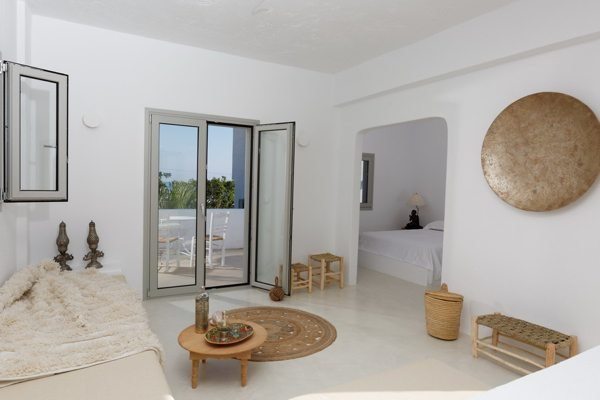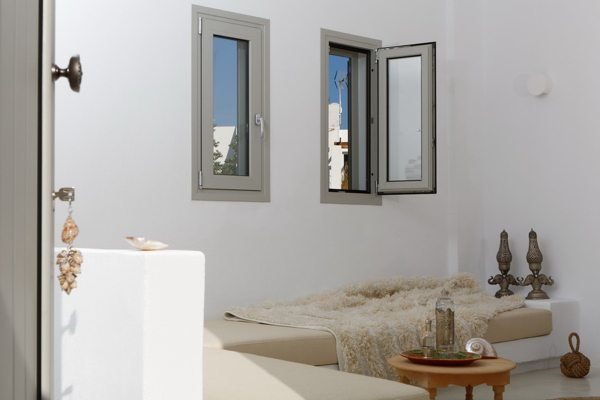 Probably even before you take an excursion to the south coast, you will realise that Crete has always been a melting pot. The African coast is not further away here than Athens and the Libyan Sea laps the Cretan shores. Even during the Minoan era, there was a lively trade between the seafaring nations of what are now Africa and the Middle East. The island, which only became part of Greece in 1913, has experienced a chequered history before and since that date. For one thing, it was for several centuries one of the most important Venetian colonies and subsequently came under the Ottoman Empire. Traces of its past(s) are still to be found everywhere. It is as if Daniela and Martin have created their own unique variation on a reality that has prevailed here for millennia: integrating worlds, melding cultures and bringing together what they perceive to be the most beautiful and the best.
Parea – A temporary home from home with friends
Breakfast, incidentally, is a special daily ritual. Far from conventional hotel standards, the breakfast tables here are scattered casually around the property. A favourite spot in summer is the paved area beneath the broad branches of the carob tree. Sit yourself down and let your hosts serve you culinary and conversational delights. You might well find yourself spontaneously curtailing your planned grand island excursion as you have spent such an enjoyable time chatting.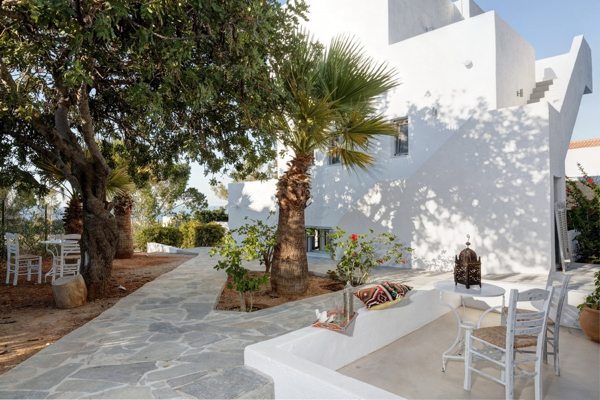 Anyone sitting here under the sun between the oleanders, palms and bougainvilleas, watching Daniela and Martin busy at work might not necessarily realise that Zoé is only in its second season of opening. Everything seems finely honed, yet in a completely natural, very personal and relaxed way. Both have a very good sense for what their guests need at any one moment. A tip as to the best spot for bathing? No problem! And of course, where's the best place to eat afterwards, what else there is to see around here and, and, and…
The service does not by any means stop at well-maintained rooms and clean towels. You never have the feeling, as you might at the reception of an anonymous hotel, that you are requesting a "service" or information. Here people are always the priority. So here you really get to know your hosts: as people, not as mere service providers. Daniela and Martin have realised their dream and are living it out. That's obvious at all times. In their first season, the couple say that they met an unbelievable number of interesting people. And, should you decide to travel to Zoé, you will find that you too will get to know two very interesting and likeable people there.
What is more, the pair seem to manage effortlessly to combine the best from their old and new homes. German "virtues" meet superb hospitality and the high art of spontaneity. They chose the name of their property carefully. Zoe is derived from the ancient Greek word for "life". And in Greece, and as far as this couple are concerned, that means the current moment, the now. Just imagine that some good friends of yours emigrated to Greece and you have gone to visit them.
50 shades of blue
From the hillside location set back slightly from the sea, there is a wonderful view literally over and beyond the nearby tourist centre. And anyone who has listened to their hosts will find, also on the accessible north coast, a great many lovely little beaches that are never too busy, and are very close by.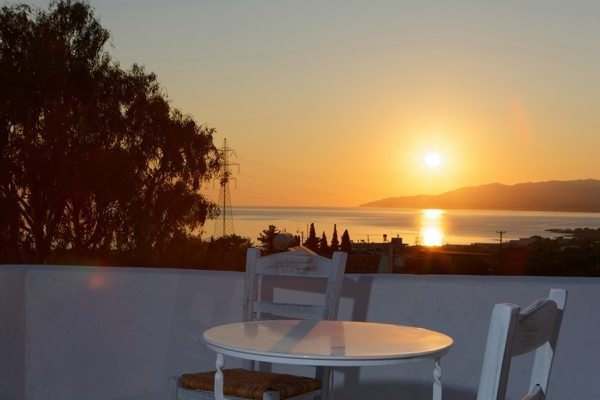 Here life is wonderfully easy and simple. More than 300 days of sunshine, iridescent tones of blue sea and sky that change over the course of the day, historic sights, walks in the high mountains, on high plains and in gorges, visits to caves, beaches and towns can fill more than a day. Often you feel as if you have been transported into a scene from Zorba the Greek. And wherever you go, you encounter the friendliness of the Cretans and their wonderful Mediterranean cuisine – regardless of whether it is served in a simple tavern or a top-notch restaurant.
These two Cycladean-style houses were built during the first wave of tourism in the 1970s at the edge of the village Koutouloufari. When Daniela discovered the houses, they had already been standing empty for 15 years and nature had long-since begun to reclaim the premises. It was fortunate that Daniela recognised the buildings' potential immediately and fell hopelessly in love with the location and the view. So much so that even the extensive renovation work could not deter her and her husband. Since then, everything has been rebuilt and updated here. Even the reinforced concrete skeleton has been exposed and refurbished.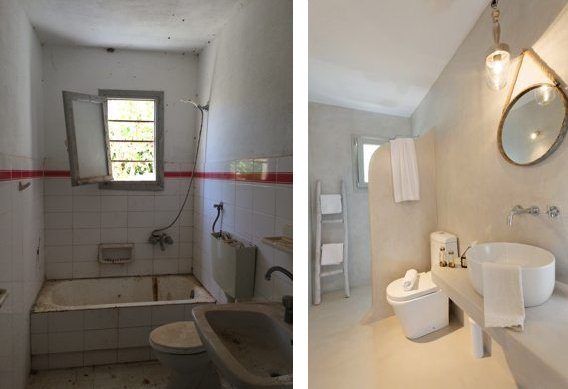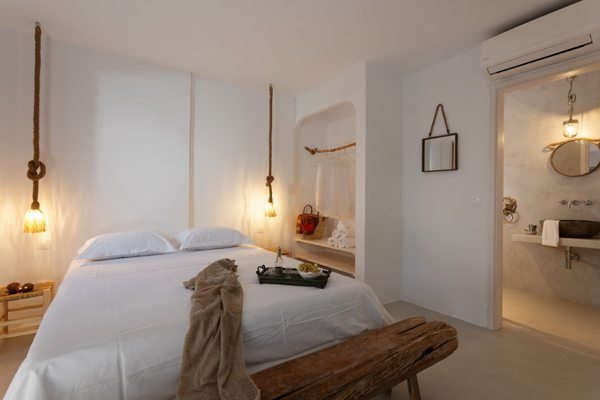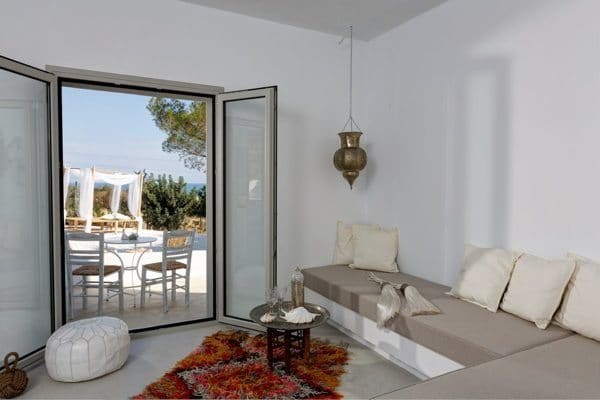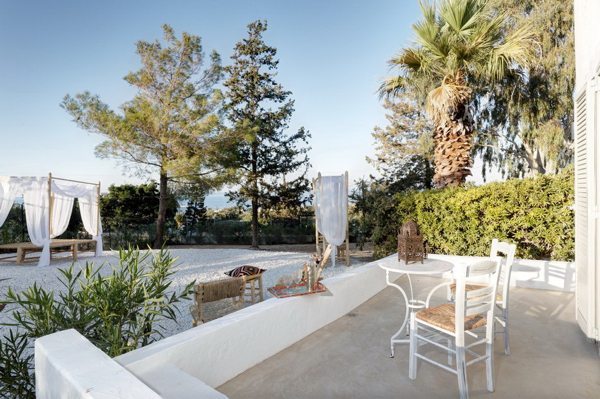 The five apartments were largely gutted. Only the basic outlines remained. In what were dark and narrow rooms, guests now find open, airy spaces between 36 and 55 m2 where life is both elegant and simple. White as the dominant colour is supplemented by light grey or beige accents. Light patitité flooring, a special and very expensive type of marbled cement flooring, applied in wafer-thin layers in a multi-stage process, seems to give an informal structure and, with its discreet opulence, almost gives a sense of floating on air. Muted colours and material choice are accented by dashes of contrasting colour – here a Berber rug, there an oriental cushion, elsewhere nuances of silver, brown or brass from the scattering of "objets trouvées" from all over the world. However, you will not find Greek blue anywhere at Zoé. After all, it's all around you the whole day long – from your first morning glimpse of sky and sea from under the covers, right through to the setting of the sun. Its shifting depths are so intense it almost pierces right through you.
All suites have their own individual character and features, and you will find it hard to choose between them. Where once entire Greek families flocked on holiday, now it is generally couples who come to experience the Mediterranean ease that seduces you into nonchalant spontaneity.
Now, whenever Daniela's husband asks her whether she fancies a trip to Paris, Milan or overseas, she usually says a polite no thanks. She has found her home in the world and wants for nothing here. How times change! And with that we say: Kalimera! We wish you a warm welcome at Villa Zoé!
Travel tips
Depending on the weather, the season runs from April to at least mid-October. If you still want to come by this year: siga siga – slowly, slowly. The only things that you really should always take with you to Greece and to Villa Zoé are time, mindfulness and a willingness to slow down. The best opportunities to grab yourself a suite are currently in July and August. As there is almost always a pleasant breeze blowing on Crete and heatwaves are rare, even in high summer, this property is highly recommended.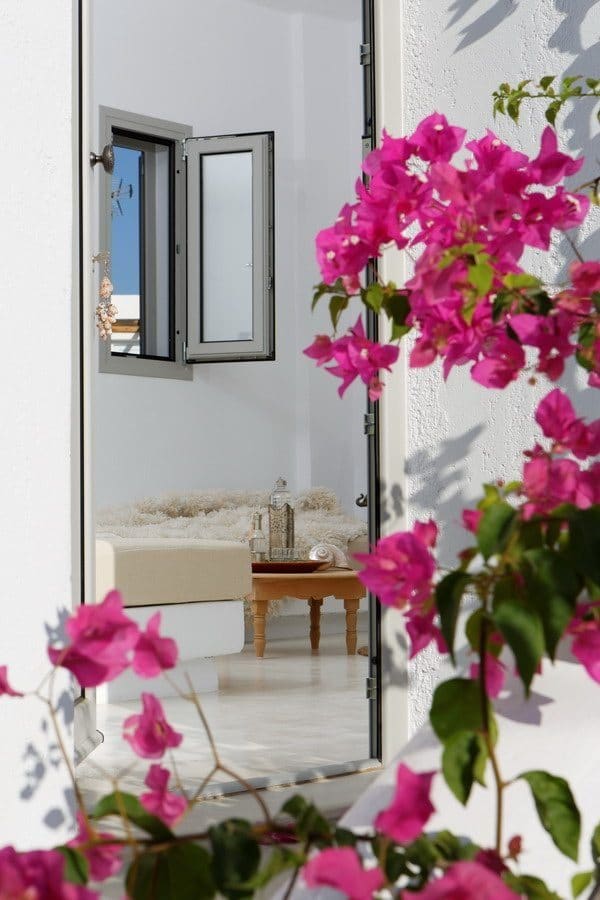 ---
By Ulrich Stefan Knoll, May 2018
The place