by Olaf Bartels, February 2016
As I flew in over Lisbon it was all laid out before me – the city not only lies on the river Tagus but, like Rome and Istanbul, is also spread over seven hills. One of the valleys between them is a former river bed, the location of the present-day district of Baixa Pombal, bounded by the district of Alfama, which still retains many features of its Arabic origins, São Jorge Castle to the east and the district of Chiado to the west. Baiza Pombal is laid out to a strict orthogonal grid pattern. After the major earthquake in 1755, the Marquês de Pombal had the district reconstructed along geometric lines, and it has borne his name ever since. Even the churches had to fit in with the frontages of the houses and other buildings.
This made it quite hard for me to find my temporary home, the Baixa House. As I wove my way through the regimented city streets, with their pavements cobbled in distinctive curved patterns, I couldn't help thinking of Wim Wenders' "Lisbon Story", in which his protagonist roams up and down the main street with its tram lines in an old Borgward truck until he finally stops a tram to ask the way and the friendly driver willingly shows him where to go. But I managed to find my destination without having to ask anyone. It's actually quite easy, I thought to myself once I was there – its blue-tiled façade and the wine shop on the corner should be unmissable. I committed these distinctive features to memory, to help me locate myself when exploring later.
The large Baixa House is truly impressive inside. Its old, past glory is still present in the large stairwell, and the apartments themselves, some of which Maria and Juan showed me briefly on the way to my own temporary home, have a great vintage appeal, which had begun to fade but which Maria picked up on and preserved during the restoration of the property. The history of the building radiates from every corner, every window, every step on the staircase, undiminished by the addition of the new kitchens and bathrooms. The furniture, lovingly acquired from antique shops and second-hand markets, may lead the visitor down the occasional blind alley, but always fuels the imagination. And above all, it is very comfortable. The sight of the roof trusses over my retreat was breathtaking. The light penetrating through the roof lights is distributed throughout the room by means of carefully designed shafts, with attractive lighting after dark. An amazing sight, reminiscent of the view of the street scene through the French window in Wenders' film. In the bedroom I was glad not only of the inviting bed covers, but also of the prospect of a sound roof over my head.
As in the city itself, it is easy to lose yourself in this apartment. But any feelings of this kind were soon dispelled by the friendly welcome of Maria and her team, anticipating my every need. On my arrival they had greeted me with a box of essentials to ensure my survival in the city – a folded, indestructible city map and more than a dozen flyers for restaurants, cafés, shops and other enticing destinations to aim for as I explored the city. But I wouldn't be needing these recommendations at least until midday. In the morning a bag containing bread rolls was hung on the apartment door, and the fridge was filled with everything I needed for breakfast. I certainly wouldn't be setting out on an empty stomach, but well-fortified for my adventures in this city, safe in the knowledge I had this lovely home as my base.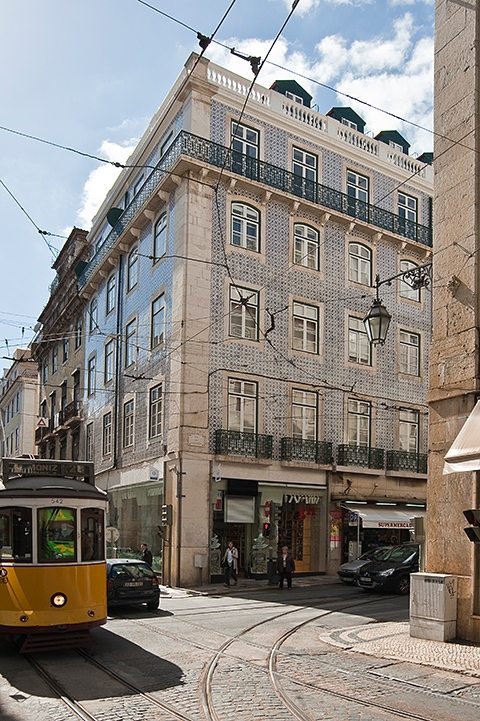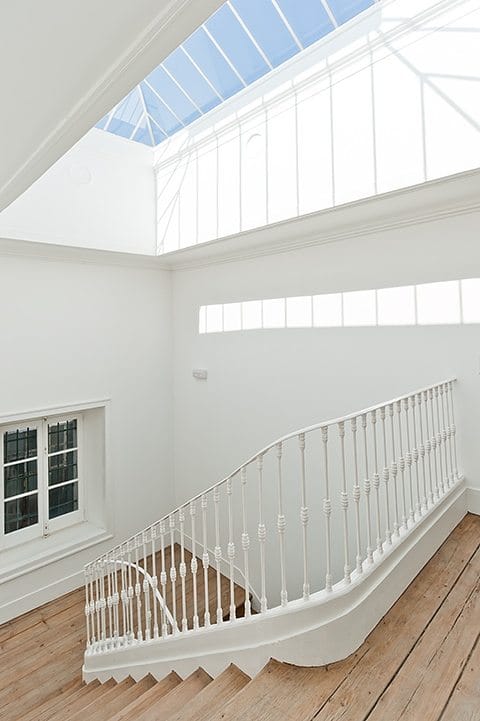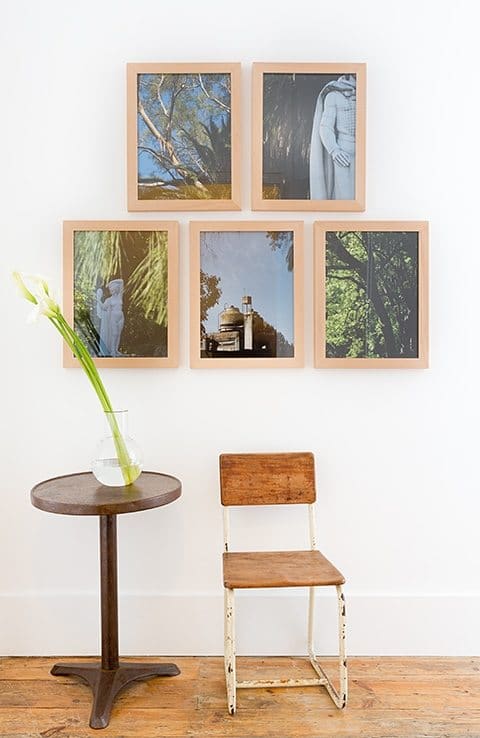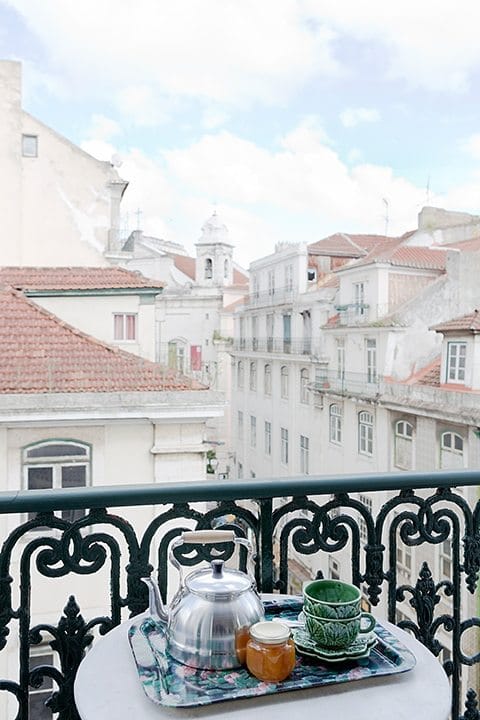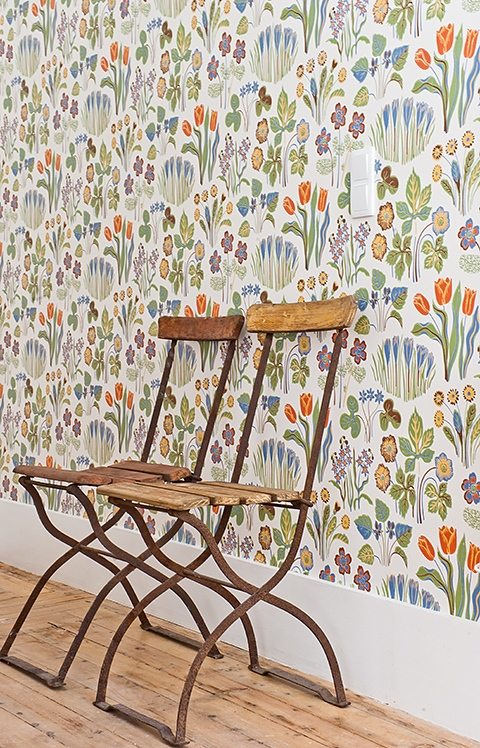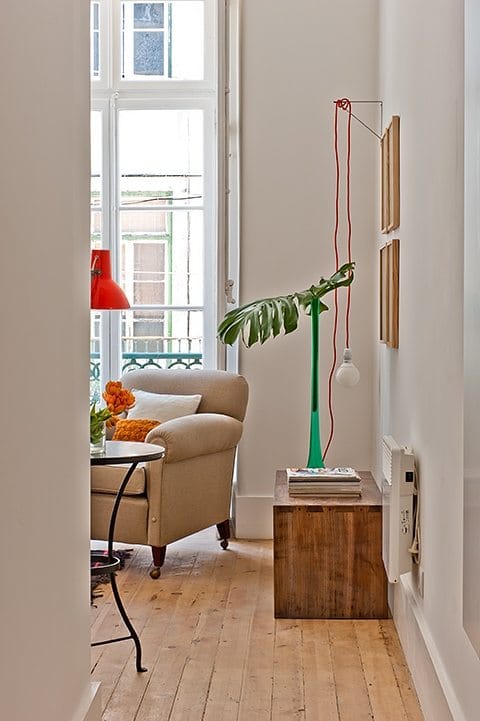 Maria, Host in Baxia House
I have always lived in cities that were not exactly my home town: due to my father's job we had to move several times during my childhood. And we always lived in very attractive cities in Spain, so all our relatives used to visit us often. He was a great host and taught us how to make them feel at home when they came to visit us and we also learned with him how to discover every secret corner of the cities we lived in. He was a real city lover, and that's what I am, too.
A few days ago I read, that when you are a creative (no matter which area) you can't stop creating, and this is what happenned to me, and I guess Baixa House is the result of it: since I left my job as a graphic designer 15 years ago, I've always tried to combine my father's legacy with my creative spirit.
When I moved to Lisbon 10 years ago, I opened myhomeinlisbon B&B (which is now under a large refurbishing process that will end in October 2016) and it was my home but also a real home of all the visitors coming to stay in it. Even my dog Lola became "their dog" fort he time of their stay.
A few years later I was committed by the owner of Baixa House to include his apartments among other apartments I was renting, and I decided to make him a proposal: we will create a nice place that will become a real home for travelers from all over the world. They will have their own space, with everything they may need, but… adding a few very special touches: each apartment should be unique with a nice decoration far from hotel standards, we would provide home-made breakfast everyday, with fresh bread at the door so guests could extend thier morning laziness without leaving home (what a more holiday feeling can you have than coming back to bed after breakfast?); we would clean the apartments every day so guests don't need to care about anything, and there would always be a person to take care of every need any visitor may have and it will not be a concierge but a kind of "new-friend" who will welcome the guests and share "his" Lisbon with you. Fresh flowers will make the rest.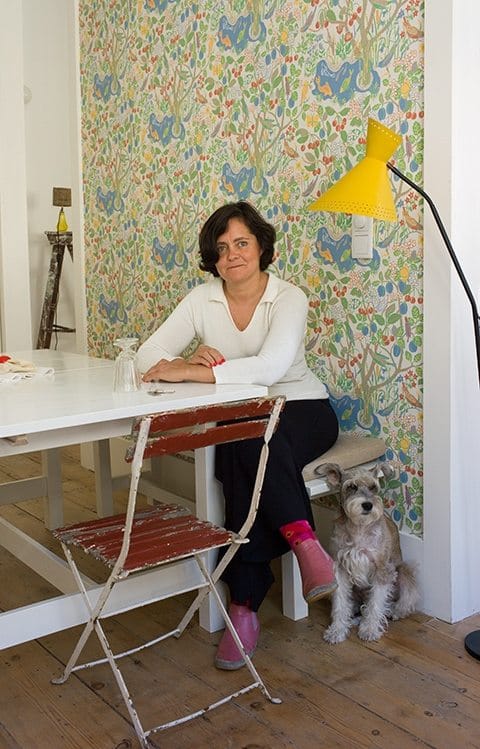 ---
Olaf Bartels, born in 1959, is and architectural historian and critic. His publications include features in Bauwelt, Baumeister and the Deutsche Bauzeitung. He carries out research and teaching on architecture and the history of urban planning. He lives in Hamburg and Berlin.
The place