By Von Britta Krämer
The spectacular Jadranska Magistrala begins in Italy near Trieste and winds its way along the east coast of the Adriatic to Montenegro. More than half of the route lies in Croatia and is one of the most beautiful coastal roads in the world. Anyone who has ever been lucky enough to drive along it knows that this is no exaggeration. From time to time, sleepy fishing villages line the route, which often runs only a few metres from the water. But most of the time you drive through a breathtakingly archaic and deserted coastal scenery: steep, stony, rugged, barren, jagged and karstic cliffs and the countless islands that lie like lunar landscapes in the middle of the deep blue sparkling sea. If you turn your head away from the water to the other side of the E 64, the wild mountain world of the Velebit Nature Park rises up and offers a panoramic view of a gigantic botanical garden and the imposing silhouette of the mountain massif of the same name. The immediate proximity of sea and mountains is impressive and their contrasts merge into a contemplative expanse. You feel the strong urge to embrace all of this, you feel as a free as a bird and strangely moved, because here you understand that the mountains have their roots in the sea.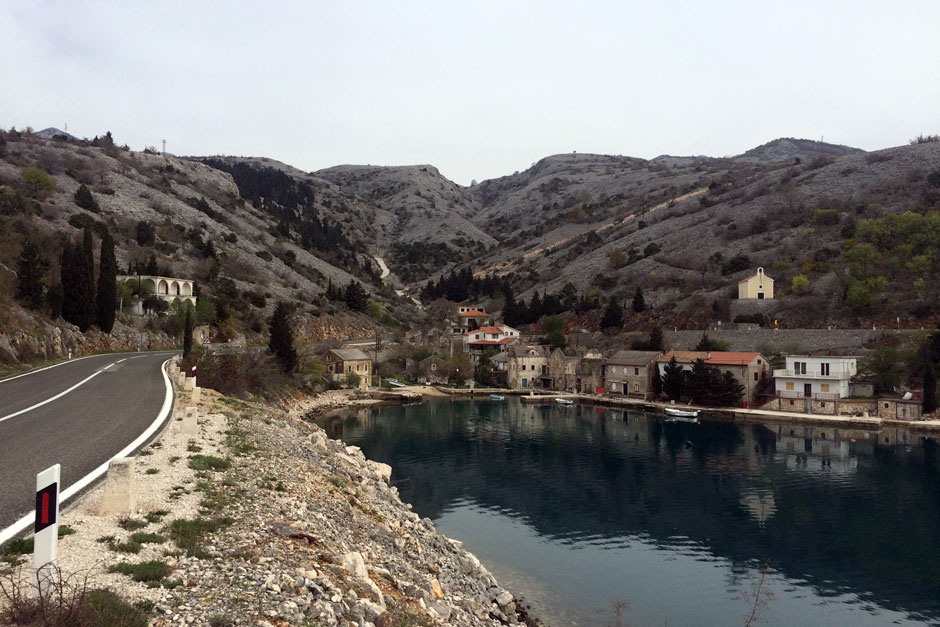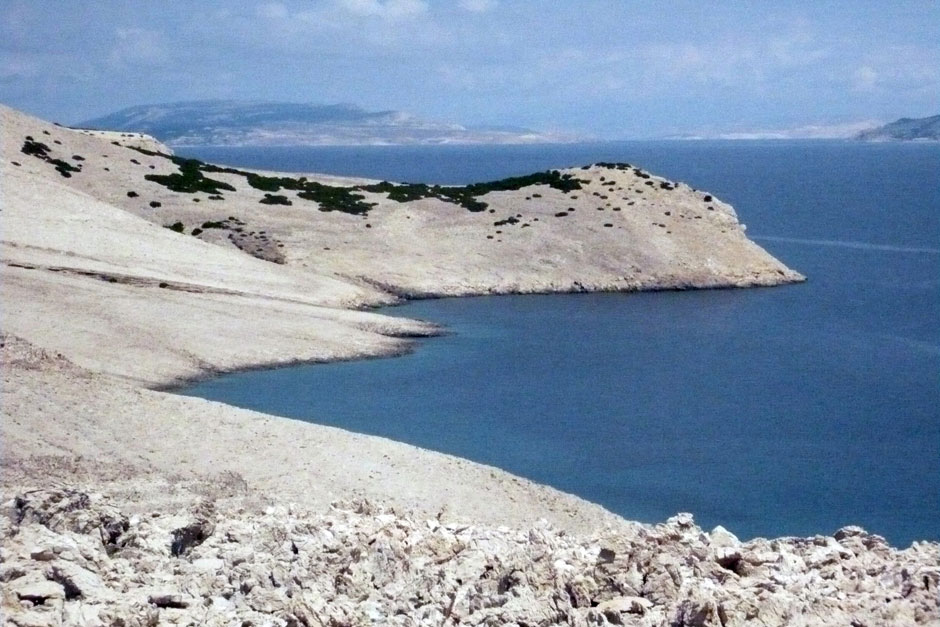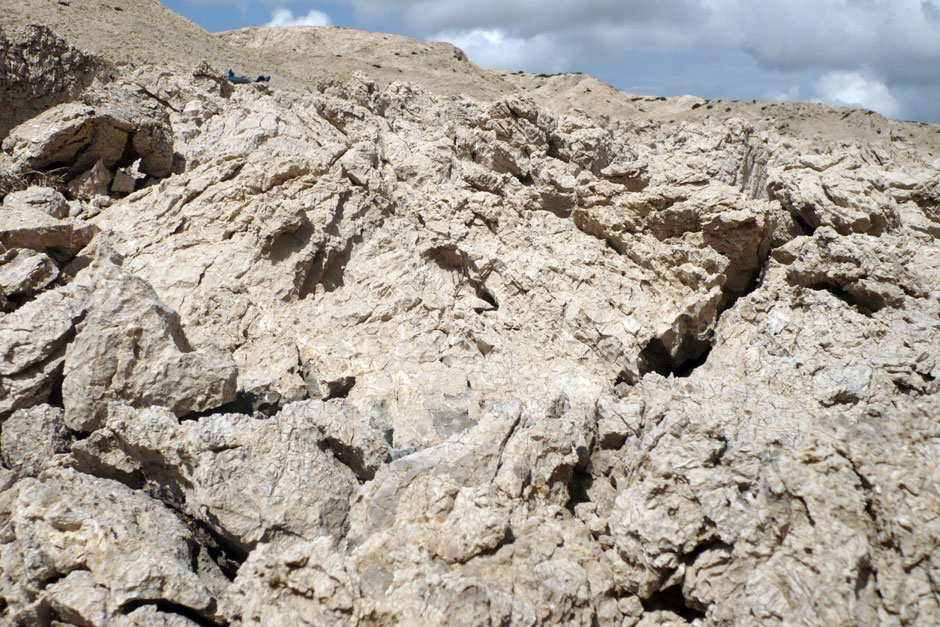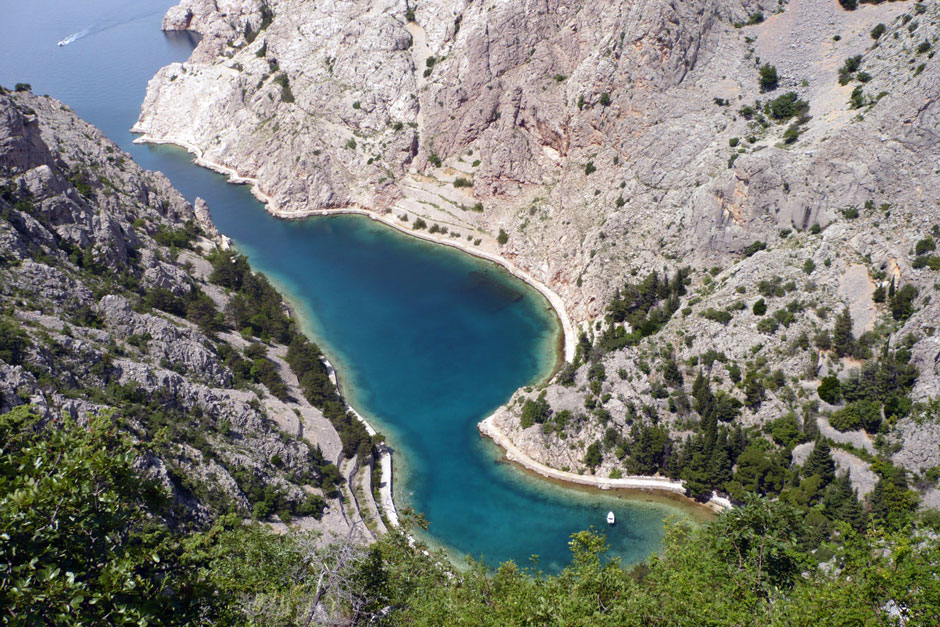 With this intriguing mountain landscape as a backdrop, hidden on the shores of a remote fjord with emerald green shimmering water, lies Novigrad: a picturesque Dalmatian town of 542 souls, known for its fish and shell fishing and actually for not being particularly famous. The road that leads to Novigrad ends here and whoever comes here does so for the sake of the place. You can see that: Novigrad is not a place of mass tourism; it cleverly hides from the crowds and protects its tranquil life within the old city walls. At its highest point, the imposing Fortezza towers above the town. Novigrad has a charm that cannot be ignored. It reads like a history book about the older and recent history of the region. Like a time traveller, you jump forward or backward on the timeline of events, depending on which lane you turn into, which door you slip through or which steps you climb. Along the promenade, small stone cottages crouch down next to dilapidated mansions. Many facades still show the traces of the war in the 90s, which hit the fishing town hard: most of the buildings were damaged and plundered during and after the occupation. Those who returned here after the war only needed one thing: to restore normal life as quickly as possible, which prompted many inhabitants to make makeshift repairs, which were not necessarily focused on aesthetics and attention to the local building history. Thus, the townscape developed into an intriguing patchwork of old stone houses and strange new architecture.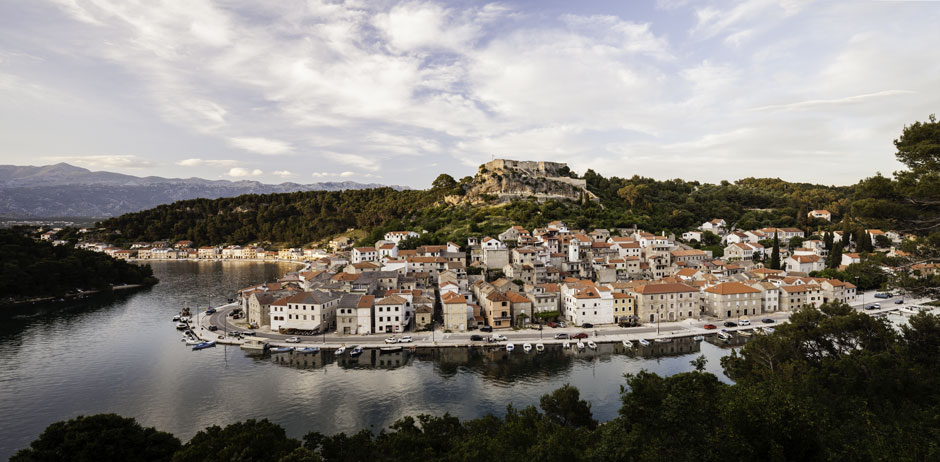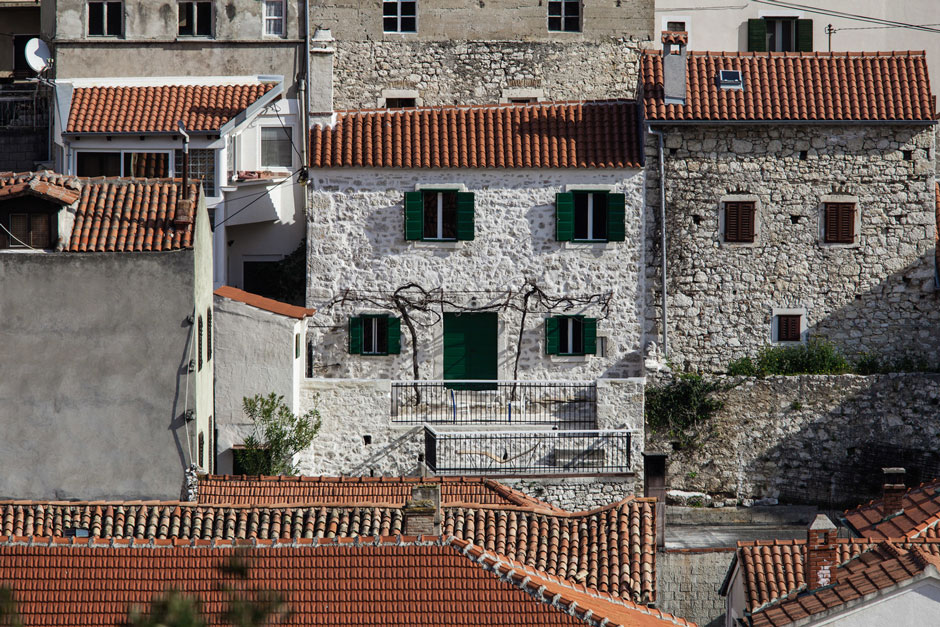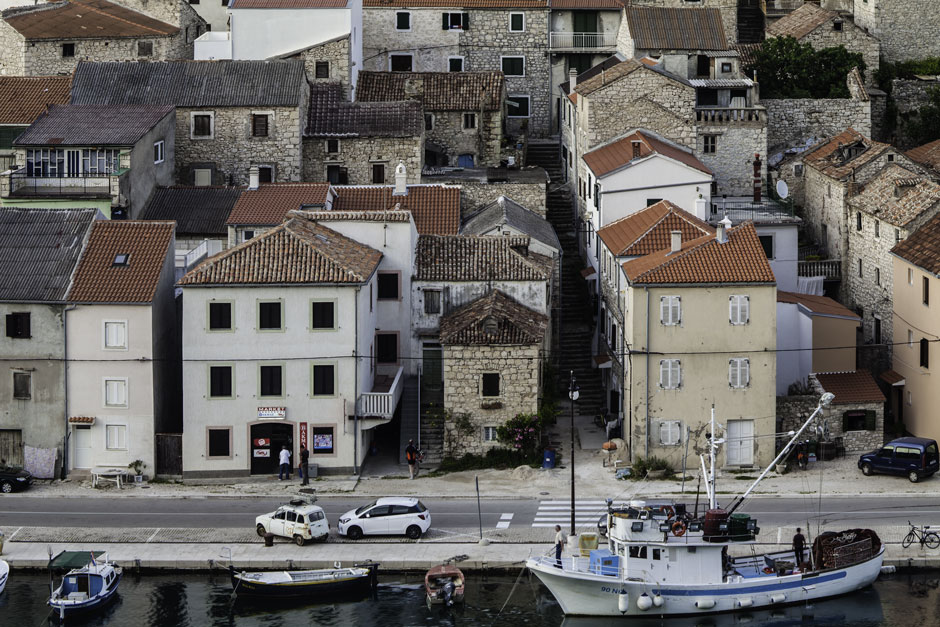 From September to April Novigrad dozes peacefully and only the winds – the hot Scirocco coming from the south and the ice-cold Bora – blow sweep through it from time to time. To those who witness these Dalmatian winds, a piece of the soul of this region is revealed. During the warm months Novigrad radiates a lively Croatian way of life, when the city dwellers visit their relatives in the summer resort. The foreign travellers who come to Novigrad are looking for the authentic corners of Croatia and for encounters with people who are able to feel the special aura of their homeland. Boris Kajmak is such a person.
Born and raised in 1980 in Zadar, Croatia, his profession and calling took him around the globe. He studied printmaking and art at the Academy of Fine Arts in Mostar and London. He defines himself as an "interdisciplinary artist and designer whose works explore social realms through material, play and language." His sculptures, design objects and architectural works have been shown in international exhibitions since 1999.
His experience of war at a young age has been reflected in many ways and has become a powerful catalyst. Boris Kajmak is a cultural nomad, a border crosser, a lateral thinker, a clever observer full of wit and (self-)irony. Most perceptible is his insatiable urge for movement, development and inspiring exchange. And then there is – omnipresent – love, an unconditional, loyal yet critical love for the people and places that harbour his roots and childhood memories: the intriguing coastal town of Zadar and … Novigrad.
Since 2011, he has been commuting between the hectic hustle and bustle of his adopted city of Berlin (currently Rome) and the contemplative tranquillity of the small town on the fjord, driven by a visionary renovation project that began with an old house inherited from his uncle and has meanwhile spread far and wide: the Kuća project.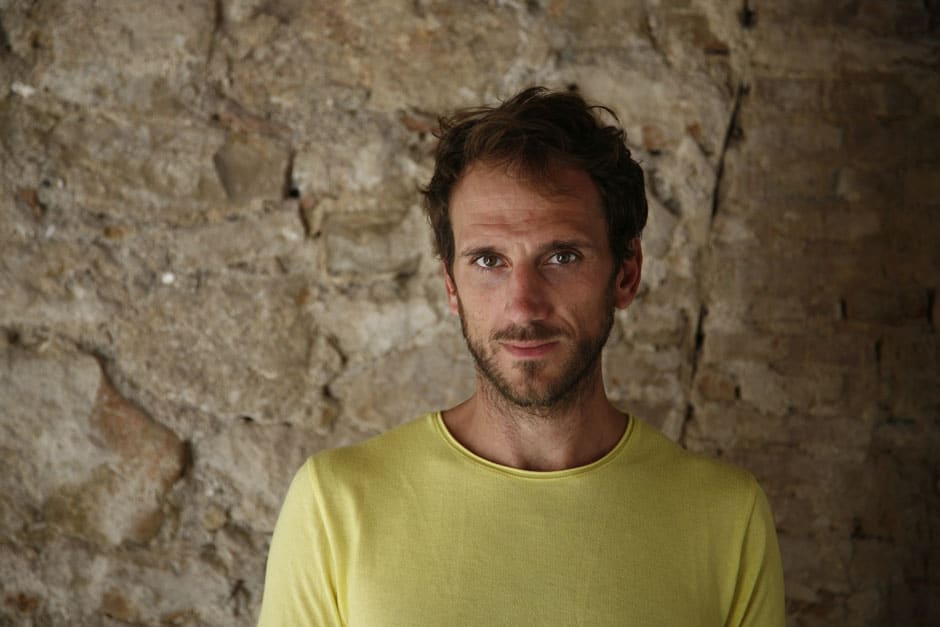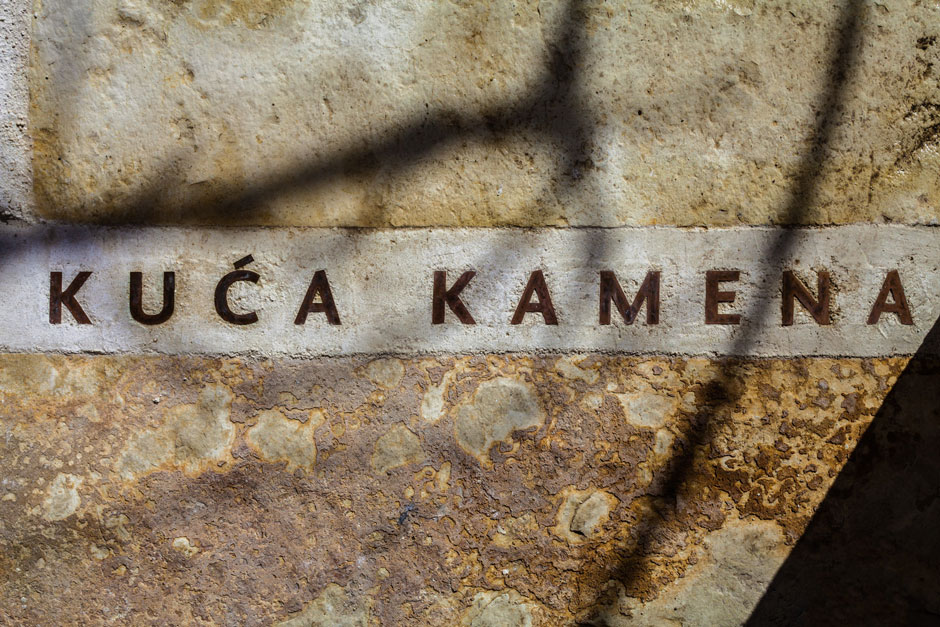 House No.1: Kuća Kamena. The Stone House.
What do you do with a dilapidated old building in the middle of a remote, unknown town that is still busy regaining its identity after the decisive war intermezzo? Roll up your sleeves, face the (bureaucratic) headwind and enable a house to be built stone by stone that is intended to accommodate a very special target group of holiday guests. Far away from the masses, very close to the essence of this place.
The renovation of the Dalmatian stone house from the 16th century took place under the strict regulations for old buildings in the old town of Novigrad. The highest premise was to preserve all elements of the Dalmatian architecture. Thus, traditional techniques and local materials, mostly from the old stock, were used. The artistic approach defined the architecture and its contemporary design interventions. Irregularities in the original structure were not eliminated, but accentuated. Boris Kajmak paid particular attention to the sounds, smells and shapes that permeate the old stone house. "By preserving these immaterial elements of architecture, I have succeeded in preserving some of my most lasting childhood memories."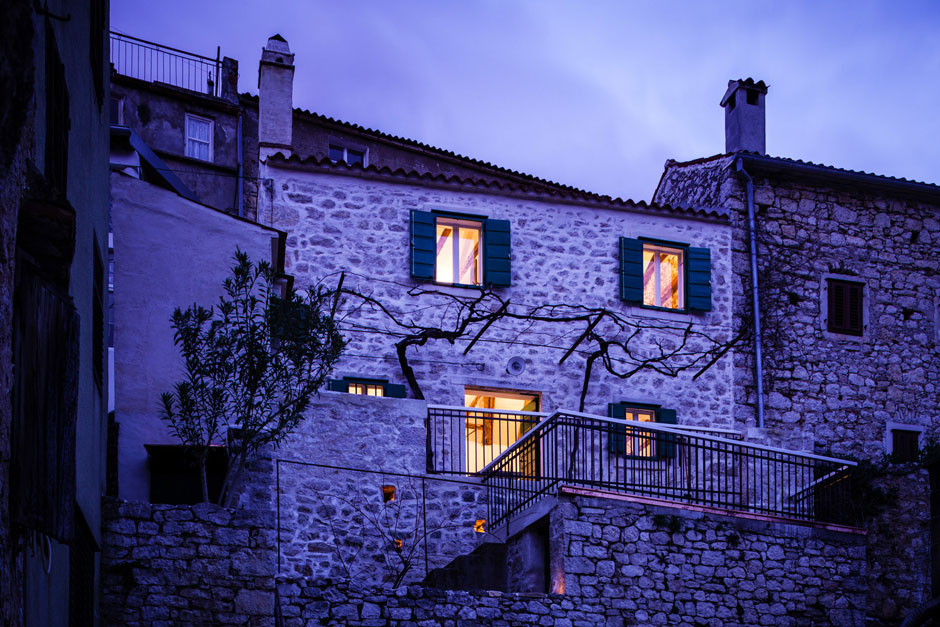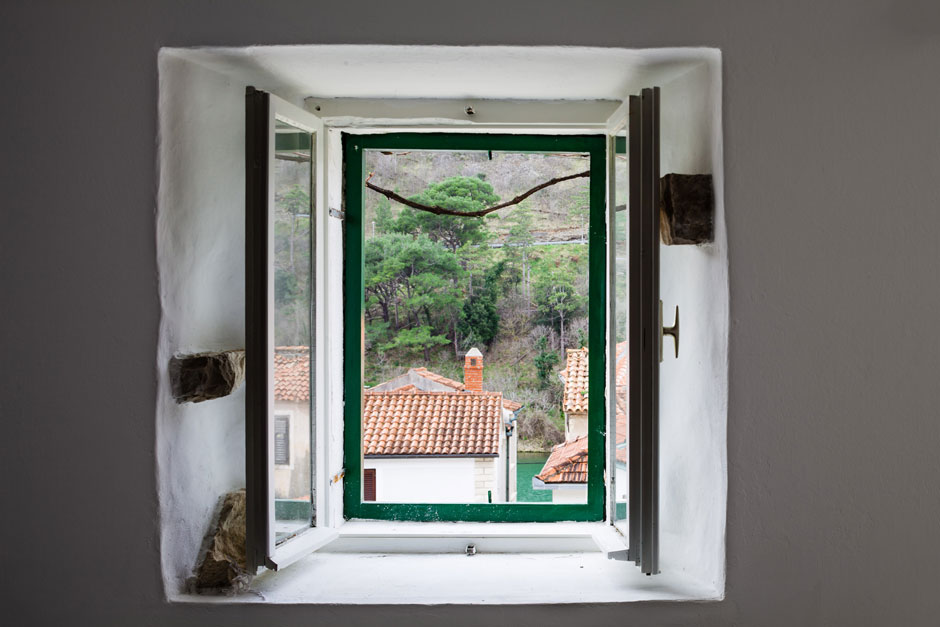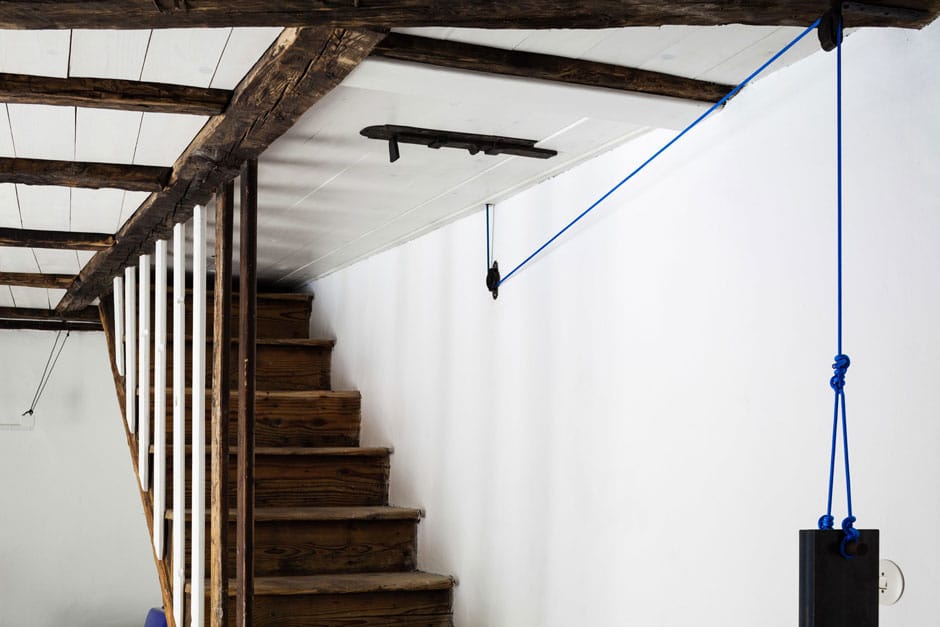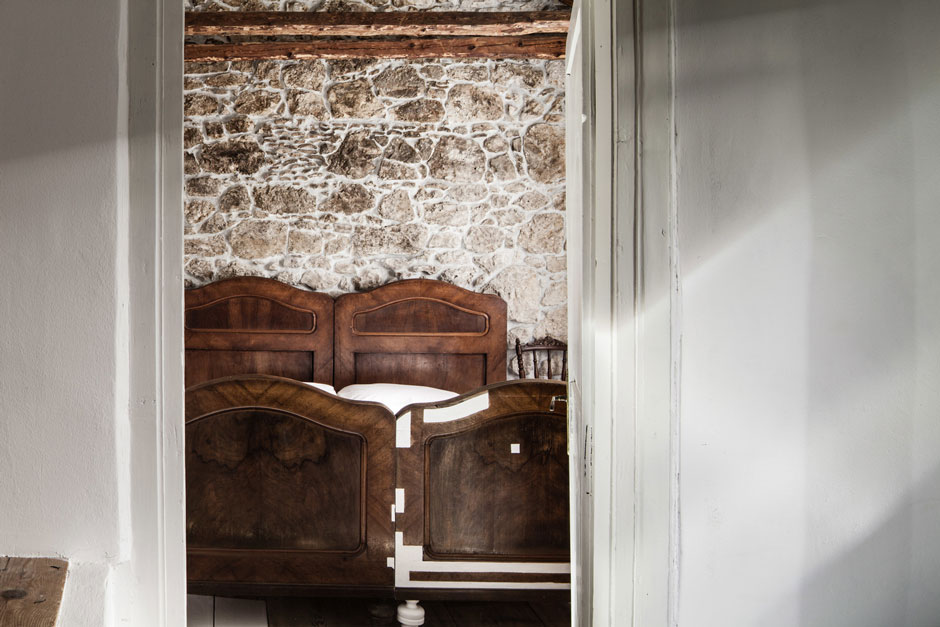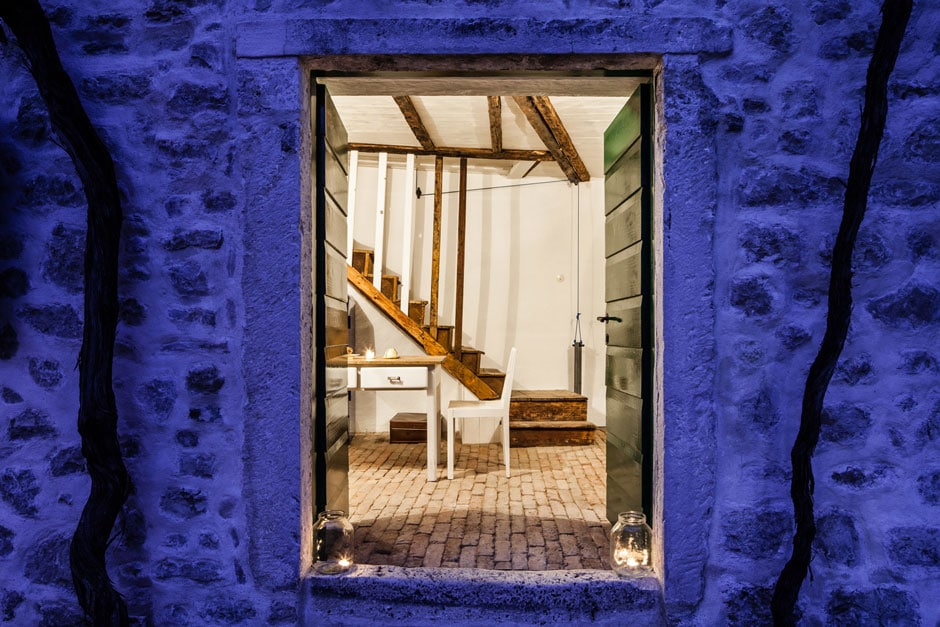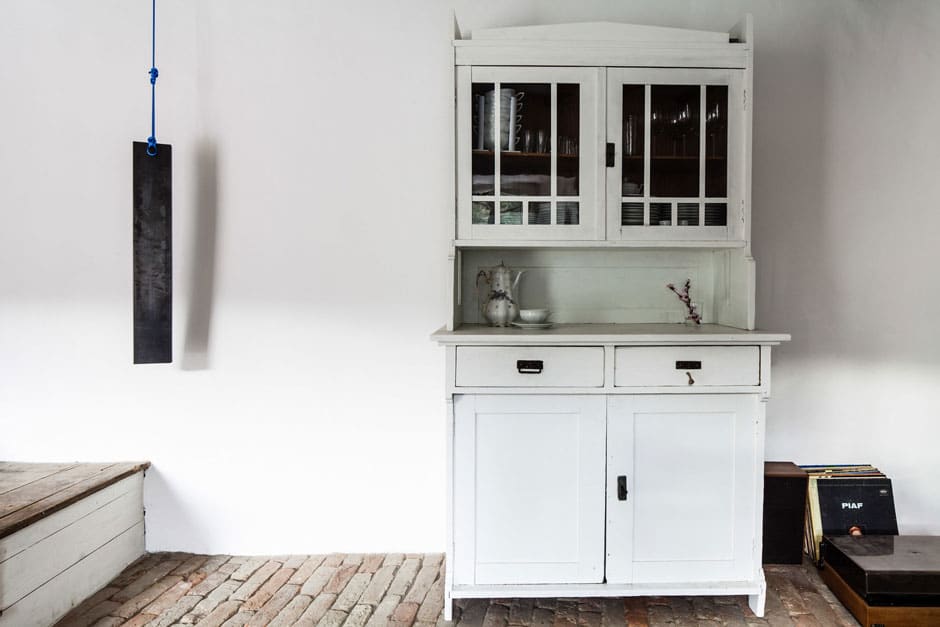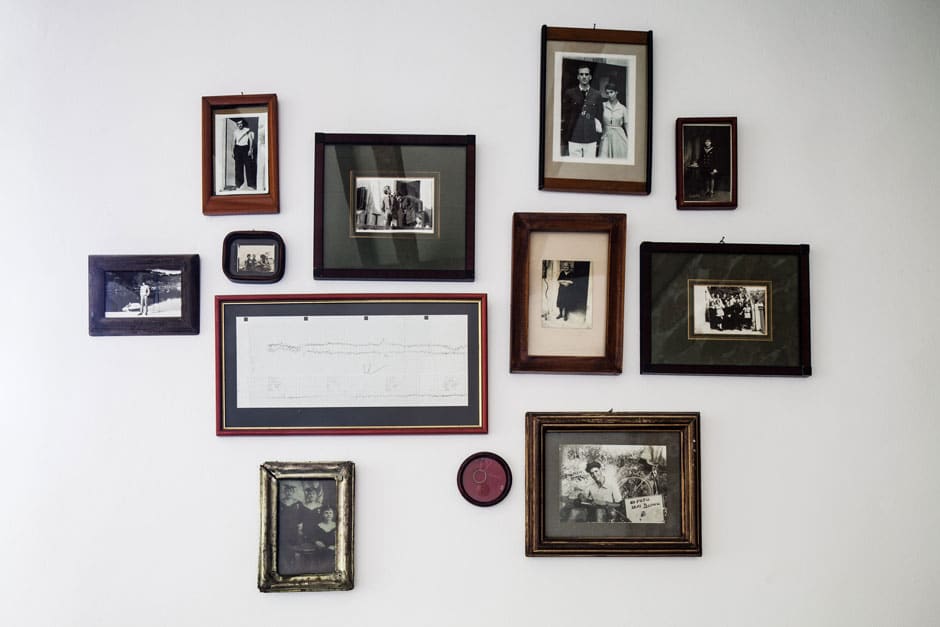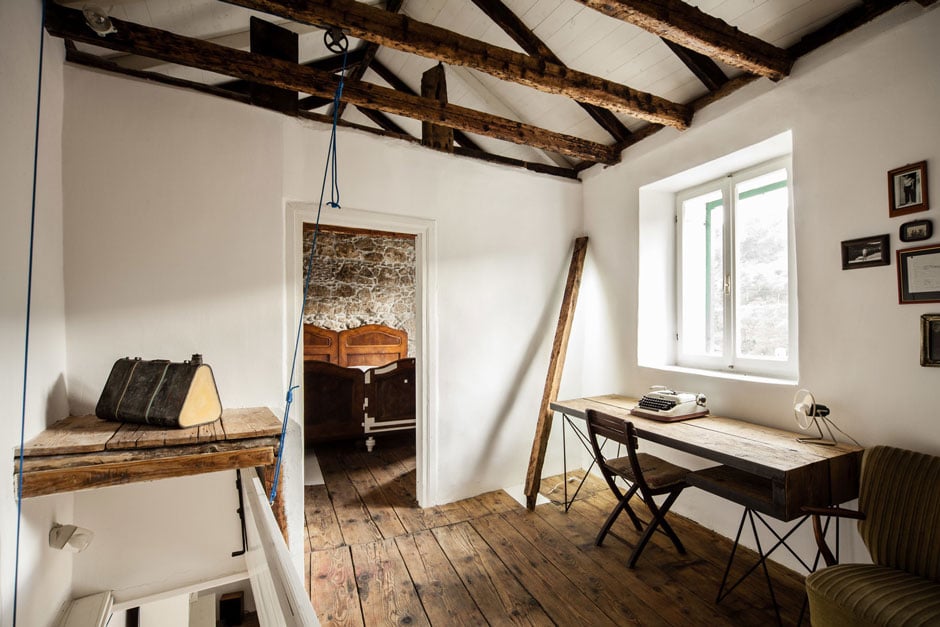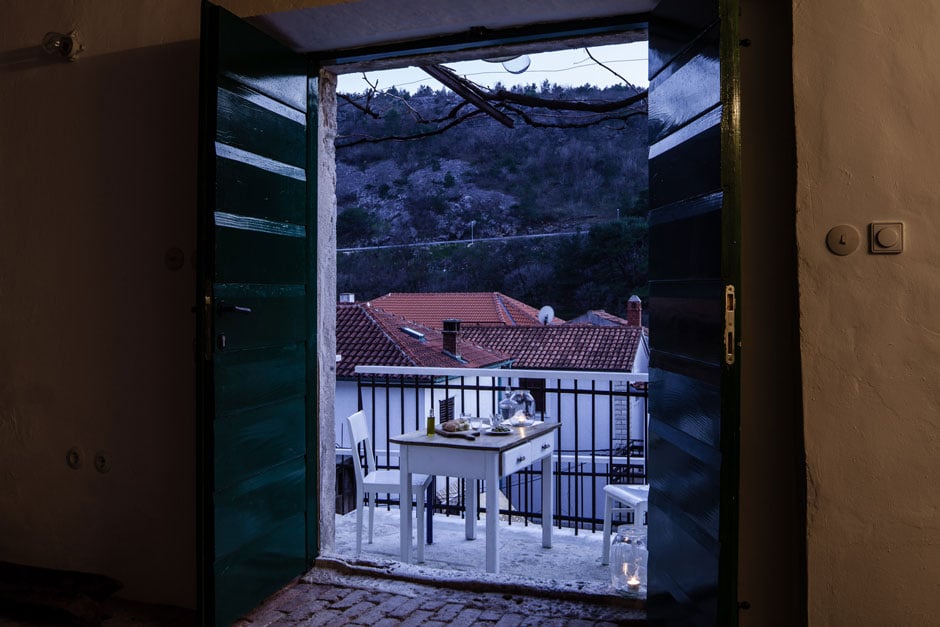 House No. 2: Kuća Photographer – The Photographer's House
Between the 1st and 2nd World War, the Novigrad photographer, Nikica Karavida lived here with his wife Zorka. Boris bought the badly damaged house and dedicated it thematically to the creative work of its previous owner. The kuća is both introverted and communicative: inside, the intimate nest, while the pergola terrace opens up to the surrounding houses and becomes a neighbourly meeting place.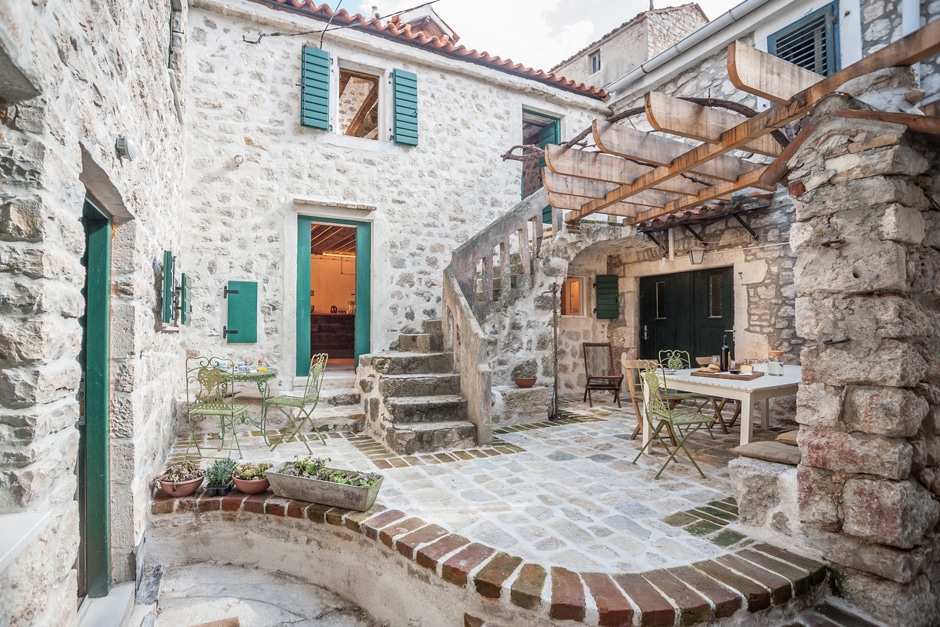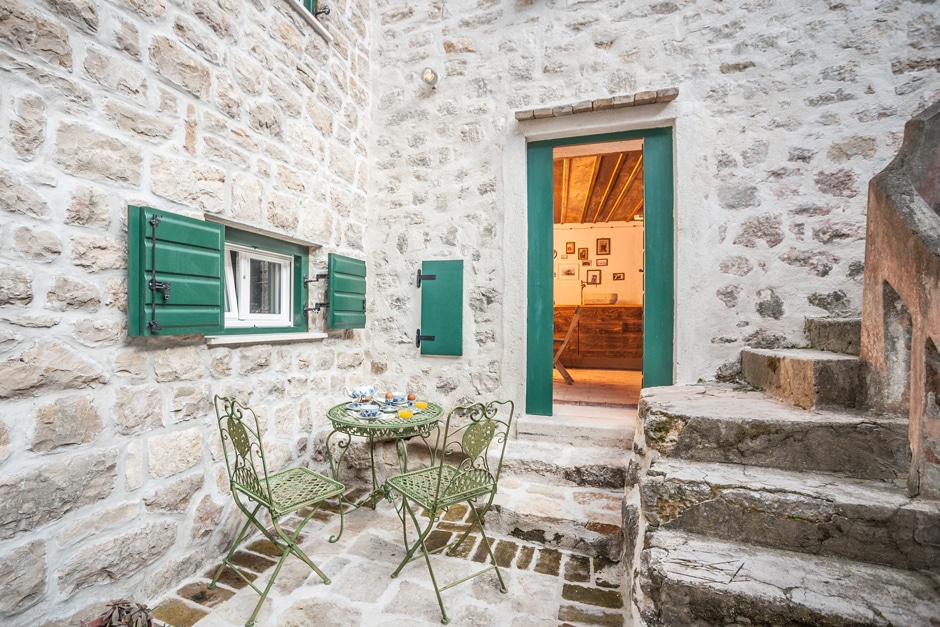 Boris Kajmak is a house whisperer. Or rather, a kuća whisperer.
As if he had his own antennas for it, he perceives the dilapidated stone houses with all his senses.
He listens to their sounds, feels their surfaces and explores their structure. With the accuracy and almost childlike enthusiasm of an archaeologist, he reveals the history of the old walls layer by layer. He digs, scratches and hollows out. He researches, discusses, scans and draws. He opens doors, finds treasures and conjures up traces and objects of a time thought to be lost forever. The rooms of the past and their inhabitants come to life as if one had landed in a black-and-white film. From all this new architectural and design concepts of the stone houses emerge, houses which take their hat off to the past and yet are made thoroughly for the present.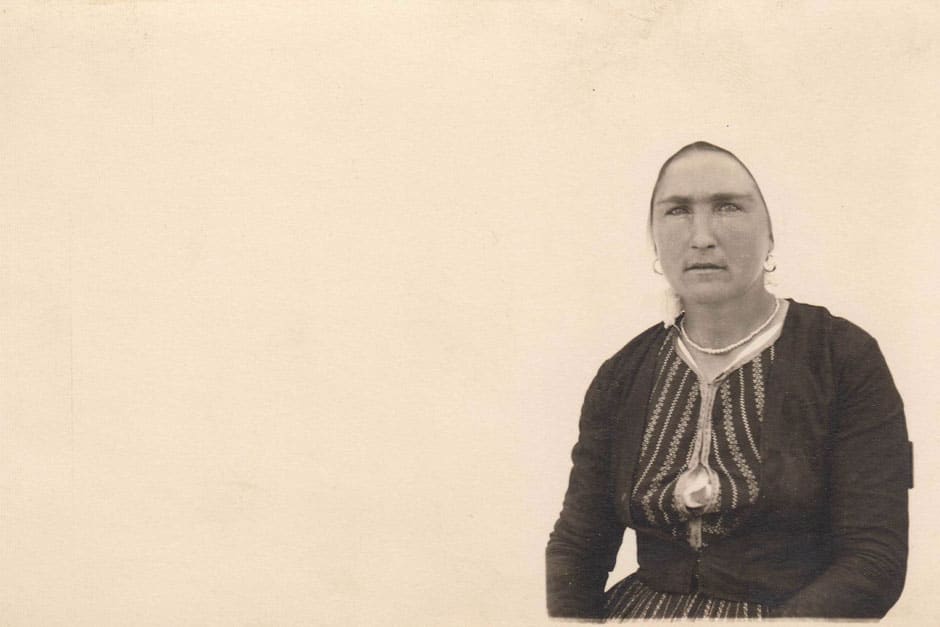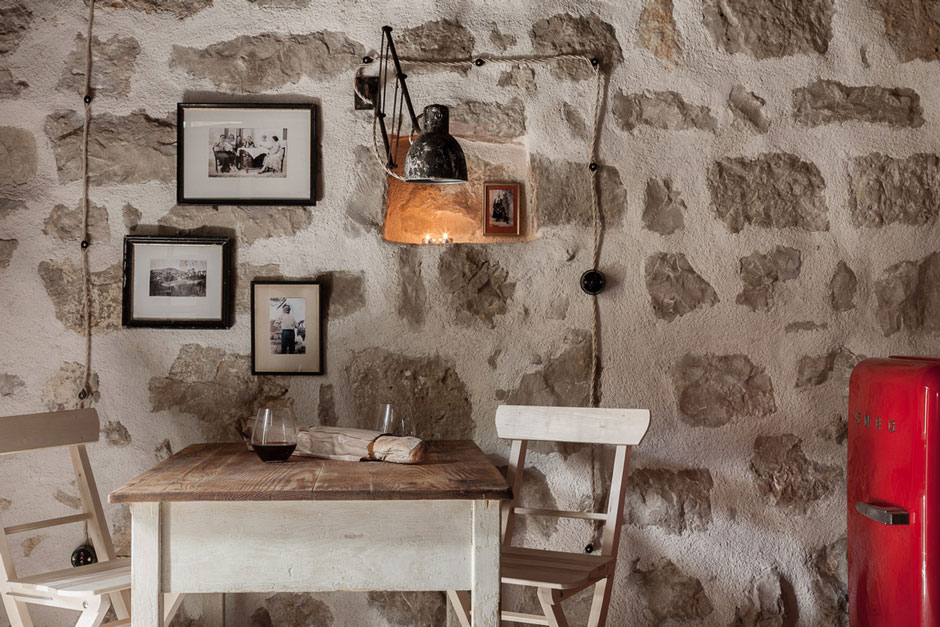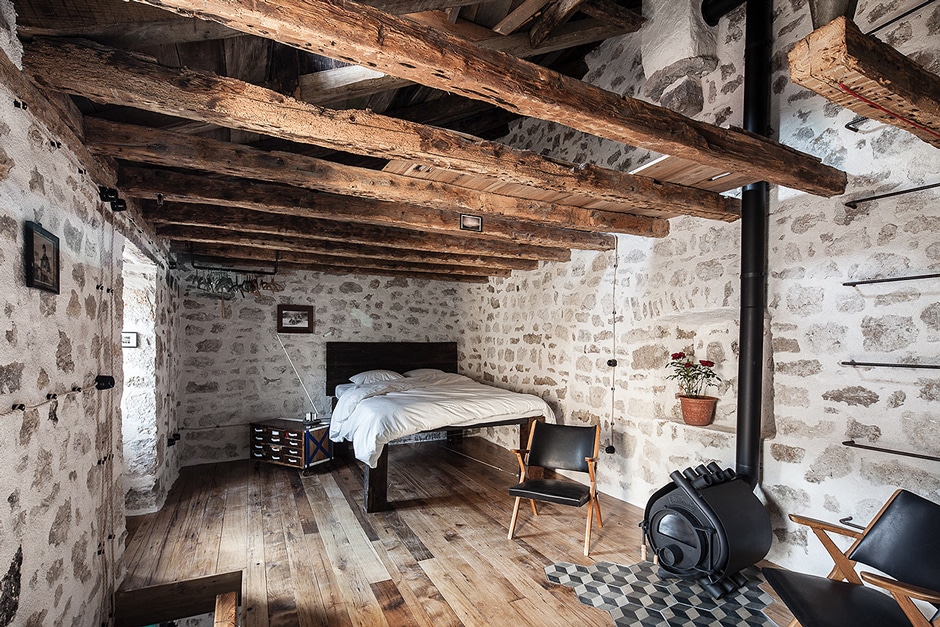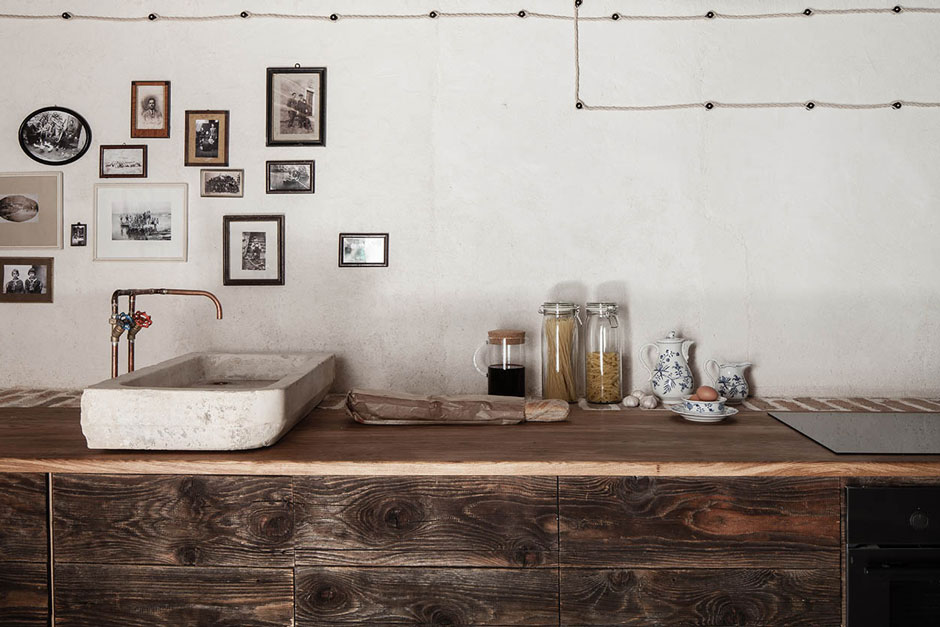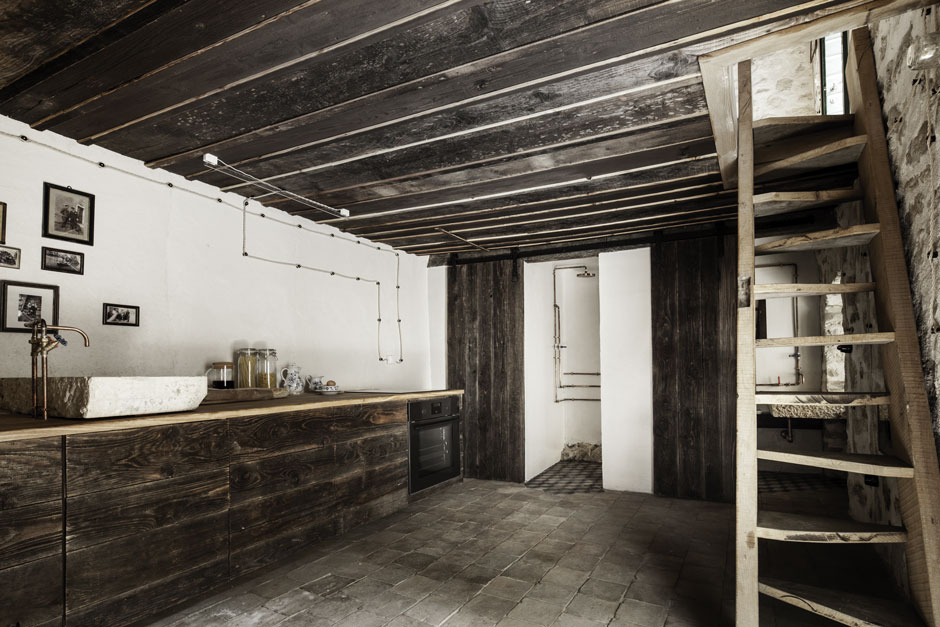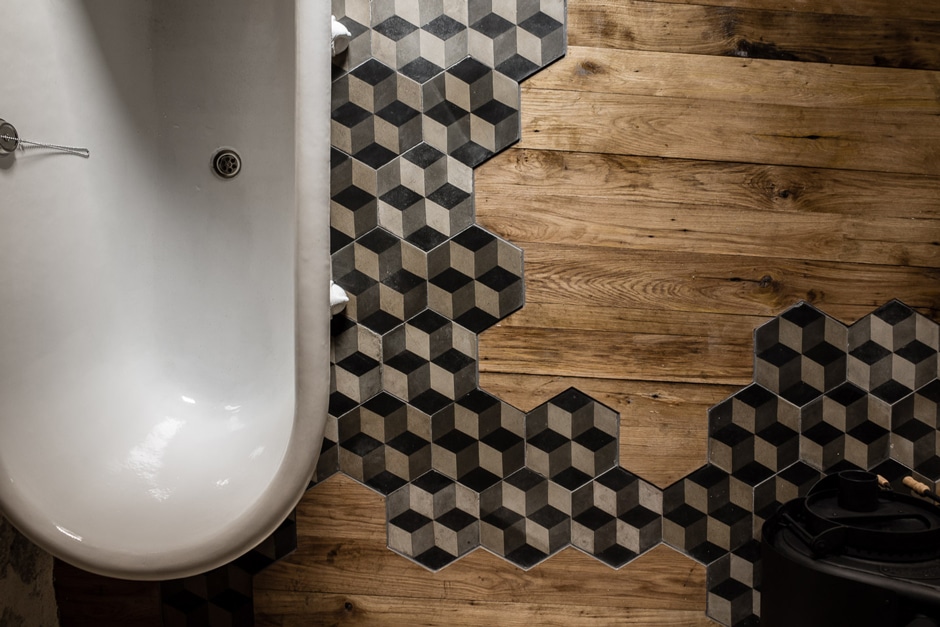 Dream team
In the beginning, the Kuća project was a one-man-show; meanwhile Boris Kajmak has involved a small group of good friends: an international, interdisciplinary team of people who couldn't be more different but whose talents complement each other perfectly. What they all have in common: "For all of them it's about creating something together and they all love to get their hands dirty!" If you watch the boys at work, you quickly notice that an unbeatable dream team has come together here:
Jadran Anzulović: The Guardian of Novigrad
"No one else is more closely interwoven with the history of this place, he literally knows every stone of Novigrad. He is an art historian without a diploma but with an impressive knowledge. Officially he is the cultural representative for Novigrad and runs the local museum. He is also my cousin by the way … What else can I say about a guy who collects stories about everything in this little town and spends his nights faithfully drawing reproductions of old fireplaces? Of course he owns a vineyard and makes wine, but he doesn't drink alcohol."
Joško Dujić: Macho Man and supporting Pillar
"Joško is a former professional handball player and trained building craftsman. He also started training as a civil engineer but two circumstances ruined this plan: his womanizing and the war. We agree on everything, but he would never admit that. Without him the whole project would be unthinkable, it is based on his grandiose knowledge and skills in construction. My past as an artist and the knowledge I stole from Joško and Jadran are connected in me. It's pretty cool to see the two guys respect each other. Two true old schoolmasters!"
Tim Stolzenburg: Master of Design
"He is a great designer. We studied at the same college in London at the same time without knowing each other. I studied fine arts, he did product design. Tim loves to come to Novigrad in winter to carry around bricks and stones, but above all he develops the design concept of the stone houses together with me. His architectural experience is a great enrichment for my initial ideas and his influence is really decisive. He rounds off my ideas perfectly."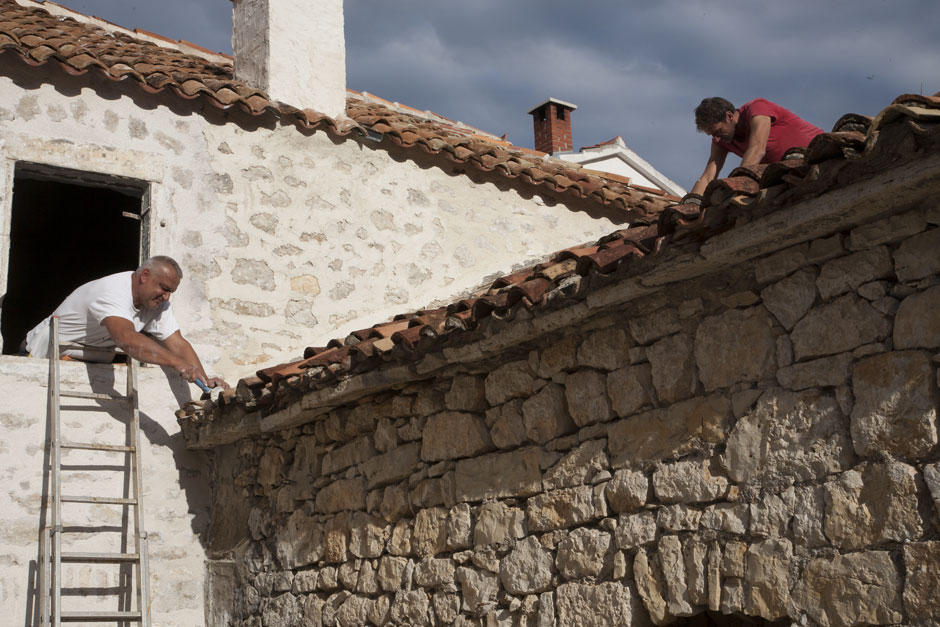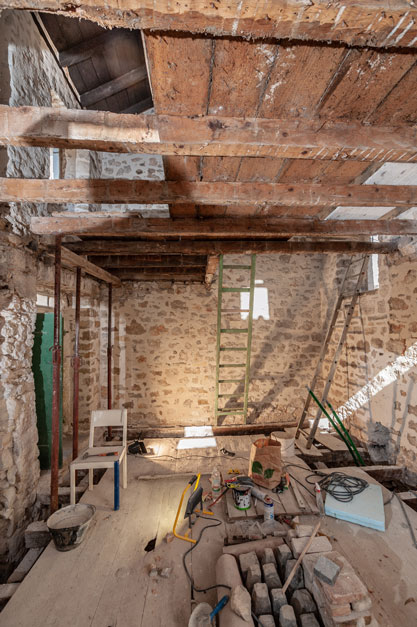 House No. 3: Kuća Plavca The Boathouse
The architectural and thematic concept of the third stone house – located just a few metres from the promenade on the canal – focuses on an existential object for the inhabitants of Novigrad: the boat.
At the Kuća Plavca, the traditional symbiosis of humans and water is developed in a contemporary manner and thus different handmade kayaks will belong to the standard inventory of the house, which is presently under construction. Guests in the future can look forward to paddling through the emerald green waters of the Novigrad Sea and to enjoying the spectacular landscape from a completely new perspective.
New member of the Kaj(m)ak team is the Berlin boat builder Lutz Berger. "A phenomenal guy who really has something to say. He studied philosophy and political science but his vocation is to help people build their own boats." Lutz Berger is the driving force behind the Berlin company Berger-Boote. What began in a narrow backyard in 2010 has in recent years established itself as a renowned manufactory of boatbuilding kits. With Boris Kajmak, Lutz Berger shares a passion for high-quality craftsmanship, water, nature and the view of the world from a boat. His workshops on the subject of boat building have met with an enthusiastic response, even if he doesn't really like to talk. Still waters are deep.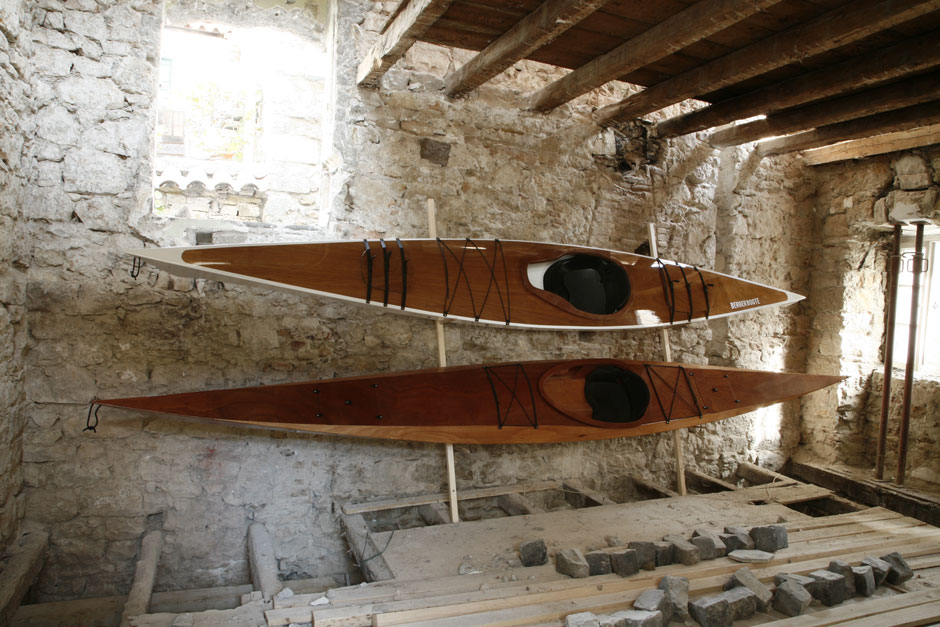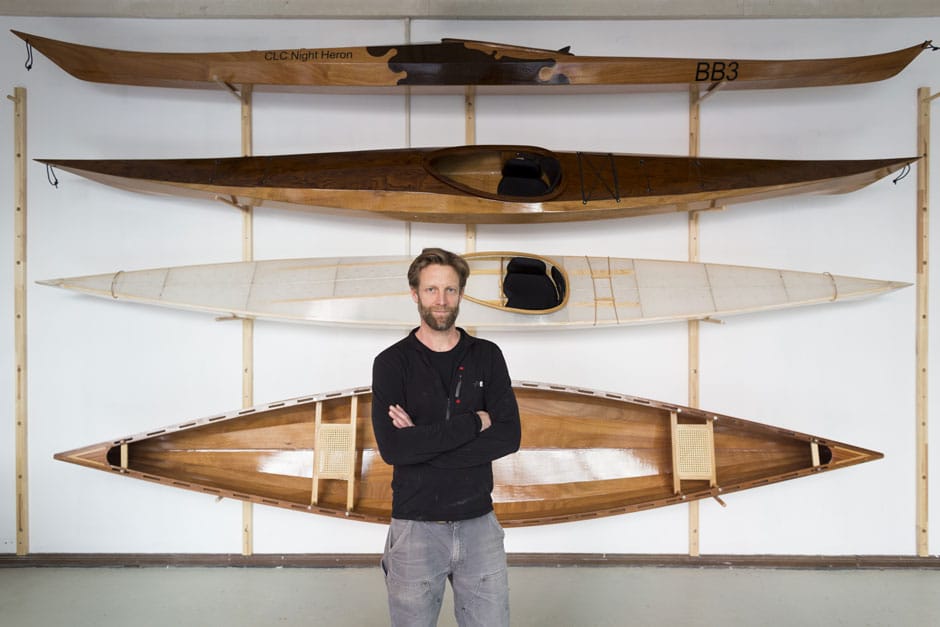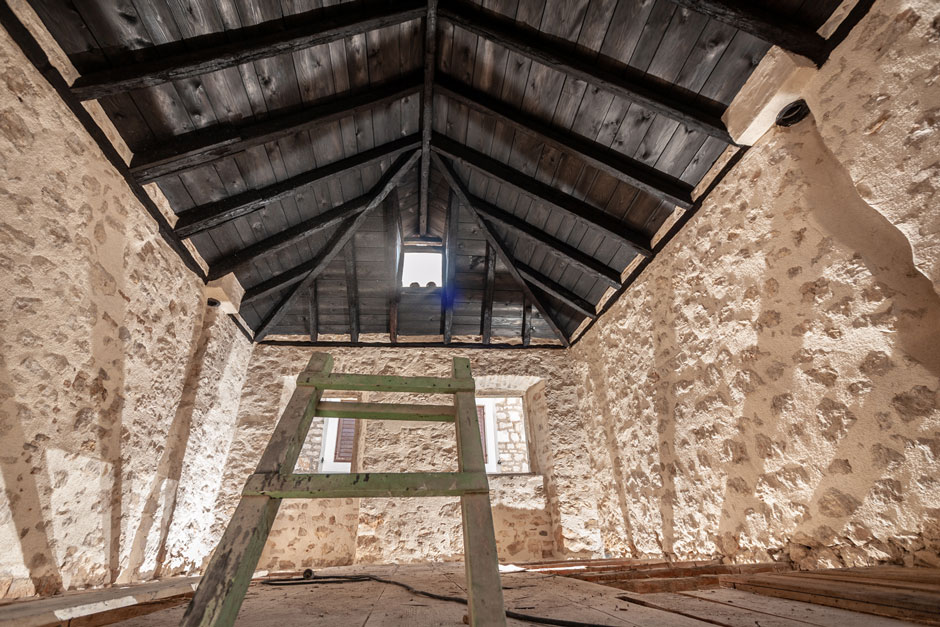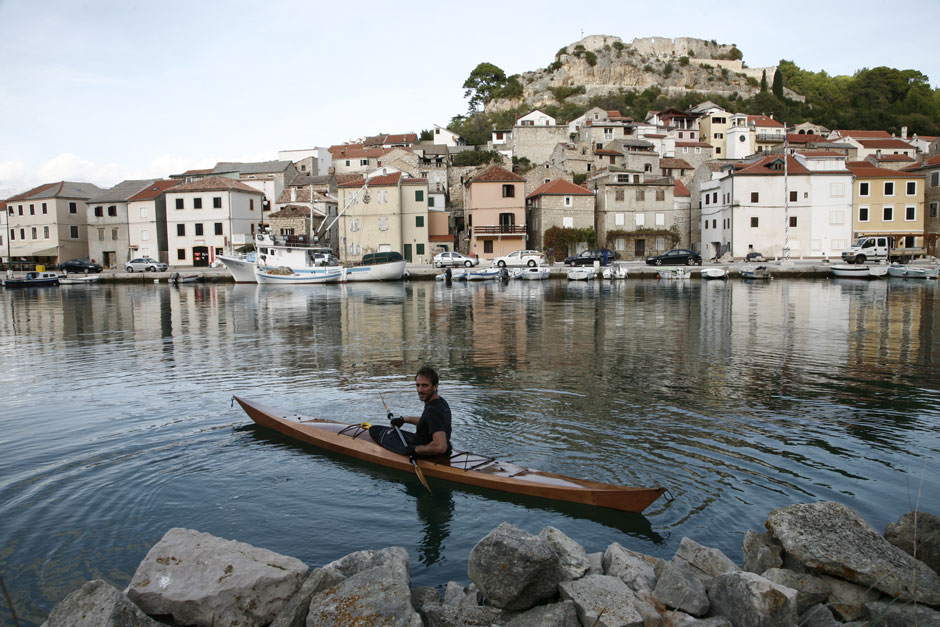 "To be able to maximise protection of the original structure and to generate a technically solid connection between old and new elements, I had to use a bit more than a tape measurer. Measuring irregular space where original builders aimed but not necessarily gained straight lines and the right angles in any direction, is never an easy task. For getting an idea of the size, surface or volume, the directions of light, heights and thicknesses, manual methods are still fine if one gives effort.
However, building a complex multi storey steel structure that should have a snug fit with uneven stone walls asked for some contemporary tools. This is why we've done a 3D laser scanning of the house as soon as we've stripped the walls down to a bare stone. Doing this, we were provided with a 3D mesh that corresponds perfectly to the actual situation in the house, with every stone being visible on the computer model. This way we could adjust "steel structure to be" accordingly to every bump, of the original structure with certainty nothing will be in its way.
The simple rendering of the steel structure shows the layout with its seven platforms made of H-beams, and the stairs connecting those made of perforated steel sheets. Although more details are subjects of change, the general layout is now determined."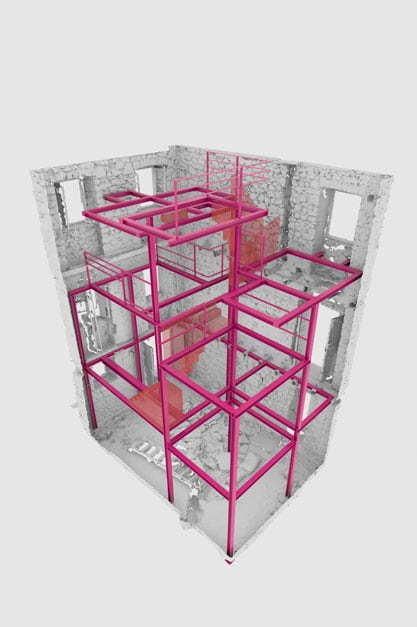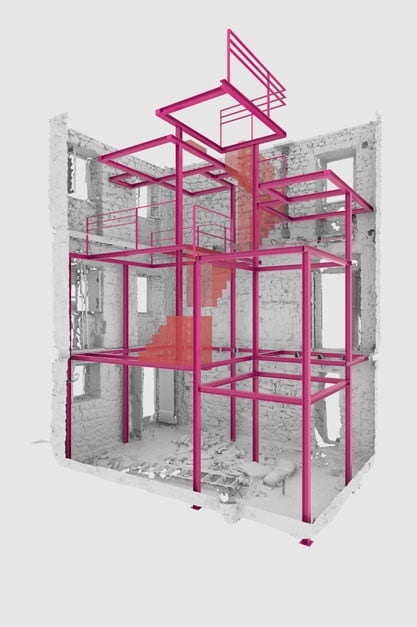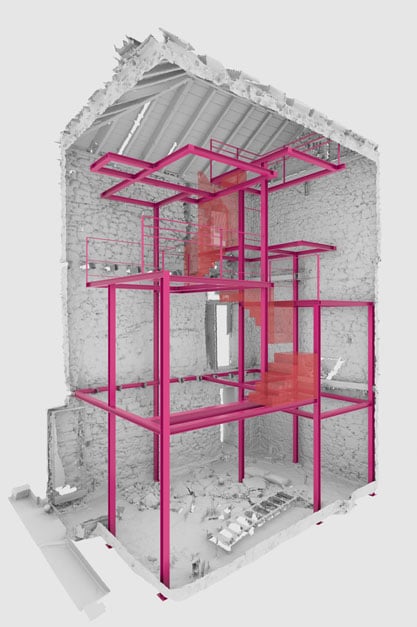 3 houses, each with its very own atmosphere, design concept and individual focus. The common denominator of the three kuće obviously lies in the balance between Novigrad's traditional heritage and a contemporary, minimalist aesthetic. But Boris Kajmak's stone houses are also connected by an invisible red thread: of his love for a place and its people, stones, stories, fates and destinies. Of his love for water, but above all for the grey stone giants that emerge on the horizon. "Actually, I want people to come to Novigrad because of these mountains, but the sea is one step ahead in tourism marketing," says Boris, not turning his gaze away from the silhouette of Velebit. "It is here that the soul of this region lies and here that you can really meet it."
Also house Nr. 4 is already in the making. This time (and for the first time) Boris Kajmak & Team are restoring for third parties, clients from Munich who have fallen in love with the Kuća project and the Kajmak style. Because the facade of the abandoned tower house is currently decorated with a striking sixties-style render, Boris' little daughter has already pre-christened it: Kuća Lila.
---
Text: Britta Krämer, May 2020
The article "House Whisperer" is part of our book with magazine " Houses & People". It is available in bookshops as well as online in the URLAUBSARCHITEKTUR Shop.
Overview: Here you can find all our HomeStories at a glance! If you want to stay up to date, you can opt-in for our HomeStory-Newsletter here.
The houses