Rasmus Johnsen and Anders Petersen are modern settlers with urban souls and surfers' hearts. The breathtaking wilderness of Denmark's northwest coast became their creative catalyst for local projects with a cosmopolitan spirit: A co-working collective of mindful wave riders and two holiday houses that spark the lightness of being.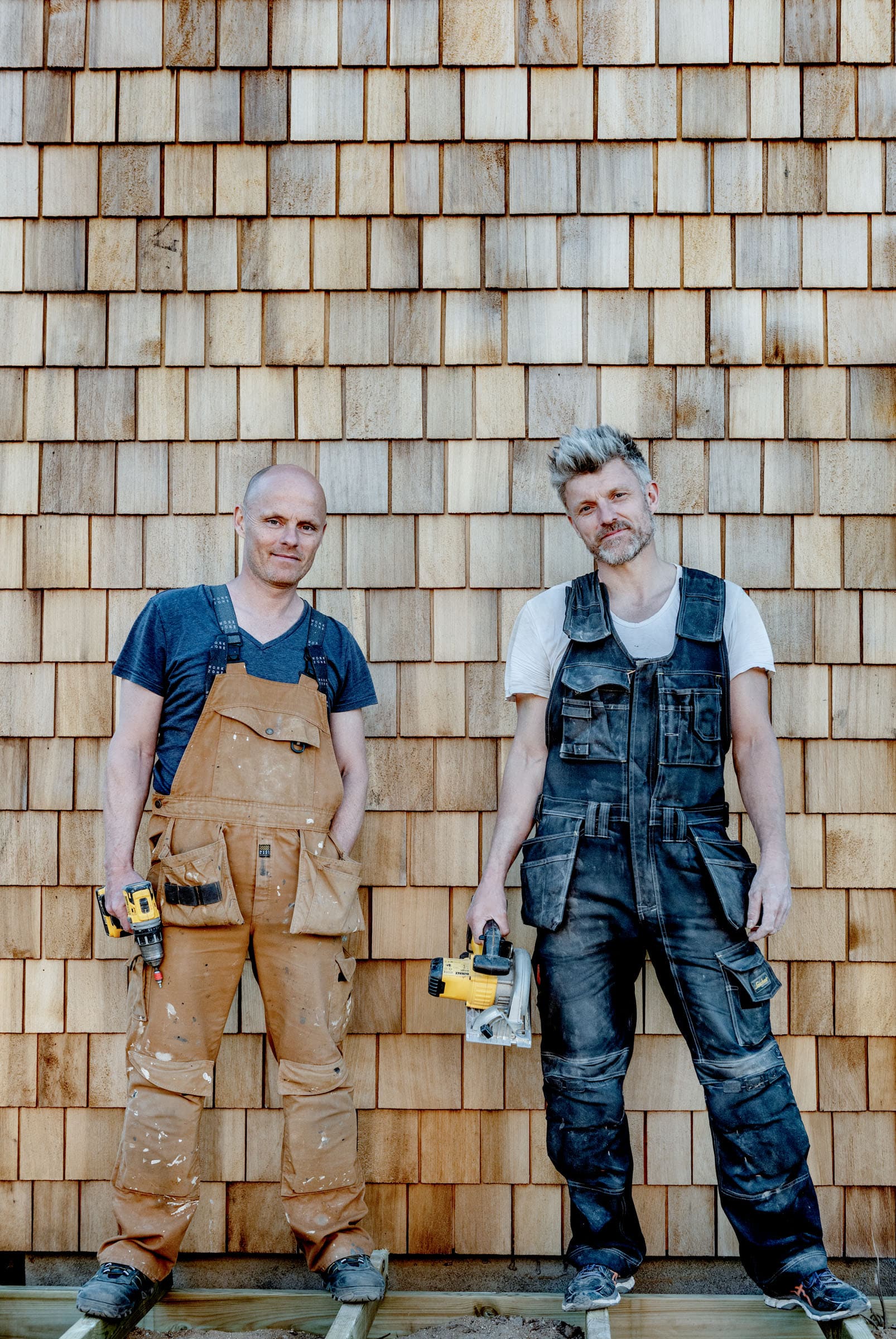 "We live in Klitmøller with our families and work from here. We have chosen to because of the ocean, the surf, the light, the nature and last but not least the culture and the people."
Rasmus Johnsen
Klitmøller, Cold Hawaii
In Thy, at the northwestern tip of Denmark, the sky is endless and the light has a bewitching power. Nature shows its beauty in ever-changing scenarios – from the wind-swept dunes along rough coastlines and wide, sandy beaches to the soft, grass-covered hills and heathlands. The quiet fishing village Klitmøller – it counts hardly 1000 inhabitants – has a true box seat amidst this natural spectacle: It literally sits on the beach, right between the roaring North Sea and the scenic silence of the Thy National Park. No major road leads past here, but among surfers this spot is known as the capital of Cold Hawaii, one of Northern Europe's best (wind)surf spots. Here, you can ride the curl all-year-round, but if you feel more comfortable with having solid earth under your feet, you will find terrific walking trails and mountain bike tracks close by. Or you simply sit and look at the horizon, which will blow your mind.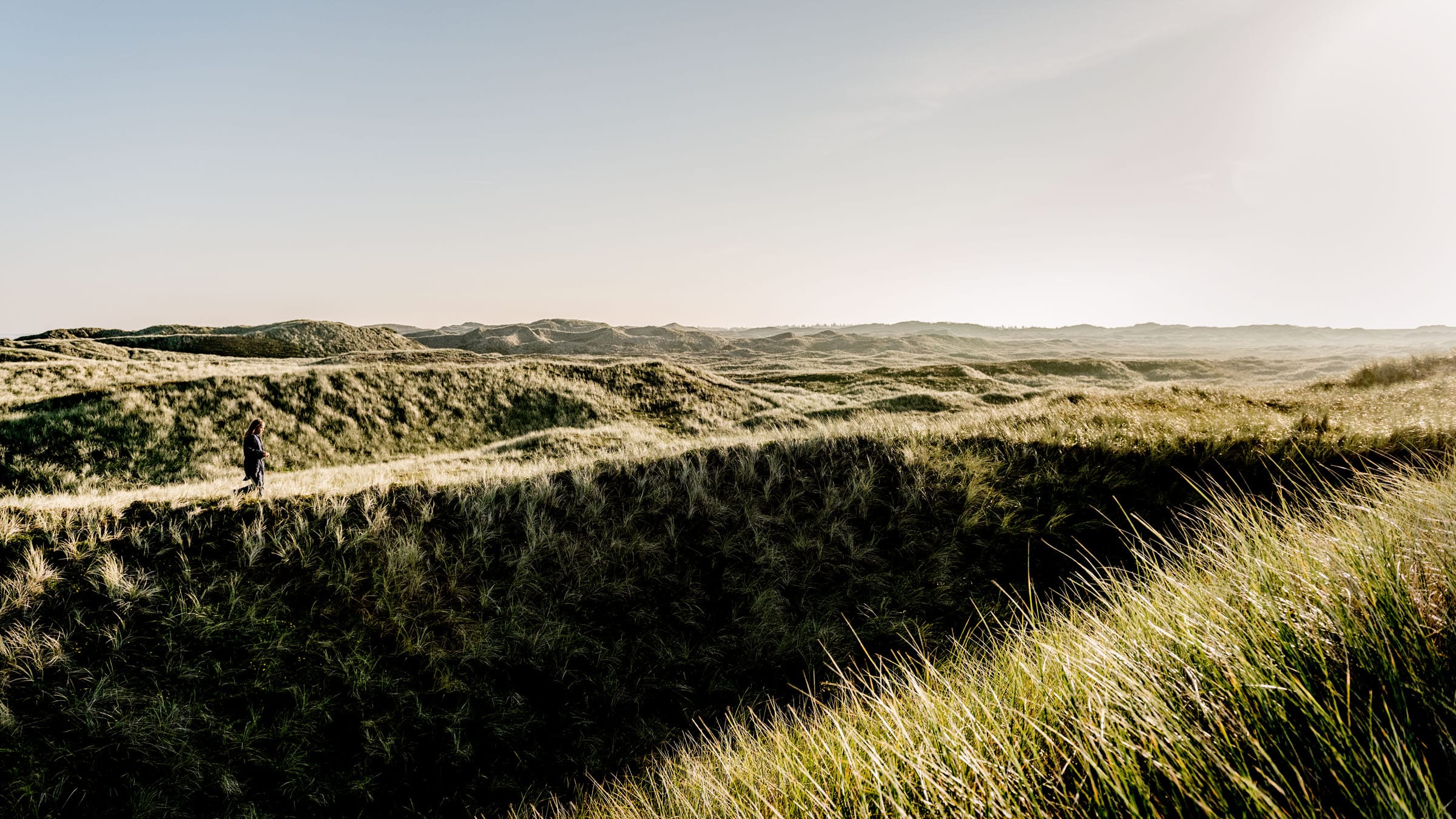 Weathered fishing boats adorn Klitmøller's long, deserted beach in the early morning and contemplate – side by side with the seagulls – the rhythm of the waves: They roll onto the shore with smooth fronts and steep crests. A little group of wet-suited early birds – women and men of all ages – gaze eagerly towards the horizon and all of a sudden grab their surfboards and start paddling out to the sea. Facing the wind, riding the waves under a vast, pale blue morning sky. Flying and feeling the thrill of freedom. Then, the fishermen sail out to get their daily catch of cod and plaice, crabs and lobsters.
While Klitmøller was quite a hub during the windsurfing boom in the 1990s, today it is awesomely quiet here, but you'll still come across some of Denmark's best surf schools. Over time, the village's fabric has become an international patchwork of locals and people from around the world, who weren't born here but discovered a deep sense of belonging. And there is a reason: This place is pervaded by a very special mood, it's driven by its very own pace and pulse and whoever happens to visit will experience it with body, soul and senses, will dive into and dance with the essence of this place: The light, the sea breeze, the roaring waves, the soft sand under bare feet and the warm, welcoming nature of the people who live here.
Paradise Found
Even long-time friends Rasmus Johnson and Anders Petersen surrendered to Klitmøller's gravitational pull. "We live in Klitmøller with our families and work from here. We have chosen to because of the ocean, the surf, the light, the nature and last but not least the culture and the people. We are both, but each in his very own way, tied to this area which is the foundation of the life we live and the opportunities we seek.", explains Rasmus, who is an entrepreneur with a Master of Philosophy and owner of a consulting firm for innovation projects.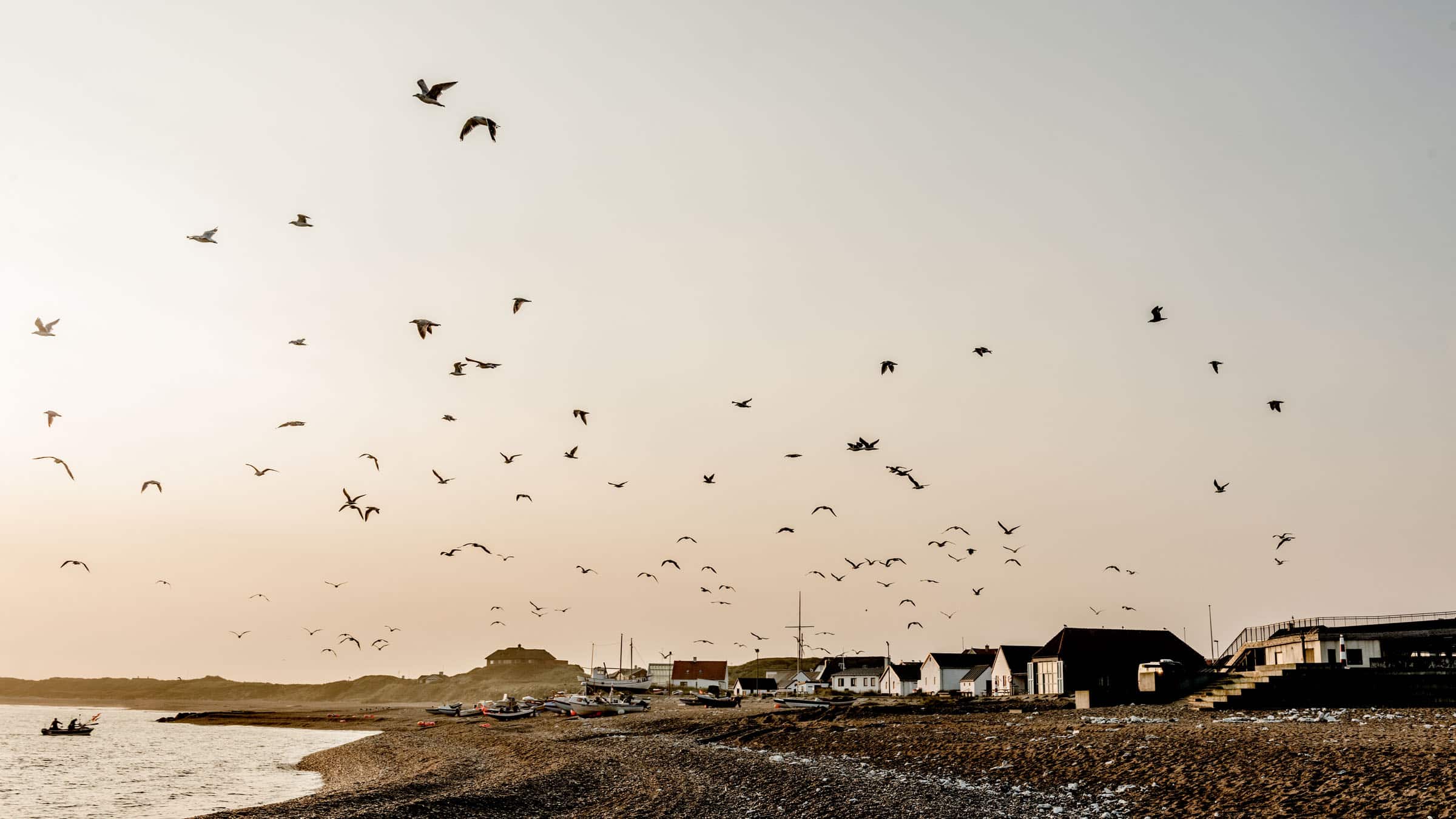 The neighbourhood is small but special: a group of open-minded individualists with a sustainable, meaningful lifestyle. Some moved here from Copenhagen or Århus, some from the other side of the globe, others were born here or have family ties that made them come back to this outermost corner of Denmark, surrounded by pine woods, marshes and the spectacular wilderness of Thy. Kids stroll along the beach, friends sit together and have an inspiring talk over a hot cup of coffee or Danish tea. Cranes are dancing and trumpeting in the ponds. It's almost too idyllic to be real – but it is.
In 2017, Anders and Rasmus teamed up in order to breathe life into a common dream: creating holiday homes face to face with the pure and unspoiled beauty of Thy. Modern yet timeless homes away from home, whose harmonious architecture respects and reflects Thy's elements – sky, wind, water, earth and light and makes the guests perceive their soothing power. Their name says it all: Recharge Houses. The first was built in nearby Agger, the second in Klitmøller.
A sense of belonging
The Recharge House project was driven by a strong vision: building and living with the ever-present views of nature. And – enabling the guests to really get in touch with the place. "We belong here and wish to give our guests that sense of belonging while they are here.", states Rasmus. "The houses are our gift to whoever visits. Hopefully they can set the stage for an experience that is honest, simple, magnificent and cosy at the same time. Anders and I are both surfers, so we have a penchant for the over 30 registered surf spots along the West Coast in Thy, which we love to share. But this is certainly not the only reason why this area is worth a visit."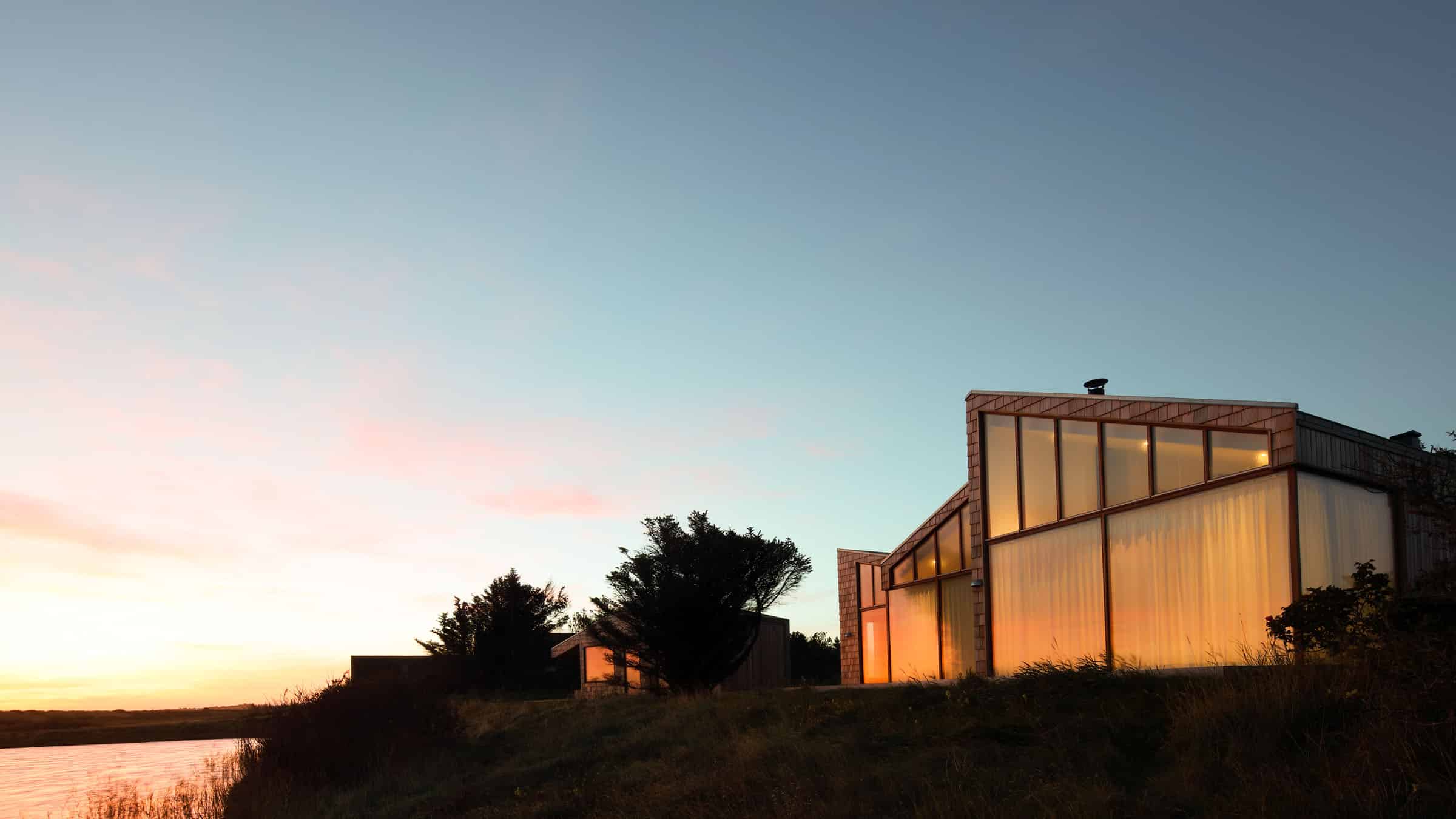 The building process was a real "hands on" teamwork by Rasmus and Anders, Agger based architect Søren Sarup of Puras Architecture and a small group of skilled, local craftsmen. "Everything you see we have thought about and shaped with our bare hands. We have been there under all weather conditions, night and day, weekends and weekdays. We can honestly say that we have done what we could to create a space that will affirm our guests' humanity.", emphasises Anders, who in his professional life coordinates homes for people with special needs, including a rehabilitation centre for soldiers with post-traumatic stress disorder.
The Recharge Houses – which host up to six guests each – are Rasmus and Anders'a heartfelt commitment to safeguarding Thy's wilderness through mindful and authentic living and travel concepts – powerful antidotes to preserve Cold Hawaii from a too touristy, too overrun, too stereotypical hyggelig future.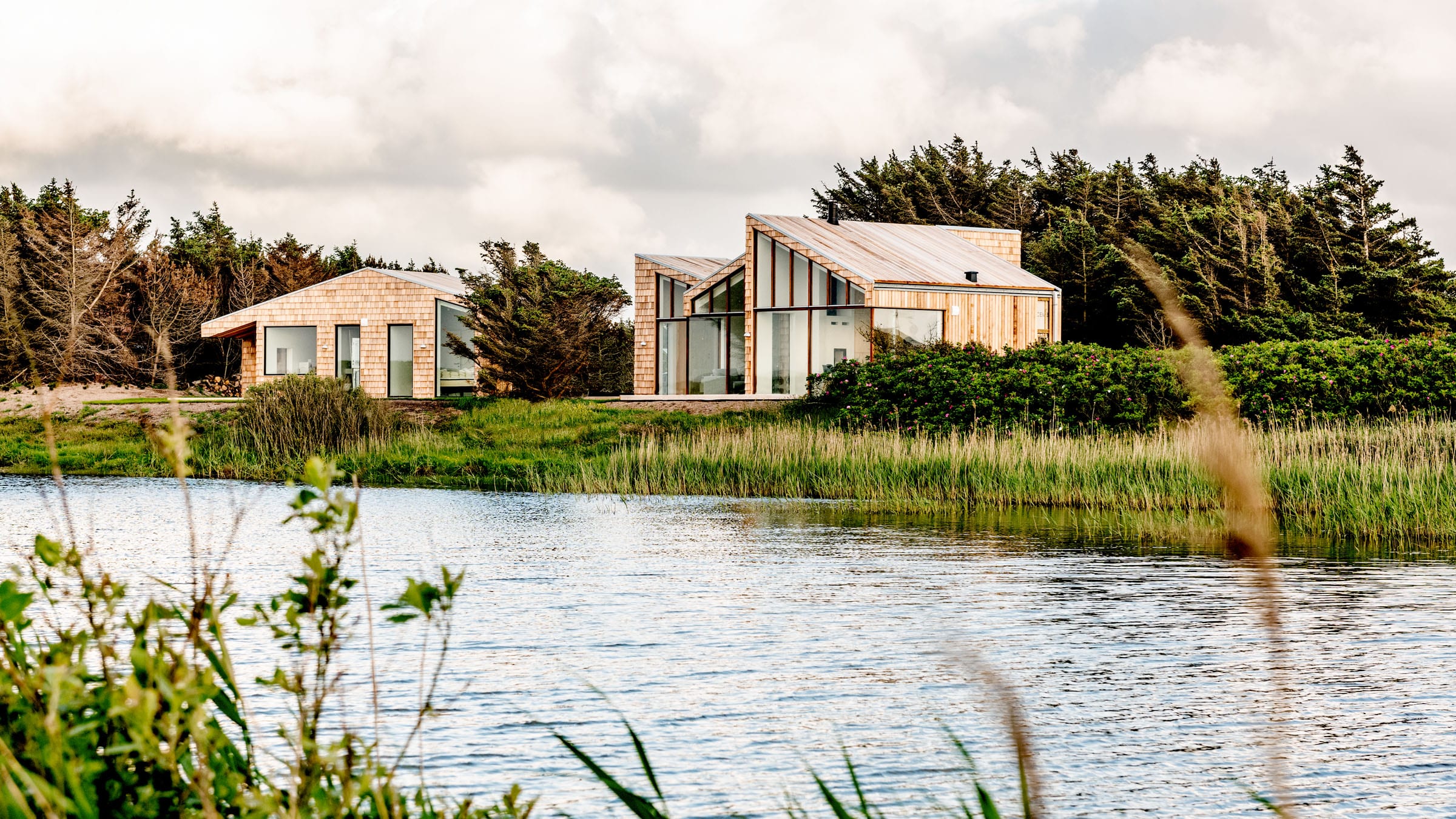 Space, light and harmony
A little further south of the small harbour village, the Recharge House Agger looks out over the 485-hectare shallow lake "Flade Sø". It opens onto a wild, protected landscape that is home to a manifold fauna. During spring and autumn, the area's meadows, marshes and ponds become an Eldorado for thousands of web-footed wading birds on their way to the breeding grounds and winter quarters.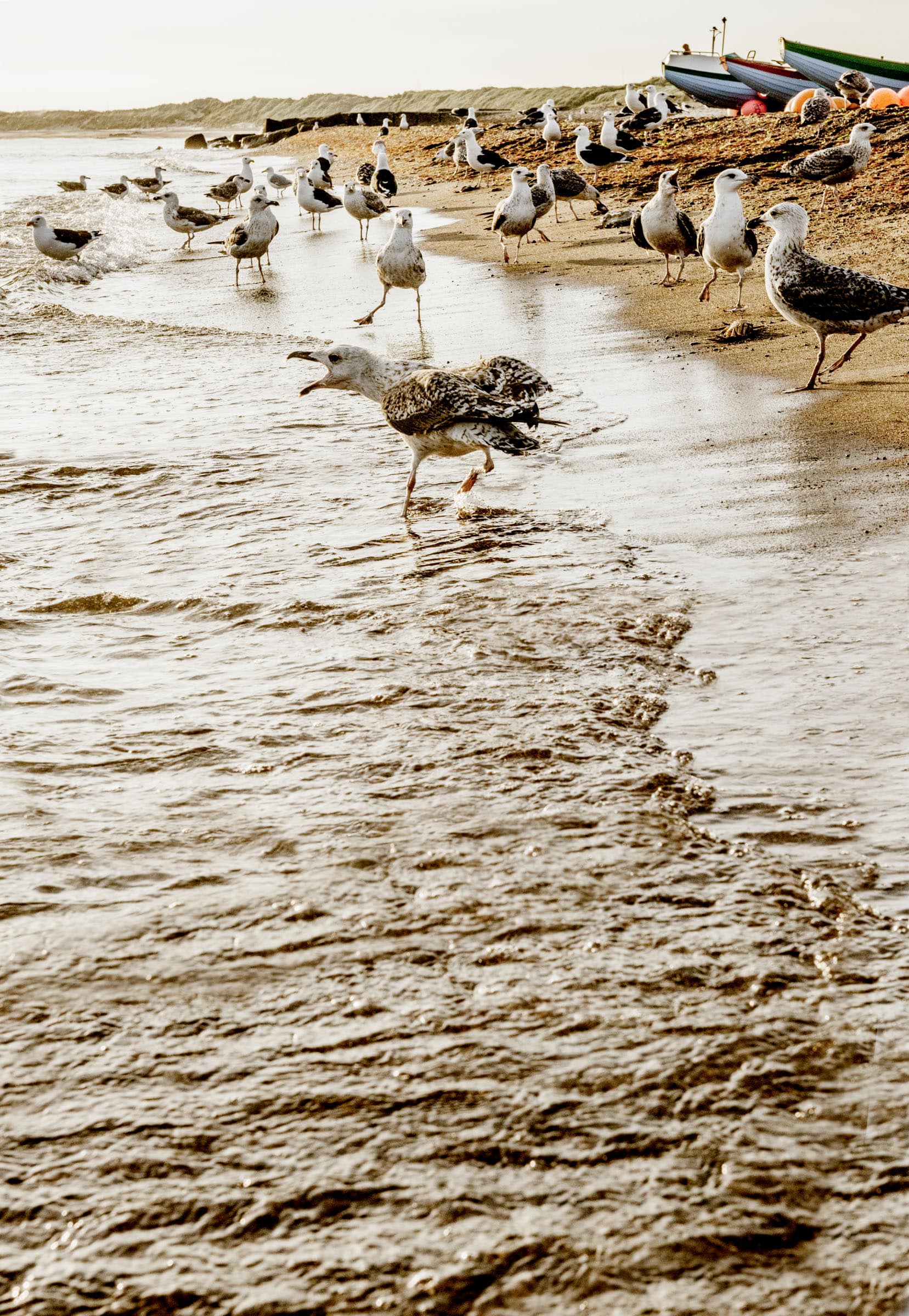 The North Sea and beaches are less than 600 metres west of the house. Huge panoramic windows allow the building ensemble – a main house and an annexe – to merge seamlessly with nature and bring lake and heathland into the warm light-flooded spaces. The interiors make do with few but sophisticated, most comfortable furnishings and amenities and thrive on reduction and the interplay of light, texture and the spirit of place. Apart from the cosily crackling fire in the stove, nothing distracts from the views of nature, which convey an ever-changing mood according to the season, weather and the time of day. From the sauna you can face the green wilderness while getting hot to then cool down under the outdoor shower.
Clean contours and understated simplicity distinguish the Recharge House Klitmøller, located only 450 meters from the village's beach. The L-shaped cedar-clad house is inspired by the traditional farmhouses of West Jutland. Silent white and soft tones bathe all spaces and evoke a sense of peaceful harmony. The open-plan living is completely glazed up to the gable and the soul widens as nature pervades the ambience. Bedrooms and sauna are intimate retreats in constant dialogue with nature, a skylight in the bathroom allows you to lose yourself in the starry night.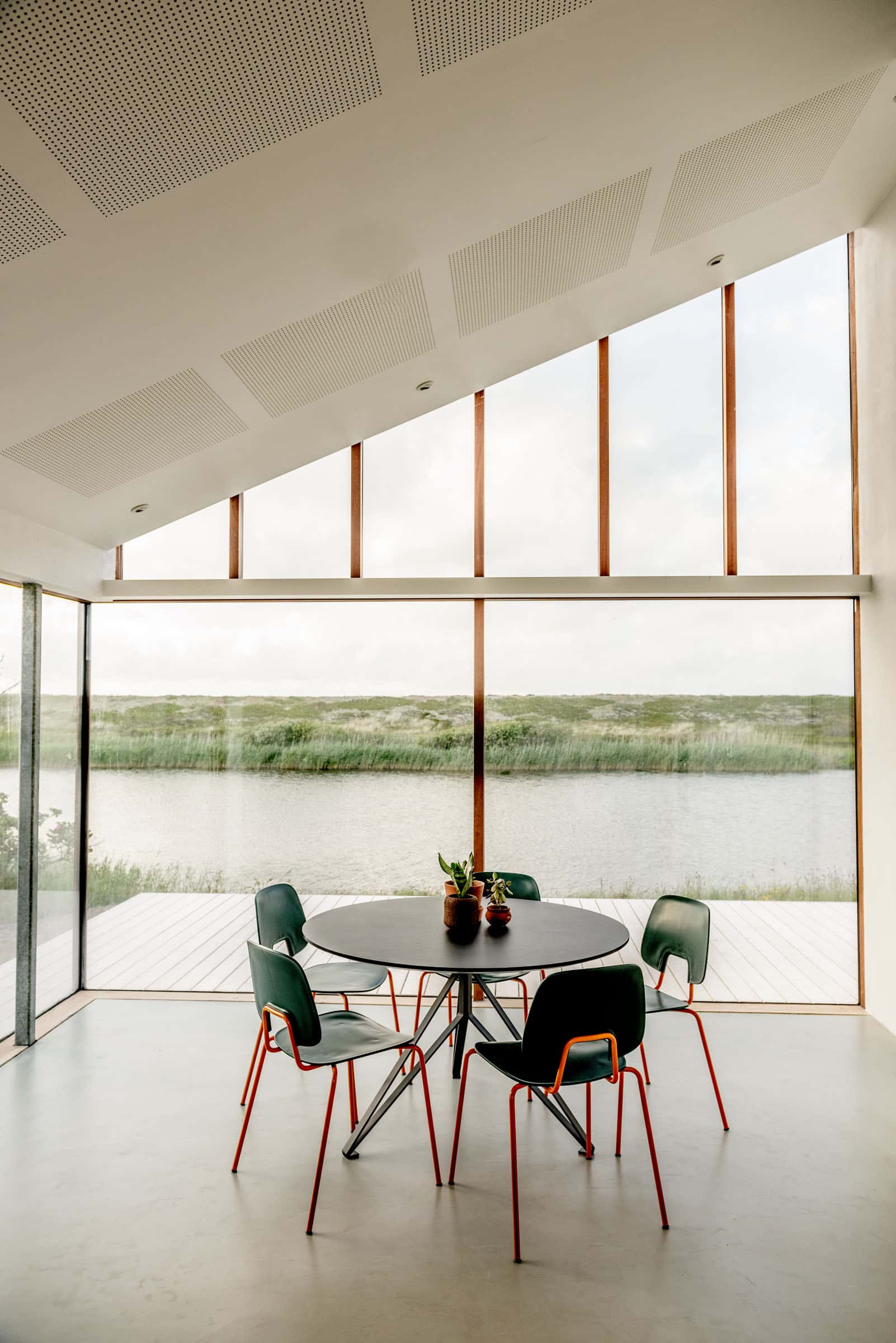 In both Recharge Houses contrasts blend masterfully: Remote and connected. High tech and high sky. Freedom and shelter. By the way, the houses have a lightning-fast fibre and are powerful catalysts for creative processes, so, if you have to work (a bit) along the way, this won't be a reason to head back to the city. You can take all the time you need. The houses truly live up to their name: They are wonderful shelters to recharge your mental batteries, be inspired and reconnect with nature – but first and foremost with yourself.
Life worth living
Together with a group of friends, Rasmus has created "Cowork Klitmøller" – a co-working space and matchmaking zone for local freelancers, small and micro-companies and beta-residents of Cold Hawaii. Ocean view, high-speed internet and limitless cups of coffee go with the job. Newcomers are warmly invited to be part of it. They can stay as long as they like and pay accordingly. Sometimes it happens they stay a little longer. "The space is a creative hub, an inspiring place to meet, connect, think, share and make cool stuff together. Remote work was a daily routine even before the world changed but personal contact and interaction remain the most enjoyable part.", explains Rasmus, who presides over the project. "Our starting point is the desire to achieve the personal, professional and social advantages of a strong network and competent community in order to combine innovative business with maximum freedom and flexibility. I think the best word to describe our place is homely – or at least that's how we feel." Currently there are 14 residents in the Cowork Klitmøller. All of them have very different life stories and professional backgrounds but almost all of them surf and they all share a deep love for the ocean and Thy. There is photographer Mette Johnson, Rasmus' wife. Her silent pictures are pure poetry and able to capture the very essence of a place, a person, a moment. There is Outwest Production – Martin and Rebecca Sindal la Cour's a small, quality-conscious film production company. Fashion designer Benthe Boesen and graphic designer Troels Schwarz have initiated the brand Slow Works and believe in slowing down, in order to appreciate and understand their surroundings better.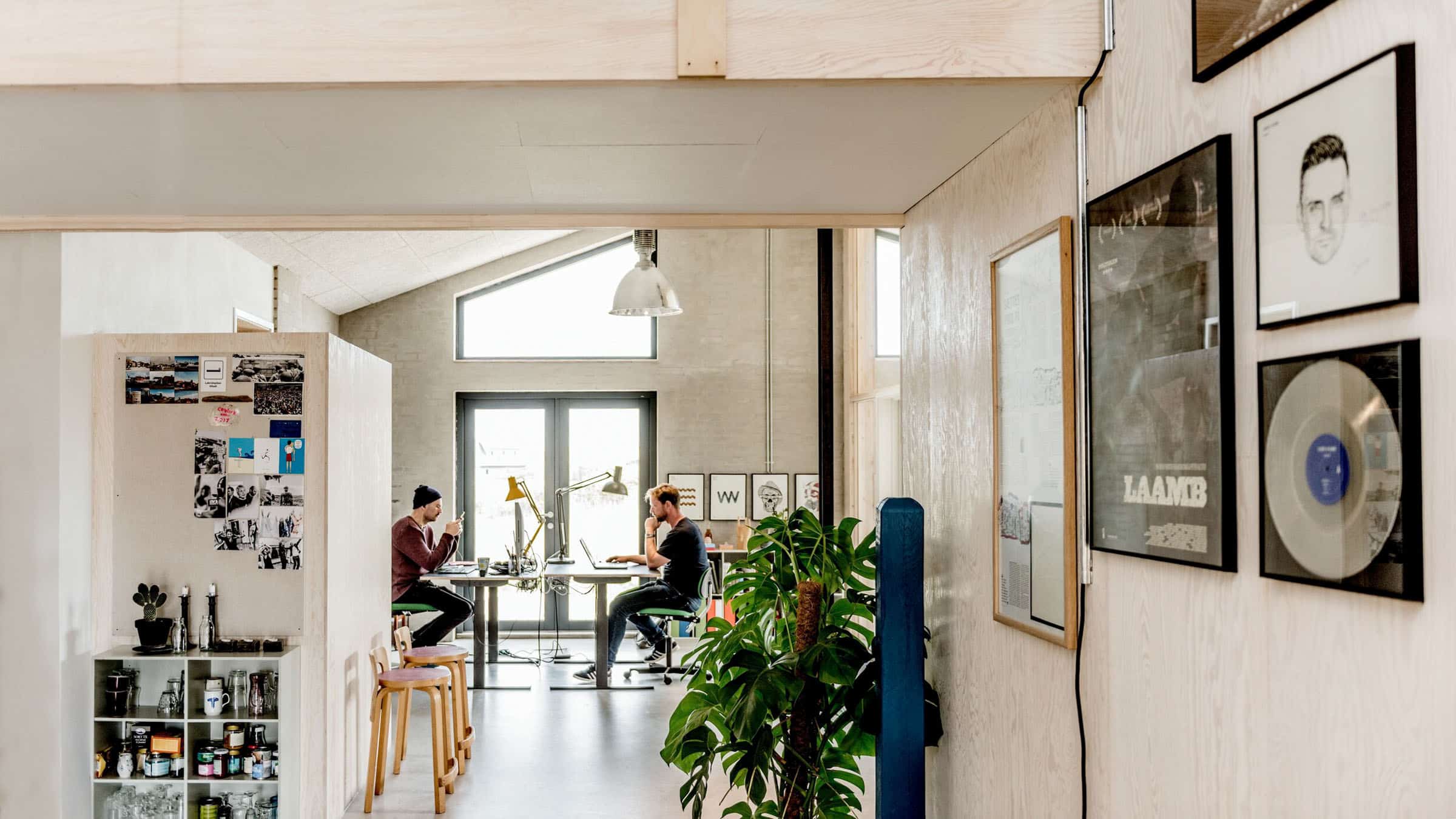 It becomes more and more evident that there is one common thread, pervading this unique little melting pot amidst the Danish dunes and waves: The strong belief that time is precious and work should be merged into life and not dominate it, as there is so much more that matters and shapes our experiences, which make life worth living. Life worth living is about loving and caring. It's about grilled lobster and laughter around a bonfire. It's about longing and belonging, about dreams and doubts. It's about tapping into the energy of a place, of a face. It's a calm sea and roaring waves, sunrises and sunsets. In Klitmøller, life is a beach.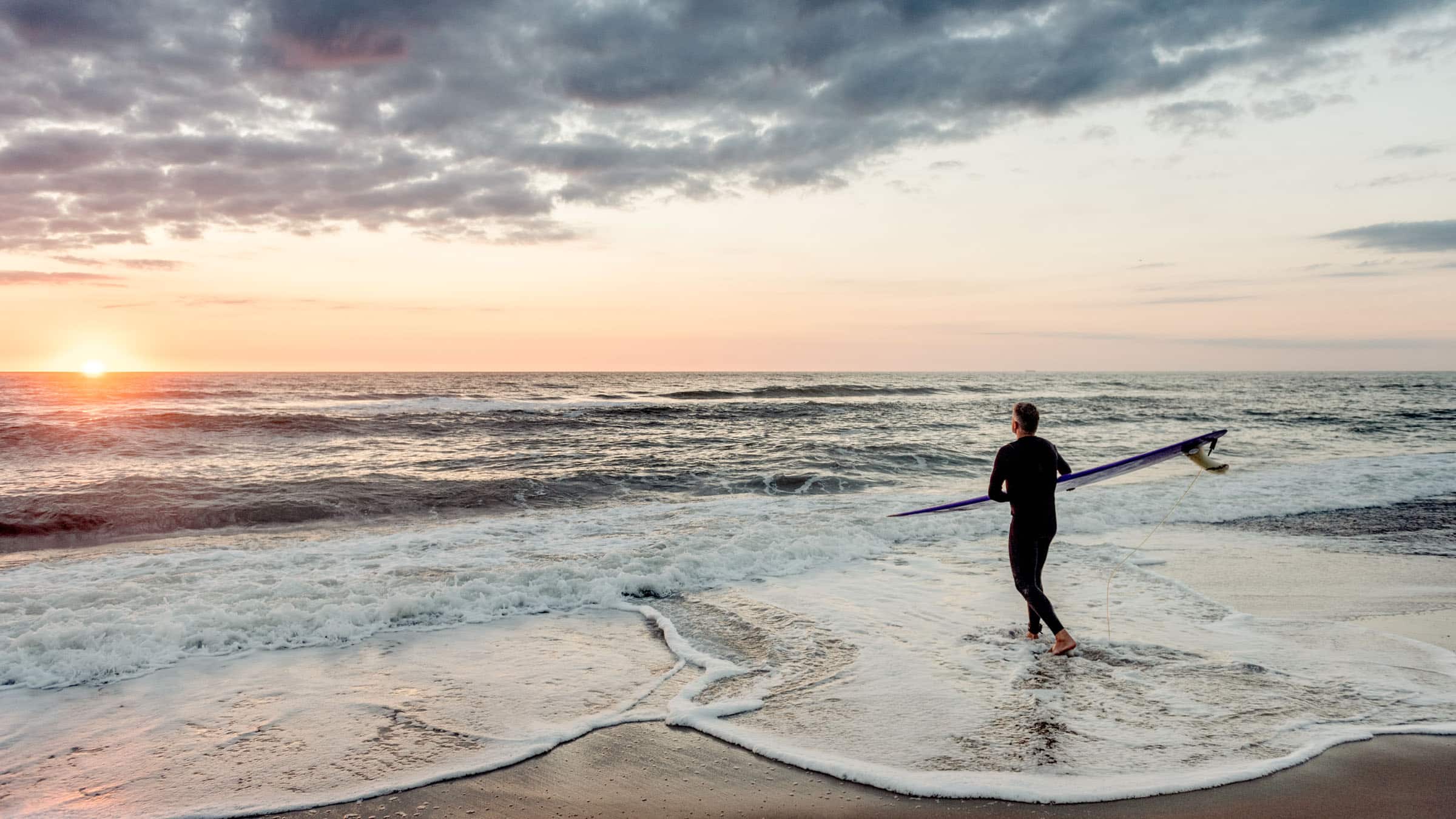 ---
Text: Britta Krämer
Photos: © Mette Johnsen
Source: The article is part of our publication Raum & Zeit ⎜Space & Time
---
Recharge House Klitmøller
Recharge House Agger