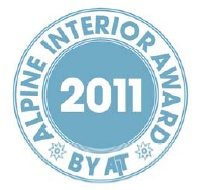 The winners of the first Alpine Interior Awards 2011 have been drawn. On 11 April 2011, the jury of the "Alpine design concepts" competition chaired by Prof. Barbara Holzer awarded a total of four 1st prizes and 20 commendations in all four categories. 146 projects from 6 countries were submitted for the competition.
4 (!!!) commendations in the "Alpine Gastronomy" category went to Urlaubsarchitektur (Holiday Architecture) houses:
Prize winner: Nils Holger Moormann GmbH, DE-Aschau im Chiemgau
Project: berge -> www.urlaubsarchitektur.de/berge/
Prize winner: Plasma Studio Architects, IT-Sesto
Project: Strata Hotel -> www.urlaubsarchitektur.de/strata/
Prize winner: Ulapiu | Manuela Demattio, IT-Bozen
Project: Parkhotel Azalea -> www.urlaubsarchitektur.de/park-hotel-azalea/
Prize winner: ventira architekten GmbH, CH-Diepoldsau
Project: refugio.laudegg -> www.urlaubsarchitektur.de/refugiolaudegg/
We are delighted that the great work of the prize winners has been recognised.
The Alpine Interior Award was awarded for the first time in 2011. This newly created interior design award is dedicated to the best architectural interiors of the cross-country cultural area of the Alps. All architects and interior designers of the Alpine region were invited to submit their own projects. All prize winners were presented in an exhibition as part of the "DESIGN LINZ" international trade and public fair from 19 to 22 May 2011. You can see pictures of the exhibition and the prize-giving ceremony here.
Please see the AIT press release for more information (German).